The Arizona Cardinals (5-4) visit the Jacksonville Jaguars (1-8) this week in search of a third-straight win. The Jaguars won their first game of the season last week by stunning the Tennessee Titans 29-27. The Cardinals want to avoid becoming the second team to fall to the Jaguars, and they should follow this game plan to avoid falling into the trap.
Offensive Game Plan
Pound and Ground
The Jaguars are the worst team against the run in the NFL. They allow 153 yards per game on the ground, so this looks like a great time for the Arizona run game to step up. The Cardinals haven't been proficient on the ground, save for the 154-yard outburst by Andre Ellington in Week 8 against Atlanta.
This is the game for Ellington and, especially, Rashard Mendenhall to show exactly what they are capable of. With a weak opponent and a pair of capable backs, this should be the coming-out party for the Arizona running backs.
Keep It Simple
Arizona needs to take advantage of the Jaguars' weaknesses. Their run defense is weak, and it could be even weaker. Yes, it's possible as linebacker Paul Posluszny is questionable with a concussion that he suffered last week in the win over the Titans. He didn't practice yesterday and won't practice today, according to Michael DiRocco of ESPN.com.
He is the team's leading tackler with 88 stops. He also has eight pass breakups, two forced fumbles and one fumble recovery to his credit this season. Missing him would be a big loss for Jacksonville.
The Jaguars give up plenty of yardage and have lost their eight games by an average of 20 points. Regardless of whether it's by air or by land, Arizona has to remain calm and know that opportunities exist on each play. The simplest solution can be the most effective for the Cardinals to move the ball down the field.
Don't Back Off
This is the one game on the schedule where the Cardinals should continue to pile up the points. The Jaguars give up points by the boatload, and Arizona has to take advantage. This is going to be the biggest test for Carson Palmer to be an effective quarterback by coming out and utterly dominating a team from start to finish. The longer the Cardinals let Jacksonville hang around, the more likely they can be upset. Arizona should avoid the trap of playing down to the level of its opponent.
Defensive Game Plan
Load the Box Against Jones-Drew
The Jacksonville offense is in shambles and running back Maurice Jones-Drew is a shell of his former self. In 2011, he was the league's leading rusher with 1,606 yards and piled up 11 total touchdowns (8 rushing, 3 receiving). He's had four seasons with double-digit touchdowns in his career but none since 2011.
This season, he's having the worst season of his career. Jones-Drew is on pace for his lowest career touchdown total for any year he's played at least 14 games. His yards-per-carry average is a career-worst 3.0 through the first 10 games of the season. That's 1.2 yards per carry less than his 2008 season where he averaged 4.2 yards per carry. In every other season, Jones-Drew averaged at least 4.4 yards per carry.
Look for Arizona to put at least eight, and likely nine, defenders in the five-yard box to keep Jones-Drew slowed down. Tennessee tried it on this play below, and it didn't work. The Titans have nine in the yellow box to stop the run. Jacksonville has a running back on each side of Henne. Jones-Drew (white circle) is to the right of the quarterback.
The wide receiver and fullback (red arrows) push ahead to make their blocks and allow Jones-Drew to get into the end zone. While this play worked for Jacksonville, this is the kind of look Arizona should be giving Jones-Drew all day.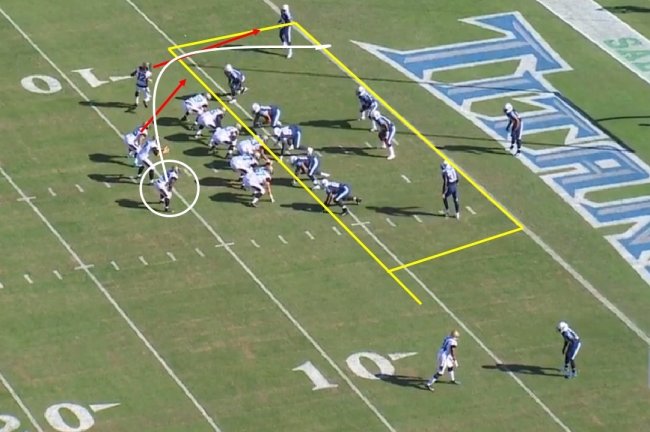 Play diagrammed from NFL.com game film of Week 10 TEN-JAX
Judging by his stats, Jones-Drew should remind Cardinals fans of Mendenhall. Jones-Drew hasn't broken through the 75-yard barrier this season, and Mendenhall has struggled to get past 70. Each of those two backs has three touchdowns this season.
Jacksonville doesn't have much else on offense so that takes us to the second point.
Make Chad Henne Beat You
Henne has been the starting quarterback since Blaine Gabbert injured his thumb earlier this season. Henne has a pair of 300-yard games to his credit this season but has been inconsistent at best. He's made appearances in eight games and has just three touchdown passes against seven interceptions.
Henne is going to have it very tough in this one thanks to the Arizona defense. Justin Blackmon has been suspended by the league for the rest of the season for violating the league's substance abuse policy. Cecil Shorts III will be covered by Patrick Peterson, limiting his effectiveness.
His best target is going to be wide receiver Mike Brown, with 15 receptions for 266 yards this season. No other receiver has more than 200 yards receiving, and none of them have more than one touchdown.
Bring the Blitz
The Jacksonville offensive line has allowed 31 sacks in nine games. Regardless if it's Henne or Gabbert under center, neither of them gets much time to throw. The Arizona defense has been piling up the sacks lately with linebacker John Abraham getting six of them in his last three games. That's a franchise record for a three-game span according to Kent Somers and Bob McManaman of The Arizona Republic.
How many points will Arizona score against Jacksonville?
The Jaguars lost first-round draft pick Luke Joeckel to a broken ankle when they lost to the St. Louis Rams in early October, which weakened the Jacksonville offensive line.
Jacksonville is arguably the worst team in the league, and the Tampa Bay Buccaneers are also in that argument. Arizona had a tough time and needed a fourth-quarter rally to sink the Buccaneers. Hopefully it doesn't come down to that against the Jaguars.
They don't bring fans in to their games, and Palmer took a semi-shot at the environment at EverBank Field in another DiRocco article.
"We've played in some tough places," Palmer said. "We know this is going to be an interesting atmosphere. It's not going to be a sold-out stadium. It's going to be a little bit of a different energy in it, and we've got to be prepared for that and just be ready to play football.

"I personally love playing on the road when it is loud and it's sold out. You make it quieter. And I've played in stadiums where there wasn't a home-field advantage and it wasn't real loud. There's good and bad in both. The crowd noise isn't a factor when it's empty, but you just don't have that same energy in the stadium. When the crowd is full and you've got to fight that crowd noise, there's a great energy in there, too, that gets you going."
At least the Jags will have the world's largest scoreboards in 2014, according to Chris Chase of USA Today. Now if only they could put some points on the board.