Miles Austin's career with the Dallas Cowboys has fluctuated significantly since he joined the league in 2006. The undrafted kick returner from Monmouth University wasn't known by anyone outside of the franchise until 2009. That season, Austin broke out with 81 receptions, 1,320 yards and 11 touchdowns en route to his first Pro Bowl.
Since then, the receiver's career has taken numerous steps downhill, leaving him with an uncertain future in the NFL.
What's hurt Austin the most is his susceptibility to the injury bug. Over the last three seasons, he hasn't played to his full capacity because of recurring hamstring issues.
This year alone, Austin has missed five games and has been extremely limited when he has played. For the season, he has only 15 grabs for 125 yards.
Another problem that will affect Austin's future is his contract.
In the summer of 2010, the Cowboys extended their receiver with a six-year extension worth $57 million. He's yet to live up to his big payday.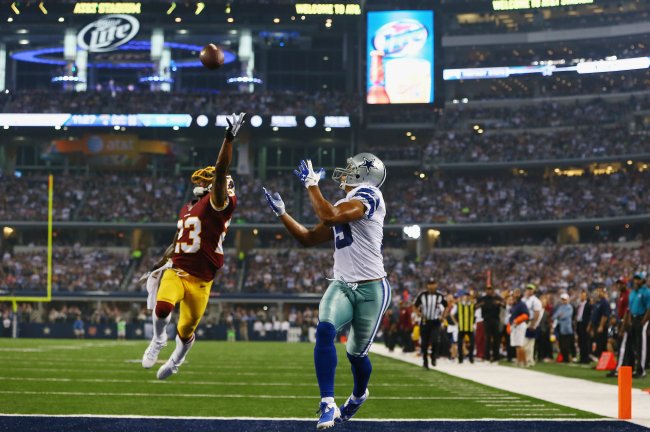 Tom Pennington/Getty Images
Because of all his inconsistency, Austin's role within the Cowboys' offense has diminished. Despite starting 15 games in 2012, he caught only 66 passes, and it was evident that he wasn't 100 percent.
The Cowboys demonstrated their skepticism of Austin in April when they used their third-round pick on Baylor receiver Terrance Williams. Although Williams hasn't been spectacular, he's made several noteworthy plays and found the end zone five times thus far.
That's much more than a hobbled Austin has produced.
As Calvin Watkins of ESPN reported, Austin actually returned to practice this week, which is a good sign especially since Dallas has a bye Week 11. If things go according to plan, he should be ready to go against the New York Giants the following week.
In spite of not doing much on the field recently, I still see Austin having a future in football. He's only 29 years old and has the ability to make big plays. Last year, he averaged 14.3 yards per catch, good enough for 32nd in the league. That put him ahead of players such as Andre Johnson, A.J. Green and Marques Colston.
Will Miles Austin be back with the Cowboys next season?
Although the Cowboys have invested in the rookie receiver Williams, NFL teams can never have too many weapons on offense. The Cowboys would love to have Austin back playing at a high level, but I don't think they'd be willing to pay him his average salary of more than $7 million.
The first thing that needs to happen to solidify Austin's career will be for him to stay healthy the remainder of the year. He needs to prove that his body can withstand the abuse it takes to play every week in the NFL.
If he can come back and have a good final six games, I can see Dallas attempting to restructure his contract in the offseason to keep him on the team. Any other injury or refusal to take a pay cut will most likely result in Austin being elsewhere in 2014.
All statistics via Pro-Football-Reference.com unless indicated otherwise.