James Dolan Should Guarantee Knicks Wins More Often
November 14, 2013

Kevin C. Cox/Getty Images
Coming off a pathetic 31-point home loss to the San Antonio Spurs, New York Knicks owner James Dolan predicted a win for his team before Wednesday night's game in Atlanta against the Atlanta Hawks. And as a result of Wednesday night's 95-91 Knicks victory, Dolan has become the Joe Namath of New York basketball...in that both of them have a well-documented problem with alcohol.
The Knicks made their owner look like a prophet thanks to their superior depth and an inspired fourth-quarter performance from the much-maligned front line of Carmelo Anthony and Andrea Bargnani. 
Knicks Bench Finally Has a Chance to Shine
Before the season, most people believed that New York's strength lay in its depth. With former starters like Metta World Peace, Kenyon Martin, Pablo Prigioni, as well as an impressive rookie in Tim Hardaway Jr., the Knicks should be able to stretch a lead against opposing second units.
Unfortunately, the Knicks' starting unit has developed an annoying habit of getting blown off the court in the opening minutes, falling behind by double digits before the first timeout and forcing the team to scramble from behind for the rest of the game.
Wednesday night, however, the Knicks' first-half rotations worked about as well as can be expected, even without Tyson Chandler.
The first unit didn't not play a great half. They gave up way too much dribble penetration to Hawks PG Jeff Teague, who had 14 points at the half. But they played the Hawks close thanks to three three-pointers from J.R. Smith and shockingly graceful hustle plays from Andrea Bargnani.
The Knicks were able to open a double-digit halftime lead thanks to the second unit. Woodson allowed starter Iman Shumpert to play with reserves Prigioni, Martin and Metta, and that defensive-minded group shut off the paint while the shooters rained threes upon Atlanta like General Sherman raining cannon fire, Civil War-style.
Shumpert was the story coming into Wednesday night, with rumors swirling of a possible trade to Denver, per a report by Marc Stein of ESPN.com.
The third-year guard couldn't buy a bucket—scoring five points on 2-of-8 from the field—but he dominated the Hawks in just about every other area, with six rebounds, nine assists, four steals, one block and no turnovers. Shumpert played the kind of mature, two-way game that any basketball observer can appreciate...outside of the Knicks' front office that is. 
This chart of the Knicks' halftime plus/minus ratings tells the story of the half: small negative numbers for most of the starters, huge positive numbers for the reserves (and Shumpert).
| | | |
| --- | --- | --- |
|   | MP | +/- |
| J.R. Smith | 16:10 | -3 |
| Carmelo Anthony | 19:13 | -1 |
| Andrea Bargnani | 15:55 | -2 |
| Iman Shumpert | 17:01 | +12 |
| Raymond Felton | 15:52 | -2 |
| Kenyon Martin | 8:05 | +12 |
| Metta World Peace | 11:46 | +9 |
| Pablo Prigioni | 8:08 | +12 |
| Tim Hardaway Jr. | 7:50 | +13 |
Coach Woodson (and his dog assistant) were clearly on top of their games going into the half.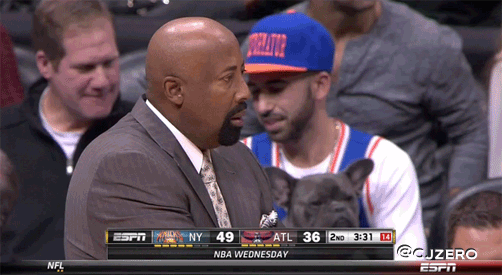 @cjzero
Starters, Iso-Ball Give Back the Lead
The problem with the Knicks' current starting lineup isn't so much that it is terrible, but that it's much too volatile. They have enough scorers to play with any starting lineup...as long as the ball is moving and the shots are falling. 
But they also have a lot of ball-stopping scorers who often rely too much on isolation plays, like Carmelo Anthony and J.R. Smith. And when a player like Melo goes cold but keeps isolating and forcing shots, the Knicks offense can turn into a catastrophe. That's what happened in the third quarter, when Melo shot 2-of-10 and the Knicks were held to 10 points.
If the Melo/Bargnani/Felton trio isn't scoring, the Knicks will start hemorrhaging points in a heartbeat. Felton cannot keep point guards in front of him, and neither Melo nor Bargnani can guard the paint consistently, leading to defensive atrocities like this.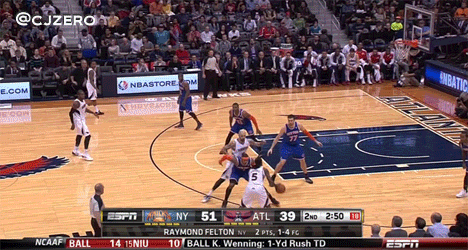 @cjzero
Andrea Bargnani: il più vicino (The Closer)
The Knicks' double-digit halftime lead turned into a three-point deficit by the end of the third. 
And then Andrea Bargnani happened.
Bargnani didn't win this game on his own—both Raymond Felton and Carmelo Anthony came alive in the fourth, with six points apiece—but no Knick played bigger down the stretch than the oft-criticized Italian.
Heading into the fourth, Bargnani's night was a bit of a mixed bag. He was shockingly active on the boards, not only grabbing rebounds but also tipping the ball out to his teammates, like Chandler used to do. But his interior defense was often shamefully bad, as in the above GIF.
In the fourth, however, Bargnani played a complete game. He held down the paint as best he could, contesting shots and committing smart fouls on Teague. Amazingly, it was Bargnani's defense that helped stem the tide of what had been an unrelenting Atlanta interior attack.
On offense, he scored 10 points in the fourth on 3-of-4 shooting and broke the Hawks' back with this ridiculous bank-shot three.
No Rest for the Weary
Bargnani's final line—20 points and 11 rebounds—more than stacks up against the line of Atlanta's star center Al Horford's line of 23 points and 5 rebounds. Considering Horford's pedigree, the results were nothing short of astonishing.
But Bargnani and the Knicks will get no time to rest; Dwight Howard and the Houston Rockets are coming to town tomorrow night for another nationally televised game at the Garden. While the Rockets haven't quite played up to their abilities thus far, the Howard/Asik frontcourt might be even tougher than the San Antonio frontcourt that annihilated the Knicks on Sunday. 
Can Bargnani and the Knicks summon up the kind of defensive intensity they showed in Wednesday night's fourth quarter against the Rockets? Will Kenyon Martin—so clearly the Knicks' best defensive big in the absence of Chandler—be limited in his minutes on the back-end of a back-to-back? The answer to those questions may just decide whether New York can climb back to .500 Thursday night.