The New York Knicks continue to be an absolute mess. After another brutal loss on Sunday, owner James Dolan guaranteed a victory in their next game against the Atlanta Hawks for no reason. Today, reports of an Iman Shumpert for Kenneth Faried swap came about, and now, coach Mike Woodson has decided to start J.R. Smith.
All three of these things solve absolutely nothing for the Knicks.
Your owner guaranteeing a win can only hurt you. The idea of trading Shumpert, New York's best young two-way player for Faried, a forward who does not even remotely fit this Knicks team, would be a disaster. While both those things are bad, though, the immediate problem is the addition of J.R. Smith to the starting lineup.
The recently suspended Knicks shooting guard is coming off the best year of his career in which he won Sixth Man of the Year. The Knicks won the Atlantic Division and grabbed the No. 2 seed in the Eastern Conference with Smith off the bench, so why change what has worked?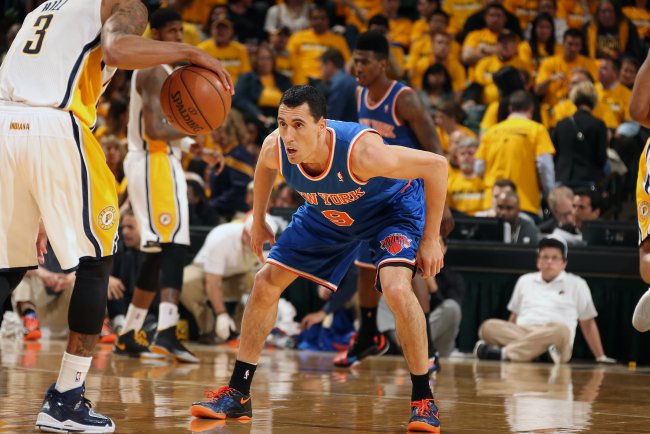 Nathaniel S. Butler/Getty Images
Placing Smith in the starting lineup over Pablo Prigioni will do nothing to help the Knicks. Granted, Prigioni does not nearly put up the stats Smith does. Prigioni does not bring the flare or swagger Smith brings. Let's face it; Prigioni does not possess the scoring ability Smith does. While these simple truths lead many to think J.R. should be moved into the starting lineup, they are wrong.
Prigioni's ball movement is essential in the extremely stagnant Knicks offense. Bringing in Smith, who averaged just 3.9 assists per 48 minutes last year, completely destroys the movement of the ball. Smith likes to take defenders one-on-one, and with Carmelo Anthony also on the court, it leads to an offense that looks more like a couple of guys playing a pick-up game, instead of an offense that should be run in the NBA.
Prigioni on the other hand, averaged nine assists per 48 minutes last year. The reason the Knicks went 16-2 when starting Prigioni in the regular season last year was because he fits their style of play. This year, especially, without Jason Kidd to help the ball movement, the Knicks simply cannot afford to have Prigioni on the bench.
The biggest problem about this change is that it's going to hurt Carmelo Anthony.
Many believe it will help Anthony, having another scorer on the floor, but the statistics prove otherwise.
Melo shot 47% overall & 40% from 3 w/o JR last yr, vs 43% & 36.6% w/ him. In 2011: 48% overall & 38% from 3 w/o JR, 42% overall & 34% w/ him

— Chris Herring (@HerringWSJ) November 13, 2013
The Knicks need Anthony, their best player, to be on top of his game, especially with Chandler out. Seeing his shooting percentages suffer with Smith on the floor, the change simply continues to not make sense.
Carmelo is their star, Smith is their sixth man and that's how it should stay. Smith being out of the starting lineup is not the reason the Knicks lost to the Pacers in the playoffs last year, it is not the reason they are struggling this year and starting him now will certainly not be the reason they turn it around.
Prigioni is not going to fill up the stat sheet, and he is not going to shock you with his athleticism. What he does do is help teams win ball games. His defense and ability to get everyone involved offensively will be sorely missed in the starting lineup.
Sure they may win tonight's game and they should, but as a whole, making Smith a starter creates a more stagnant offense and a worse defense, which I think many Knicks fans can agree is the worst possible thing that can happen to this team.
All stats obtained from stats.nba.com.