Aaron Ramsey's recent form is something of a phenomenon.
Since the start of August, Ramsey has risen to become one of the stars of the Premier League. He is also currently the most prolific midfielder in any of the major European divisions.
He is an almost unrecognisable from the frustrated figure who has spent much of the last five years tearing around the Arsenal midfield like the proverbial decapitated poultry.
Ramsey was once a mere squad player—now he is the first name on the Arsenal team sheet.
It's a rate of improvement that borders on the supernatural. However, in this piece we'll dig deep to discover just how the trajectory of Ramsey's career has shifted so dramatically.
Time heals
There's no doubt the broken leg Aaron Ramsey suffered in February 2010 has played a major role in defining his development.
Ramsey was just 19 when he suffered the injury, but had already made great strides. Going in to that fatal game with Stoke, he had clocked up 18 Premier League appearances, and was showing signs of developing in to an all-action midfielder in the Steven Gerrard mould.
The leg break was a huge setback. It's often forgotten that when Ramsey first returned from injury he spent unsuccessful loan spells with both Nottingham Forest and Cardiff. His future at Arsenal was far from certain.
Speaking in February of 2013, Ramsey told the Daily Mail that it took three years to fully get over the injury:
It was a really tough thing to go through and I don't wish it upon anybody. The determination and the professionalism that you need, all the hours you have to spend in the gym, it's quite tough. But I've got through that. It's taken me a bit longer than I would've liked, but I'm happy now where I am, and hoping to improve and carry on this good form that I'm in.
When Ramsey first returned from injury, there was an understandable hesitancy to this game. When you've seen your leg snapped in two, it's inevitable that you'll have reservations about throwing yourself in to challenges.
The physical wounds heal relatively quickly, but the psychological ones take time.
Looking back now, there is something portentous about Ramsey's words. They were spoken just as he was finally being given a chance in his preferred central midfield role. Shortly afterwards, his game began to flourish.
Keeping it simple
Ramsey's improvement is not quite as sudden as it might appear. His game began to make real strides forward in 2012-13.
His 2012-13 campaign didn't begin in a particularly auspicious manner. At the start of last season, Ramsey was predominantly being used as an auxiliary winger, penning in attacking full-backs and bulking out the Arsenal midfield.
Ramsey is a fantastic footballer, but he is no winger. For one thing, he doesn't have the pure sprinting ability to beat a man on the outside.
The life of a winger is hard, even for those who've made it their vocation. Space is at a premium, and the pressure from opposition defenders is constant. The ball rarely reaches you, and when it does you're expected to make an instant attacking impact. Trapped by the byline, he was forced to overcomplicate his game, attempting back-flicks and reverse passes that rarely came off.
Every failed pass incurred the wrath of the crowd and damaged Ramsey's confidence. He was caught in a negative spiral.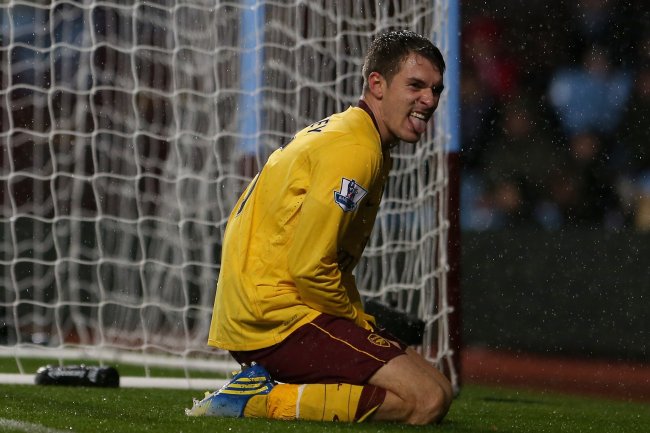 Julian Finney/Getty Images
Ramsey's improvement began when he reverted to the centre. After a conversation with Arsene Wenger, he concentrated on keeping his game consistent and simple. Focusing on what he could do rather than he couldn't allowed his confidence to grow. Speaking to the Daily Mail back in February, Ramsey said:
I'm getting stuck in a lot more. I'm winning a lot more balls back and reading the game better and moving the ball quicker, which suit's the way we play. I've had positive feedback from the boss.
The stats back that claim up, too. Ramsey was winning more and more tackles, slowly conquering his trauma.
This season, the numbers are even better. Ramsey's defensive statistics have increased exponentially.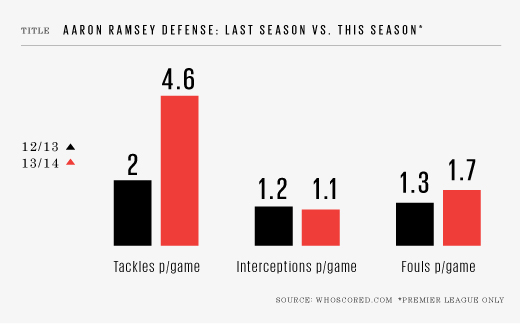 Source: Whoscored.com (*Premier League only) | Graphic via @Dorkkly
While his goals have hogged the headlines, it's worth noting that Ramsey is making just as many interceptions as he was last season. He has not sacrificed the defensive aspect of his game.
The most remarkable feat is that he has more than doubled the amount of tackles he is making in every game. Despite making so many more challenges, he has not made many more fouls: these are clean, pure tackles. Ramsey has banished any fear from his mind, and has become a tackling machine. His physical and psychological rehabilitation is complete.
Switching back to he middle helped Ramsey's passing too, and he was finally able to mesh his box-to-box style with Arsenal's continuity-based possession game.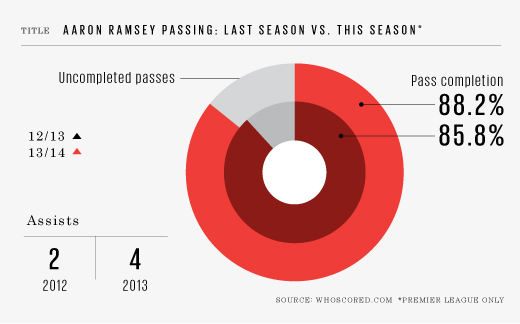 Source: Whoscored.com (*Premier League only) | Graphic via @Dorkkly
A pass completion of over 85 percent both this season and last shows how reliable Ramsey's distribution has become. Ramsey has learnt the art of playmaking from sitting alongside the experienced Mikel Arteta. Both men are now experts in ball retention.
The fact that his passing completion stats are slightly worse this season is balanced with the fact that he has already doubled his assists tally from 2012/13. With his confidence on the rise, Ramsey is attempting a few more defence-splitting passes. Inevitably a couple of these will fail, but when they work they can produce a match-winning moment. Ramsey's revival is a cake baked out of consistency, and now he's applying the cherry of invention to the top.
Aaron Ramsey: Goalscorer
It's impossible to discuss Aaron Ramsey's progress without making mention of the 11 goals he has scored this season.
The surge in scoring is truly remarkable. The following chart compares his number of Premier League appearances and goals since 2008.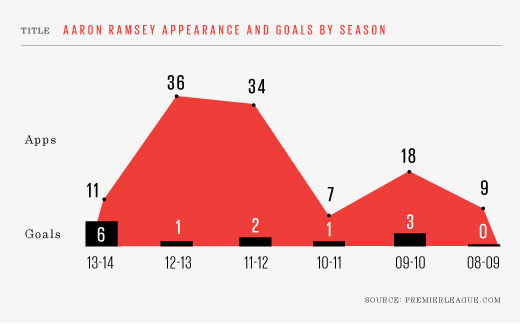 Graphic via @dorkkly
It took Ramsey five years to score his first seven Premier League goals. This season, he has six already, with only a quarter of fixtures played.
Last season, he made 36 Premier League appearances, scoring just one goal. It was the one element missing from his rapidly progressing game.
However, goals breed goals. Every time the ball hits the back of the net, Ramsey's confidence soars to new heights. As the following chart illustrates, he is now taking more than double the amount of shots per game he took last season.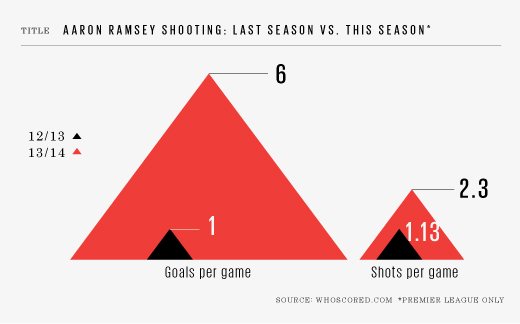 Graphic via @dorkkly
There is a truism in football when it comes to shooting that says, "If you don't buy a ticket you can't win the lottery/" Ramsey is buying twice as many tickets, and reaping the dividends.
Looking forward
It might not be possible for Ramsey to maintain this goalscoring hot streak, but the strength of last season's stats suggests that his overall contribution to the team is no fluke. His defensive work and passing ability will continue to make him an important part of the side even if he cannot sustain his goals ratio.
For the first time in his career, Ramsey can afford to look forward to a bright future rather than back at a horrifying injury. As he told the Daily Mail:
That injury did take it out of me and hopefully that will only have been a minor hiccup when I look back on my career.
On the evidence of this season, that will almost certainly be the case.
James McNicholas is Bleacher Report's lead Arsenal correspondent and will be following the club from a London base throughout the 2013/14 season. Follow him on Twitter here.
The charts and graphics in this piece were provided by the very talented Kaleena Ly. Follow her on Twitter here.