College Football Week 12 Predictions: Picking Top 25 Games Against the Spread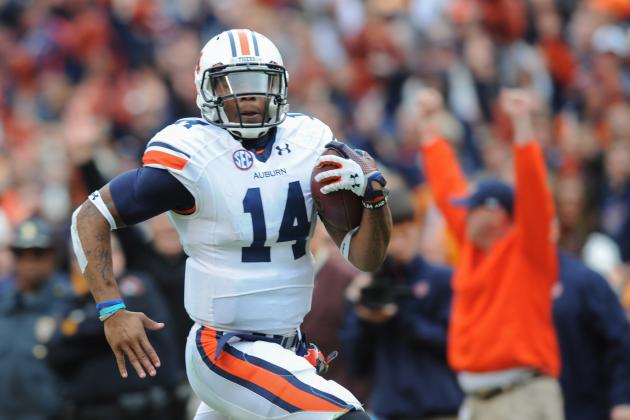 Randy Sartin-USA TODAY Sports

We are running out of football.
Just typing "Week 12" was a traumatizing experience, a reminder that all good things eventually come to an end. We are nowhere near the conclusion of the season, of course, but the final chapter is beginning to take shape. Enjoy it all, and I have no doubts that you will.
Although Week 12 doesn't quite pack the same punch as Week 11, these are the Saturdays (and Wednesdays, and Thursdays and Fridays) that often provide fireworks.
Top 25 teams hope that is not the case, although there are a handful of intriguing matchups in which the unexpected seems possible.
And there are always point spreads, the ultimate way to make any game competitive. Can we top last weekend's solid 12-5 record? Of course we can, maybe.
Record Against the Spread Entering Week 11: 107-86-2
Spreads courtesy of VegasInsider.com
Begin Slideshow

»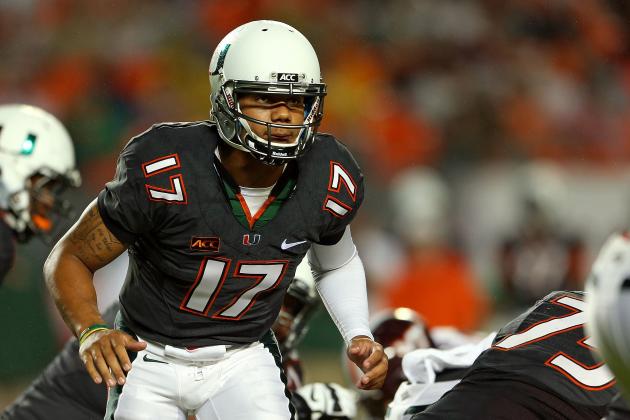 Mike Ehrmann/Getty Images

From Top 10 undefeated team to three-point favorite to Duke—this is football, just a reminder—the last few weeks for Miami have been...interesting. Sure, let's start there.
The Hurricanes were blown out by Virginia Tech as a five-point favorite, and they have now lost their last four games against the spread. The defense has, well, looked like the defense we expected to see, and the offense simply isn't the same without running back Duke Johnson.
Duke—no, the other Duke—has won its last five and covered in the last four. It needed three touchdowns in about 30 seconds to do so last week, but the streak stayed alive regardless. More importantly, there's a huge emotional edge in the Blue Devils' favor with Miami coming in down and out.
Without Duke (the running back), I like Duke. Yep.
The Pick: Duke (+3)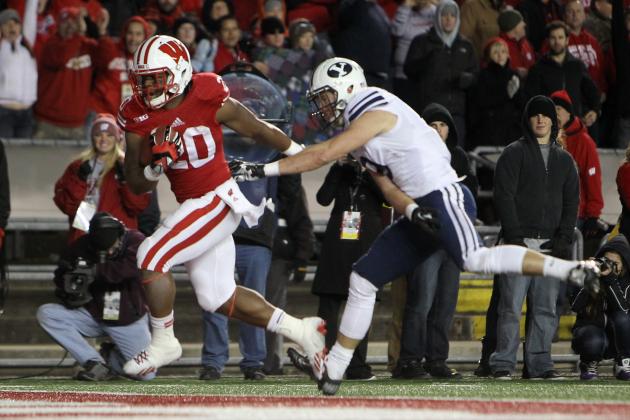 Mike McGinnis/Getty Images

The good news for the Hoosiers is they're scoring an awful lot of points, and the offense has exhibited plenty of promise throughout the season. The bad news is the defense has given up at least 35 points in the past four games. The other bad news—bad news 2.0, we'll call it—is that this will only be Indiana's third road game of the year.
In those prior two games, Indiana allowed 105 points, and it did not cover each time out.
Wisconsin, meanwhile, is seemingly improving each week. The Badgers just barely covered the final 9.5-point spread against BYU. With that, Bucky has yet to lose a game against the spread...all year.
This is not a good matchup for Indiana, and look for Melvin Gordon to run for roughly 45,791 yards. Give or take.
The Pick: Wisconsin (-21)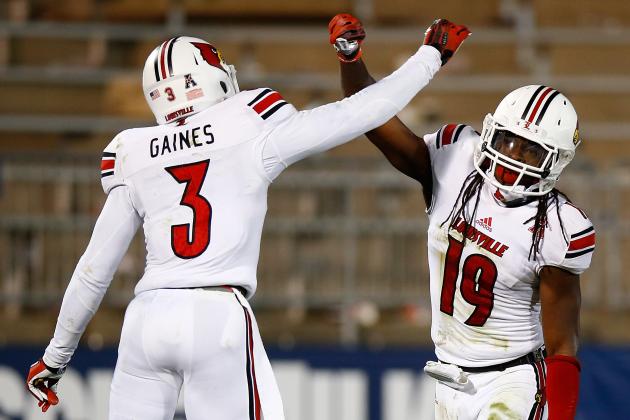 Jared Wickerham/Getty Images

Six weeks ago, this spread would have looked entirely too easy for Louisville. Now, 16 points feels like an awful lot to lay considering the way the Cardinals have played recently.
Charlie Strong's team has covered once in the last five games, and offensively—even with the great Teddy Bridgewater—the team has been unable to establish much of a rhythm.
Houston, however, will head on the road following a near upset win over Central Florida as nearly a two-touchdown underdog. Strangely enough, this loss might have been the nail in the coffin for Louisville's BCS hopes.
Even with the loss, the Cougars have covered the spread eight out of nine game in 2013. So why is the line so large?
Vegas seems to believe Louisville will finally look the part. Or perhaps that Houston will be sluggish following a tough defeat. In Vegas we trust.
The Pick: Louisville (-16)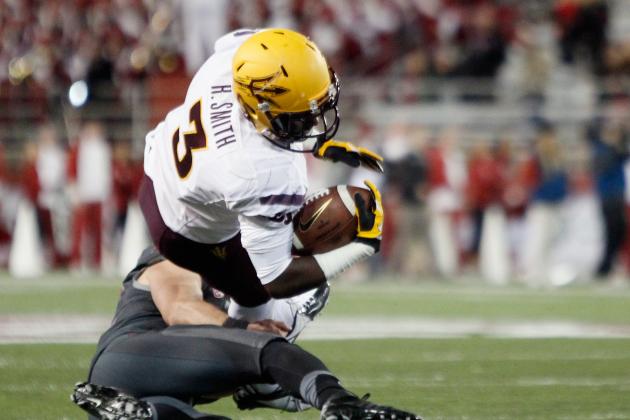 William Mancebo/Getty Images

It didn't come easy for Arizona State in Week 11, but the Sun Devils battled back and secured an enormous win at Utah—which at this point is probably the most hilarious home-field advantage in the country.
Still, a win is a win, even if ASU didn't cover the touchdown spread.
Oregon State will head to the desert, coming off a bye that came at the perfect time. After a strong stretch, the Beavers' impressive offense scored just 26 combined points against Stanford and USC in back-to-back losses.
The time off certainly will help, although this is an environment that Arizona State has thrived in. At home, the Sun Devils are 4-1 against the spread this year, and they're averaging 51 points per game. That's not good news for a team trying to find its offense.
It's a lot to lay against a quality opponent, but it's a lot for a reason.
The Pick: Arizona State (-13.5)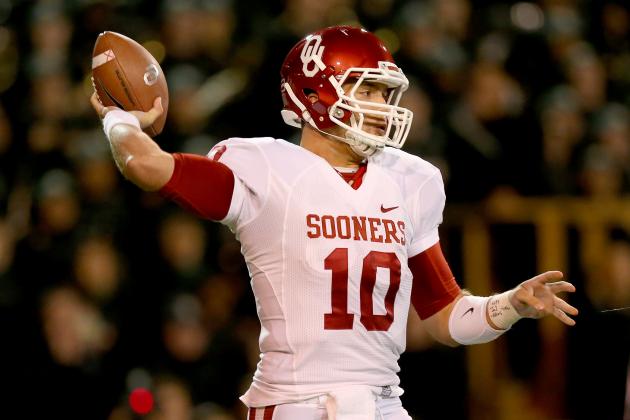 Ronald Martinez/Getty Images

The Sooners will head home following Baylorgeddon, and they will draw a team they have beaten 10 consecutive times. A win here seems likely, of course, but the 24-point spread is a robust number for a team that is 1-4 against the spread in the past five games.
Iowa State took TCU to the brink, and while the Cyclones lost, they did end up covering the seven-point number. Moving to this week, this will mark the second time this season that Paul Rhoads' group will be more than a 21-point underdog on the road.
The first time came against Baylor, and the 71-7 score was not favorable.
Given last week's results, however, the masses will likely jump to take the points here. Will Oklahoma bounce back strong, or will it let down following a disappointing showing in the spotlight?
The line tells us Bob Stoops will have this team ready. I'll reluctantly agree.
The Pick: Oklahoma (-24)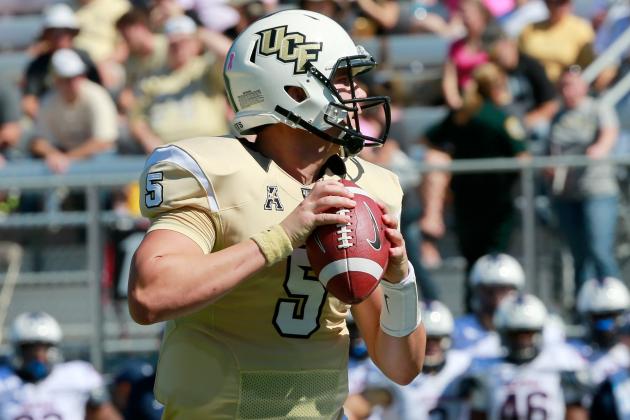 Sam Greenwood/Getty Images

For the second time this season, Central Florida did not cover the spread. The Knights' BCS hopes stayed alive with a late stop against Houston, however, which is slightly more important. I promise it is.
Now UCF will head on the road to take on a 1-8 team that lost to Idaho and Fordham earlier this season. Strangely enough, Temple has covered its last five games and has improved a great deal despite having very little to show for it. The Owls will also be coming off their bye week.
What kind of effort will we get from UCF after surviving the scare? Although the talent gap is significant, Temple might be able to keep this one close enough to cover, especially after a dramatic win.
Ah, nothing quite like putting your faith in a one-win team in Week 12. Cheers.
The Pick: Temple (+16.5)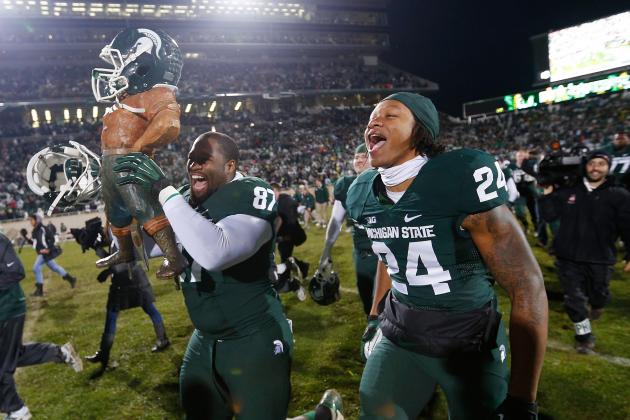 Gregory Shamus/Getty Images

Welcome to one of Week 12's most curious matchups, and there are fascinating trends working for and against each team.
There's a sudden buzz in Nebraska after the Cornhuskers took down Northwestern with a Hail Mary, and this added life surfaced in the team's 17-13 win over Michigan last weekend as a six-point underdog. Even without quarterback Taylor Martinez—who is now likely done for the season—this team should not be dismissed.
Michigan State is the best team Nebraska will play this season, and Sparty will head on the road following a bye. The Spartans are 5-0-1 in their last six games out of their building, and defensively there might not be a better team in the country.
The Cornhuskers, however, have won this meeting the last five times—covering each time. The small point spread here tells me they will be game once again.
I see Michigan State coming out on top, but it won't come easy. It feels like a field-goal game, which means take the points.
The Pick: Nebraska (+6.5)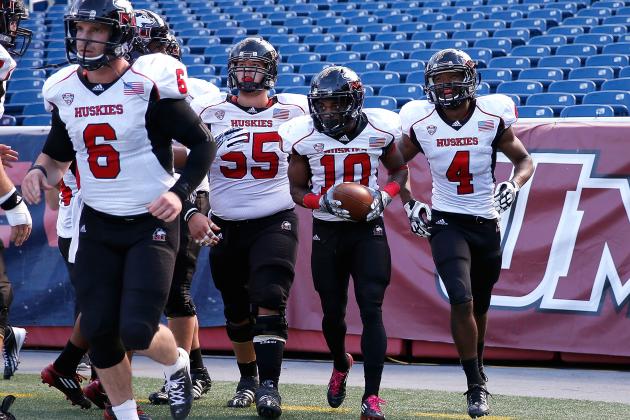 Jim Rogash/Getty Images

Sweet, glorious Wednesday night #MACtion, you are both sweet and glorious.
This week's Wednesday night football matchup is a doozy, and the winner will likely be your 2013 MAC champs. Adding to this, the Keith Wenning-Jordan Lynch quarterback matchup is poised to provide magnificent entertainment.
Northern Illinois will head into this game blazing and off a bye. NIU was favored by a combined 59.5 points in the past two games, and it covered these spreads with ease. The Huskies have covered five out of the past six games.
Ball State enters Week 12 an impressive 7-3 against the spread, and the Cardinals appear to be hitting stride. The problem? Northern Illinois has won the last four matchups and appears to have a recent stranglehold of the series.
Still, this is a game I want a touchdown in. The two teams are incredibly evenly matched, and a win on either side—despite recent trends—wouldn't surprise.
The Pick: Ball State (+7)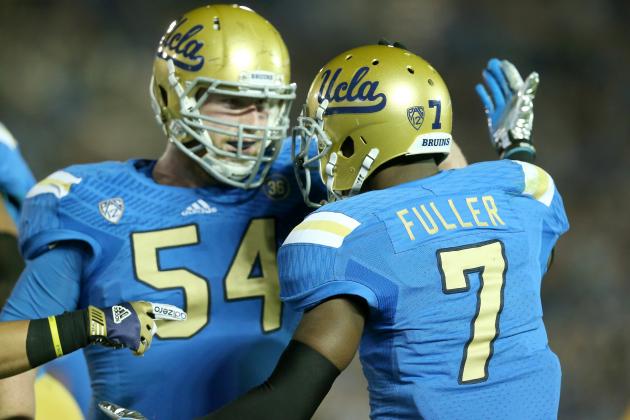 Stephen Dunn/Getty Images

Here's a Friday night matchup that you have good reason to ditch family and friends for—as if you needed an excuse to do such things.
After watching its season derail with three consecutive losses—albeit against quality conference foes—Washington has recovered nicely, winning its last two games by the combined score of 100-24. For the year, the Huskies are 5-4 against the spread.
On a similar path, UCLA dropped two games to Stanford and Oregon, but the Bruins have also won their last two. Last weekend's 31-26 road win (and cover) against Arizona did not come easy, but it doesn't matter.
What's interesting, however, is that the nation's 13th-ranked team is only laying three points. Do the oddsmakers love Washington, or are they anti-UCLA?
Regardless, the road dog feels live and recovered here. And although I'd love more points, the fact that I'm not getting more is telling.
The Pick: Washington (+3)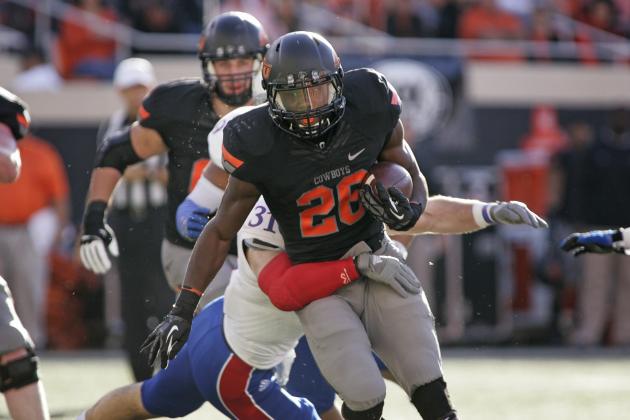 Brett Deering/Getty Images

Don't look now, but Oklahoma State is hitting stride. Also, Mack Brown suddenly has a team with its backup QB rolling. The transformations of these two programs over the past month have helped reshape the outlook of the Big 12. Combined, these two are 7-1 against the spread over the past month-plus.
Oklahoma State will hit the road after manhandling Kansas—well, yeah—and offensively, this team finally has found some rhythm. In the past three games, the Pokes have scored a combined 152 points.
Texas almost saw its run go up in flames in Morgantown (get it, flames?), but the Longhorns prevailed against West Virginia in overtime. This win, however, came at a price. Running back Johnathan Gray and defensive tackle Chris Whaley—two integral players for the team—suffered season-ending injuries.
I love the way Texas has bounced back, but Oklahoma State appears to have another gear left. Give me the man who is indeed a man and 40. Tough game to pick.
The Pick: Oklahoma State (-3)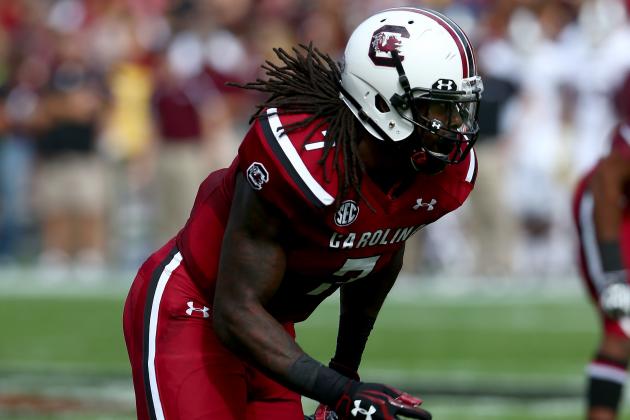 Streeter Lecka/Getty Images

I'm not quite sure how we can best analyze the state of the Florida program, so I'll let this GIF do the talking for me.
There we go.
The Gators will hit the road after being embarrassed by Vanderbilt on homecoming, and they will bring nearly two touchdowns with them. Thus far, the team's performance is reflected by its 3-6 record against the spread. Injuries, offensive issues, you name it, they've probably got it.
South Carolina is coming off its bye, and before that the Gamecocks covered back-to-back games against the spread for the first time this season. Historically, South Carolina has been dominated in this series—winning just three times in the past 17 games.
As we've seen with this Florida team, however, we might as well throw history out the window.
I don't know what this Gator team has left (if anything), which is why I simply cannot take the points here.
The Pick: South Carolina (-13.5)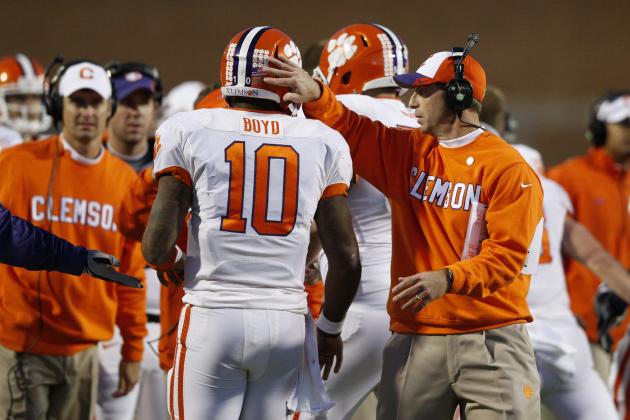 Joe Robbins/Getty Images

This series has not been good to Clemson in recent years. Georgia Tech has won five of the past seven meetings, although the Tigers dropped 47 on the Yellow Jackets last season.
As for recent trends, Clemson has settled down in the past few weeks after being dismantled by Florida State. The Tigers beat both Virginia and Maryland on the road, and they will enter this Thursday night showdown off a bye.
Georgia Tech also enjoyed the bye last weekend, and like its opponent, it too has bounced back nicely since dropping three straight. The Yellow Jackets have won their last three out, although they have not covered the spread in five of the last six.
This will be the best offense GT will see all year. And if Paul Johnson's crew gets down on the road early, how will this offense response?
The answer: probably not well.
The Pick: Clemson (-10.5)
This is a sucker line, a line that is absolutely begging you to bet Auburn. Just like the week before. And just like the week before that. And the...
Vegas has had issues handicapping the Tigers this season, and Gus Malzahn's group has now covered in seven consecutive games. There's a "when's the collapse going to arrive?" mentality brewing; only they keep winning and doing so more convincingly each week.
On the opposite end of this spectrum, Georgia has not covered a spread since...September 7.
In fact, this was the only game the Bulldogs have covered all season. After a slow start against Appalachian State last week, Georgia eventually got it going in the second half and cruised to a 45-6 win. (The spread was 40, so ouch to UGA backers.)
Is this line a little fishy? Yes. Can Todd Gurley go crazy against a run defense that isn't great? Yes. Can Georgia win this game? Absolutely.
But until the Auburn gravy chain breaks down, I'm riding it into the ground.
The Pick: Auburn (-3.5)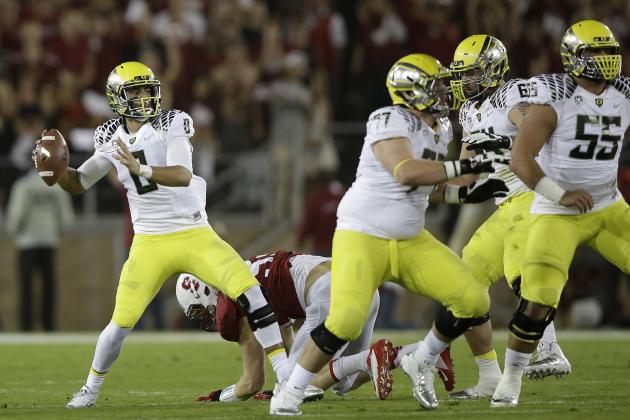 Ezra Shaw/Getty Images

This has been a tough line to track down with the status of Marcus Mariota up in the air, although a handful of offshore sportsbooks seem to have settled on just a tad over three-and-a-half scores.
Mariota has been dealing with a knee ailment according to Internet—and the Internet is never wrong—but it sounds as if he will play. Hence the 25-point spread.
But which Oregon team will we see? Will the Ducks be sluggish after a tough loss to Stanford? And how about Utah?
Oregon wasn't the only team to suffer heartbreak last week. The Utes led almost the entire game against Arizona State, only to watch it come crashing down late. As good as Utah has been at home, this will only be the team's fourth road game of the season. In the previous three, it was 1-2 against the spread.
That's not good news with the toughest trip of the year on deck.
Look for Oregon to be angry, focused, motivated and up for the battle on the line of scrimmage. Ducks win big.
The Pick: Oregon (-25)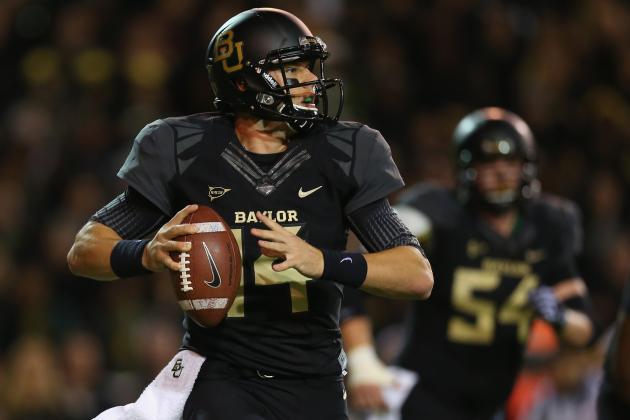 Ronald Martinez/Getty Images

It's worth noting that the over/under in this game checks in right around 84.5. The oddsmakers foresee plenty of points, and it's easy to see why.
With that said, Baylor's offense was off its game against Oklahoma early on. Give credit to the Sooners defense for not giving in, although quarterback Bryce Petty was rusty out of the gate. Still, the Bears eventually got it going and covered the 16.5-point spread. Despite dealing with robust numbers, they are 7-1 against the spread in 2013.
Texas Tech, meanwhile, has lost the past three games after winning the first seven. What's most concerning heading into this game, however, is that the Red Raiders have given up 139 points in the past three games.
(Hence the 84.5 total.)
Even though Baylor is beat up on offense, it won't matter here. The spread is enormous—especially following a huge program win—but this figure could be erased in the first quarter.
The Pick: Baylor (-27)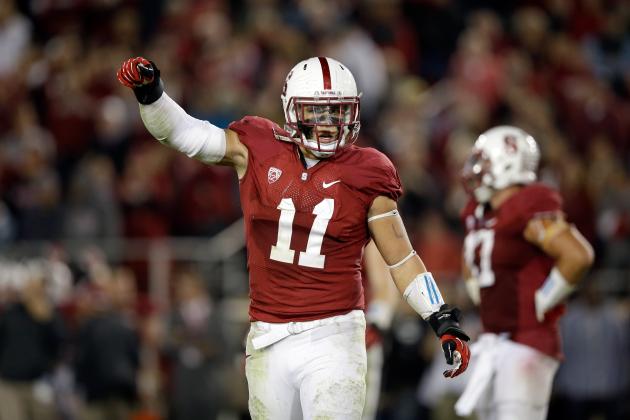 Ezra Shaw/Getty Images

Well, well, well, what do we have here?
Six weeks ago, the notion of a four-point spread between these two teams would have come with a laugh track. And not the good, quality laugh track. We're talking Full House-quality laugh track tracks.
But now, this small spread feels appropriate. Don't think for one second USC can't win this game outright.
For one, Stanford is coming off its biggest win of the season, a game it has been emotionally preparing for since the last time it beat Oregon (last year.) Will the Cardinal come out flat as a result? It's certainly possible.
USC has won (and covered) in four of the past five games since Ed Orgeron was named interim coach. Simply put: This is a completely different team. Offensively, the Trojans have found a rhythm, and their style is similar to that of Stanford's.
Run, stop the run, win.
Don't look now, but USC is playin' ball. It catches the Cardinal at the perfect time, and this underdog is indeed live.
The Pick: USC (+4)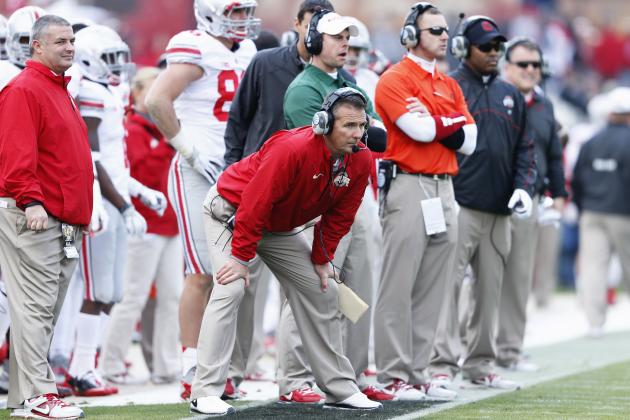 Joe Robbins/Getty Images

For the second game in a row, Ohio State is at least a 32-point favorite on the road. This is a) a sign of just how talented this team is and b) a sign of just how not talented some of the teams on this schedule are.
The Buckeyes will head to Champaign off a bye, and they will do so having covered six out of nine games this season. In their last six meetings in the Illini's building, however, the Buckeyes have covered only twice.
Illinois enters this game struggling, having lost the last five games outright and four of the last five against the spread. A difficult schedule (by Big Ten standards) certainly hasn't helped matters, although there's more than that in play.
Yet, despite Ohio State's never-ending need for style points, this spread feels just a bit too large. If Illinois can find the end zone twice, it should cover. Famous last words.
The Pick: Illinois (+32.5)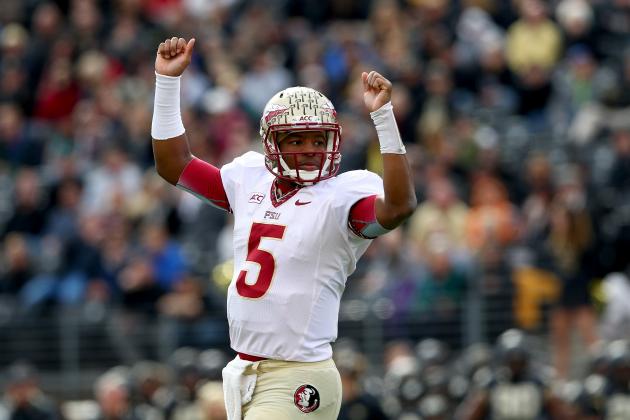 Streeter Lecka/Getty Images

This is not a Week 1 matchup, despite the fact that the spread looks and feels as such. You rarely see spreads this high in conference play, but then again, you rarely see teams play as well as Florida State has in recent weeks.
The Seminoles are 9-2 against the spread this season despite dealing with a handful of monstrous numbers. Florida State's low point total of the season was 41—it did that twice—but it has not had a game all year with a scoring output in the 30s.
A reminder: It is Week 12, and that's rather ridiculous.
This week's opponent, Syracuse, has been a solid bet this year as well. The Orange have won their last two games and covered six out of nine times this year. Offensively, this team has struggled, however, which isn't good news here.
But to me, this is simply too many points. The talent gap is enormous, but FSU no longer needs style points.
A win will do just fine, and you can expect to see the backups' backups early.
The Pick: Syracuse (+38.5)
The winning machine that is Alabama has also been good to gamblers. Nick Saban's team has now covered the past four times out and six out of nine games in 2013.
After beating LSU in an emotional game at home, Nick Saban jumped for joy into his QB's arms. Will this team be prime for the letdown a week later on the road? Alabama was certainly sluggish against Colorado State following the team's victory over Texas A&M.
That was a much different team at a much different time.
Mississippi State was solid in a loss to Texas A&M last weekend, easily covering the 19-point spread. This, however, was the first time the Bulldogs covered a spread since the beginning of October.
Twenty-five points seems like an awful lot to lay with a letdown possible, but the Alabama defense should make life difficult. Even with an emotional drop-off possible, look for the Crimson Tide to take care of business.
It's all part of the (covering) process.
The Pick: Alabama (-25)