So You Want to Watch Anderson Silva Sing Some R&B?
Use your ← → (arrow) keys to browse more stories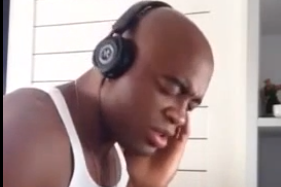 Anderson Silva's Personal Youtube Account

Here's your Brazilian cultural lesson for today: If you call someone a 'Mamma's Boy', you better back it up by dancing around for the next ten minutes. That's the only way your insult can fully be realized. In Brazil, all personal and family insults are accompanied with a dance number. That's how Carnival gets started every year -- two dudes slinging 'Yo Mamma' jokes until eventually an entire parade barrels through the town complete with chicks rocking peacock feathers and large golden hats. All of that is derived from a Demian Maia joke that I didn't explain in the beginning of the paragraph. I tried to fool your cognition with an incomplete thought, and it worked.