Who Had the Best Season: Ranking the NY Mets' Pitchers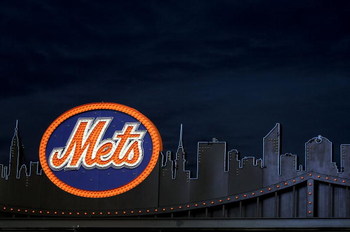 Since the 1960s, the Mets' pitching staff usually stands out as one of the best in baseball.
Not sure why we never experience a no hitter! But that's another story.
In the '60s & '70s, Seaver and Koosman reigned supreme at Shea. Followed by Gooden, Darling, Leiter, and now Santana.
This slide show will rank the best pitching seasons in Mets history.
This show is not meant to rank the pitchers who pitched the best over their career with the Mets.
We are only ranking the best seasons.
Also, a pitcher will only appear on this list once. If not, Seaver and Gooden would make up 50 - 60 percent of the list.
The rankings will list the top 10 starters and top five relievers.
I hope to hear your opinions.
Starting Pitcher No. 10: Ron Darling (1986)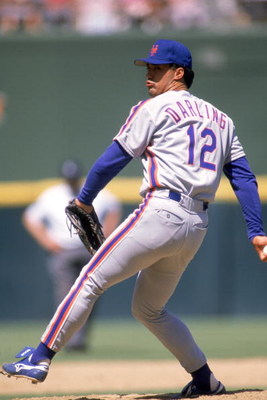 Stats: 15-6, 2.81 ERA, 237 IP, 4 CG, 184 K
It was quite difficult identifying what season was Darling's best. From 85-88 his numbers were almost identical.
I decided to go with the memorable '86 season because it was the only year he finished in the top 10 in the Cy Young, by finishing fifth.
Starting Pitcher No. 9: Jon Matlack (1976)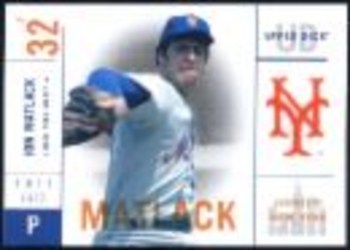 Stats: 17-10, 2.95 ERA, 16 CG, 6 SHO, 262 IP, 153 SO
In 1976, the Mets finished third in the NL East winning 86 games. Their pitching staff was first in ERA and Strike Outs, led by Seaver, Koosman and Jon Matlack.
Matlack's Rookie-of-the-Year season of '72 was very close but fell behind this year, which he pitched in the All-Star game and finished sixth in the Cy Young ballot.
Starting Pitcher No. 8: Al Leiter (1998)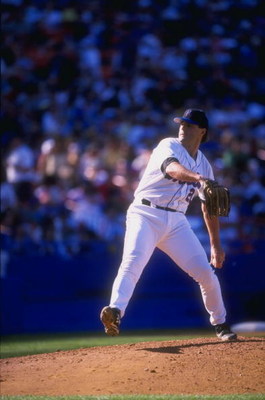 Stats: 17-6, 2.47 ERA, 4 CG, 193 IP, 174 SO
When the Mets traded AJ Burnett and Jesus Sanchez for Leiter, prior to the 1998 season, they were expecting a veteran who had post-season experience and would fit nicely in the middle of the rotation behind Rick Reed and Bobby Jones.
What they received was an "Ace" who brought fire, leadership, and knowledge.
It was home for the intense lefty, who grew up a Met fan in NJ.
Starting Pitcher No. 7: Frank Viola (1990)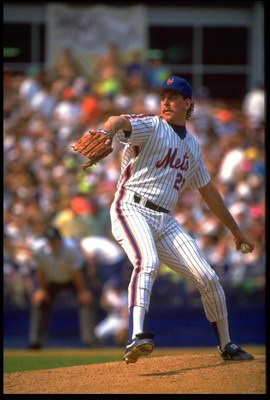 Stats: 20-12, 2.67 ERA, 7 CG, 249.2 IP, 182 SO
In 1989, the Mets were fighting for the division crown when they traded for the best lefty at that time.
To get Frank "Sweet Music" Viola, the tag was quite hefty. The Mets traded away Rick Augliera, Kevin Tapani, David West, and two others.
In 1990, Viola was selected to the All-Star game and finished third in the Cy Young ballot behind winner Doug Drabek and Ramon Martinez (not that outstanding hitter currently playing shortstop for us).
Starting Pitcher No. 6: Johan Santana (2008)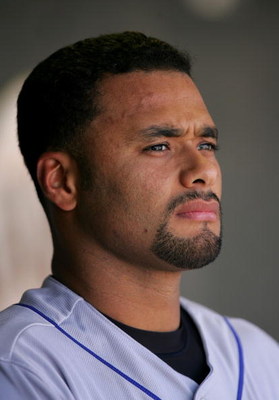 Stats: 16-7, 2.53 ERA, 3 CG, 234.1 IP, 206 SO
The Mets terrible bullpen (understatement) impacted Santana's record the most. If the bullpen was average, Johan would have won at least 20 games.
Johan won the ERA title and was the innings pitched leader last year. He also finished third in the Cy Young ballot behind winner Tim Lincecum and Brandon Webb.
Starting Pitcher No. 5: Bob Ojeda (1986)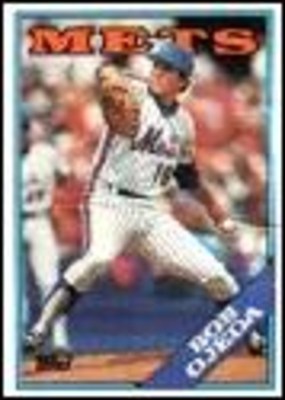 Stats: 18-5, 2.57 ERA, 7 CG, 217.1 IP, 148 SO
Prior to the 1986 season, the Mets traded with their future World Series rivals the Boston Red Sox to obtain Ojeda. They sent reliever Calvin Schiraldi, pitcher Wes Gardner, outfielder John Christensen and some guy named La Shelle Tarver.
Ojeda finished fourth in the Cy Young ballot in 1986 and perfectly slipped into the third spot in the rotation, which finished first in ERA.
Starting Pitcher No. 4: Jerry Koosman (1968)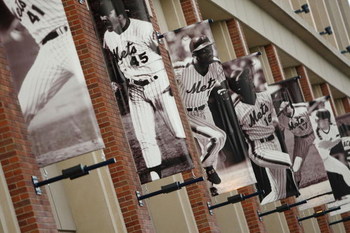 Stats: 19-12, 2.08 ERA, 17 CG, 7 SHO, 263.2 IP, 178 SO
This picture was chosen because I was not able to upload a Koosman picture.
The Mets had success with southpaws in their history. This is the sixth consecutive lefty on this list.
There were three seasons (68,69, & 76) that could have been chosen as his best.
I decided to go with Koosman's rookie season, since he finished second in the ROY ballot (one vote behind Bench), 13th in the MVP ballot, and was selected to the All-Star game.
Starting Pitcher No. 3: David Cone (1988)
Stats: 20-3, 2.22 ERA, 8 CG, 4 SHO, 231.1 IP, 213 SO
Cone was a major reason why the Mets won the division in '88 and was favorite to win the NL pennant.
Again the Mets had the best staff in baseball which also included Gooden, Darling, Ojeda, and El Sid.
Cone only three losses were to St. Louis (June 7), Cinc. (July 4), and San Fran. (Aug. 17).
Starting Pitcher No. 2: Tom Seaver (1971)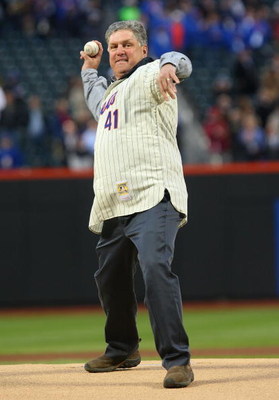 Stats: 20-10, 1.76 ERA, 21 CG, 4 SHO, 286.1 IP, 289 SO
Despite winning three Cy Young Awards (69,73, & 75), I felt that the 1971 season was Tom Terrific's best. You can't ignore that low ERA over 286 innings. That's domination.
Tom finished second behind Fergie Jenkins in the Cy Young ballot and ninth in the MVP ballot. He won the ERA and strike out titles.
Again I was limited in selecting the picture, which is the reason for my choice.
Starting Pitcher No. 1: Dwight Gooden (1985)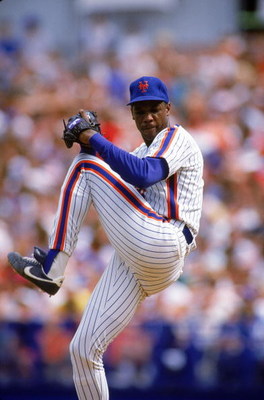 Stats: 24-4, 1.53 ERA, 16 CG, 8 SHO, 276.2 IP, 268 SO
Gooden's 1985 season is arguably the best since the mound changed after the 1968 season (Bob Gibson's ERA was 1.12)
He won the pitching version of the Triple Crown (leading the league in wins, strike outs, and ERA) at the age of 20.
The teams that were lucky enough to beat him were the Cardinals (Apr. 24), Padres (May 20), Dodgers (May 25), and Giants (Aug. 31).
Relief Pitchers: Top Five Seasons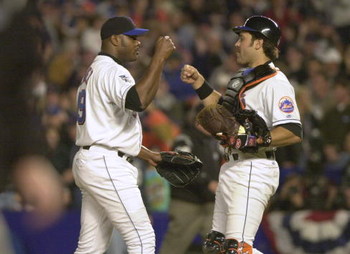 Aside from having outstanding starting pitching during the years, the relievers have matched the success and brought stability to the teams.
Of course up to 2007!
Relief Pitcher No. 5: Skip Lockwood (1976)
Stats: 10-7, 2.67 ERA, 19 SV, 94.1 IP, 108 SO (10.3 K/9)
I never heard of Skip, but was impressed enough to include him in the list while reviewing the stats.
Relief Pitcher No. 4: Armando Benitez (2000)
Stats: 4-4, 2.61 ERA, 41 SV, 76 IP, 106 SO (12.6 K/9)
I developed ulcers due to watching him close games. For the most part he was successful except when we played the Braves.
Overall for the Mets (4.5 seasons), Benitez compiled a 2.70 ERA with 160 saves.
Relief Pitcher No. 3: Billy Wagner (2006)
Stats: 3-2, 2.24 ERA, 40 SV, 72.1 IP, 94 SO (11.7 K/9)
Wagner finished sixth in the Cy Young ballot in '06, helping the Mets dominate the season.
Relief Pitcher No. 2: Tug McGraw (1972)
Stats: 8-6, 1.70 ERA, 27 SV, 106 IP, 92 SO
Tug McGraw was the first dominated closer in Mets history. Closers back in the day were expected to pitch more than one inning, as reflected by Tug's 106 innings pitched over 54 games.
Relief Pitcher No. 1: Jesse Orosco (1983)
Stats: 13-7, 1.47 ERA, 17 SV, 110 IP, 84 SO
Save totals are misleading and is the reason why Jesse Orosco's '83 season is my choice for best relief stats.
I'm glad that the league and fans acknowledge these greats stats, as Orosco was selected to the All-Star game, finished third in the Cy Young ballot (behind John Denny and Mario Soto) and finished 17th in the MVP ballot.
Keep Reading

New York Mets: Like this team?