In a game highlighted by young offensive players and two talented defenses, the Tampa Bay Buccaneers got their first win of the season on Monday night, holding off the Miami Dolphins, 22-19.
Rookie quarterback Mike Glennon was just 11-of-21 for 139 yards, but Brian Leonard and Bobby Rainey tallied over 100 combined yards on the ground, and the Buccaneers defense stifled Miami to a franchise-low two rushing yards.
FIRE THE CANNONS! BUCS WIN! TB 22, MIA 19 The Bucs Defense holds Miami to 2 rushing yards in the win. #MIAvsTB #MNF pic.twitter.com/rm7pSoNPU6

— Tampa Bay Buccaneers (@TBBuccaneers) November 12, 2013
Ryan Tannehill threw for 229 yards and connected with Rishard Matthews for a career-high 120 yards and the first two touchdowns of his career, but without a running game, the Dolphins couldn't escape Raymond James Stadium with the road win.
Tampa Bay is now 1-8, while the Dolphins fall to 4-5.
The Bucs got things started right out of the gate. Relying on a heavy dose of running back Mike James, they went 76 yards on the first drive of the game, capping it off with a one-yard touchdown throw from Glennon to none other than left tackle Donald Penn:
Of course, it wasn't complete without an impressive celebration from the 340 pounder:
Unfortunately for Tampa Bay, James, who had 41 yards on five carries on the drive, was forced from the game with an ankle injury on a rush that brought the Bucs to the Miami one-yard line. ESPN Stats & Info noted the adverse effect his departure had on the offense:
Bucs averaged 10.0 yards per play on the 8 plays prior to Mike James leaving game. They are averaging 3.4 yards per play on 31 plays since

— ESPN Stats & Info (@ESPNStatsInfo) November 12, 2013
Still, Tampa Bay was able to add two more field goals and a safety to extend its lead to 15-0 with just over nine minutes remaining in the second quarter.
Much like last week in Seattle, though, a big early lead wasn't safe.
Tannehill orchestrated an impressive 90-yard drive late in the second quarter, finishing it off with a six-yard TD connection with Matthews on an inside slant to the cut the lead to 15-7 going into the locker room.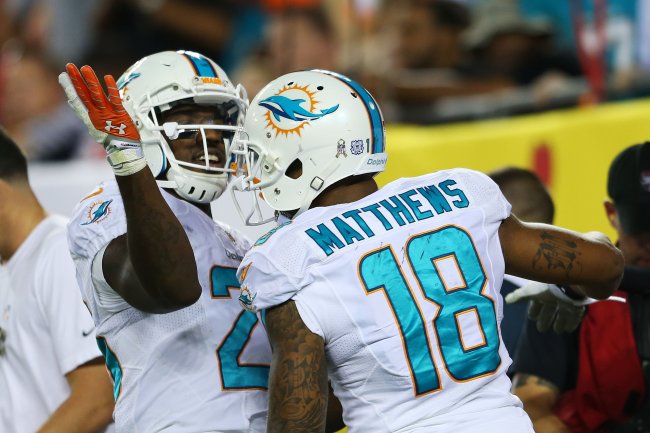 The second half was all about field position, as the Dolphins needed a total of just 43 yards on three scoring drives in the third quarter: a big Marcus Thigpen punt return led to a field goal, a poor Michael Koenen punt led to a 41-yard touchdown drive and a Glennon interception led to another field goal.
Despite any real dominance on the offensive side of the ball, the Dolphins were able to carry a 19-15 lead into the final quarter.
But Tampa Bay turned back to the running game, leaning on Leonard and Rainey to piece together an 80-yard scoring drive to re-take the lead, 22-19 with over 10 minutes remaining in the fourth quarter.
Tampa Bay's defense would do the rest, forcing a quick punt on Miami's next possession and sacking Tannehill twice on the final drive before Darrelle Revis ended the game with an interception.
Player Grades
Ryan Tannehill, Dolphins: C+
Tannehill was able to move the ball fairly consistently through short- and mid-range throws, but when he put some air under the ball, he was inaccurate. This first-half tweet from ESPN Stats & Info summed it up quite well:
Ryan Tannehill is 15-for-16 with a TD on throws less than 15 yards downfield. He is 0-for-3 on deeper throws.

— ESPN Stats & Info (@ESPNStatsInfo) November 12, 2013
In the first quarter, he overthrew Matthews on deep ball that could have easily turned into a touchdown, and in the second, he missed a wide-open Mike Wallace on the sideline.
The second-year quarterback was effective at times for how little protection his offensive line gave him, but those are throws he has to complete as he continues to progress in his career.
Mike Glennon, Buccaneers: B-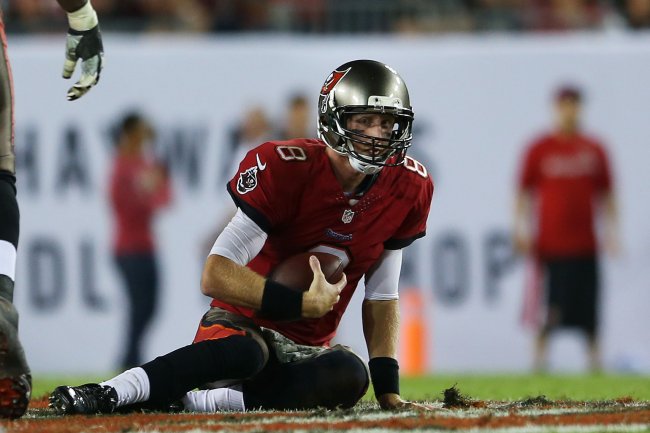 Glennon started off the game nicely, completing some solid throws on a couple of early scoring drives, but after the first quarter, he was unable to do much of anything.
Part of the problem was Miami's increased pressure as the game went on. He completed just 52.4 percent of his throws and tossed an interception in his own territory in the third quarter that led to points for the Dolphins.
A win is a win, and this was the first of Glennon's career, but the Buccaneers running game and defense were vital reasons for the victory.
Rishard Matthews, Dolphins: A
Entering the game, Matthews had 10 catches for 117 yards in the first eight games of the season. On Monday, he more than doubled those numbers with 11 catches, 120 yards and two touchdowns, an accomplishment no Dolphin has achieved in the last five years:
Rishard Matthews is the 1st Dolphins player with 100 receiving yds and 2 TD catches in game since Patrick Cobbs Week 6, 2008 vs Texans

— ESPN Stats & Info (@ESPNStatsInfo) November 12, 2013
The second-year wideout made it look fairly easy, too. Working primarily out the slot, he found open spaces in the Bucs secondary and racked up a good amount of YAC.
Buccaneers Front Seven: A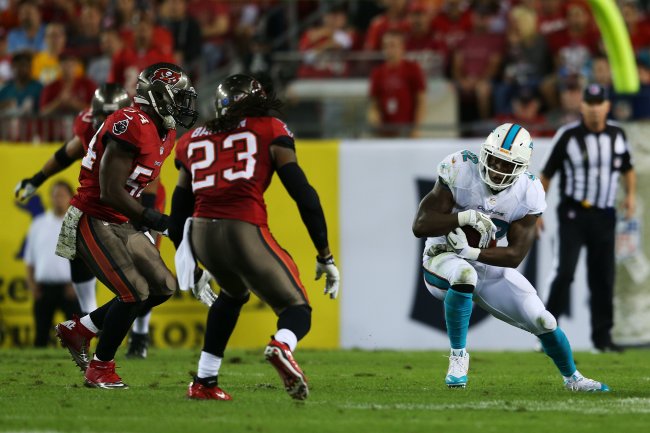 In the last two games, Lamar Miller rushed for 194 yards on 34 carries (5.71 YPC) but the Buccaneers gave him absolutely no room to operate on Monday, as he finished with a measly two yards on seven carries.
Overall, the Dolphins ran the ball 14 times for an absurd two yards, as they were forced to become completely one-dimensional.
The Bucs manhandled Miami's offensive line. They racked up nine tackles for loss, eight QB hits, a safety and two huge sacks on the final drive of the game. Dominating the trenches is a good way to win football games, and the Bucs did just that on defense.
Lavonte David, Mason Foster and Gerald McCoy were especially good on the night.
What's Next
Tampa Bay stays home to play the Atlanta Falcons next Sunday, while the Dolphins host the San Diego Chargers.