Injuries continue to decimate the NFC North, and Charles "Peanut" Tillman unfortunately followed suit on Monday when the Chicago Bears placed their star cornerback on injured reserve with a triceps injury.
ESPN Chicago's Jeff Dickerson reports doctors believe he sustained a triceps tear.
Tillman said the belief is he suffered a tear in his right tricpes.

— Jeff Dickerson (@ESPNChiBears) November 11, 2013
According to David Haugh of the Chicago Tribune, Tillman carries the "designated to return" tag. As such, he could theoretically return to the field in eight weeks, in time for the second week of the playoffs per the Tribune's Dan Wiederer.
Important: For those wondering about a potential postseason Tillman return, he would not be eligible for opening round action.

— Dan Wiederer (@danwiederer) November 11, 2013
So, if the Bears advance that far, will Tillman accompany them? It's far, far too early to tell, but for a clearer picture, let's take a closer look at his injury and the obstacles he faces.
Triceps Function and Injury in Football
In football, muscle and ligament injuries occur when something forces the tissue in question to stretch beyond its capacity.
For example, knee ligaments go down when a player takes a hit to the knee or abruptly changes directions. The hit or dramatic shift in momentum overwhelms the passive ligament, and it tears.
On the other hand, triceps injury mechanisms usually involve actively contracting muscle tissue.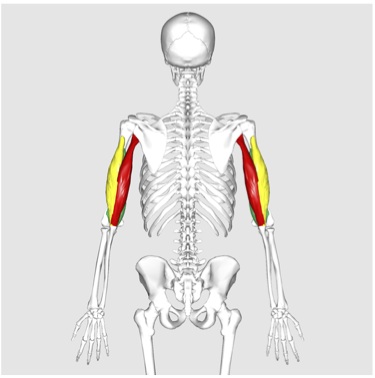 Wikimedia Commons
First, immediately prior to the injury, a player engages his triceps to straighten his arm. Then, an outside hit counteracts the active triceps at exactly the wrong time.
For instance, a blow to the inside of the elbow could bend it, thereby stretching the tight, contracted triceps tendon. If the hit is strong enough, a tear or complete rupture could result.
Though not always, triceps injuries often limit a player's effectiveness on the field, as injured triceps are weaker triceps.
Lineman need strong triceps to push away the opponent waiting for them on the other side of the line of scrimmage. Cornerbacks similarly use strong triceps to contain or push off wide receivers as they break for a route or block for a running back.
For Tillman, the triceps also allows for his patented "Peanut Punch"—the nickname for his famous ability to punch the ball out of the hands of receivers and ball-carriers.
Tillman's Case
Wiederer writes that the circumstances of Tillman's injury are not entirely clear:
It is not clear when Tillman suffered the injury. He played 57 of 62 defensive snaps against the Lions and was in coverage on both of the touchdown grabs by Lions standout Calvin Johnson.
That said, the defensive back himself noticed the injury when he pushed off Johnson sometime in the second half:
I knew something happened in the second half...I don't know exactly what play. I just remember shoving Calvin on one play and felt something kind of strain or perhaps tear. I just felt a sharp pain.
Fortunately for Tillman, a number of factors suggest a partial tendon or muscle body tear rather than a complete rupture.
First, Tillman played through the injury. Most often, a complete muscle or tendon rupture drastically reduces an athlete's ability to straighten his arm—much less push off an opposing NFL athlete. If one took place, he most likely would not be able to play on effectively after the injury.
Additionally, the "injured reserve with a designation to return" tag suggests the Bears hope their defensive standout can attempt to rehabilitate a partial injury. Conversely, full tears usually require surgery to return to the field.
Will Tillman Need Surgery Later?
According to Wiederer's column, no plans for surgery yet exist.
Asked whether surgery was needed, Tillman said, "As of right now, no. The injury is still kind of being diagnosed. (Seeking) a second opinion. So I'm still kind of having it being evaluated."
Over the coming days and weeks, Tillman will likely follow one of a few possible paths depending on further exams and tests. They include, but are not limited to, the following scenarios—each making the very large assumption that the Bears qualify for the playoffs:
He rehabs the injury during his time on injured reserve. The healing time allows him to regain enough of the strength he lost due to a partial tear, and he returns for the playoffs. He then may or may not undergo surgery to definitively repair the injury during the offseason—especially if it involves the tendon.
He attempts to rehab the injury during his time on IR but is unfortunately unable to return to a level needed to play in the NFL this postseason. He needs significantly more time or surgery to return to the field.
He does, in fact, have a full tear, or a second opinion on a partial tear makes it clear he cannot expect to rehab the injury sufficiently to return without surgery. Such a surgery then likely ends his 2013 season once and for all, unless he can pull off a recovery faster than Ray Lewis' incredible two-and-a-half month return last year.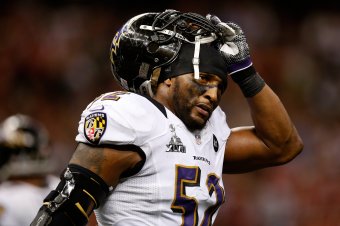 Whatever route comes to pass remains to be seen. However, even in the best-case scenario, it bears repeating that Tillman will not be eligible to return until after the opening round of the postseason, even if able.
What's Next?
Assuming further exams rule out the need for immediate surgery, Tillman will surely turn to aggressive rehab.
Furthermore, doctors and trainers may decide to try platelet-rich plasma (PRP) therapy—or injecting a concentrated solution of a player's own platelets into the injury site to theoretically speed healing—as well as other advanced recovery techniques.
Can the Bears make the playoffs without Tillman?
The competitiveness of the Bears for a playoff spot will also likely loom large when it comes to the management of the injury.
If Tillman can play through a rehabbed partial tear but will eventually need surgery anyway—like San Francisco 49ers lineman Justin Smith did last year—there is no reason to delay the operation once the Bears find themselves on the outside of the postseason looking in.
Regardless of what happens, though, the injury is clearly tormenting Tillman:
It hurts; I'm definitely sad...This team has a lot of potential. We have a lot of potential. And the fact that I'm no longer part of that to help this team to try and succeed, that's the part that hurts. But my role right now is just to be the biggest cheerleader and supporter I can.
With the Bears now behind the Lions in the NFC North, Chicago will certainly miss Tillman down the stretch.
With any luck, he will take the field again in 2013. Unfortunately, many stars need to align in order for that to happen.
Dr. Dave Siebert is a resident physician at the University of Washington. Find more of his written work at the Under the Knife blog.