Over the last 10 days, the developing saga regarding Miami Dolphins offensive linemen Jonathan Martin and Richie Incognito has sent shock waves through the NFL and its fanbase.
Shortly before Miami's Week 10 Monday Night Football showdown with the Tampa Bay Buccaneers, owner Stephen Ross addressed the highly publicized issues for the first time. He apologized to the fans, expressed his support for Martin, a new committee to help clean up the culture of the locker room and what he plans on doing with the currently suspended Incognito.
While several Dolphins players made headlines in the middle of last week by proclaiming their allegiance to Incognito, Ross began his press conference by making clear his support for Martin, via SportsCenter's Twitter feed:
"This most important thing is we care about Jonathan Martin" - Dolphins owner Stephen Ross #LIVEonSC

— SportsCenter (@SportsCenter) November 11, 2013
Ross went on to say that he has yet to meet face-to-face with the second-year tackle out of Stanford, who left the team last week. However, the two have texted and there are plans for a meeting later this week, via CBS Sports' Jason La Canfora and NFL.com's Jeff Darlington:
Ross says that coach Joe Philbin told him about Martin's departure when it happened and he has texted Martin. Plans to meet with him shortly

— Jason La Canfora (@JasonLaCanfora) November 11, 2013
Steve Ross says he will meet with Jonathan Martin on Wednesday in face-to-face meeting.

— Jeff Darlington (@JeffDarlington) November 11, 2013
As for Incognito, who attempted to clear his name in an interview with Fox Sports' Jay Glazer on Sunday, the jury is still out.
Instead of rushing to make a decision, Ross is waiting to hear all of the facts from this bizarre, twisting-and-turning story before deciding on the veteran's future with the team, per NFL.com's Albert Breer:
Steve Ross asked why Richie Incognito is still on the team -- "I want to hear all the facts."

— Albert Breer (@AlbertBreer) November 11, 2013
Nevertheless, while there are still developments coming as to what happens with Martin and Incognito, the 73-year-old owner made it clear that definite changes are coming to the Dolphins locker room.
From NFL.com's Ian Rapoport:
Steve Ross says "there will be no racial slurs or harassing or bullying in that workplace, in that locker room, outside the locker room"

— Ian Rapoport (@RapSheet) November 11, 2013
In order to help create a new code of conduct, Ross is organizing an impressive five-man committee:
Those 5 men - Shula, Dungy, Marino, Taylor & Martin - will help develop code of conduct as Ross tries to set a new standard in locker room.

— Jeff Darlington (@JeffDarlington) November 11, 2013
Don Shula is a legendary figure in Miami, Dan Marino is one of the most prolific quarterbacks of all time and spent his entire NFL career with the Dolphins and Jason Taylor established himself as one of the best pass-rushers ever during his time with the franchise.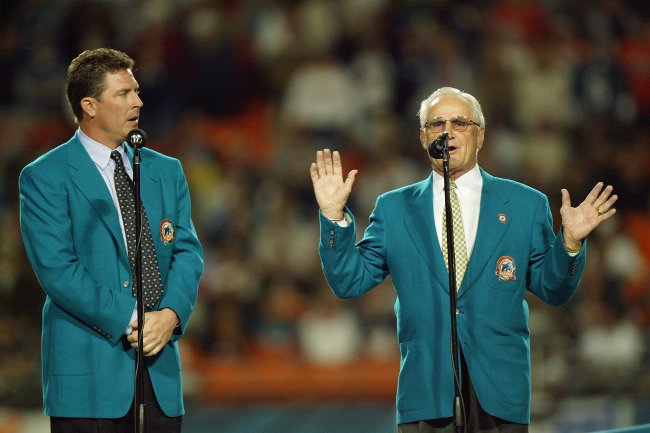 Former head coach Tony Dungy and former running back Curtis Martin don't have as strong of connections to the Dolphins, but they are highly respected figures around the league.
Ross also went on to praise head coach Joe Philbin for how he has handled the entire situation, but as Rapoport pointed out, he curiously didn't mention general manager Jeff Ireland:
Often, you can speak volumes by what you don't say. Nothing from #Dolphins owner Steve Ross on GM Jeff Ireland. Did support Joe Philbin

— Ian Rapoport (@RapSheet) November 11, 2013
It appears that Ireland may be a target of the NFLPA according to Bart Hubbuch of the New York Post:
NFLPA boss De Smith just did his best to nuke Jeff Ireland, telling ESPN: "Certainly, we know the history of this GM with other issues."

— Bart Hubbuch (@HubbuchNYP) November 12, 2013
Whether that might be a foreshadowing of things to come is unknown at this point, but either way, Ross seems to have a strong hold on what has been a difficult situation.