Don't expect to hear much pity from the Chicago Bears regarding the injury problems currently derailing the season of their longtime rivals to the north.
While the Green Bay Packers have lost two straight games without Aaron Rodgers and a host of other big-name players, the Bears have been dealt their own, less-talked-about injury blows this season. Once 3-0, Chicago has since lost four of six games with a roster decimated by injuries on each side of the football.
Overcoming the latest injury news will be difficult for the 5-4 Bears.
On Monday, Chicago confirmed two more players—quarterback Jay Cutler and cornerback Charles Tillman—would miss time after suffering injuries during the Bears' 21-19 loss to the Detroit Lions on Sunday.
Head coach Marc Trestman revealed that Cutler suffered a high ankle sprain, per Dan Wiederer of the Chicago Tribune. The Bears quarterback was pulled for the final offensive series on Sunday, although Trestman confirmed that Cutler hurt the ankle during the second quarter.
The Bears are calling the injury a "week-to-week" deal, but Trestman also ensured that Cutler won't be ready to play when Chicago takes on the Baltimore Ravens this coming Sunday. The swelling around the ankle is too substantial, meaning Josh McCown will start at quarterback for the second time this season.
LM: Trestman says "it's safe to say" Josh McCown will start Sunday against Ravens due to Jay Cutler's high ankle sprain.

— Chicago Bears (@ChicagoBears) November 11, 2013
The news on Tillman is much more severe.
According to the Bears official Twitter account, Tillman tore his right triceps against the Lions and was placed on injured reserve with designation for return. The veteran cornerback can return to practice in six weeks and play in eight, but that set timeline would mean that the Bears now have to make the playoffs for Tillman to play again this season.
LM: #Bears announce CB Charles Tillman suffered triceps injury Sunday and has been placed on injured reserve with designation to return.

— Chicago Bears (@ChicagoBears) November 11, 2013
A two-time Pro Bowler with 11 years in Chicago, Tillman will end his 2013 season with 41 tackles, three interceptions, seven passes defensed and three forced fumbles. The 32-year-old cornerback leads the NFL in forced fumbles since 2003 with 42.
Much like their divisional rivals in Green Bay, who have missed the likes of Rodgers, Randall Cobb, Clay Matthews and Jermichael Finley this season, the Bears are getting accustomed to a new player going down every single week.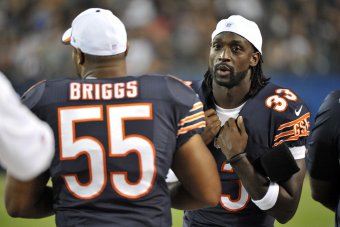 Rob Grabowski-USA TODAY Sports
Cutler has already missed one game and the majority of a second. On defense, tackles Henry Melton, the team's best interior pass-rusher, and Nate Collins, Melton's primary backup, were lost for the season to knee injuries. Linebacker D.J. Williams tore his pectoral muscle and was placed on injured reserve, and Lance Briggs has missed two straight games with a bad shoulder.
Even Tillman had been dealing with a number of dings before his triceps injury.
"You know what, it's just one of those seasons, man," Tillman said, via the Chicago Tribune. "It's the National Football League. And I think it happens to every team at least once in a year. It just so happens that the injury bug has a hold of our team for some reason. I don't know why."
The losses are starting to pile up, and it's worth wondering if the Bears will soon hit a breaking point.
The Bears are now starting two rookies at linebacker, a mixed bag of players on the interior of the defensive line and a 34-year-old at quarterback. Zack Bowman or Isaiah Frey will play in place of Tillman opposite Tim Jennings.
LM: Trestman on losing Tillman: "There's no way to replicate what Charles can do."

— Chicago Bears (@ChicagoBears) November 11, 2013
Few teams are deep enough to sustain such wide-spanning losses, especially in a crowded division.
While McCown has been terrific filling in for Cutler, Chicago could find itself too beat up to overcome a deficit in the NFC North that grew Sunday when the Lions beat the Bears for the second time this season. Detroit is up a game in the standings, but that margin is technically two with the head-to-head tiebreaker in the Lions' favor.
Chicago might now need to finish 5-2 or 6-1 down the stretch to win the division.
Can the Bears withstand the growing injury list and make the postseason?
Detroit has a less-than-daunting second-half schedule and the best health situation in the NFC North. The Packers, while slumping without Rodgers, should also factor into the race once their MVP quarterback returns to the lineup.
The Bears' final seven games include four away from Chicago and a Week 17 visit from the Packers, who should have Rodgers back and healthy.
Stranger things have happened in the NFL. But the Bears are now approaching a pivotal set of games with a roster devoid of many of its most important names, especially on defense. And while McCown has been surprisingly efficient and productive, he's still an older backup that doesn't have the same big-play capabilities as the big-armed Cutler.
The beat-up Bears have a tall task ahead.
"This team has a lot of potential. We have a lot of potential," Tillman said. "And the fact that I'm no longer part of that to help this team to try and succeed, that's the part that hurts."
To make a run, the Bears need to get healthy fast. But much like the situation in Green Bay, Chicago's injury situation appears to only be getting worse.