The NFL has been tough to predict this season.
After all, the league is pretty bad. That said, it deserves some credit—the bad teams at least remain competitive in games for the most part before the better teams emerge victorious.
Week 10 saw plenty of this, but some teams that had the look of favorites eventually would win big games. Think about Seattle over Atlanta, Denver over San Diego and even New Orleans over Dallas.
This week is the same. A minimum of three games have sure-fire winners regardless of the route they take to get there.
Here's a look at the full schedule, followed by a breakdown of the matchups already written in stone as locks.
Week 11 NFL Picks

| | | |
| --- | --- | --- |
| Away Team | Home Team | Predicted Winner |
| Indianapolis Colts | Tennessee Titans | Indianapolis |
| New York Jets | Buffalo Bills | New York |
| Baltimore Ravens | Chicago Bears | Chicago |
| Cleveland Browns | Cincinnati Bengals | Cincinnati |
| Washington Redskins | Philadelphia Eagles | Philadelphia |
| Detroit Lions | Pittsburgh Steelers | Detroit |
| Atlanta Falcons | Tampa Bay Buccaneers | Tampa Bay |
| Arizona Cardinals | Jacksonville Jaguars | Arizona |
| Oakland Raiders | Houston Texans | Houston |
| San Diego Chargers | Miami Dolphins | San Diego |
| San Francisco 49ers | New Orleans Saints | New Orleans |
| Green Bay Packers | New York Giants | Green Bay |
| Minnesota Vikings | Seattle Seahawks | Seattle |
| Kansas City Chiefs | Denver Broncos | Denver |
| New England Patriots | Carolina Panthers | Carolina |
Chris Roling's predictions.
Arizona Silences Jacksonville
Jacksonville surely feels great right now after a two-point victory over Tennessee in Week 10 for its first of the season.
The celebratory mood will be short-lived.
Arizona is quietly a very good team this year with a strong run defense (No. 3 in the NFL at 86.9 yards per game) and a superstar in the making with back Andre Ellington.
Ellington has come on in recent weeks and now leads the team in rushing:
Andre Ellington Past Two Performances

| | | | | | | |
| --- | --- | --- | --- | --- | --- | --- |
| OPP | ATT | YDS | AVG | TD | REC | YDS |
| vs. ATL | 15 | 154 | 10.3 | 1 | 2 | 8 |
| vs. HOU | 11 | 55 | 5.0 | 0 | 2 | 18 |
ESPN
While the Arizona offensive line has allowed Carson Palmer to be sacked 24 times and the Cardinals have won just a single game on the road in four tries, Jacksonville is plain bad.
The Jaguars still rank near the bottom of the NFL in both run defense and offense, meaning Arizona can keep things grounded and grind out a win to move to 6-4. Expect Ellington to have a huge day.
Prediction: Cardinals 23, Jaguars 14
Green Bay Upends New York Giants
Life after Aaron Rodgers for the time being has not been kind to the Green Bay Packers.
Last week the Packers managed just 13 points against a porous Philadelphia defense as the Green Bay defense had no way of slowing the Eagles to a point where the game could be competitive.
Jeff Hanisch-USA TODAY Sports
Meanwhile, New York was simply doing what New York does by winning its third straight on a run that has all the making of an epic playoff berth.
Except Green Bay comes to town in Week 11.
Look, Green Bay can truly be an awful team without Aaron Rodgers, but a sense of urgency with playoffs fading fast makes for a dangerous team.
Kevin Seifert of ESPN reports Scott Tolzien will be the starter against the Giants after a Seneca Wallace injury:
Mike McCarthy says Scott Tolzien is the #Packers starter vs. #Giants.

— Kevin Seifert (@SeifertESPN) November 10, 2013
Despite short notice and a third-string designation, Tolzien managed 280 yards, one touchdown and two interceptions last week. We've seen what Rodgers' backups can do in the past, and it would be erroneous to simply write off the Packers.
The Giants have picked on miserable defenses for their positive streak, but with Eddie Lacy pounding away on the ground and Tolzien at least somewhat effective, Green Bay will escape with a close win.
Prediction: Packers 23, Giants 17
Seattle Destroys Minnesota
Oh boy.
Percy Harvin is set to make his debut in Week 11, per ESPN's Adam Schefter—against his former team:
Percy Harvin not playing today vs. Atlanta but it would be an upset if he did not make season debut next Sunday vs. his former Vikings team.

— Adam Schefter (@AdamSchefter) November 10, 2013
Seattle does not need Harvin to move past Minnesota, but the added presence of a versatile weapon sure doesn't hurt.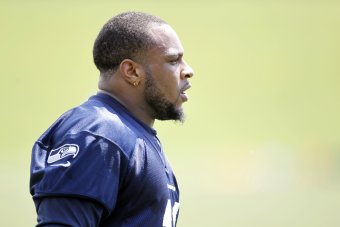 Joe Nicholson-USA TODAY Sports
Minnesota has Adrian Peterson in the backfield and a hodgepodge of names at quarterback, but Seattle allows 111 yards on the ground and just 178 through the air for the NFL's second-best pass defense.
Peterson will surely find room to operate, but to think Christian Ponder or Josh Freeman will find any room would be a mistake.
Even worse, the Vikings rank in the bottom half against both run and pass, but are especially bad against the latter.
Last week Russell Wilson threw for over 280 yards and two scores while Marshawn Lynch rumbled for 145 and a score—expect more of the same here.
Prediction: Seahawks 30, Vikings 14