Dive or No Dive? Vote on Neymar, Young, Bale and Co. Here
November 12, 2013

Getty
The issue of diving has once again been prominent in football discussions around the globe of late, with a spate of high-profile names appearing to perhaps attempt to win penalties or big decisions by foul means rather than fair.
Manchester United's Ashley Young has come in for criticism after more than one offence, but he's hardly the only player who has been in the column inches for the same reason.
Here, we take a look at some of those who have been called out for diving this season—and you can have your say on whether the players involved have truly conned the referee, or attempted to, or if the whole discussion has gone too far and these were genuine fouls which deserved penalising.
Ashley Young: Volume 1
Let's start at the top.
101greatgoals.com
United winger Young has come in for fierce criticism after a spate of dives, this season and previously (remember QPR last term?), with the earlier one this campaign coming against Crystal Palace.
His apparent kick into the defender's leg as he went to the ground was seemingly spotted by the referee, who awarded the United man a yellow card for his troubles. Later in the same game he won a penalty, despite then-Palace manager Ian Holloway feeling he dived for that one as well, and the offence taking place outside the penalty area.
But what about Young's first swan dive? Was the ref right to book him, or should he have had a penalty?
Ashley Young: Volume 2
Fast forward to a recent Champions League game, and Young is at it again.
b/r
This time Real Sociedad were on the end of his theatrics, with defender Markel Bergara, as per Mirror Football, calling Young a "cheat" and claiming he dived.
Young was awarded a penalty for this incident—but Robin van Persie failed to convert the spot kick.
It got worse for Bergara, though, as he was booked for the foul and therefore suspended for the next Champions League match.
Was the Spanish player right to criticise the United man? Or was the referee right to award the penalty?
Neymar
Let's leave Young and the Premier League and head over to Spain, where Barcelona's Neymar gets plenty of flack.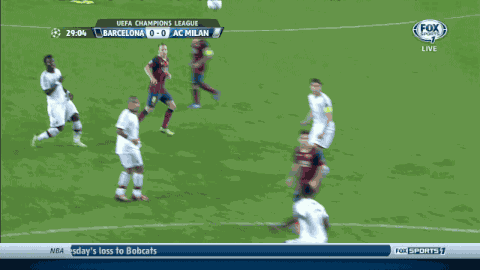 101greatgoals.com
The Brazilian forward won a penalty for his team in a recent Champions League game against AC Milan, only to receive oodles of criticism afterward for conning the referee into awarding the spot-kick.
Replays here seem to cut out a vital half-second of footage just at the start of the coming-together which might conclusively prove, one way or the other, whether there was enough to justify the Brazilian's ensuing tumble.
As it is, the penalty was given and Barcelona went on to win 3-1. But was the penalty the right way for Barca to open their account?
Ramires
Back to England and the most recent contentious call.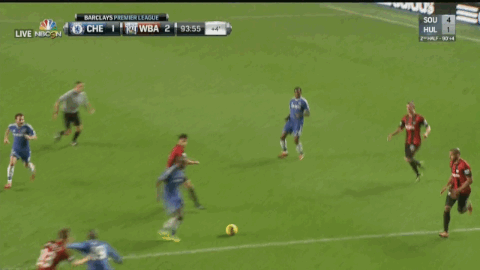 hereisthecity.com
Chelsea were seconds away from losing at home to West Brom, and so would have tumbled Jose Mourinho's record of not losing a home league game in charge of the Stamford Bridge club.
Four minutes into stoppage time, midfielder Ramires took a fall in the penalty area next to Baggies full-back Steven Reid—and the referee awarded a late, late penalty.
Eden Hazard calmly rolled home the penalty to salvage a point for Chelsea and keep Mourinho's record intact, but fans of West Brom—and Manchester United, Manchester City, Spurs, Arsenal and Liverpool, and WBA manager Steve Clarke—were incensed at what seemed to be a clear dive under no contact from Ramires.
But who was right? The referee's call of awarding the foul, or injured goalkeeper Ben Foster?
Gareth Bale: Volume 1
Now to La Liga, where the world's most expensive player, Gareth Bale, continues to forge a reputation for simulation.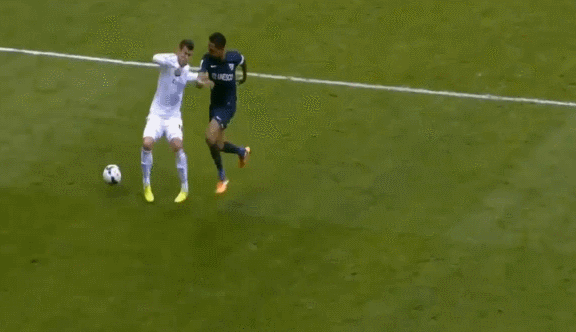 101greatgoals.com
The Welshman came under fire for a series of incidents last season and wasted no time in adding fuel to those flames after joining Real Madrid with this effort against Malaga.
As it was the last minute of the game and Real were already 1-0 up—Cristiano Ronaldo scored the ensuing penalty to double the victory margin—it wasn't a game-changing event, but Bale certainly drew the ire of the national media for his collapse.
What do you think, penalty or slip?
Gareth Bale: Volume 2
Moving on to the next chapter of the Bale Chronicles.
101greatgoals.com
Here he is in action again, this time against Sevilla in the recent goal-fest which finished 7-3 to Madrid.
Bale scored two, set up another two—and left two defenders bewildered as he burst between them before hurling himself to the turf as he looked for a penalty. Nothing was given this time; no penalty, no booking for simulation.
Was it the right call from the referee to simply do nothing?
Arturo Vidal
We'll end with a pair of incidents from Italy, starting with Juventus' Arturo Vidal.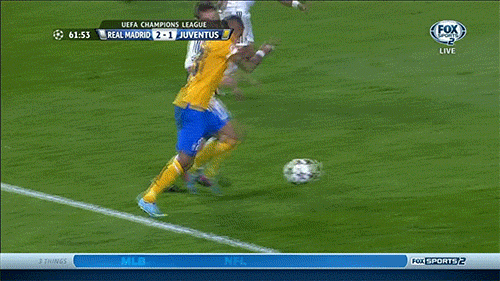 101greatgoals.com
Erm, it's not entirely clear what we can say here to describe the scene...other than implore you to watch the image several times over.
Vidal essentially kicks the floor...then tries to blame the defender, who was a good metre away from him at the time.
Perhaps the Juve man genuinely thought Illarra's boot had gotten caught up with his own...or maybe he was just trying to spare his own blushes at making a pretty damn hilarious air-kick in a vital Champions League match.
Anyway, you decide. 
Juan Cuadrado
Finally, into a Serie A game now where Juan Cuadrado was sent off for two diving offences.
The Fiorentina man was booked on 54 minutes and then again in stoppage time at the end of the game, both occasions for perceived simulation according to the referee.
Fiorentina lost the game 2-1 to Napoli, so winning a penalty on either of those occasions could certainly have affected the outcome.
Cuadrado's team appealed the suspension but lost.
Should he have been sent off?