On the Frontline: Chicago Bears Key Coaching and Decision Making Personnel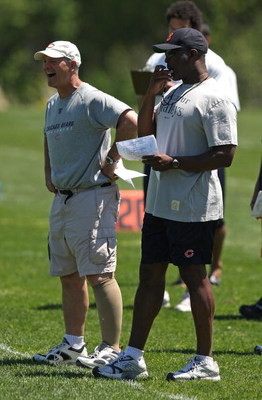 After acquiring Jay Cutler, expectations for the 2009 Bears have jumped through the roof. With that comes immense pressure on everyone—from head coach Lovie Smith to quarterbacks coach Pep Hamilton—to ensure that there will be success on the field.
A veteran staff that each have years of NFL experience, they all understand when expectations have been raised and should be accustomed how to react. However, the pressure that comes from this (i.e. their jobs all being on the line to some degree) can be overwhelming even to the heartiest of veterans.
The move to acquire Cutler has likely ensured a few more years with the Bears for Angelo, but Angelo will be closely evaluating the staff with a team that has all the tools to win now.
Fans will watch to see how Cutler performs with a new team and if a once dominant defense can return to old form. They should also closely evaluate a coaching staff that needs to perform in 2009 if they want to coach the 2010 season in Chicago.
General Manager Jerry Angelo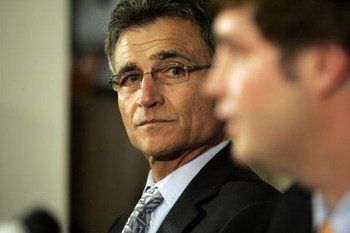 A previously nondescript eight years as Bears general manager quickly changed for Jerry Angelo after he made the monumental move to acquire Jay Cutler. Opinion of Angelo in Chicago shifted as fans embraced the man that just traded for a franchise quarterback entering his prime years.
Angelo's harsh critics, myself previously included, repeatedly called him out for his conservative ways, continually trading down in the draft (even when moving up was the best idea), and passing over big free agents with the exception of Muhsin Muhammed.
Following a disappointing 2007 and uneven 2008, Angelo went against the grain in giving up multiple early round draft picks (including two in the first round) to acquire Cutler and give the Bears a strong foundation at the quarterback spot for years to come.
Even more than acquiring Cutler, being quoted as saying that once the Bears "decided to enter, we were in to it to win it," regarding the Cutler sweepstakes shifted opinion of Angelo and likely ensured a positive legacy of his time in Chicago.
Before acquiring Cutler, Angelo's tenure has been a mixed bag where the misses greatly overshadowed the hits. The failure of Muhammad and many of his early round draft picks (Marc Colombo, Michael Haynes, Rex Grossman, Cedric Benson, Mark Bradley, Dan Bazuin) not panning out fueled the large amount of complaints towards him.
However, Angelo also has a strong history of successfully drafting outside of the first round, with core players like Matt Forte, Lance Briggs, Alex Brown, Charles Tillman, Nathan Vasher and Devin Hester reflecting his quality work as Bears GM.
Underrated free agent acquisitions of players like Thomas Jones, Ruben Brown, Roberto Garza and Desmond Clark, guys who played key parts in winning seasons for the Bears, also dot Angelo's tenure.
Coming to the Bears after serving as part of the Tampa Bay front office that rebuilt the Buccaneers franchise, Angelo built a strong organization in his own right after a slow start (just 16 wins from 2002-2004).
With his previous reputation of poor early round drafting and failing to make a big move when needed, Angelo did not receive his proper due for building the team that won 24 games in 2005-2006 and played in Super Bowl XLI. That should no longer be a problem, showing how important just one move can be in shifting the opinion of a man.
Head Coach Lovie Smith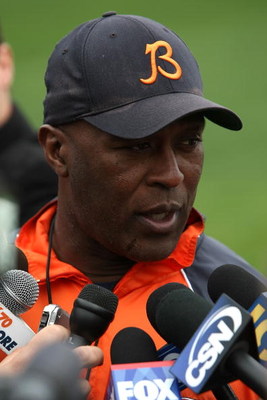 The Bears head coach since 2004, Smith came to Chicago as one of the main disciples of Tony Dungy, serving as the St. Louis Rams defensive coordinator from 2001-2003. Even more than Dungy, Smith has become the face of the Cover-2 defense still in vogue among defensive coordinators and play callers.
Smith's mostly successful career in Chicago (45-35 career record with a Super Bowl trip in the 2006 season) has been defined by the Cover-2, but the strong commitment to that defense has raised problems during his tenure.
Ron Rivera, a popular former Bear that played on the Super Bowl XX winning team, left his position as defensive coordinator following the 2006 Super Bowl season because of philosophical differences with Smith over the use of the Cover-2.
Naturally, Rivera's departure caused many fans to side with the current Chargers defensive coordinator and left them disillusioned towards Smith. The Bears perceived defensive struggles during the 2007 season further contributed to the backlash towards the Cover-2.
Another major public relations problem with the Cover-2 defense comes from 21st century Bears face of the franchise Brian Urlacher's opinions about it.
On record as not being a fan of the Cover-2, Urlacher's outspoken beliefs about it have left many questioning why the Bears utilize it as their base package (even though Urlacher has thrived, winning Defensive Player of the Year in 2005).
Despite the problems with Rivera and issues with Urlacher, Smith's defenses finished in the top seven in defensive efficiency in each of the last four seasons (first in 2005, second in 2006, seventh in 2007 and 2008).
Smith plans on becoming more hands on with the defensive play calling in 2009, a sign of the pressure he faces and a natural tendency of coaches when facing increased scrutiny.
On the offensive side of the ball, Smith has been hands off, allowing his offensive coordinators to control the play calling. While he likes to create the image of the Bears primarily being a running team, their run-pass distributions have been in line with typical NFL offenses and the Bears take their share of chances in the passing game.
With the acquisition of Cutler, Smith's 2009 Bears will have major pressure to perform at a high level. As a coach whose teams generally play at a commensurate rate to their talent, that should mean good things for the Bears this season.
Offensive Coordinator Ron Turner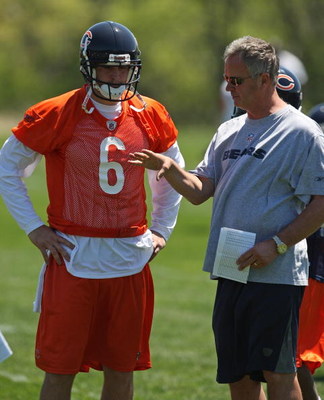 In his second stint as Bears offensive coordinator (with an eight year run as head coach at Illinois in between stints), Turner finally has the tools needed for his offense to play at a high level. Since head coach Lovie Smith primarily focuses on the defensive side of the ball, Turner has free reign with play calling and game planning.
Turner's offenses failed to finish higher than 18th in offensive efficiency during the last four years, with the struggles at the quarterback spot an acceptable reason for such poor performance. Having Jay Cutler on board, there will be no more excuses for the Bears lacking offensive potency.
Though Turner runs a version of the West Coast offense, he likes to take more downfield chances than typical West Coast teams. With Jay Cutler and his great arm strength now leading the Bears offense, the Bears should be one of the most aggressive passing teams.
Running back Matt Forte proved to be a godsend for Turner, giving him a versatile weapon in the passing game that can also remain on the field when called upon to block (unlike Cedric Benson). Forte also thrives running Turner's draw play (going for a long touchdown in Week One last year against the Colts), a staple in the Bears offense.
Going back to 1995 during Turner's first with the Bears, his offense finished fifth in offensive efficiency. That season could be a good baseline towards 2009 because it stands as the one other time Turner had a talented cast of offensive players.
With expectations rightfully raised, Turner will be under major pressure to orchestrate an offense that can win games on its own and not have to rely on the defense keeping the Bears in close, low scoring games.
The 2009 season will determine whether his previous track record outside of that 1995 season accurately reflects Turner's abilities or if his offense can thrive with the proper personnel.
Defensive Coordinator Bob Babich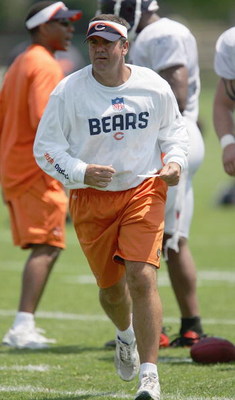 Despite receiving strong criticism from fans after taking over from Ron Rivera, the Bears finished seventh in defensive efficiency in each of his first two seasons as Bears defensive coordinator.
Head coach Lovie Smith has a significant say in the Bears defensive game planning around his Cover-2 base scheme, but Babich had called the plays on game day.
However, in 2009 Lovie Smith plans on taking an active role in play calling on defense along with his contributions to the game plan.
In shadow of the criticism directed towards him, Babich's frequent calling of blitzes reflects the call for a more aggressive Bears defensive mindset from Rivera.
A major difference from Babich's tenure and the Rivera era has been a decline in pass rush from the defensive line—a problem Rivera did not have to deal with in 2005 and 2006. Babich will have to hope that the hiring of new defensive line coach Rod Marinelli will lead to increased production from the front four and less reliance on having to call blitzes.
Coming with Smith from the Rams to the Bears, Babich started his time in Chicago as linebackers coach and still serves in that role in addition to serving as defensive coordinator.
In the tough position of taking over for a popular former Bear that left in a controversial disagreement with the head coach, Babich suffers in the crossfire of being Lovie's hand-picked replacement.
That position becomes that much more difficult with Smith involving himself in the play calling, making an already difficult job for Babich almost unnecessarily hard.
The drop in performance of the Bears defense from the halcyon 2005 and 2006 seasons (not as steep as Bears fans and football people in general think as statistics show) has not helped things, with the looming presence of Marinelli and Smith's increased involvement further creating a shadow over Babich.
An infusion of youth and athleticism and the hope of inspired play from guys like Adewale Ogunleye and Tommie Harris could deflect some of the criticisms towards Babich. However, if the Bears defense fails to perform at a high level in 2009 there will be calls for Babich's job, which at this point may be best for all parties.
Assistant Head Coach/Defensive Line Coach Rod Marinelli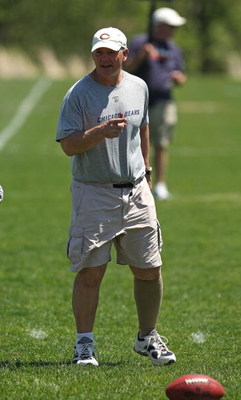 Though serving as head coach of the 2008 winless Detroit Lions that will forever live in infamy, Marinelli remains a well respected football mind that hopes to revitalize his coaching career in Chicago.
Turning down offers from Seattle and others to be a defensive coordinator, Marinelli re-unites with head coach Lovie Smith in Chicago after the two close friends served together as coaches with the Buccaneers.
Marinelli forged his reputation as a strong defensive mind during his time in Tampa and will be charged with getting a Bears defensive line to spend more time in opposing backfields.
The Cover-2 defense relies on the defensive line to create a pass rush and disrupt the timing of opposing quarterbacks, which will lead to Bears defenders causing turnovers.
In the past two seasons the Bears defensive line failed to create sustained pressure and in turn allowed opposing teams big plays in the passing game. With Marinelli on board, expect to see competition with young guys like Marcus Harrison and third round pick Jarron Gilbert pushing for starting spots while older players like Adewale Ogunyele and Tommie Harris are forced to raise their level of play.
Even though Marinelli turned down the opportunity to be a defensive coordinator elsewhere and likes working with the defensive line, the possibility looms that he could take over for Bob Babich as Bears defensive coordinator should the 2009 group underachieve.
Ironically enough, it may be up to the defensive line that Marinelli is in charge of to spark a return of the Bears defense to an elite level and knock Babich off the hot seat.
Special Teams Coordinator Dave Toub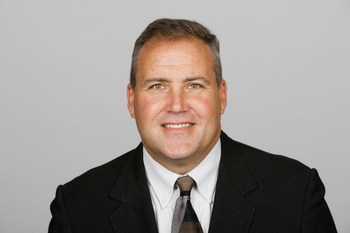 A major reason for the Bears success the past few seasons has an outstanding special teams unit led by Toub. While the defensive play has been inconsistent and the offensive play often futile, the Bears could count on their special teams to keep them in many games they had no business being in.
Devin Hester's kick return ability and amazing 12 touchdowns on returns his first two seasons garnered much of the attention, but the Bears coverage units and special teams scheme in general has been par excellence under Toub.
Toub received his tutelage from special teams guru John Harbaugh (currently the Ravens head coach that led his team to the AFC Championship game in his first season) in Philadelphia and quickly turned around the Bears special teams play and made it a hallmark that remains the most consistent Bears unit.
Under Toub, the Bears have finished in the top 11 in special teams four of his five years as coordinator, finishing first in 2006 and 2007 and fifth in 2008.
Toub's coaching ability will be on greater display in 2009 with the NFL's new rule outlawing wedge blocking and wedge coverage schemes, a rule that will open up special teams play and force coordinators to further design successful coverage plays.
After Hester struggled on kick returns in 2008, Toub called upon Danieal Manning to replace him and proceeded to see Manning lead the NFL in kick return average and join Hester in the realm of the NFL's most feared return guys.
The success of Harbaugh with the Ravens should lead to NFL teams closely examining special teams coordinators for open head coaching positions, with Toub a strong future candidate for teams to look at in the future.
Quarterbacks Coach Pep Hamilton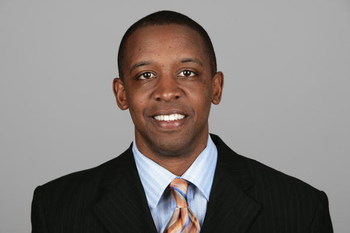 Previously quoted as not wanting to trade coaching Rex Grossman for any quarterback, Hamilton can be honest in his exuberance for coaching a quarterback with the ability of Jay Cutler.
The former Jets and 49ers quarterback coach has to familiarize Cutler with the Bears playbook and ease his transition with Ron Turner's offense. With the heavy reliance upon Cutler to successfully lead the Bears offense, Hamilton's importance in helping that cause cannot be understated.
Along with getting Cutler up to date with the Bears offense, he has to aid in the development of 2008 surprise Caleb Hanie.
An undrafted free agent that shined during last year's preseason, Hanie has been promoted to the back-up role in 2009 and is currently one play away from seeing the field. In the long-term, Hanie may have the potential to be a starter somewhere, though it will probably not be the Bears if everything goes according to plan with Cutler.
While Hamilton can pad his resume coaching a quarterback with Cutler's talent, his ability to develop a raw talent like Hanie into a possible starter could be the thing that propels Hamilton's career to greater heights.
Keep Reading

Chicago Bears: Like this team?