Cowboys vs. Saints: Full Roster Report Card Grades for Dallas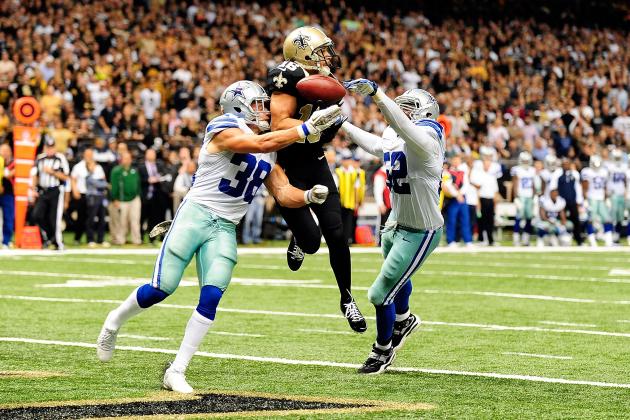 Stacy Revere/Getty Images

In their 49-17 Week 10 loss to the New Orleans Saints, the Dallas Cowboys learned the value of a balanced offensive attack: nothing. That's especially true when your defense turns in one of the all-time worst performances in NFL history, giving up 392 yards through the air and 242 yards on the ground.
Shockingly, the Cowboys ran only 43 offensive plays: 27 passes and 16 runs. Things started fine with an early second-quarter touchdown, helping Dallas to a 10-7 lead, but the Saints went on to score four touchdowns before Dallas was able to put more points on the board.
As always, I'll use a combination of traditional stats and advanced stats to grade each position for Dallas.
Begin Slideshow

»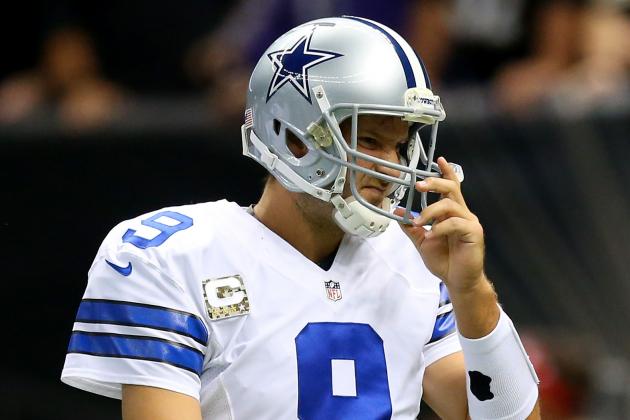 Ronald Martinez/Getty Images

1. Tony Romo
2. Kyle Orton
In September, I wrote an article that suggested quarterback Tony Romo isn't throwing enough interceptions. Interceptions are obviously detrimental to an offense, but the idea was that Romo wasn't taking enough chances, so the value of limited picks was negated by low offensive efficiency.
Well, it's still true. Romo didn't throw any interceptions against the Saints, but he also managed only 5.3 yards per attempt. Romo didn't receive much help from his teammates, but it's going to be difficult to win games when the offense either refuses or is just unable to stretch the field.
Despite not throwing downfield, Romo completed only 10 of his 24 attempts. He also cost Dallas minus-2.9 EPA, which means that Dallas lost 2.9 expected points on Romo's throws. In comparison, Drew Brees's EPA was 24.6.
Grade: D-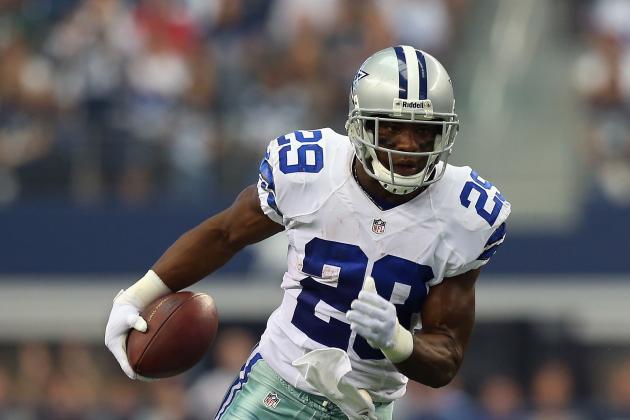 Ronald Martinez/Getty Images

2. Joseph Randle
3. Lance Dunbar
4. Phillip Tanner
Running back DeMarco Murray had a quality first half, ending the game with 89 yards on 16 carries (5.6 yards per carry). He gained 35 of those yards on one rush and 54 on the other 15 carries (3.6 YPC), showing how volatile of a stat yards-per-carry can be.
Despite the "success," only 38.9 percent of Murray's runs increased the Cowboys' chances of scoring. That's not really Murray's fault, because he played pretty well when he got the ball, but it shows you how little even a running game that will widely be considered "effective" actually contributes to an offense.
Grade: B-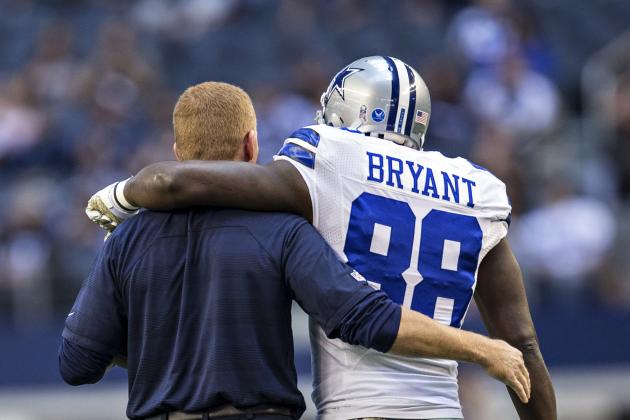 Wesley Hitt/Getty Images

1. Dez Bryant
2. Terrance Williams
3. Cole Beasley
4. Dwayne Harris
The Saints did everything in their power to take wide receiver Dez Bryant out of the game, and it worked. Bryant had just a single catch for 44 yards. But here's the more important number: two. That's how many times Bryant was targeted all night.
The Saints gave Dallas a true double-team look on Bryant near the goal line, but that wasn't the case on every play. No matter the coverage, there's absolutely no reason that Bryant should ever see only two targets in a single game. It's on Romo and the coaches to find ways to get him the football.
Why does it take nearly three quarters to realize Bryant should perhaps be in the slot given the way New Orleans was defending him? There were also multiple plays on which Romo could have back-shouldered Bryant, but he didn't.
The other three receivers combined for all of three catches for 40 yards.
Grade: F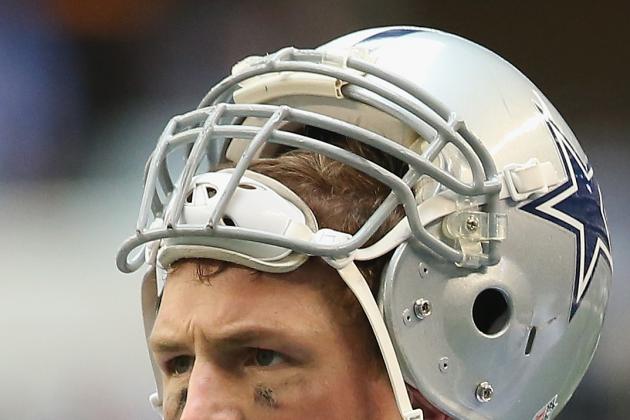 Ronald Martinez/Getty Images

1. Jason Witten
2. James Hanna
3. Gavin Escobar
Remember when I wrote again and again in the preseason that tight end Jason Witten would regress this year, but no one wanted to believe it? Are we closer to seeing that Witten isn't an effective player anymore?
With two catches for 27 yards against the Saints, Witten is on pace for 75 catches for 851 yards. I projected him at 88 catches for 880 yards, so even I didn't envision this sort of decline.
Witten was targeted six times on the night, meaning he generated just 4.5 YPA for Romo. Tight end James Hanna had the most catches of any Dallas receiver with three, but they went for only 11 yards.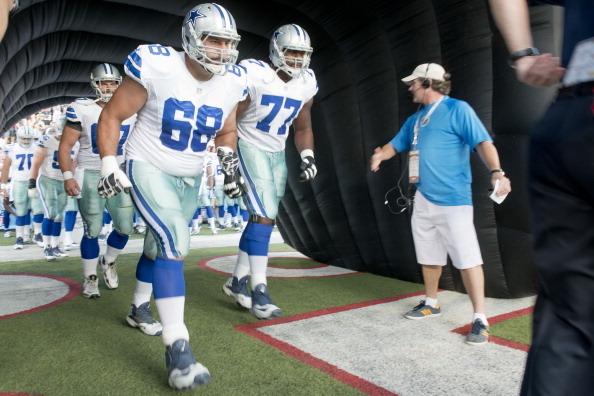 Jason Miller/Getty Images

LT Tyron Smith
LG Ronald Leary
C Travis Frederick
C Phil Costa
RG Mackenzy Bernadeau
RT Doug Free
RT Jermey Parnell
The offensive line wasn't great against the Saints, but it also wasn't the weak link offensively. As mentioned, Murray had a poor-but-not-horrendous 38.9 percent success rate on the ground. The Cowboys had something working with their rushing game, but that's not going to do much good when you need to score 50 points to win.
The 'Boys allowed three sacks on the night, only two of which I credited to the offensive line. They also allowed three quarterback hits and three tackles for loss.
Left tackle Tyron Smith played well as one of the lone bright spots for Dallas's entire roster. He showed well in the running game, where he's really turned into a dominant player.
Grade: C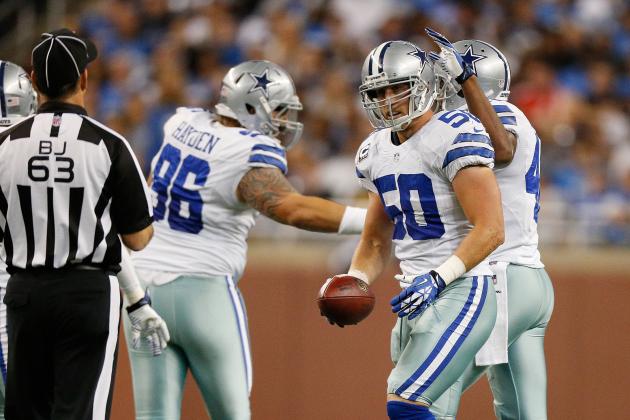 Gregory Shamus/Getty Images

1. Nick Hayden
1. Drake Nevis
2. Everette Dawkins
With defensive tackle Jason Hatcher inactive, the Cowboys were extremely thin inside. That showed in the Saints' ability to run the ball, but it was also apparent as Dallas just couldn't collapse the pocket on quarterback Drew Brees. The Cowboys had three quarterback hits on the night, none of which came from the interior defensive line.
Despite 38 runs for New Orleans, the Dallas defensive tackles managed to make only three total tackles. They were blown off of the ball throughout the contest.
Grade: F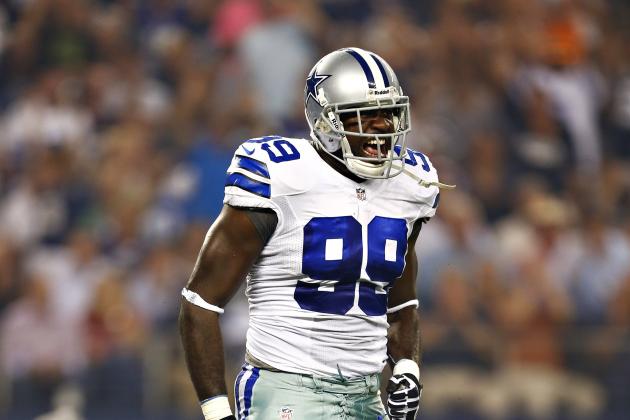 Wesley Hitt/Getty Images

1. DeMarcus Ware
1. George Selvie
2. Kyle Wilber
2. Jarius Wynn
3. Caesar Rayford
3. Everette Brown
Defensive end DeMarcus Ware recorded the Cowboys' lone sack on the night, but he was quiet other than that play. The same was true of defensive end George Selvie. Both Ware and Selvie can get to the quarterback, but they're having trouble holding up at the point of attack in the running game.
The duo ended the game with just five total tackles. Because of his sack, Ware led the defense with 3.2 EPA. If the Cowboys don't find a way to get more pressure from their front four, there's no way they'll make their way into the postseason.
Grade: D+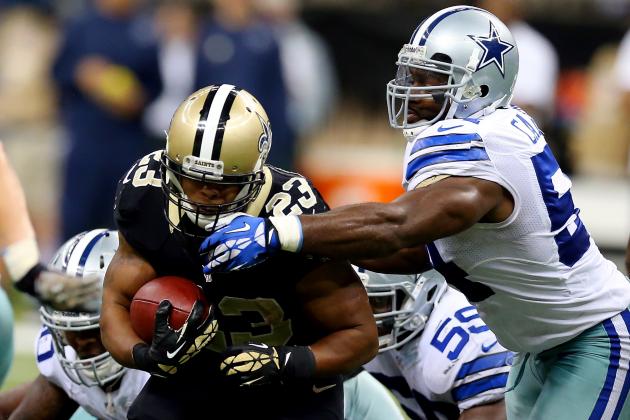 Ronald Martinez/Getty Images

1. Sean Lee
1. Bruce Carter
1. Ernie Sims
2. Justin Durant
2. Kyle Bosworth
The story of the night for the Dallas defense was linebacker Sean Lee's hamstring injury, which forced him to limp off of the field in the second quarter. Lee had three tackles at that point, and the 'Boys had a 10-7 lead. With Lee out of the lineup, you could immediately see just how demoralized the defense became.
Linebacker Bruce Carter stepped up with 12 tackles, although part of that had to do with the inability of the front four to play the run. Quietly, Carter has played very well since his big collapse in coverage against the San Diego Chargers. Ernie Sims added five tackles, and Justin Durant had four more.
Grade: D+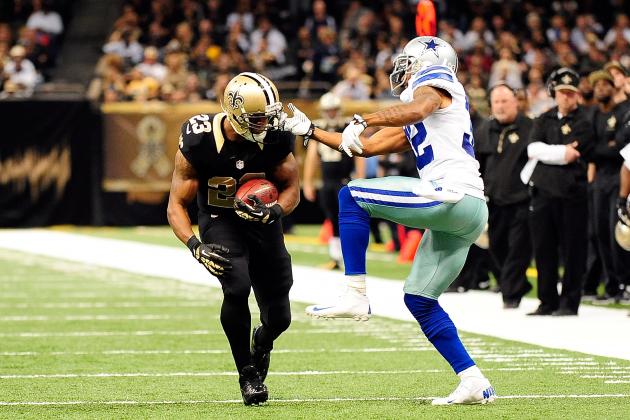 Stacy Revere/Getty Images

1. Brandon Carr
1. Orlando Scandrick
Slot: B.W. Webb
2. Micah Pellerin
The Cowboys were eight Drew Brees yards away from giving up 400 yards to a fifth quarterback this season. Most of the Saints' passing success came in the middle of the field, but the cornerbacks had their struggles as well.
Cornerback Morris Claiborne's injury is a bigger one than most people think. It's not that his absence from the starting lineup hurts that much since Orlando Scandrick has played better anyway. However, it also forces rookie B.W. Webb into the slot, and he's really struggled there this season. Webb was picked on again on Sunday night.
The cornerbacks combined to make 16 tackles due to the effectiveness of the Saints passing game and the inability of the front seven to stop the run.
Grade: C-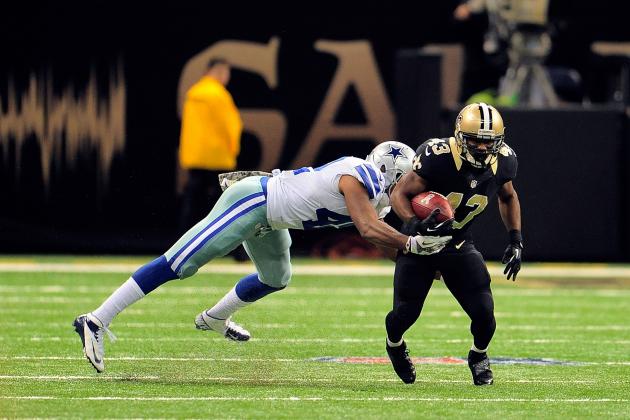 Stacy Revere/Getty Images

1. Barry Church
1. Jeff Heath
2. Danny McCray
Here's everything you need to know about how this game went for Dallas: Starting safeties Barry Church and Jeff Heath combined for 23 tackles. That should never happen, especially Heath and his nine tackles. Whereas Church plays in the box quite a bit, Heath is almost always in the back of the secondary. The fact that he nearly had double-digit tackles is alarming to say the least.
Both safeties were awful in coverage, particularly Heath. He looks lost when the ball is in the air, as was apparent on a 52-yard touchdown pass to Kenny Stills in the fourth quarter. The Cowboys desperately need to find their ball-hawking free safety of the future, but it isn't Heath.
Grade: D-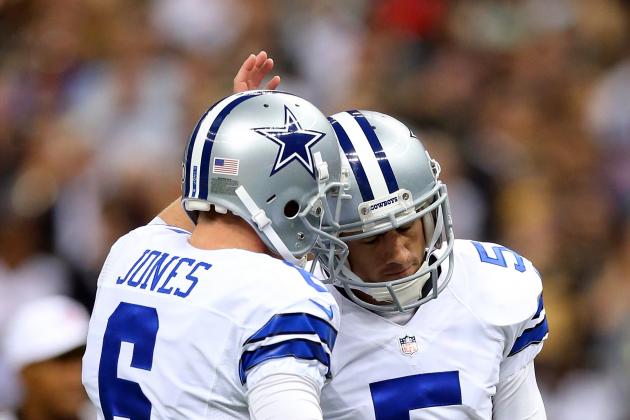 Ronald Martinez/Getty Images

K Dan Bailey
P Chris Jones
LS L.P. Ladouceur
Kicker Dan Bailey made his only field-goal attempt, and punter Chris Jones was outstanding with a 50.4 yard average on eight punts. When the MVP of your team is your punter, you know something went terribly wrong.
Grade: A