Given his off-the-charts production and nagging injury concerns, now is a good time to explore trade offers for Peyton Manning.
Giving up Manning seems insane, as he has recorded 3,249 passing yards and 33 passing touchdowns through just nine games. He's on pace to chase the 6,000-yard plateau while shattering Tom Brady's single-season touchdown record, making him the clear fantasy MVP.
That also means some ambitious leaguemate might be willing to present a king's ransom to acquire Manning's services.
The law of averages suggest that some human performances are coming Manning's way. If "He's due for an off day" isn't substantial rationale, consider that Manning talked about undergoing an MRI after taking some low hits against the San Diego Chargers. Per the team's official Twitter page:
Peyton Manning: "I'm pretty sore. They kind of got me twice in that lower area...get an MRI tomorrow and will know more then."

— Denver Broncos (@DenverBroncos) November 11, 2013
He also confessed to the NFL Network's Alex Flanagan that he's worried about the MRI:
I caught up w/ Peyton Manning post game. I asked if he was concerned about leg. He said, "anytime u get an MRI it's concerning."

— Alex Flanagan (@Alex_Flanagan) November 11, 2013
That sounds so worrisome that I'm not even going to berate Flanagan for not spelling out "you" in the tweet. After all, this is a 37-year-old quarterback who missed the entire 2011 season with an injured neck. It's a different area of the body, but is Manning still battered?
If the MRI churns out anything serious, the sell high advice obviously evaporates. Instead, the official recommendation turns into "Everybody panic!"
Even if the Broncos give a thumbs-up on their star's health, this reminder of Manning's mortality could help spur notions of fantasy owners trading the future Hall of Famer.
Injury notwithstanding, consider Manning's schedule. In Week 11, he gets the Kansas City Chiefs, who allow 208 passing yards per game and lead the league with 36 sacks. After facing the New England Patriots, Kansas City pops up on the schedule again.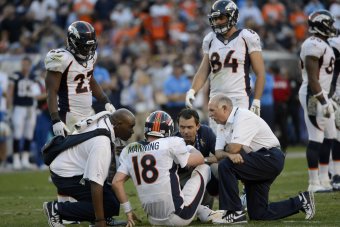 Donald Miralle/Getty Images
While Week 15's rematch with San Diego, who Manning just torched on Sunday, bodes well for managers vying for a championship appearance, he faces the Houston Texans during Week 16, when most fantasy championships are on the line. Houston has allowed just 167.2 passing yards per contest.
That could manufacture a repeat of last season, when he delivered an underwhelming 204 yards and one touchdown in Week 15.
Don't come off too desperate to the rest of the league, but see if anyone would give a monumental haul for Manning's services. Maybe pawn him off for Tony Romo, who has a game remaining against each porous NFC East defense, and another top-notch skill player for your troubles.
Unless the news is bad regarding his health, make sure to receive a significant return on investment. Don't just trade Manning because it gives you something to do. However, if you can stockpile the rest of your roster for your playoff push, don't feel obligated to remain loyal to the man who has led you this far.