Michigan State Basketball: 5 Vital Areas the Spartans Must Improve in 2013-14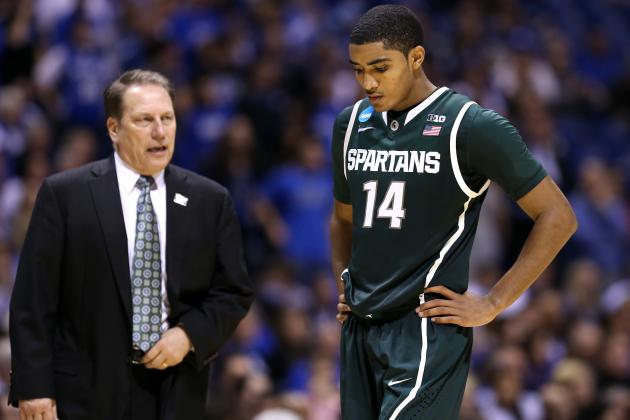 Streeter Lecka/Getty Images

It is no secret that Michigan State is one of the elite-level college basketball teams this year.
Head coach Tom Izzo has assembled a tough and talented core that can and will match up with any team in the nation.
MSU returns 84.2 percent of its scoring, 79.3 percent of its rebounding and 84 percent of its assists from last year's 27-9 Sweet 16 team.
And yet, there is room for improvement in East Lansing.
If the Spartans are going to make a serious run at the 2014 NCAA championship, they need to address these five vital areas:
Player information provided by ESPN.com
Begin Slideshow

»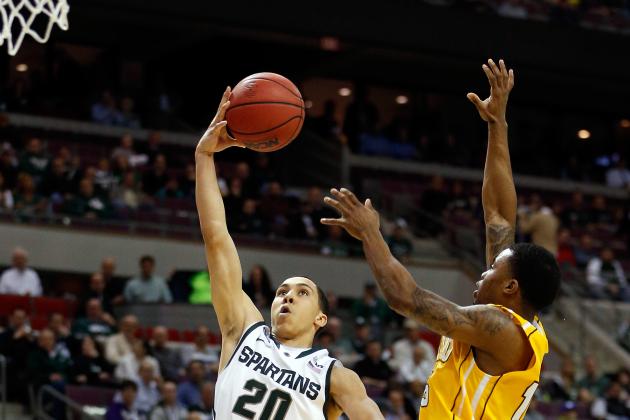 Gregory Shamus/Getty Images

Over the years, Michigan State's head coach Tom Izzo has operated with a distinct view point of his first players off the bench.
Many times, he has referred to them as his "sixth starters."
One of the players that would fit into that category on the current roster would be backup point guard Travis Trice.
Trice missed nine games last season and was limited in many others because of two concussions he suffered.
The 6'0" junior has fought through numerous physical challenges and enters this season healthy and ready to contribute.
In fact, in the Spartans' opening game against McNeese State, Trice scored 11 points, grabbed five rebounds and handed out a team-high eight assists in 23 minutes of action.
With a talented backcourt consisting of Keith Appling and Gary Harris, playing time for Trice or anyone else is scare.
If Izzo provides Trice with ample opportunities to spell his actual starters, he can dynamically help carry both the scoring and playmaking load.
http://www.lansingstatejournal.com/article/20131104/GW0201/311040009/MSU-s-Travis-Trice-fine-3s-most-happy-emerging-mid-range-game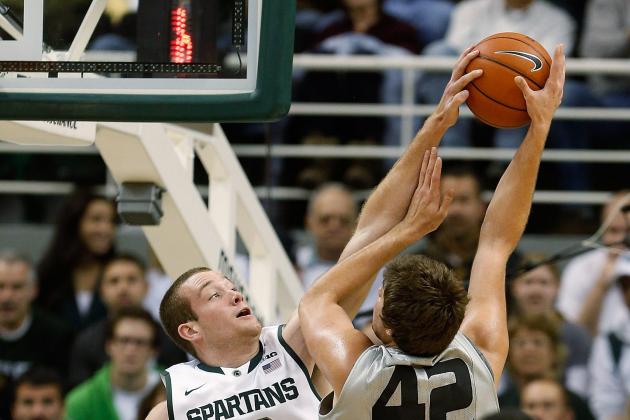 Gregory Shamus/Getty Images

Derrick Nix's departure left a big hole in the middle of the Spartans frontcourt.
His contribution last year to the team exceeded his scoring (9.9 PPG) and rebounding (6.6 RPG) numbers.
He was a tough interior defender that made MSU opponents think twice before bringing the ball into the lane.
Unproven sophomore power forward Matt Costello is head coach Tom Izzo's most likely option to insert into the starting five.
But Costello (pictured) only played a little more than six minutes per game last season
Junior power forward Alex Gauna is equally untested.
It is very possible that these two will split the minutes in the Spartans' post position opposite Adreian Payne.
In Michigan State's opening game against McNeese State, Costello and Gauna combined for 10 points and eight assists. Not bad.
They do not have to be dynamic scorers this season, but they will be counted on heavily to clog the lane and crash the boards.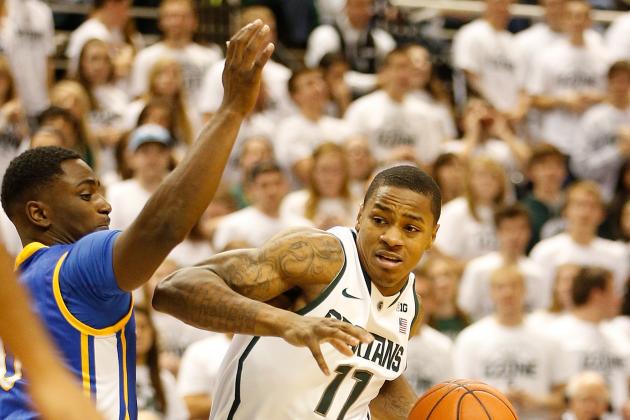 Gregory Shamus/Getty Images

One definite area of concern for Michigan State is how well they take care of the ball.
Last year, the Spartans had more turnovers (489) than assists (474). Very uncharacteristic for a Tom Izzo-coached team.
In fact, that was the first time MSU had been upside down like that since the 2002-03 season.
Their .97 assist-to-turnover ratio, which put them at No. 169 in the country and No. 9 in the Big Ten, is unacceptable for a team with national championship aspirations.
This issue starts with their backcourt and more specifically starting point guard Keith Appling.
He absolutely must do better of minimizing turnovers and increasing his number of assists.
Also, to live up to his potential, Big Ten preseason Player of the Year selection Gary Harris must improve his playmaking inefficiencies (51 turnovers and 46 assists).
If the Spartans can tighten up their ball-handling and find each other for open looks, they will be an even tougher team to take down this year.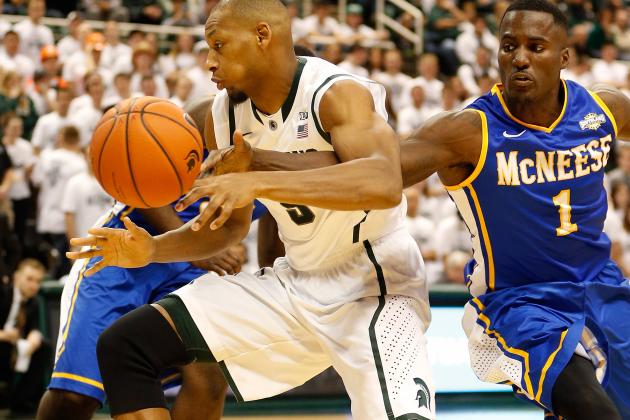 Gregory Shamus/Getty Images

Michigan State's power forward Adreian Payne is a beast.
Very few frontcourt players in the nation compare with him in terms of size, strength and skill.
That is precisely the reason that the Spartans need to make sure that they are feeding him the ball down low where he can score more regularly.
Last year, Payne only attempted seven shots per game while connecting on 54.6 percent of his attempts.
He made 84.8 percent of his shots from the line, but only averaged 2.9 free throws per game.
Even though Payne demonstrated that he has touch from beyond the arc (15-of-32 in 2012-13 Big Ten play), the Spartans will benefit more by him doing most of his work in the paint.
There is no reason why Payne should not be a 15/10 double-double guy this year.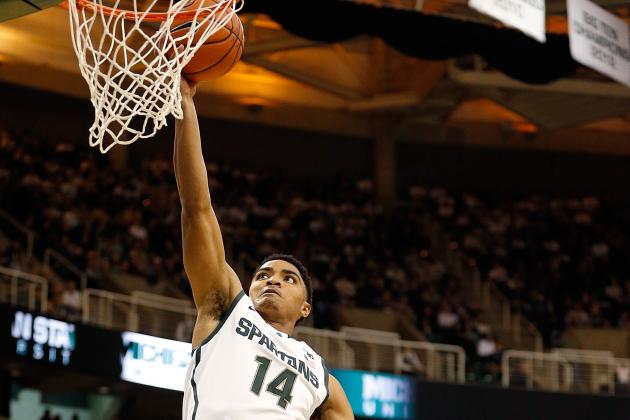 Gregory Shamus/Getty Images

Big Ten preseason Player of the Year Gary Harris has all the tools to be one of the best shooting guards in the country.
He has a great basketball IQ and is an excellent shooter.
What the Spartans need Harris to do this season is to look more for his own shot.
Some people call that being more selfish or more assertive. Maybe it is a gifted player just doing their job.
Sporting News' Mike DeCourcy stated:
There's every reason to believe a healthy Harris will attack more frequently on offense, shoot more readily, make a greater impact. He shot only 98 free throws last season, far below the total that a scorer with his ballhandling ability should be accumulating. It was understandable that he was not eager to be contacted last season. Now, it's a must.
Harris showed his nasty streak in Michigan State's 2013-14 opener against McNeese State. He went for 20 points, 10 rebounds and six assists in 27 minutes.
While no one expects that type of production from him every night, it is doubtful that anyone (except the Spartans' opponents) would object to Harris continuing to be that aggressive.