The Denver Broncos defeated the San Diego Chargers, 28-20, Sunday in a Week 10 AFC West matchup at Qualcomm Stadium.
Peyton Manning was once again his usual self, throwing for 330 yards and four touchdowns with zero interceptions. The Broncos amassed 397 total yards of offense and successfully fended off a late 14-point surge from the Chargers in the second half.
FINAL: Broncos 28 Chargers 20 Peyton Manning was his usual Peyton Manning self -- 25/36, 330 yards 4 TD, 0 INT

— NFL on ESPN (@ESPNNFL) November 11, 2013
FINAL: Manning gets shaken up near the end but remains in the game as @DenverBroncos beat @chargers 28-20, improving to 8-1. #DENvsSD

— NFLonCBS (@NFLonCBS) November 11, 2013
Denver Broncos vs. San Diego Chargers

| | | | | | |
| --- | --- | --- | --- | --- | --- |
| | 1st | 2nd | 3rd | 4th | Final |
| Denver Broncos | 7 | 14 | 7 | 0 | 28 |
| San Diego Chargers | 0 | 6 | 7 | 7 | 20 |
11/10/13
Manning and the Broncos started off hot against a struggling San Diego defense. He connected with tight end Julius Thomas on a 74-yard touchdown on their first drive of the game:
From there, things were rather uneventful in the first quarter outside of a San Diego field goal. Of course, the Chargers controlled the pace of the quarter in an attempt to keep Manning off the field, but it didn't really matter:
First quarter has come to an end. Chargers lead time of possession 14:03 to 0:57, but #Broncos lead on scoreboard 7-0. #DENvsSD

— Denver Broncos (@DenverBroncos) November 10, 2013
After the Chargers' 14-play, 72-yard drive that chewed up over nine minutes of possession and ended with a Nick Novak field goal.
After another exchange of punts, San Diego took the ball for five plays and notched a field goal at the 9:05 mark of the second, making it 7-6 Denver. The Broncos then took control on an 11-yard touchdown pass to Demaryius Thomas, who put forth a great effort for the score:
Philip Rivers and the Chargers would go on another extensive drive that lasted five minutes, but this time the efforts proved futile, as it ended in a missed field goal.
Even worse, that left Manning and his elite offense with over a minute to work with and decent field position. As expected, Manning took the ball down the field in a hurry and found Thomas for his second score of the game to put the Broncos up 21-6:
As Mike Klis of the Denver Post points out, it's great the Chargers were attempting to keep Manning and the offense off the field, but it simply did not work:
First time of possession: Chargers 22 minutes, Broncos 8 minutes. Scoreboard: Broncos 21, Chargers 6.

— Mike Klis (@MikeKlis) November 10, 2013
There was more bad news for San Diego: The Manning-Demaryius Thomas connection was far from done. Denver got the ball back after the half, up 15, and held it for eight plays before Manning found Thomas for a 34-yard score, marking the combo's third touchdown of the game:
San Diego wasted little time lining up in punt formation, but got the ball back rather quickly thanks to a fumble by Manning:
This time the Chargers were able to capitalize and needed just two plays before Rivers found shifty running back Danny Woodhead for a seven-yard touchdown:
In unexpected fashion, both sides exchanged punts after the early explosion in the second half. They entered the fourth quarter with Denver in front 28-13.
San Diego proved early in the fourth it was not going away, though. Rivers and running back Ryan Mathews led a nine-play drive that resulted in the latter finding the end zone from a yard out, bringing the Chargers within eight:
After 14 unanswered from the Chargers brought us to 28-20, Manning took the field looking to drain the clock, but the San Diego defense once again proved stout. The Broncos were only able to take about four minutes off the clock before they had to give the ball back to the surging Chargers.
One bobbled snap, a sack and incompletion later, however, and the Chargers gave the ball right back. From there, Manning and his stable of running backs were able to kill off the remainder of regulation for the big division win.
Key Player Grades
Peyton Manning, QB, Denver Broncos: A

It was just another day at the office for Mr. Manning.
Manning completed 25 of 36 passes for 330 yards with four scores and no INTs, making it look easy behind a line that allowed him to be sacked just twice.
Sure, Manning's fumble hurt and led to a score, but on the whole that's easy to forgive, no?
Philip Rivers, QB, San Diego Chargers: B

Christopher Hanewinckel-USA TODA
For a quarterback going against one of the NFL's worst pass defenses entering the game, Rivers by no means blew away the competition as he was expected to. But it's hard to place all the blame on him.
After all, Rivers' defense allowed 397 total yards and 28 points.
Rivers finished the day 19-of-29 passing for 218 yards and one score.
It's especially hard to knock Rivers when the clear strategy was to pound the ball and control the clock until things hit panic mode in the fourth.
Demaryius Thomas, WR, Denver Bronco: A+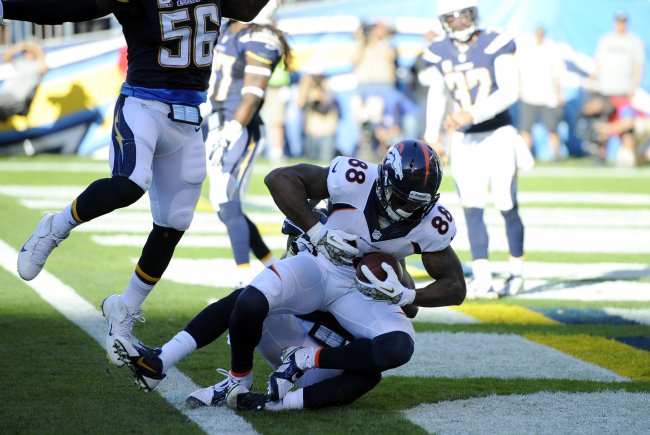 Christopher Hanewinckel-USA TODA
When Demaryius Thomas touches the ball, great things happen.
Thomas brought in seven receptions for 108 yards and three scores as Manning's favorite target. He has now caught five passes in all but two games, and has 50 or more yards in every game this year.
What's especially impressive about Thomas is his ability to create after the catch. The screen pass he took for over 30 yards into the end zone for score No. 3 is proof of that.
Ryan Mathews, RB, San Diego Chargers: B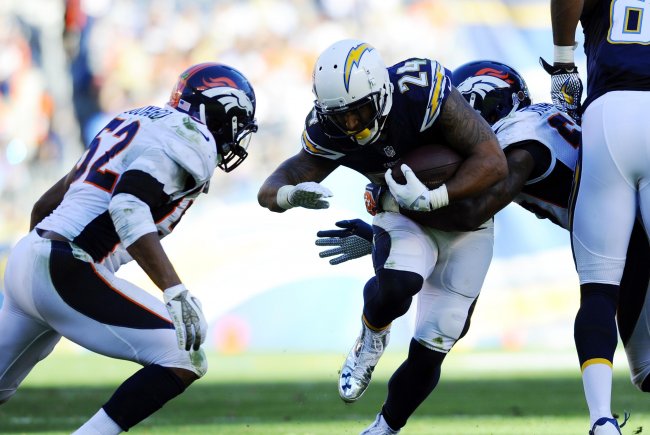 Christopher Hanewinckel-USA TODA
The beneficiary of a keep-it-away-from-Manning strategy, Ryan Mathews gained 59 yards and a touchdown on 14 carries, giving him a 4.2 yards-per-carry average.
Mathews has picked up his game of late, and against the NFL's No. 3-ranked run defense entering the game, his line and effectiveness in the strategy made for a great all-around effort.
What's Next?
San Diego falls to 4-5 and remains stuck in the middle of the AFC West with a tough three-game stretch ahead against Miami, Kansas City and Cincinnati.
Manning and the Broncos move to 8-1 and keep pace just behind Kansas City (9-0) in the division.
The Broncos are relatively healthy, which is great news considering the next two contests come against the undefeated Chiefs for AFC West supremacy before a date with Tom Brady and New England.