Alabama downed the LSU Tigers 38-17 Saturday night in Tuscaloosa to maintain its place atop the BCS standings.
It was a complete performance by the Tide over four quarters. They were a bit sluggish in the first half but came strong in the second half, slowly but surely hitting the Tigers with body blows until delivering the knockout blow late in the game.
Early on, this game was very interesting. The only points in the first quarter came via a Cade Foster 41-yard field goal.
But Les Miles will end up looking at those first 15 minutes as the reason his team may well have lost the game.
The Tigers had an opportunity to take a 7-0 lead with their first drive of the night. They got inside the Crimson Tide 5-yard line only for J.C. Copeland to fumble the ball. Alabama recovered to eliminate the threat.
Against a team as good as the Crimson Tide, you can't afford to leave that many points on the board. If LSU took an early 7-0 lead, perhaps it could've taken control of the game and put pressure on the No. 1 team.
It was the team's third turnover in the red zone, via ESPN Stats and Info.
The fumble by J.C. Copeland was LSU's 3rd red-zone turnover this season. Also had one vs Auburn and Ole Miss.

— ESPN Stats & Info (@ESPNStatsInfo) November 10, 2013
LSU's defense stepped up to force a three-and-out from the Crimson Tide offense. Once again, though, the Tigers coughed up the football, this time courtesy of a botched snap from the center. As Zach Mettenberger stepped up to give his offense instructions, Elliott Porter snapped the ball. It caromed off Mettenberger's leg and right into the waiting arms of Trey DePriest.
Although the Crimson Tide went three-and-out again, this time they could at least settle for a field goal to carry a 3-0 lead into the second quarter.
LSU found the end zone with its first drive of the quarter, courtesy of a three-yard run by Jeremy Hill to take the 7-3 lead. The Tigers were helped out by having a short field, afforded to them by Odell Beckham's 39-yard kick return that got the ball to the LSU 43-yard line.
Alabama immediately countered back with a touchdown of its own to get back on top, 10-7. AJ McCarron hooked up with O.J. Howard for a 52-yard touchdown pass. The freshman tight end had yards of space in the middle of the field and utilized that space well to find the corner.
Howard is listed at 6'6", 237 pounds on Alabama's official site. Matt Hinton wonders how it was physically possible for somebody that big to outrun the defense.
O.J. Howard just broke some kind of state and/or physical law concerning size/speed ratio.

— Matt Hinton (@MattRHinton) November 10, 2013
After shutting down the Tigers offense, the Crimson Tide extended the lead to 17-7 following a nine-yard touchdown catch from Kevin Norwood.
Not to be outdone, LSU responded with a Travin Dural six-yard touchdown reception to get to within three points, 17-14, going into halftime. It was a great drive for the Tigers. They went 75 yards in 4:34 and left just enough time for Alabama to take a knee and end the half.
Picking right up where they left off, the Tigers scored on the first drive of the second half on 41-yard field goal from Colby Delahoussaye to tie the game at 17-17
At that point, Alabama decided it had had it up to here.
The Crimson Tide had a 14-play, 79-yard drive that took 7:50 and ended with a four-yard touchdown run by T.J. Yeldon to put the home team up 24-17. That drive included a successful fake punt attempt that seemed to have awakened the Crimson Tide.
Yeldon doubled the lead in the fourth quarter with a one-yard touchdown run.
With the way he's killed the competition in the past, SEC reporter Gary Laney thinks LSU will do whatever it takes to get the sophomore running back out of Tuscaloosa.
LSU wants to provide T.J. Yeldon with an agent and a ticket out of the SEC.

— Gary Laney (@GaryMLaney) November 10, 2013
On the kickoff, Beckham had another great return, going 82 yards down to the Crimson Tide 18-yard line. However, the Tigers lost three yards and would end up turning the ball over on downs. That drive summed up LSU's performance in the second half and showed how dominant the Tide's defense was.
The Tigers couldn't get anything going offensively, and their defense was getting worn down by Yeldon and the Bama rushing game. As a team, Alabama hit 193 yards on the ground. That number is huge for the team, as it's now 58-0 when getting at least 140 yards rushing, via AL.com's Matt Scalici.
Alabama is 57-0 when rushing for at least 140 yards. They just passed that mark.

— Matt Scalici (@MattScalici) November 10, 2013
Alabama added another touchdown—a three-yard TD pass from McCarron to Jalston Fowler—late to go up 38-17 and close the door for good on any LSU comeback.
This game was even more evidence of just how good Alabama is. You have to play the perfect game against the Tide to even have a chance of beating them, but even that may not be enough.
Key Player Grades
T.J. Yeldon, Alabama Crimson Tide: A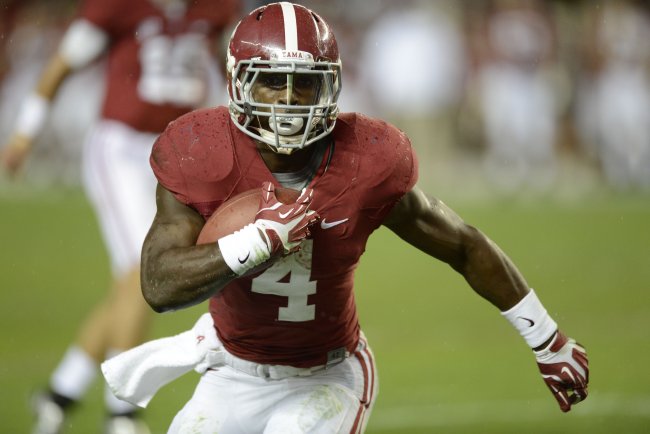 John David Mercer-USA TODAY Spor
There couldn't be a more perfect runner for this Alabama offense than T.J. Yeldon. His punishing style fits Nick Saban's game plan to a T. The Crimson Tide wore out LSU as the game went on, and Yeldon was more and more successful as time ticked on.
Numerous holes opened up as the Tigers' collective will was broken. The Tide, and Yeldon in particular, were having a rather easy time protecting that lead and eating time off the clock.
The sophomore finished with 133 yards and two touchdowns on 25 carries.
Alabama Defense: A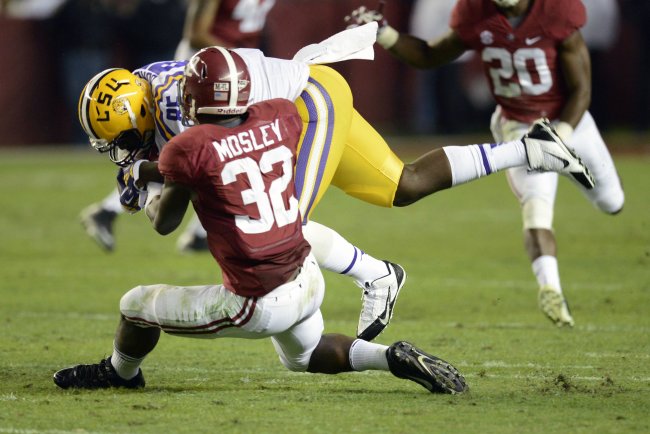 John David Mercer-USA TODAY Spor
It would be unfair to single out just one player on the Alabama defense. Everybody was doing his part in the second half.
After that field goal to start the third quarter, the Crimson Tide flipped a switch. They didn't allow LSU any space to breath and just kept coming.
That stand inside the red zone in the fourth quarter was all you needed to know about this game. Jeremy Hill was hit for a three-yard loss, and then Zach Mettenberger couldn't find any of his receivers open on the next three plays.
Once the Crimson Tide defense held there, it was game over.
Zach Mettenberger, LSU Tigers: B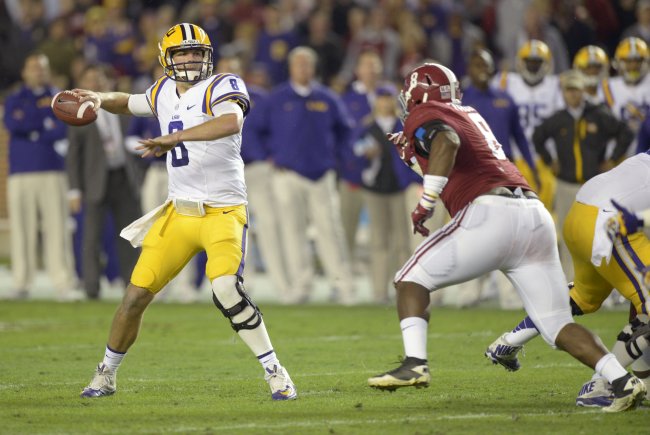 John David Mercer-USA TODAY Spor
At the end of the game, Mettenberger was sacked and quite literally tried crawling off the field before getting up and limping off.
And that about sums up the night for the senior quarterback.
He finished 16-of-23 passing for 241 yards and a touchdown. Those numbers don't look too bad, but Mettenberger had almost no help offensively. LSU had only 43 yards on the ground, and far too often, he was looking at a tough pass rush as soon as he received the snap.
What's Next?
Alabama gets a bit of a let-off, traveling to Starkville next week to take on Mississippi State. LSU, meanwhile, has a major test when the Texas A&M Aggies come to town in two weeks' time.