NFL Power Rankings: Cheerleader Edition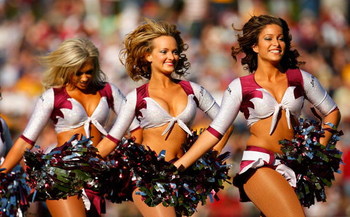 The NFL season is creeping closer and closer upon us. Analysts have spent hours on end figuring out if Team A is better than Team B. Teams will basically be crowned champions before a ball is snapped this year.
I say, let the teams figure that stuff out on the gridiron. Let's focus on the important things at hand, like which teams have the hottest cheerleaders.
I introduce the only rankings that matter at this point in the year—the NFL Power Rankings: Cheerleader Edition.
The Bottom Six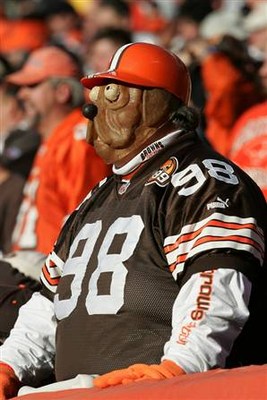 The Cleveland Browns, Pittsburgh Steelers, Chicago Bears, Detroit Lions, Green Bay Packers, and New York Giants all do not have any official cheerleaders.
Instead, they rely on fans like this guy to cheer them on.
I don't care how good the Steelers and the Giants look this year—they fall to the bottom of these power rankings until they can get some cheerleaders on the field.
Disgraceful.
No. 26: New York Jets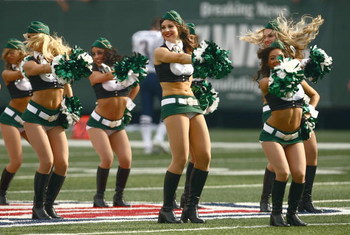 The New York Jets cheerleaders.
AKA: Mark Sanchez's future conquests.
No. 25: Cincinnati Bengals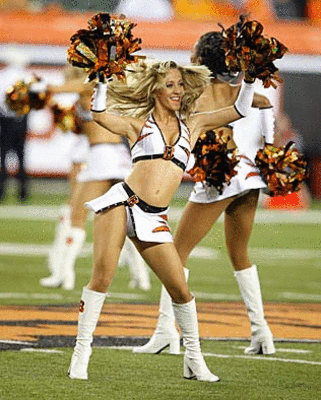 Inspired by Chad Ochocinco, this cheerleader legally changed her name to Heather Muy Caliente.
No. 24: Baltimore Ravens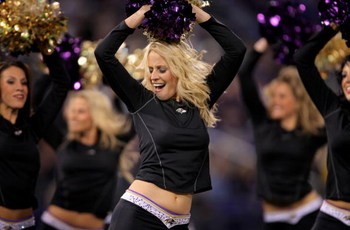 The only Ravens more intimidating to approach than Ray Lewis.
No. 23: Seattle Seahawks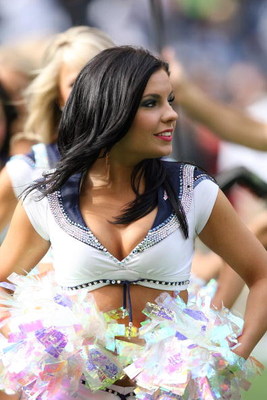 While their football team may not look particularly strong this year, Seattle's cheerleaders seem to have stepped their game up for sure.
No. 22: St. Louis Rams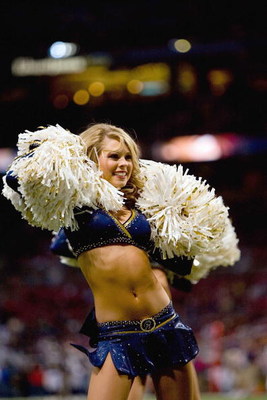 My desire to be a pom-pom in my next life is growing by the second.
No. 21: Indianapolis Colts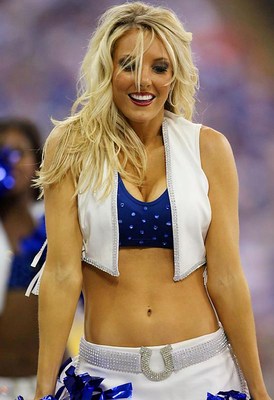 The Colts' high-powered offense may have lost a little luster over time, but their cheerleaders can still pack quite a punch.
No. 20: Buffalo Bills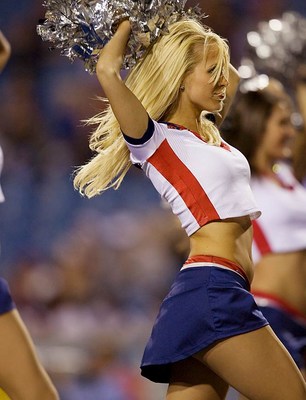 This cheerleader is as hot as Marshawn Lynch is ugly—and that is saying a lot.
No. 19: New England Patriots
Although it didn't get as much coverage, Bill Belichick was caught taping the Patriots' cheerleaders' practices. The NFL confiscated the tapes and did not release a statement after viewing the tapes, but multiple high-fives were heard being given inside the room.
No. 18: Houston Texans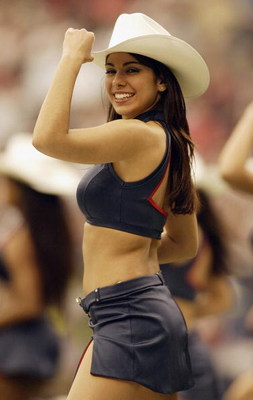 I don't know what it is that makes a woman wearing a cowboy hat so attractive, but I don't care.
God bless Texas.
No. 17: Kansas City Chiefs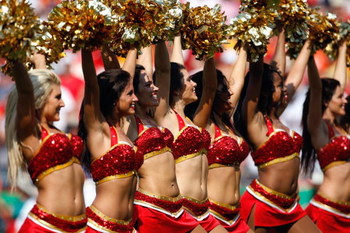 They gained Matt Cassel, but they lost Tony Gonz...um...wait? What was I talking about again?
No. 16: New Orleans Saints
The Saints' cheerleaders have all the talent of Reggie Bush, except they actually deliver on a consistent basis.
No. 15: San Diego Chargers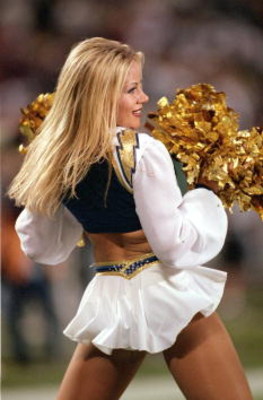 She can score easier than LaDainian Tomlinson in his heyday.
No. 14: Carolina Panthers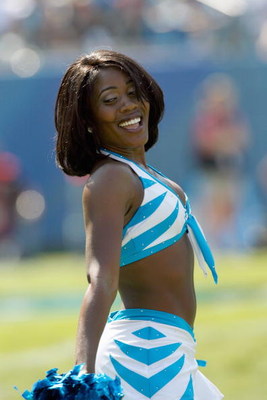 The reason Jake Delhomme threw all those interceptions in the playoffs last year was because he kept looking towards the sideline.
Hard to blame him.
No. 13: San Francisco 49ers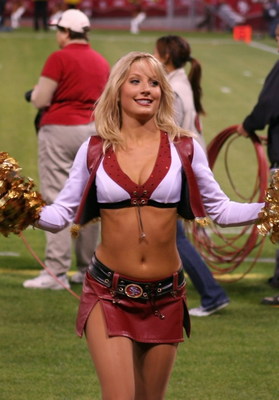 Fun Fact: The 49ers originally got their name when trying to decide how hot their cheerleaders were on a scale of 1 to 50.
No. 12: MInnesota Vikings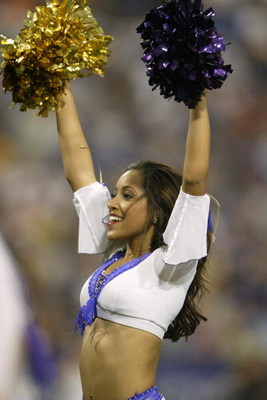 The one ranking that doesn't care whether or not Brett Favre comes to the Vikings.
They seem to have plenty of talent without him.
No. 11: Atlanta Falcons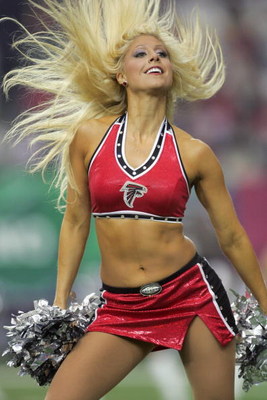 The Falcons look electrifying this year.
No. 10: Denver Broncos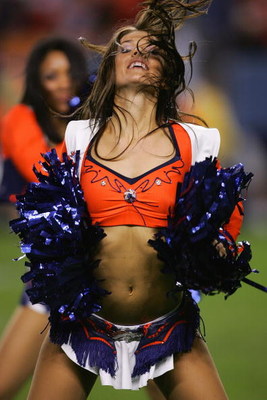 This alone should have been enough to keep Jay Cutler in Denver.
Sure they shopped you around, Jay, but wouldn't you stay and try to join the mile high club with the Bronco cheerleaders?
No. 9: Tampa Bay Buccaneers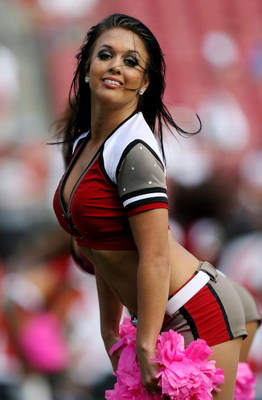 One thing about Buccaneers—they are always after that booty.
No. 8: Tennessee Titans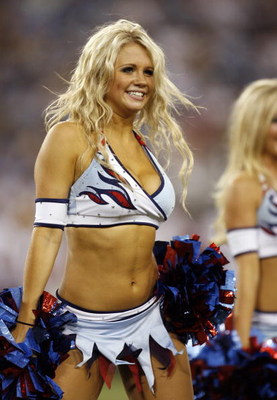 Best pickup line to use on a Titans cheerleader: "Baby, you're the only ten I see."
They've never heard that one before, promise.
No. 7: Arizona Cardinals
I think she has the "touchdown" sign backwards.
Actually, forget about it. She's good.
No. 6: Jacksonville Jaguars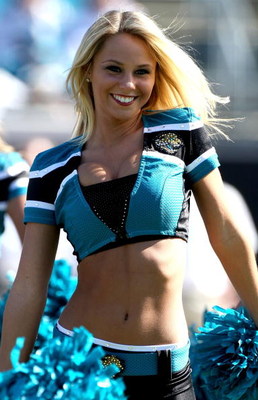 They may be Jaguars now, but give them a few years, and I have no doubt they will graduate to Cougars.
No. 5: Washington Redskins
The Redskins coaches are always on the hot seat. Jason Campbell will never fully be secure in his job. Washington rotates players in and out like a carousel.
However, she should never have to worry about getting fired. I like to think Dan Snyder has more sense than that.
No. 4: Philadelphia Eagles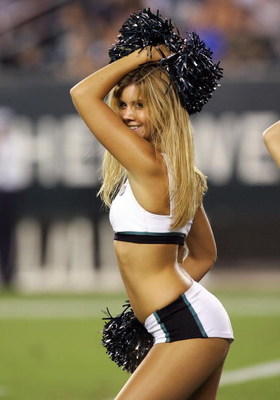 No Philly fan in their right mind would ever boo the Eagles' cheerleaders.
Santa, maybe. But not the cheerleaders.
No. 3: Miami Dolphins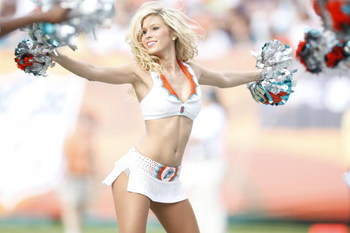 As if you needed another reason to go to Miami.
No. 2: Oakland Raiders
This may be the closest the Raiders get to the top of any power rankings for a long time.
They need to send her a thank you card or something.
No. 1: Dallas Cowboys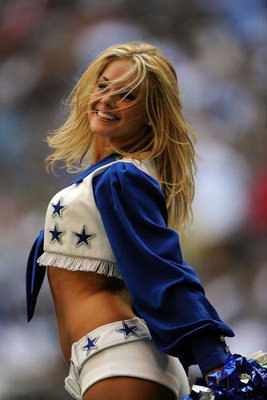 You can't put the Cowboy cheerleaders anywhere but first when you do a cheerleader power poll.
I'm sorry, it's the rules. I don't make them; I just follow them.
The Dallas Cowboy cheerleaders: putting the fantasy in football long before the stat geeks.
Keep Reading