Jameis Winston did not do much for his Heisman campaign, but the Florida State Seminoles took another step toward a berth in the national title game with a 59-3 blowout of the Wake Forest Demon Deacons on Saturday.
Winston was on the field for just two drives into the second half before exiting the game with a 49-0 advantage. He finished with 159 passing yards, two scores and an interception.
Florida State routs Wake Forest, 59-3. Seminoles defense has a MONSTER day, forcing 7 takeaways. #FSUvsWAKE

— SportsCenter (@SportsCenter) November 9, 2013
The real star of the show was Florida State's defense, which held Wake Forest to 165 total yards, intercepted the quarterbacks a whopping total of six times and scored two defensive touchdowns.
Here is how the epic lopsided matchup unfolded from BB&T Field.
No. 2 Florida State Seminoles vs. Wake Forest Demon Deacons

| | | | | | |
| --- | --- | --- | --- | --- | --- |
| | 1st | 2nd | 3rd | 4th | Final |
| Florida State Seminoles | 21 | 21 | 10 | 7 | 59 |
| Wake Forest Demon Deacons | 0 | 0 | 0 | 3 | 3 |
ESPN
After a Wake Forest three-and-out to start the game, the Seminoles took things over and survived a fumbled snap with a backup at center:
Austin Barron starts at center for the #Noles, in place of Bryan Stork (ankle).

— FSU Football (@FSU_Football) November 9, 2013
After the brief miscue, the running game carried the Seminoles down the field the rest of the way to cap off their opening drive with a five-yard touchdown from James Wilder Jr.:
Wake Forest quickly gave the ball back to the Seminoles on their first play as Tanner Price stared down his target and was intercepted by Terrance Smith, who returned the ball 32 yards to put Florida State back in scoring position.
Two plays later, Devonta Freeman found the end zone to make it 14-0:
The Demon Deacons managed a first down on their next drive, but Price once again turned the ball over as he was hit as he threw by Christian Jones and intercepted by fellow defensive lineman Mario Edwards Jr.
Winston found Kelvin Benjamin in the end zone two plays later for an 18-yard hookup to go up three scores in the first quarter:
It gets worse.
Price again took the football, and after two first downs, his fourth pass attempt of the game was intercepted—making it three interceptions on four attempts. This time Nate Andrews took it back to the house:
On the first play of the Demon Deacons' next drive, tailback Josh D. Harris fumbled the football, which was promptly scooped up by Jalen Ramsey and returned for a second straight defensive touchdown:
This detail from ESPN says it all:
Florida State has scored 30+ points for the 5th consecutive time against Wake Forest...there's 13:56 left in the 2nd quarter.

— ESPN Stats & Info (@ESPNStatsInfo) November 9, 2013
Next time out Wake Forest put together a decent drive, but ended up stalling in FSU territory. The Seminoles started at their own 1-yard line and quickly moved down the field.
In a rare turn of events, the Demon Deacons managed to stop the advance as Christian Green fumbled the ball after a 16-yard reception:
After both sides exchanged punts, Wake Forest committed its fifth turnover of the game. Tyler Cameron was intercepted by Andrews, his second pick of the first half.
Florida State was unable to do anything with the good field position, as Roberto Aguayo missed his first field goal of the season. Wake Forest quickly turned around and punted the football right back.
Winston made the most of the brief time left in the half and drove Florida State down the field eight plays and 57 yards before hooking up with Chad Abram for a score:
Surprisingly, Winston threw an interception on Florida State's first possession of the second half:
Not to be outdone, Cameron was intercepted by Jones on his first attempt of the second half. Karlos Williams then took care of business on the ground to put the Seminoles up 49-0:
Cameron and the Demon Deacons took the field once more, but he attempted to do too much on his own on third down and threw yet another interception:
This time around the Seminoles only managed a field goal as Winston was replaced at quarterback by Jacob Coker.
After a major down period in which both teams exchanged punts three times to get to the fourth quarter, Wake Forest finally got on the board with a field goal from Chad Hedlund:
Florida State immediately answered, as Levonte Whitfield took the ensuing kickoff back 97 yards for the last score of the game:
Jimbo Fisher spoke about the win after the game:
Key Player Grades
Jameis Winston, QB, Florida State: B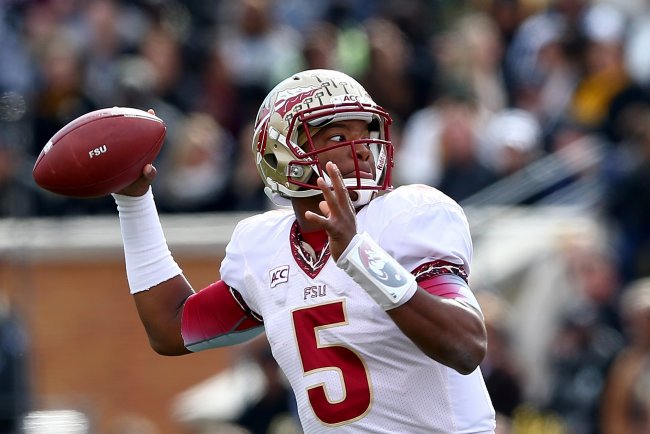 Streeter Lecka/Getty Images
Winston was only on the field two drives into the second before being replaced by Coker, but he left his team with a 49-0 lead and made history with his two touchdown passes:
Winston's TD pass gives him the most ever by an ACC rookie. He's got 26.

— Warchant.com (@Warchant) November 9, 2013
This was a major opportunity for Winston to improve his Heisman campaign, but instead Florida State's defense stole the headlines.
Still, Winston led his team to a win as the Seminoles have a bigger team goal in mind.
Tanner Price, QB, Wake Forest: F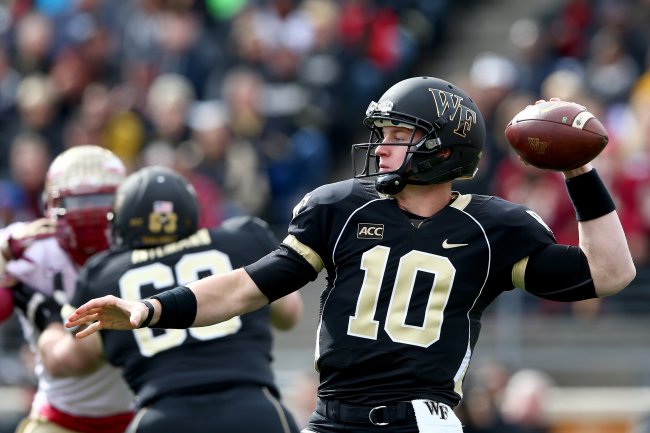 Streeter Lecka/Getty Images
Tanner Price is by no means a bad player.
A three-year starter, Price entered Saturday's contest completing over 56 percent of his passes with over 1,900 passing yards and 12 scores to five interceptions. In 2011, he went for over 3,000; in 2012, he had 2,300.
Fans wouldn't have known it with how the Seminoles treated Price before he was yanked from the contest.
Price threw more interceptions than completions to finish with a 1-of-4 passing line for three yards and and three interceptions in the humiliating contest.
Florida State Defense: A+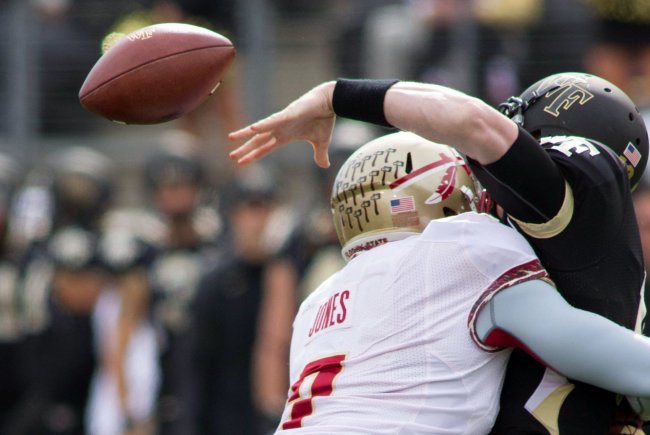 Jeremy Brevard-USA TODAY Sports
It would be in bad taste to only highlight the ineffectiveness of the Wake Forest offense and not credit the Seminoles defense.
Midway through the fourth quarter, this was the only way to apt describe the performance:
Visual proof of what should be impossible: pic.twitter.com/DrefjA9S0n

— Paul Myerberg (@PaulMyerberg) November 9, 2013
Florida State had six interceptions, and Nate Andrews had himself a huge day with two interceptions and a touchdown.
What's Next?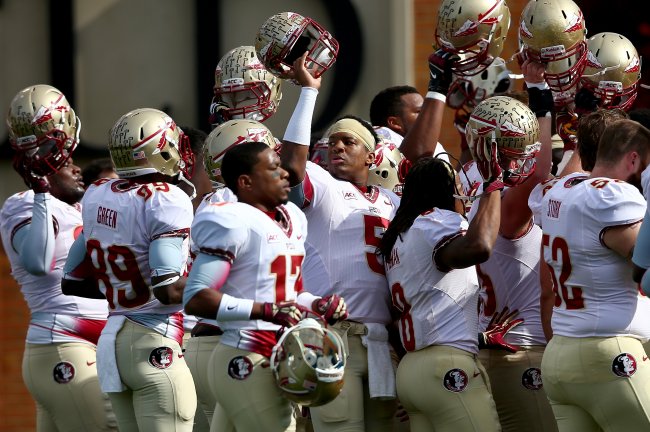 Streeter Lecka/Getty Images
The loss to Florida State was expected for the Demon Deacons, and they now move to 4-6 and 2-5 in the ACC with matchups against Duke and Vanderbilt to close out the season.
Things for the Seminoles (9-0, 7-0 in ACC) look much better. Thanks to an Oregon loss, Winston and Florida State have an inside track to the BCS National Championship Game with a relatively easy schedule to finish out the season.
Florida State welcomes Syracuse and Idaho at home before a trip to The Swamp to take on Florida.
As long as Winston and the Seminoles take care of business as they did against Wake Forest, a title game is in the cards.