NASCAR Fans and The Victory Junction Gang: Helping Kids through Charity
May 26, 2009
Last month I teamed up with comedian Lee Roy Mercer to bring you Tony Stewart's Prelude to the Dream pit pass contest for charity.
All of the proceeds from the sales of Mercer's "Greatest Threats" and "Gone Racin'" compact discs will help to send a child to the Victory Junction Gang Camp.
I urge you to have a charitable heart and pick up one of his CDs.
The sheer hilarity of his Lee Roy's antics are well worth the price, but most importantly, you will be helping the Victory Junction Gang Camp enrich the life of a child with a chronic medical condition or serious illness by providing a life-changing camping experience that is exciting, fun, and empowering, in a safe and medically-sound environment.
The VJGC program offers a week of exhilarating, challenging, and nurturing fun under comprehensive, but unobtrusive, 24-hour medical supervision. Activities include arts and crafts, woodshop, an adventure course, archery, swimming, boating, fishing, horseback riding, music and theater, and a special NASCAR-themed program area complete with race cars, racing simulators, and racing gear.  Each summer session offers up to 128 camper spots, and our fall and spring family weekends offer up to 32 families a chance to experience camp together.
It costs approximately $2,500 to send one child to camp, but thanks to generous donations, children who attend the camp do so at no cost to their families.
Kids will learn life experiences in a "media free" zone, which means no TV, radio, DVDs etc. They will gain valuable team building, positive decision-making skills, and even take "safe" risks in a controlled and structured manner.
The camp allows participants to try new things and test their independent spirits by getting involved in singing, dancing, and performing in front of groups.
Campers are free to express their individual opinions, making lifelong memories along the way by learning to compromise and share resources with others.
So, who truly benefits from the VJGC?
I'd like to introduce you to my friend Ray.
Ray has been accepted to spend his third summer at the VJGC during this year's "Immunology Week." A session dedicated to kids aged 6 to 16 years old with immunologic disorders, inherited or acquired abnormalities of the immune system (the body's way to fight infection).
I first met Ray and his mother Barb in 2002 while working as a clinician with a gastrointestinal pediatric specialist where Ray was a patient.
Through their visits, I learned much about Ray, his family, and the challenges they face on a daily basis.
Ray was just 8 years old and had already been through so much and was well aware of the rough road that the future held for him.
Our relationship grew over the next three years. In that time, never once did I see even a hint of a defeatist attitude. Ray is the bravest, strongest person I've ever known.
No matter what he was up against, he never lost sight of being what he did best…just being a kid!
He'd always bring his homework to work on during the wait, which like every other kid I'd met, he "hated" doing, especially math. His mom, like any good mother, always badgered him to get it done.
We talked about NASCAR all the time. We debated over who was the better driver, his favorite Jeff Gordon or mine Dale Earnhardt Jr.
In hindsight, history seems to be proving that Ray won those arguments.
Luckily, we shared a common appreciation for Tony Stewart.
His mother kept me informed on Ray's progress and trips to other specialists, while looking through her latest photographs of an extraordinary boy doing ordinary boy things.
He attends NASCAR races and baseball games. Races go-carts for fun and recently got his black belt in tae kwon do.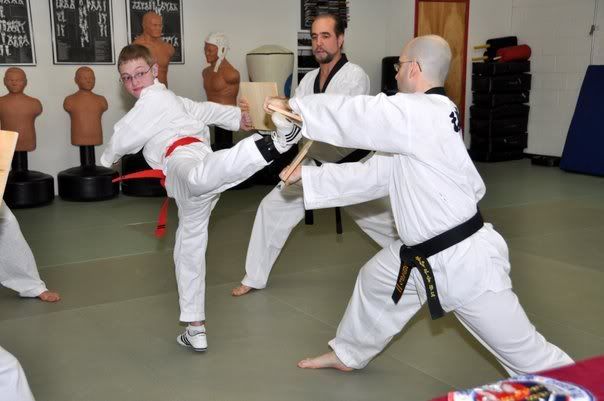 I left the practice in 2006 to pursue emergency medicine, but kept in touch with my "favorite patient" through e-mail and Facebook.
When I am run down and feeling the need to alert the world of my shortcomings in my Facebook status, Ray is the first one to remind me to get out and enjoy the day.
Ray is now a 15-year-old freshman in high school.
This is his journey.
Ray has a condition called Severe Combined Immune Deficiency (SCID). 
SCID is often called the "bubble boy disease." It became widely known during the 1970's and 80's, when the world learned of David Vetter, a boy with X-linked SCID, who lived for 12 years in a plastic, germ-free bubble.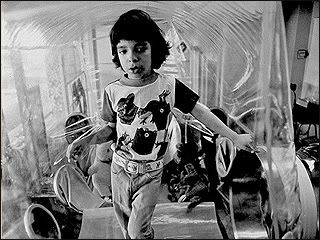 On Feb. 26, 2009 Ray's mother, Barb, addressed The Advisory Committee on Heritable Disorders in Newborns and Children.
Here is an excerpt offering valuable insight into the disease and Ray's history.
"It was 25 years ago this week that David Vetter, the "Texas Bubble Boy" died. Despite being diagnosed as a newborn it took doctors years to offer any treatment other than a plastic bubble because (bone marrow) transplants were only an option if you had a matched donor.
There were no donor registries, and half matched transplants would not be available for more than another decade. Today, bone marrow transplants are the standard of care for the majority of SCID patients. An effective method to diagnose SCID from a simple blood spot now exists. SCID families passionate to improve the rate of diagnosis have given their children's very blood toward improving the rate of diagnosis."
"Let me talk a moment about quality of life for those children who are lucky enough to be survivors of this disease. Specifically, I want to talk about those children who were not diagnosed as newborns, those children who had to be sick before doctors could diagnosis the problem.
"My son Ray is one such child. Ray is now 15 years old. Born seemingly normal, he thrived for several months until he caught his first cold. Within days of first entering my pediatrician's office with a child that I thought might have a virus, he was in the PICU and on a ventilator with PCP pneumonia.
"He spent four-and-a-half months on a ventilator, had 13 chest tubes, and was trached.
"He received his first bone marrow transplant at a year old while on the ventilator in the Duke University Medical Center's PICU. An enteral virus ultimately caused severe gastroentestinal damage.
"His GI tract never fully recovered and he remains fed by enteral and parenteral means. Infection and Graft vs. Host disease caused his graft to fail and he has required two additional booster transplants.
"He managed to come off the ventilator and his trach was eventually removed, but he has severe lung damage and scarring, which significantly limits his ability to participate in normal childhood activities."
All the infections had to be countered with multiple antibiotics, antivirals, and antifungals. Ultimately, we learned that one of the antibiotics used to save his life, had also left him deaf.
"My son's medical costs maxed out a $2 million insurance policy by the time he was five years old. Though Ray survived when many have not, his life will continue to have many costly challenges, which could have been prevented. 
"My son is not alone in having long-term medical complications resulting from a delay in diagnosis. As the administrator for a support group of SCID families, I can tell you many similar stories. It is for all the SCID children, surviving and lost, that I speak today."
For a full transcript and to learn more about this extraordinary family, please visit www.rayballard.com.
To learn more about the disease that challenges Ray and countless other children, please visit the official website at www.SCID.net.
Please check out www.leeroymercer.com to help make a difference in a child's life.