Michael Crabtree Returns to 49ers for First Time Since Achilles Tear
Use your ← → (arrow) keys to browse more stories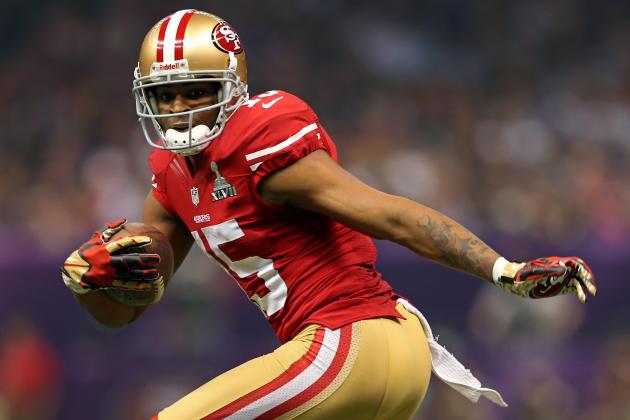 Mike Ehrmann/Getty Images

After falling just short in the their bid to win the Super Bowl last season, the San Francisco 49ers' 2013 campaign got off to an inauspicious start when star wide receiver Michael Crabtree tore his Achilles on the first day of organized team activities in May. After a long road back, Crabtree will make his triumphant return during the Niners' Week 13 game against the St. Louis Rams.

#49ers WR @KingCrab15 returns in Week 13 as a starter. READ: http://t.co/vvqjFOuaCW

— San Francisco 49ers (@49ers) December 1, 2013
To say that San Francisco has missed Crabtree would be a massive understatement. Since a 400-yard outburst in Week 1 against the Green Bay Packers, 49ers quarterback Colin Kaepernick has been ordinary at best as a passer. Much of that had to do with the fact that his receiving corps lacked depth.
Tight end Vernon Davis has stepped up in a big way, but while wide receiver Anquan Boldin seemed poised for a monster season after catching 13 balls for 208 yards in Week 1, he hasn't come close to duplicating those numbers since despite a major effort in Week 12.
Even though it will likely take Crabtree some time to work his way back to top speed and full health, his mere presence is a major boost. He gives opposing defenses another weapon to account for, which opens things up for both the passing and running attacks of the Niners.
In addition, Crabtree clearly developed into Kaepernick's favorite weapon last season. Crabtree turned in the first 1,000-yard campaign of his career in 2012 as he racked up 1,105 receiving yards in total along with nine touchdowns.
He was also a force for the 49ers during the playoffs, catching 20 of his 28 targets for 285 yards and three scores in just three games. He and Boldin were arguably the two most-clutch receivers during the postseason last year, and that most definitely bodes well for the 49ers' playoff push.
It often takes a year or more for an athlete to fully recover from an Achilles injury, so it isn't fair to expect Crabtree to be the same player that fans have grown accustomed to seeing. With that said, he has proven to be an excellent possession receiver on shorter routes over the course of his career, so he should be able to contribute in that regard if nothing else.
Does Crabtree's return make the 49ers significantly better?
The 49ers haven't always looked dominant this season, but they have managed to perform well despite their deficiencies. The team isn't much different from last year's squad in terms of personnel, and Crabtree's return should allow the 2013 49ers to come much closer to resembling the 2012 version of the team.
Parity is alive and well in the NFL as the NFC looks wide open and there for the taking. San Francisco will have to contend with solid teams like the New Orleans Saints and NFC West rival Seattle Seahawks in order to reach the Super Bowl for a second consecutive season, but the pieces are in place to make it happen.
While the Niners' defense is still among the best in the league, their offense has been one-dimensional. Kaepernick hasn't really made teams pay through the air; instead, he has relied on his own legs as well as those of running back Frank Gore. That strategy has largely been effective; however, Crabtree adds an entirely different level of competence to the offense now.
The 49ers were going to be a tough team to knock off this season with or without Crabtree, but it can be argued that they have now reestablished themselves as the favorites in the NFC.
Follow @MikeChiari on Twitter