Predicting the Next Wave of NHL Superstars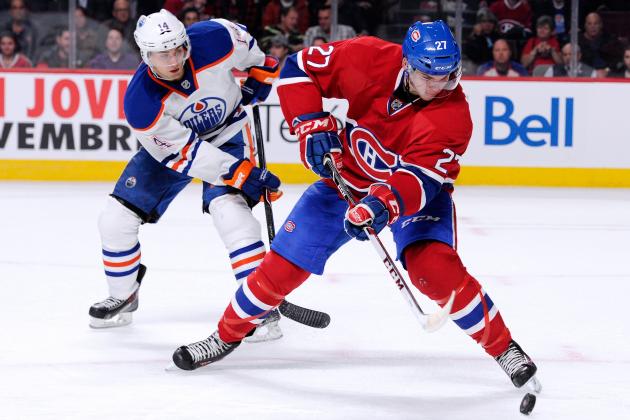 Richard Wolowicz/Getty Images
Alex Galchenyuk of the Canadiens has a brilliant future
Sidney Crosby, Alex Ovechkin, Steven Stamkos and Jonathan Toews are the NHL's top headline makers.
They are among the current group of NHL superstars who dominate on a regular basis.
That group may not give way any time soon, but they will soon be joined by younger superstars—players who are making their name right now and getting better consistently while developing their talent.
Most are first- or second-year players, but there are also players who are still working their way up to the NHL.
(We don't include Connor McDavid, the 16-year-old phenom who will not be eligible for the draft until 2015.)
Begin Slideshow

»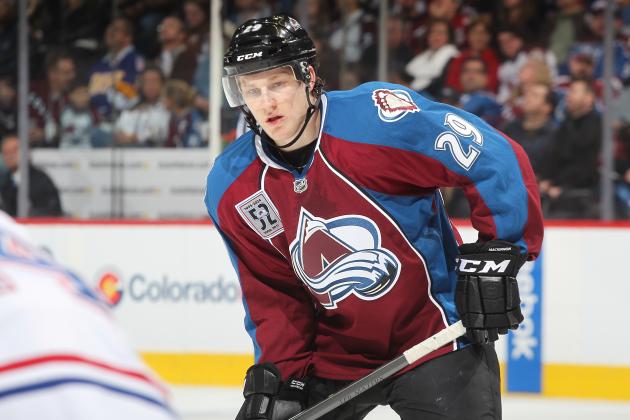 Michael Martin/Getty Images

2013-14 Stats: 14 games; two goals, seven assists; plus-five
Characteristics: Nathan MacKinnon, 18, is a brilliant skater who can accelerate into open spaces and create scoring opportunities for himself and his teammates. MacKinnon has played both center and right wing early in his rookie season with the Avalanche, and Colorado head coach Patrick Roy said he was returning MacKinnon to the pivot because that's his natural position.
"It was a good thing to try, but I think he's more comfortable at center. He needs that space to skate," Roy told Adrian Dater of the Denver Post. "It makes us a better team when he's in the center position."
In addition to his elite gifts, MacKinnon has demonstrated that he will stand up for himself in scrums and that he will not be pushed around. That will help him establish himself as an NHL superstar fairly quickly.
Superstar arrival: 2014-15 season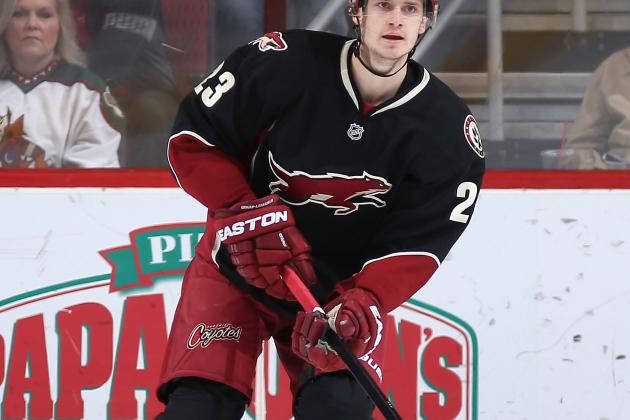 Christian Petersen/Getty Images

2013-14 Stats: 17 games; three goals, nine assists; plus-seven
Characteristics: Oliver Ekman-Larsson is already one of the best players on the Phoenix Coyotes and perhaps their second-best defenseman behind Keith Yandle.
He is not quite a superstar yet, but he will probably be recognized as one before the end of the season. Ekman-Larsson is a superb puck-handler and skater, and he understands that his defensive responsibilities are a more important part of the game than taking advantage of offensive opportunities.
Ekman-Larsson, 22, is already an established player, as he is in his fourth NHL season with the Coyotes. He will continue to make progress because he understands defensive positioning, and he has the intelligence to read the play and put himself in a position to attack without leaving his team in a vulnerable defensive position.
That's why head coach Dave Tippett has confidence whenever Ekman-Larsson has a chance to join the rush.
Superstar arrival: 2013-14
2013-14 Stats: 12 games; seven goals, 16 assists; plus-seven; Halifax Mooseheads of the Quebec Major Junior Hockey League
Characteristics: The Tampa Bay Lightning returned Jonathan Drouin to his junior team at the end of training camp, but don't take that as any knock on his ability.
It may take Drouin, 18, a little bit longer to get there, but he will become one of the NHL's marquee players within a year or two of getting his opportunity to play in the NHL. Drouin has explosive speed, excellent offensive instincts, and he has the gift for creating scoring opportunities and cashing in on them.
Drouin played well during training camp, and the Lightning saw improvement from start to finish. But the main thing general manager Steve Yzerman wanted was for Drouin to play every day and develop at his own pace.
"Mostly, we want him playing," Yzerman told Erik Erlendsson of the Tampa Tribune. "And if he's not going to play regular (in the NHL), I want him playing. I don't really have a timetable on it's because we do have the luxury ...to stagger their games and delay it for as long as you really want. So, it's not like we are under a time crunch or anything.''
Look for Drouin to play with the Lightning next year and become a dominant superstar a year later.
Superstar arrival: 2015-16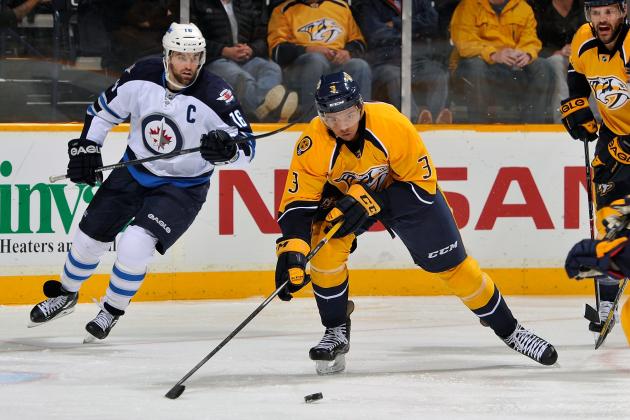 Frederick Breedon/Getty Images

2013-14 Stats: 15 games; two goals, five assists; minus-two

Characteristics: It hasn't all been easy for Seth Jones, because playing defense in the NHL is complicated for anyone, let alone a 19-year-old phenom who is supposed to be the next big thing.
Jones appears to have gotten over any disappointment he may have felt when he slipped to the No. 4 pick in last June's draft. He has been all business since the start of Nashville's training camp, and he has made progress every day.
Head coach Barry Trotz uses Jones 25:11 every game, which is a substantial amount for any rookie. Jones is playing so well that Nashville and U.S. Olympic general manager David Poile is reportedly considering him for a position on the U.S. Olympic hockey team.
Trotz told David Climer of The Tennesseean that Jones has a complete game and that he plays the right way.
"The guy you talk to is the guy we see all the time," Trotz said. "What you're getting is what I get. That's him. Because of that, he's already endeared himself to the other players.

Superstar arrival: 2014-15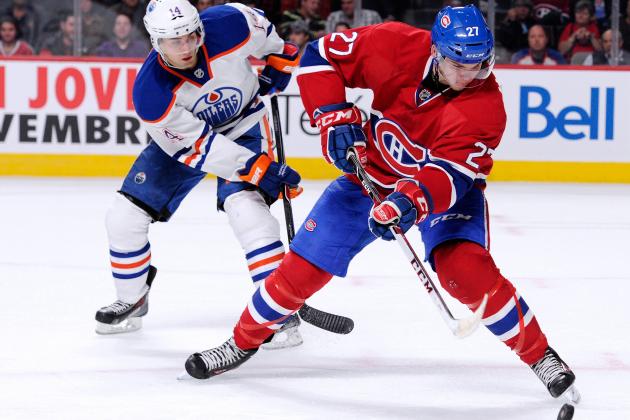 Richard Wolowicz/Getty Images

2013-14 Stats: 17 games; two goals, nine assists; minus-two

Characteristics: Alex Galchenyuk is likely to be the face of the Montreal Canadiens in the foreseeable future.
Galchenyuk, 19, has excellent hockey skills that will help him develop into a superstar. He can handle the puck extremely well, he passes it with ease, and he has a quick and accurate shot.
But more than his physical skills, Galchenyuk is an intelligent player who has a non-stop work ethic. That enables him to improve every time he takes the ice.
Galchenyuk does not have the quickest first step, and he needs to continue working on his defensive game. But there has been improvement from the 2013 season to this year, and it's likely to continue for years.
Montreal head coach Michel Therrien said Galchenyuk's role will continue to increase.
"We can't forget Alex is 19 years old and he's still in a period of development," Therrien told Arpon Basu of NHL.com. "We always want young players to run before they walk, and it's normal. But life doesn't work that way. You have to learn to walk before you run."
Galchenyuk will be running at full speed by the start of next season.
Superstar arrival: 2014-15
Steve Babineau/Getty Images

2013-14 Stats: 15 games; six goals, three assists; plus-three

Characteristics: Torey Krug has none of the things on his resume that would make any scout think he will be an NHL superstar.
He may be small at 5'9", 180 pounds, and he may have been an undrafted player out of Michigan State, but there's one thing Krug does have going for him. He can play, and the more he is on the ice, the greater the impact he has for the Boston Bruins.
Krug, 22, is an excellent skater who can carry the puck with ease. He has excellent coordination that allows him to handle a puck at his feet by kicking it to his stick blade and then making the proper play without any hesitation.
Krug can run the Bruins power play, because he can lug the puck, pass it accurately and get his whip saw of a shot away in an instant.
Krug is the Bruins' second leading goal scorer, and if he keeps up his current pace, he will approach 30 goals this season.
Many would laugh at that possibility, but Krug doesn't have to listen to anyone but head coach Claude Julien, the Bruins' assistant coaches and his teammates.
Forget about reputations and not getting drafted, Krug can play and take over a game when he needs to.
Superstar arrival: 2014-15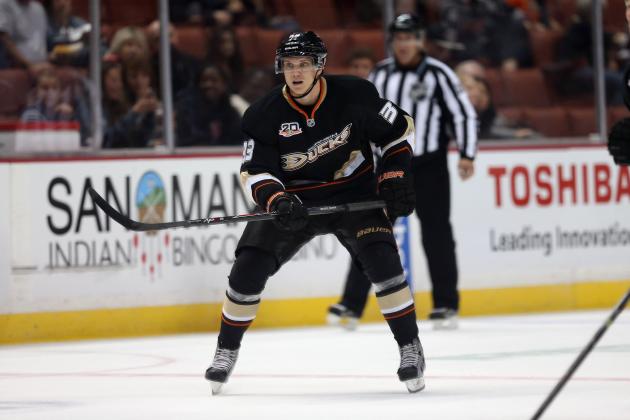 Jeff Gross/Getty Images

2013-14 Stats: 11 games; four goals, three assists; plus-five

Characteristics: Jakob Silfverberg, 23, was traded by the Ottawa Senators to the Anaheim Ducks in a trade that sent superstar Bobby Ryan to the Senators.
The Ducks were willing to trade one superstar because they believed they were getting a superstar-to-be in return.
Silfverberg got off to an excellent start with the Ducks, as he asserted himself on both ends of the ice before he suffered a broken hand in a game against the Senators.
Silfverberg is out now, but he will remain an important part of the team when he returns in late November or early December.
Silfverberg has all the tools to become a superstar, and his progress should be steady once he returns.
Superstar arrival: 2014-15