When the clock hit 0:00 at the end of Oregon's 26-20 loss to Stanford, the first result was the appearance of an ugly mark in the loss column for the Ducks. Then, a shockwave ripped through the rest of the upper echelon of college football.
While UO was ranked No. 3 before the defeat, a win would've certainly sent it to No. 2 past Florida State—a post the Ducks would've likely held until at least Jan. 6.
But with the loss, they are now out of the picture and Florida State can be penciled in for a trip to the Rose Bowl for the BCS National Championship.
FSU took care of business where Oregon didn't, winning its key games against Top 10 foes Clemson and Miami (Fla.). Now with the Ducks out of the conversation, the Seminoles have little to worry about with the computers.
Ohio State isn't likely to jump the 'Noles. The Buckeyes were nearly a full tenth of a point behind Jimbo Fisher's squad in the Week 11 BCS Rankings. Additionally, their only potential marquee game remaining will come in the Big Ten Conference championship game. Right now, their likely foe is Michigan State, but even if the No. 17 Spartans continue to climb the rankings, it won't provide a significant enough boost.
There is a chance that Baylor could leapfrog OSU and FSU, but that also isn't very probable. The Bears were a full tenth behind the Buckeyes (so nearly two tenths behind FSU) in the recent rankings.
However, their resume has more room to grow than any other team in the country. BU made it to No. 6 without playing a single ranked team. The Bears notched a win over No. 10 Oklahoma on Thursday night and could see as many as three more ranked opponents before the end of the season.
But with so much ground to make up, Baylor will have a very difficult time ascending past Florida State.
At this point, the only thing that will keep Florida State from the national title game is an act of God. FSU will take on Wake Forest, Syracuse, Idaho and a Florida team with mounting injury issues. The 'Noles will then play someone in the ACC title game, though that mystery team could be just about any ACC Coastal Division club from Miami to Duke.
For Florida State, now, the future is wide open. Let's hope it's not wide right.

— Tim Peeler (@PackTimPeeler) November 8, 2013
For first week of November, Florida State is as close to a lock of being in national title game as maybe anyone in BCS history. #Seminoles

— Eugene Frenette (@GeneFrenette) November 8, 2013
Florida State will likely be (at least) a two-touchdown favorite in every game going forward.

— Adam Kramer (@KegsnEggs) November 8, 2013
No matter what team shows up to challenge Florida State in Charlotte, the 'Noles will be enormous favorites.
While the BCS picture is almost set in stone for the 'Noles, the Heisman Trophy situation is much more muddled for their star quarterback Jameis Winston.
As Oregon saw its national title hopes fly out the window and be run over on the highway, it also saw the worst game of the season from quarterback Marcus Mariota. The previous Heisman front-runner simply wasn't himself against Stanford and was fighting through a knee injury throughout the game.
Regardless, he played his way right out of the Heisman conversation.
It looks like the race will come down to Winston, previous winner Johnny Manziel and Baylor quarterback Bryce Petty, who played his way into the picture in BU's 41-12 win over Oklahoma Thursday.
Sportsbook.com tweeted out its most recent Heisman odds Friday morning, tabbing Winston as the 1/5 favorite, with Manziel behind at 3/1. Meanwhile, Mariota has fallen off the betting cliff, dropping from the 5/7 favorite all the way down to 20/1.
MT @Sportsbook_com Huge shift in Odds to Win #Heisman: Mariota from 5/7 fav to 20/1; Jameis even money to 1/5; Manziel 8/1 to 3/1

— Bruce Feldman (@BFeldmanCBS) November 8, 2013
While Winston might be at the pole position in the race now, he could have a tough time staying there. The redshirt freshman left a poor taste in the voters' mouths when he struggled in his last real prime-time test of the season against the Hurricanes.
With no more ranked teams left on the slate, Winston will have a tough time adding any real meat to his resume.
Meanwhile, Manziel and Petty will each have several opportunities.
Manziel and Texas A&M will be on the road in a pair of enormous games against No. 13 LSU and No. 8 Missouri to close the regular season. If the Aggie signal-caller does Johnny Football things against the two Tigers, he'll quickly usurp Winston atop the Heisman rankings.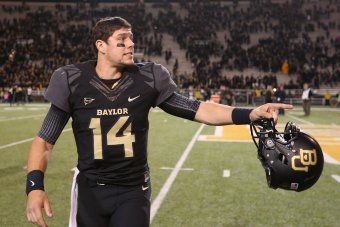 Matthew Emmons-USA TODAY Sports
That is, if Petty doesn't make an even bigger charge behind him. He made his first big statement Thursday night, tallying 249 total yards and five total touchdowns against a talented OU defense.
He'll take on No. 25 Texas Tech, No. 14 Oklahoma State and Texas before all is said and done. TTU and OSU should both be ranked at game time, and the Cowboys could even sneak into the Top 10. Meanwhile, the Longhorns, winners of five straight, could also make the Top 25 before their Dec. 7 date with Petty and the Bears.
So while the rest of his Heisman competitors are stealing the spotlight in the final weeks of the season, Winston is going to have to be creative to take that spotlight back. Rather than watching film on Wake Forest and Syracuse, he should watch tape from Ohio State's last two games and learn how to rack up style points.
If that doesn't work and Winston doesn't win the Heisman, it isn't the end of the world—he'll still be playing for a national championship at season's end.
And then he can come back and do it all over again next season.