After both Oregon and Stanford took to the locker room during halftime of a highly entertaining Pac-12 matchup, one of the greatest college football players of all time was able to have his moment. After a brilliant career, former Stanford quarterback John Elway had his No. 7 jersey retired.
And no, the Cal marching band didn't interrupt the ceremony.
.@johnelway & family watching his tribute on the video board. #gostanford pic.twitter.com/9Z7OO7n05r

— Stanford Football (@StanfordFball) November 8, 2013
Took long enough, huh?
He becomes just the third player to have his jersey number enshrined by the program, as Jim Plunkett (No. 16) and Ernie Nevers (No. 1) are the other two to have received the honor.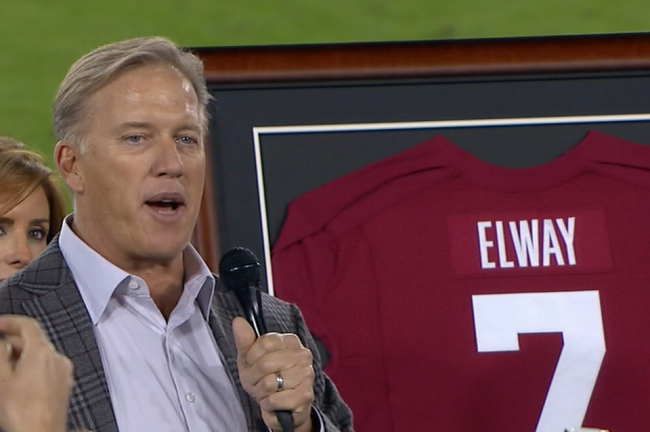 Elway was one of the best college quarterbacks ever to play the game and was one of the guys who helped put Stanford on the map. At a time when the school was more known for prestigious academics and hosting the best and the brightest, Elway took the sport by storm and proved that Stanford could in fact blossom into a football school.
He played from 1979-1982 and completed 62 percent of his passes while throwing for 9,349 yards and 77 touchdowns in his career. When he graduated, he held pretty much every major school record for quarterbacks, and his single-game record of six touchdowns still stands.
Elway was also a two-time Pac-10 Conference Player of the Year and a consensus All-American. He finished second in the 1982 Heisman Trophy voting and was even a successful baseball player who was taken in the second round of the 1981 MLB draft by the New York Yankees (having been previously drafted by the Kansas City Royals in 1979).
Needless to say, Elway had a tremendous impact on Stanford, but he also opened doors for other quarterbacks to play this game. His dual-threat ability was unique at the time and allowed other signal-callers who rely on their feet to make plays to actually have an opportunity.
With Stanford surprisingly up 17-0 at the half, it'll be interesting to see how this honor affects the crowd the rest of the game.