The 2013-14 NBA season may be in its infancy, but trade rumors are already in midseason form.
With players like Gerald Wallace, Steve Nash and Rudy Gay having their names dangling in the trade market, there is the potential for teams to make an aggressive move and bring in a quality veteran capable of giving any team's championship hopes a boost.
However, there is also a reason teams would be willing to trade these guys, and those reasons mean these trades may never advance past the rumors stage.
I'll dig a little deeper into the rumors surrounding each of the above three.
Gerald Wallace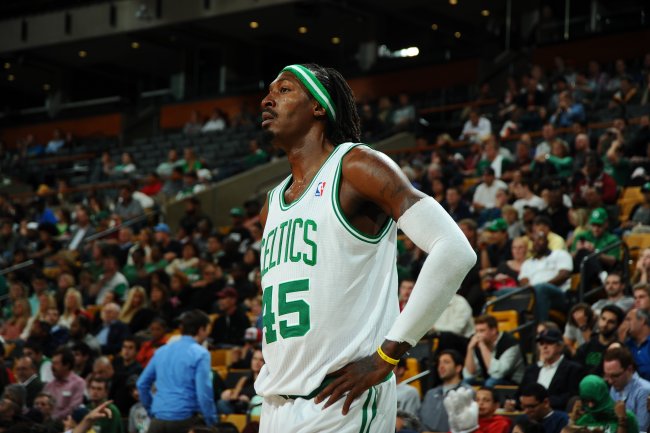 Brian Babineau/Getty Images
Gerald Wallace's situation is amusing to me. I understand why he'd want out of Boston. Wallace is 31 and the Celtics are terrible. Wallace is not at the stage of his career where playing for a rebuilding franchise is an enticing proposition.
At the start of the season, Wallace has not been shy about voicing his concerns over how the Celtics are playing.
Gerald Wallace calls out 'selfish' Celtics teammates after loss to Bucks http://t.co/JEymjx5psE

— Kurt Helin (@basketballtalk) November 2, 2013
Wallace really has nothing to lose with these kinds of comments. It may inspire his team to play a different style of basketball, and it could help the front office decide to move a loud and disgruntled player.
According to Steve Bulpett of the Boston Herald, the Celtics have looked to do just that.
Of course, they aren't finding any takers. Wallace is on the books for over $10 million through the end of the 2015-16 season.
Don't expect any trade involving Gerald Wallace. To dump that contract, multiple rival execs say, will require at least one of Nets picks

— Chris Mannix (@ChrisMannixSI) November 6, 2013
While the Celtics would like to clear this salary off the books, Boston will be leery of giving up any assets that will help the rebuilding process.
My guess is that this was explained to Wallace, and the veteran has to realize the reality of his situation.
So, he appears to be trying to make the best of things.
Wallace: "I don't think I can play 35, 40 minutes anymore. Those days are over." Thinks 25 off bench could work.

— Ben Rohrbach (@brohrbach) November 7, 2013
Wallace: "Who knows? Maybe this is the best thing for my career." Called himself the 7th Man.

— Ben Rohrbach (@brohrbach) November 7, 2013
He even was attempting to have a little fun.
#Celtics forward Gerald Wallace wanted to play reporter today... pic.twitter.com/vuculIxyZv

— Marc D'Amico (@Marc_DAmico) November 7, 2013
Wallace's attitude is actually refreshing. He's been honest, playing hard and he certainly doesn't look like a player ready to pull a Dwight Howard and mope around until his situation changes, which is good because his situation isn't changing anytime soon.
Steve Nash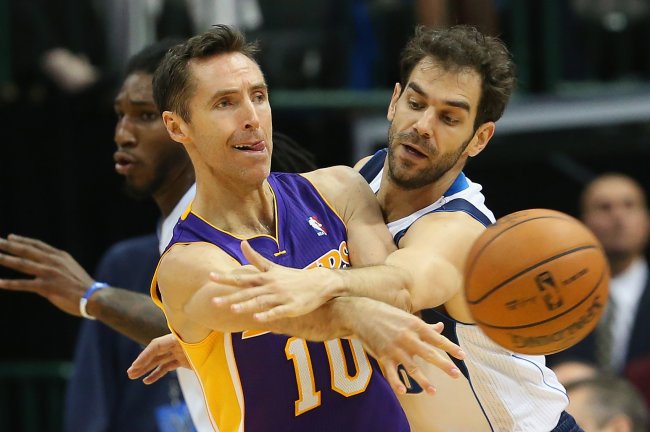 Ronald Martinez/Getty Images
Any chance the Lakers had at getting their money's worth out of Steve Nash expired last season. With Nash and Howard joining the Lakers, it appeared as if Los Angeles was going to challenge for a title.
Instead, the Lakers barely qualified for the playoffs and Howard walked at the end of the season.
Now, Nash is of little value to this team. The Lakers aren't good enough to contend for a championship with their current roster and Nash is going to be 40 before the season is over.
The Lakers are looking at a boatload of cap space this coming offseason. The only substantial player signed for next year is Nash at almost $10 million. That cap space will be far more valuable to the Lakers' reshaping process than a 40-year-old point guard.
So, it should be no surprise that the veteran is readily available:
Steve Nash is another vet who may be traded this year. I've heard Toronto as a possible landing spot for Nash from multiple league sources.

— Alex Kennedy (@AlexKennedyNBA) November 4, 2013
The move makes some sense for the Raptors. Nash, a native Canadian, would undoubtedly help raise fan interest for the team. That would help justify absorbing his salary.
Also, he can still run an offense and shoot, and the Raptors could use him and Kyle Lowry to help give the team solid play from the point.
I'm not sure if this is enough to make the Raptors pull the trigger. However, if they are willing, I would not expect the Lakers to hesitate.
Rudy Gay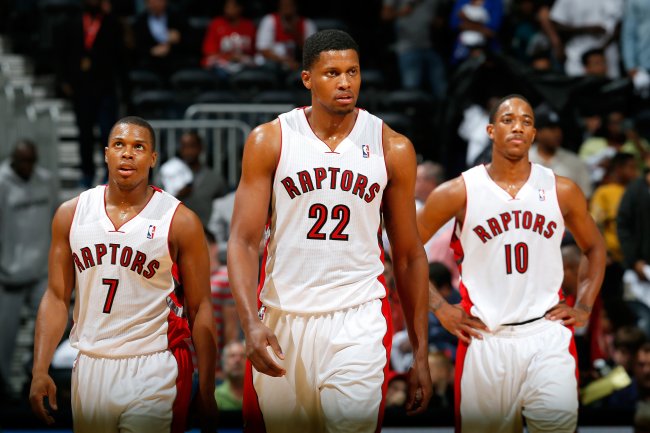 Kevin C. Cox/Getty Images
Apparently, the Raptors aren't only looking to bring in players with a trade.
Toronto acquired Gay less than a year ago, but that may as well have been a lifetime ago since the Raptors have a new general manager in Masai Ujiri this season.
Ujiri has his own vision for the future, and that vision does not necessarily include his team's star 27-year-old swingman.
Should the Raptors trade Gay?
Bruce Arthur of the National Post reports that Ujiri has had discussions about trading Gay.
Gay has played solid basketball for the Raptors, but it would be hard to say his 19.5 points per game and 42.5 percent shooting percentage in 33 games with the Raptors last season justifies his massive salary.
Gay is owed over $37 million for the remainder of this season and next. He will then be a free agent.
If Toronto can get some kind of value for Gay while getting his salary off the books, it would be foolish not to make the move.