Why Jamaal Charles Is the NFL's True Top Running Back
November 15, 2013

Elsa/Getty Images
The NFL houses a select stable of elite athletes, and restraining one of them on any given Sunday is an arduous uphill climb. When it comes to running backs, Jamaal Charles is king of the hill. 
Don't get me wrong, corralling Adriannn [Rocky voice] Peterson is like trying to lasso a bucking bull, and you're better off literally trying to catch lightning in a bottle than tackling LeSean McCoy in the open field.
However, in today's NFL, the creme de la creme of running backs double as dual-threat demigods, and when it comes to rushing and receiving, Charles entwines the best of both worlds. Furthermore? He moonlights as a prideful pass-blocker, bringing a third dimension that adds a weekly entry to a blitzer's list of regrets. But more on that later. 
Last season, No. 25's road from rehab was overshadowed. Media outlets insularly rambled on about Peterson's ACL recovery like a proud mother penning her annual Christmas letter.
If you flipped to ESPN, you signed yourself up for one of three lectures: Why The Hunger Games transformed LeBron into a late-game assassin; why Timmy Tebow, despite his throws resembling a home schooler's first frisbee toss before nosediving like leather kamikazes, is a no-brainer solution for [unwatchable team X's] quarterback quandary (he's so polite and chivalrous, though!); why Peterson should sign his letter of intent to the X-Men. 
If you logged into Twitter, you were greeted by a round of tweets that included, in no particular order, a snarky caption beneath a judgmental cat, someone planking atop a suburban basketball rim (#YOLO), a Sun Tzu quote and why Peterson's 32 flavors of superhuman are so delectable. 
Checked Facebook? You saw...well, probably just baby pictures or Instagrams of chicken alfredo. 
Make no mistake, I've been pro-Peterson since he was treating tacklers like gnats at Oklahoma, and he deserved every shred of recognition on his way to receiving MVP honors. 
But when I accuse pundits of "insularly rambling," it's because the media turned a blind eye to Charles—who rebounded from the same injury—despite the fact that he earned a Pro Bowl nod by churning out a career high in rushing yards.
Let me rephrase that and flesh out the context: With a surgically repaired knee, Charles rushed a for a career-high 1,509 rushing yards on a 2-14 team that touted the league's worst passing offense and sugar-free vanilla play-calling. 
Peterson's aerial alliance wasn't anything to write home about, tallying an unimpressive 18 passing touchdowns to 12 interceptions. But Charles' Kansas City Chiefs? Eight touchdowns, 20 picks. Remember, no matter how cringeworthy Christian Ponder's play has been, Kansas City's 2012 starter now sits below him on Minnesota's depth chart. 
But enough with the retrospective preaching. Let's probe into the evidence.
Numero Uno

Jamie Squire/Getty Images
In Kansas City's last outing (Buffalo), Charles partook in 98.3 percent of the Chiefs' offensive snaps. On average, he's been on the field for 87.1 of them this season and, to no surprise, his 556 snaps were 51 more than any running back before the bye week. The man flaunts the speed of an Olympian—as Sport Science illustrated—and the endurance of a marathoner. 
It's not as if he's taking plays off as a mere decoy, either. According to ESPN Stats & Info, Charles has been the most valuable offensive contributor in the league.
Despite rarely receiving a breather, he still musters up enough energy to perform at a staggering level: Prior to the bye, Kansas City's backfield blur led the NFL with 1,114 yards from scrimmage (123.8 per game). 
The aforementioned numbers are already eye-opening. However, considering he amassed them with the feet of a Flintstone, his deeds become that much more astounding. 
On Oct. 13, ESPN's Chris Mortensen wrote:
[Rick] Burkholder has treated Charles like a burn victim, using burn dressings and covers on his feet and toes.

A blister developed on the ball of one of Charles' feet this week, prompting the team to use UltraViolet light to kill any infection and electrical current to stimulate skin growth.

Charles also is wearing socks that many marathoners and triathletes wear to fight friction and reduce moisture.

Despite playing with pain and not being able to cut with his usual crispness, Charles had maintained production over the past two games, gaining 272 yards from scrimmage and scoring two touchdowns over that stretch.
Okay, for one, the only way you're finding me in a room, undergoing "electrical current to stimulate skin growth," is if a clown puppet is tricycling past me. Call me paranoid, but that sounds like some kind of back-alley clinical study green-lit by Igor. 
YouTube (user: movieclips), edited by Brett Gering
Secondly, how do you gain that many yards in two games with your feet looking like Freddy Krueger?
Regardless, the above stats pinpoint why he's the only non-quarterback in the top ten of overall fantasy points (NFL-Managed scoring). 
But numbers by themselves can't help you gain a true appreciation of Charles' on-field prowess. 
Blocking

Howard Smith-USA TODAY Sports
At the end of 2012, Pro Football Focus (PFF) ranked Marshawn Lynch the 22nd-best backfield blocker. McCoy slipped to 36, while Peterson plummeted to 46. Charles, despite weighing less than all three, finished 12th. 
This season has proved that the more things change, the more they stay the same. Charles' blocking turned heads in Week 7 after the All-Pro injured J.J. Watt and Brian Cushing to varying degrees. 
However, in 2013, it first grabbed headlines in Kansas City's prime-time showdown at Philadelphia. 
In the foremost example, safety Earl Wolff charges toward Alex Smith—he obviously didn't read the scouting report. Less than two seconds later, he's de-cleated and sky surfing. 
Wolff wasn't the only Philadelphian to have his ego deflated. His teammate, linebacker Mychal Kendricks, found himself susceptible to the same treatment. 
NFL Game Rewind
Rushing
Peter Aiken/Getty Images
Now, I could easily just Google "Jamaal Charles highlights," give them the GIF treatment and wax lyrical about his Mach-like speed. 
But he didn't develop into the sport's active leader among running backs in yards per carry (5.5) with speed alone. 
For starters, Charles' vision is vastly underrated. His anticipation makes defenders look like they're playing Madden through a dial-tone modem. 
Take this play versus Cleveland, for example. 
NFL Game Rewind
It's a designed counter intended to slice through the weak-side B-gap. And as the play unfolds, it does...eventually.
Two things send the plan into disarray: At the last moment, Cleveland's free safety creeps into the box, and Donnie Avery commits to a poor angle. This, in turn, results in said safety plugging what would've been a Strahan-esque gap. 

NFL Game Rewind, edited by Brett Gering
Charles immediately detours from the road block and bounces outside. Cleveland's safety mirrors the action, only to realize that, by the time he darts to the edge, Charles had already rerouted back to the original gap.

NFL Game Rewind, edited by Brett Gering
The fleet-footed rusher then ducks under the outstretched arms of Desmond Bryant like some kind of black-belted limbo master. 
NFL Game Rewind
Here's what it looked like on the broadcast (side note: Anthony Sherman is a juggernaut).
NFL Game Rewind
For 95 percent of backs, the play ends in a yawn-inducing one-to-two-yard gain. For Kansas City, it ended in seven. 
Let's fast-forward in the same contest. 
It's a critical juncture of the game—why the Chiefs, with a three-point lead, choose to snap it just before the two-minute warning, I'll never know—and the Browns are banking on a handoff to Charles.
What began as an outside-zone run quickly degraded to muddled chaos. 
Phil Taylor bullies Rodney Hudson and barges into the backfield, placing a 335-pound hurdle onto Charles' runway. Branden Albert fails to effectively cut block the right (defensive) end. Sean McGrath whiffs while trying to engage the right outside linebacker. 
If it wasn't for Dwayne Bowe's textbook blocking, reversing field wouldn't have led to a reversal of fortune. Despite the odds, Charles' top-tier acceleration allows him to round the corner and net another seven-yard pickup. 
NFL Game Rewind
Here's another excerpt, but this time, the Chiefs call an inside-zone run against the Texans.
To his credit, Albert handles J.J. Watt (one-on-one) about as well as any brave soul could hope. Jeff Allen motions to chip Watt but realizes that Albert has inside leverage. However, Hudson doesn't generate any push against the nose tackle, who swiftly slides into the intended lane. 
Charles sidesteps into a four-man pile of humanity (through no fault of Albert or Anthony Fasano), then spins to the edge and embarrasses Ed Reed with a move that'd make Barry Sanders blush. 

NFL Game Rewind, edited by Brett Gering
To Reed's credit, he initially read and reacted to the play in ideal fashion. He didn't allow himself to get sucked into a vacuum, and he turned the ball-carrier back inside. But at 35 years old, Reed's not making that tackle. Even at 25, he's still probably hugging air. 
NFL Game Rewind
A play that initially checked off every symptom of a two-yard loss eventually developed into a 12-yard gain. 
Receiving

John Rieger-USA TODAY Sports
Before Andy Reid traded his cheesesteaks for ribs, Arrowhead Stadium was slowly regressing to some kind of coaching dystopia. And the coaches themselves? If someone tried to knock sense into them, it would end with just that: a knock. Until this year, Charles' pro career has been an Acme magnet for hollow-headed coaching. 
If you wonder why Kansas Citians treat Reid like some kind of mental Messiah, allow me to point out the prodigies he's juxtaposed with.
In 2008, Charles averaged 5.3 yards per carry. Herm Edwards granted Kolby Smith, who averaged 2.9 yards per carry, one more start than No. 25 (when Larry Johnson was sidelined). 
A year later, Johnson also averaged 2.9 yards per handoff, while his second-year backup led the NFL with a ridiculous 5.9 average. Johnson still started all seven of his games before an infamous Twitter rant saw him to the door. 
How'd Charles respond? By averaging 6.4 yards per rush the next season. Six. Point. Four. In the NFL. He hadn't run that effectively since his freshman year in college, and his last carry of the season robbed him of Jim Brown's single-season NFL record. Still, Thomas Jones, averaging 2.7 less yards per carry, tallied four more starts and 15 more attempts under Todd Haley. 
Rebounding from 2011's ACL tear, Charles took advantage of his 285 carries in 2012. However, the play-calling was as predictable as finding out Tom Brady dances like a soccer mom on Xanax after back surgery.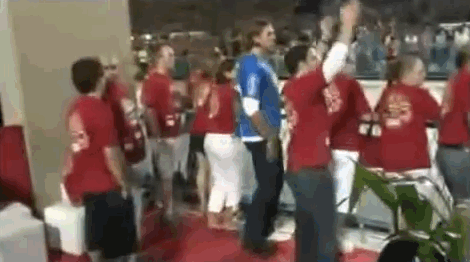 YouTube (user: Stephen Gebhardt)
Charles is at his best in the open field. He turns tacklers into ghost hunters. And yet, Kansas City's fan favorite only snatched 35 receptions in Brian Daboll's offense. 
In Reid's, he's recorded 47 in nine games. After watching the next batch of GIFs, it's easy see why the team's mustached maestro makes a concerted effort to involve Charles in the aerial attack. 
The first example dates back to Week 3 versus Philadelphia. Charles exits the backfield, runs a sneak route and is initially confronted with contact six yards past the line of scrimmage. He turns back inside to elude a cornerback's arm tackle, rumbles through a linebacker who drapes both arms around him—second side note: Avery obviously went to the powder puff school of blocking—fights to maintain his balance and plows Patrick Chung like a Pamplonian bystander. 
NFL Game Rewind
A seemingly routine play evolves into a 13-yard gain.
Jump to Raiders week. This time, Charles headlines a halfback screen. While the Chiefs line wavers in effectiveness inside of the tackle box, it's an athletic group that excels in space (observe how horrifyingly fast Eric Fisher roars into view as a 306-pound bulldozer). Again, though, Avery has a chance to engage at least three defenders, but he opts to halfheartedly Hammer dance around the mosh pit of humanity.
Obviously, this puts Charles in a bind. He veers away from a corner who makes first contact at the line of scrimmage. He then bounces outside and cuts upfield while splintering a pair of tacklers who are sandwiching him. Finally, No. 25's dragged back down to earth by the strong safety. 
NFL Game Rewind
A screen that looked dead in the water matures into a 14-yard gallop. 
For the final sample, let's skip ahead to Week 7 against Houston. Another screen, another trail of victims. 
Joe Mays immediately identifies it and storms toward Charles, only to be whipped around like a horizontal Slinky. Kansas City's Pro Bowler then reverses field, widens his angle, reminds Brooks Reed that he's Brooks Reed, blows past another set of limbs from the Reed family tree and scampers ahead before Kareem Jackson and Johnathan Joseph converge on him.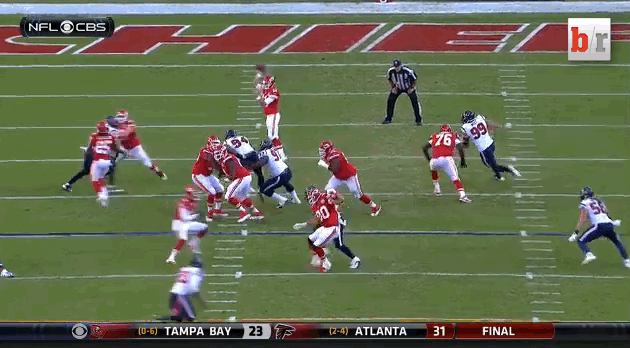 NFL Game Rewind
Instead of 3rd-and-12, the offense is faced with an infinitely more manageable 3rd-and-2. 
Charles is the most well-rounded back in the game today. If you don't want to take my word for it, look at the GIFs. Don't want to look at the GIFs? Look at the numbers.
According to PFF, Marshawn Lynch's Seahawks currently tote the best run-blocking line in the NFL. The Eagles occupy the slot behind them and the Vikings are anchored at No. 5. The Chiefs, meanwhile, are currently seated at 16th of 32 teams—the benchmark for "average." 
Knowing that, let's take a look at how Charles' productivity fared before the bye week. 
Jamaal Charles' Stats and Rankings Prior to Week 10
Number
RB Ranking
Rushing Attempts
170
1
Rushing Yards
723
3
Carries of 15-Plus Yards
10
3
Snaps in (Pass) Route
252
1
Receptions
47
1
Missed Tackles Receiving
17
1
Total First Downs
41
1
Pro Football Focus
And there's more.
Entering the Chiefs' Week 10 vacation, Charles was the 15th-leading receiver in the NFL (47 receptions) and averaged 8.3 yards per catch. Also, 44.7 percent of those receptions yielded first downs. 
More impressively, only two receivers, Pierre Garcon and Golden Tate, had tallied more yards after the catch than Charles' 375.
He's the leading rusher and receiver on a 9-0 football team.
And just to add another layer of icing, Charles is also the only active running back to author three of the top 50 rushing performances in NFL history (259 yards in 2009 versus Denver, 233 yards in 2012 vs. New Orleans, 226 yards in 2012 vs. Indianapolis).
Look, I'm not about to make some farcical, cockamamy statement painting Charles as the front-runner for MVP. There's no denying that quarterback is the NFL's paramount position, and Peyton Manning's on pace to turn the Guinness World Records HQ into a sweatshop. (Yes, I realize that Guinness doesn't express-mail plaques for NFL records.)
However, just two years removed from suffering the lifelong scar on his left knee, Charles is the most valuable skill-position player in the league. 
Kansas City stands alone as the surviving member of the undefeated club, and Charles is the most important name etched into the roster. Translation: He's kind of a big deal. He owns many leather-bound balls, and his locker smells of rich mahogany. 
When the 26-year-old cradles a handoff, he glides in a way that makes barreling through a sweat-stained land of giants look artistic.
If you toss him the ball in space, he morphs into a backfield Bernini set to outline victims on his 100-yard canvas.
Plan on sending a safety blitz? Odds are the hunter becomes the hunted and subjected to a snap, crackle and pop loud enough to make Bowe hijack the medical cart on a Rice Krispies run (if Sonic is closed).
Dissect the diagrams. Study the stats. Loop the GIFs. No matter which prism you view the halfback's game through, he comes out looking like the most polished back in the league. 
Simply put, Jamaal Charles is the complete package.
He de-cleats blitzers and grinds out heaps of yardage on abraded feet—a telling testament to his selflessness. He runs routes with ankle-breaking agility and sporadically steamrolls tacklers like petty speed bumps en route to the end zone.
Charles' on-field anticipation could read Nostradamus' palms, and his brand of speed could send the Flash packing for the retirement home.
Somebody fit this man for a cape.
Stats provided by Pro-Football-Reference.com and Pro Football Focus (subscription required).
Follow Brett on Twitter: Follow @BrettGering