UPDATE at 4:45 pm EST by Adam Fromal
It appears as though the NBA has relented.
CBS' Ken Berger has the scoop:
The NBA has decided to allow players to wear Kinesio tape "on an experimental basis," league spokesman Tim Frank said in a statement.

— Ken Berger (@KBergCBS) November 6, 2013
After Derrick Rose said the NBA told him to stop wearing the therapeutic tape on his injured neck during games, the league reconsidered.

— Ken Berger (@KBergCBS) November 6, 2013
And, just so there's absolutely no doubt going forward, K.C. Johnson of the Chicago Tribune has confirmed the story:
NBA spokesman said after talking to union rep Jerry Stackhouse players can wear kinesio tape on "experimental basis." So DRose can wear now.

— K.C. Johnson (@KCJHoop) November 6, 2013
Still no word on whether this will help Rose shoot the ball more effectively or stop coughing it up with such alarming frequency, but it's good that the point guard is now being allowed to help promote his own health and wellbeing.
Good for recognizing the intent here, NBA.
--End of update--
ORIGINAL TEXT
If you were wondering what those black lines on Derrick Rose's neck were, they were pieces of kinesiotape that he was using to remedy soreness and ultimately remain healthy in his much-awaited return from a torn ACL.

As he told ESPN Chicago's Nick Friedell, he believes that it helps keep everything stable: "Keeping my neck stable. When you have a crick in your neck it's kind of hard to turn side to side so it's kind of keeping my neck in line and making sure my vertebraes are safe"
However, the plan to wear the tape throughout the season has now gone by the wayside. Friedell reports that the NBA has issued an ultimatum:
Rose said the NBA told him he had to stop wearing the neck tape.

— Nick Friedell (@NickFriedell) November 6, 2013
Why? No one has any idea, as this doesn't seem like it should be much different than wearing a shooting sleeve or wrapping a finger.
Fascinated by Rose neck-tape ban. I've used Kinesiotape on hammys & back spasms. V effective remedy. Can't see 1 reason shouldn't be allowed

— Jen Lada (@JenLada) November 6, 2013
It's not like Rose is wearing the tape because it looks good. If anything, it looks a little bit funny and catches your eye as you watch him explode to the basket. He's taped up his neck because it's helping to combat any problems he might be suffering, not for aesthetic appeal.
Does anybody believe that Dwight Howard still needs both arms to be covered in shooting sleeves?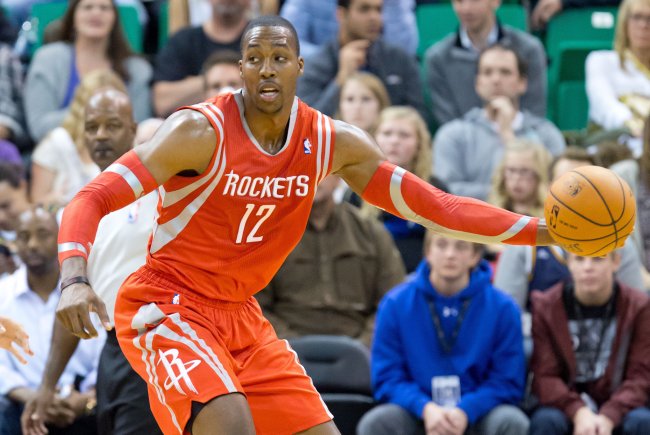 Russ Isabella-USA TODAY Sports
The same goes for Carmelo Anthony.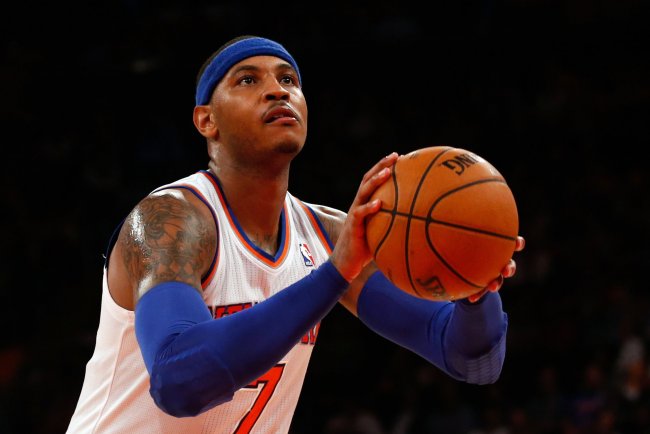 Anthony Gruppuso-USA TODAY Sport
So, why is this different? Is it because the tape's color cannot be regulated by the NBA and isn't officially sponsored by a league affiliate?
Again, no idea, although the league says that kinesio tape isn't permitted under the Assocation's rules.
NBA spokesman said kinesio tape is not permitted to be used by players in NBA games.

— K.C. Johnson (@KCJHoop) November 6, 2013
Still no word on why this is coming out so long after Rose first wore the tape.
Fortunately, changes might be good for D-Rose and the Bulls.
How long will it take for Rose to regain his mojo?
With the exception of the game-winning floater he hit against the New York Knicks, the former MVP has been absolutely terrible. Through three games, he's helped Chicago to a disappointing 1-2 record while averaging 14.3 points, 3.7 rebounds and 4.3 assists per game. Solid numbers at first glance but awful when you look at his 28.8 field-goal percentage, 5.7 turnovers per contest and puke-worthy 1.77 PER.
Rose is just shaking the rust off and misfiring on shots, but at least he's looked explosive and aggressive while displaying better shooting mechanics.
As B/R's Dan Favale wrote, "He'll work through the mental and physical barriers currently impeding him. When he does, he'll be the same. He'll be himself."
Even with the tape coming off, his game will eventually be turned on.