Heisman Watch 2013: Previewing the Top Contenders' Matchups for Week 11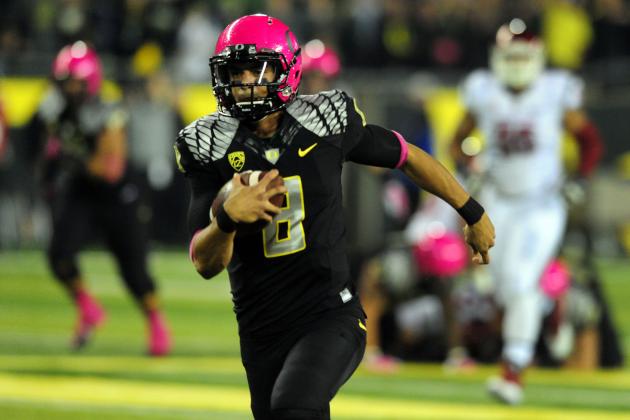 Steve Dykes/Getty Images
Will Mariota's stock rise or fall against the Cardinal on Thursday?
With only five weeks remaining in the college football season, the Heisman Trophy contenders have begun to separate themselves from the rest of the pack.
For three of the contenders, a matchup with a top-15 opponent awaits. For the top two contenders, a trip on the road could shake things up.
Regardless, all five of these players will have to assert themselves in order to lead their respective teams to victories and keep their Heisman stocks in tact.
Let's take a look at how each player will fare in Week 11.
Author's Note: The five players chosen are in accordance to ESPN's Heisman Watch. The numbers listed under the Expert Poll each player's listed "Poll Points." The amount of first-place votes is listed in parenthesis.
Begin Slideshow

»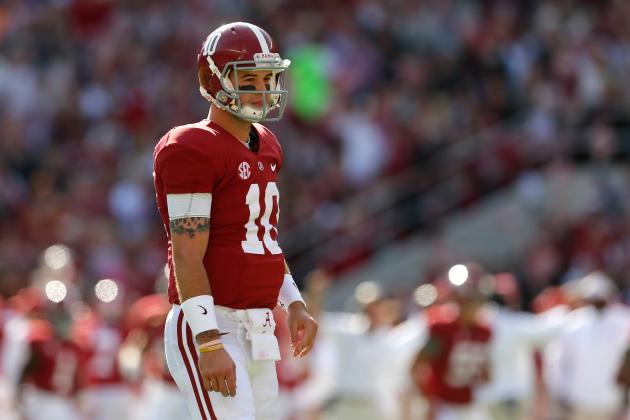 Kevin C. Cox/Getty Images
McCarron should struggle a bit against LSU's secondary.
Poll Points: 9
Season Stats: 69.4 CMP%, 1,862 YDs, 16 TDs, 3 INTs, 166.6 RAT
Week 11 Matchup: No. 13 LSU (7-2) at No. 1 Alabama (8-0), Nov. 9, 8 p.m. ET on CBS
The Skinny
Quarterback A.J. McCarron and the Tide had last week off.
In the previous week—a 45-10 thrashing of Tennessee on Oct. 26—the senior was impressive, throwing for 275 yards and two touchdowns on 19-of-27 passing. It marked his fourth consecutive game without an interception—McCarron has found the end zone 10 times in that span.
However, this weekend he will face a much tougher test against the Tigers.
Through nine games, LSU ranks No. 20 against the pass (203.2 YPG). Furthermore, the team has allowed just eight touchdowns through the air all year.
This will easily be the toughest secondary McCarron and Alabama have faced since Week 1 against Virginia Tech.
Back then, McCarron threw for just 110 yards, a touchdown and an interception on 10-of-23 passing.
Prediction
McCarron will play decent.
Although the Tigers limit opposing quarterbacks, the team isn't the turnover machine the Hokies are. The team has just forced six interceptions all season long.
That shouldn't be too much of a problem for someone as accurate as McCarron.
His yards will be down, but he should play mistake-free football.
Stock Movement: Same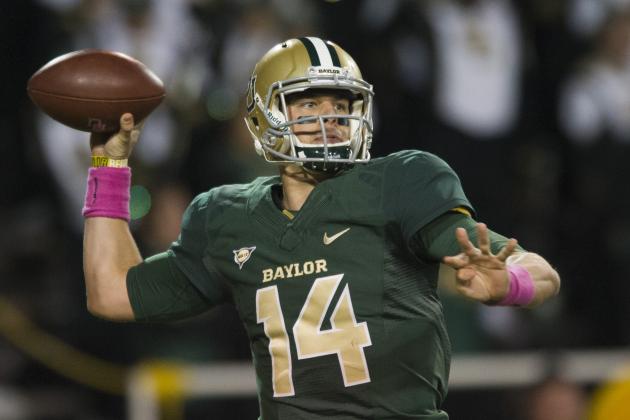 Cooper Neill/Getty Images
Petty is set for disappointment against the Sooners.
Poll Points: 25
Season Stats: 69.3 CMP%, 2,453 YDs, 18 TDs, 1 INT, 219.0 RAT, 28 CAR, 73 YDs, 6 TDs
Week 11 Matchup: No. 10 Oklahoma (7-1) at No. 6 Baylor (7-0), Nov. 7, 7:30 p.m. ET on FOX Sports 1
The Skinny
Quarterback Bryce Petty is having a phenomenal season.
Not only does the junior's quarterback rating lead the entire nation, but his yards per attempt (13.9) and yards per completion (20.1) are on pace to break national records. He's been that good.
The Bears had last week off, but in their previous contest, Petty threw for a career-high 430 yards and three touchdowns on 20-of-32 passing. He also added another score on the ground—Petty's sixth consecutive game with a rushing touchdown.
However, things could get difficult this Thursday against a Sooners secondary that ranks among the nation's best.
Through eight games, the unit ranks No. 9 against the pass (179.5 YPG). Furthermore, Oklahoma has given up just eight touchdowns through the air while conceding just 5.7 yards per attempt.
Don't be surprised if Baylor turns towards the run game in this one.
Prediction
Petty will struggle.
Let's be honest. This is the first real test the Bears have faced all season. Not to mention, this will be the toughest defense the team's high-powered offense has faced.
In the national spotlight, expect the pressure, and the peskiness of the Sooners secondary, to get to Petty.
It will easily be his worst performance of the season.
Stock Movement: Drop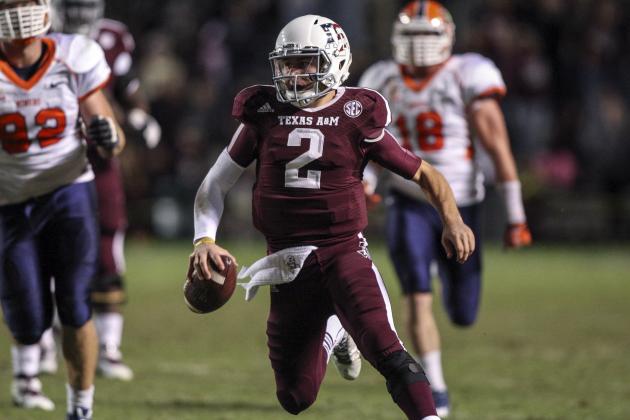 Troy Taormina-USA TODAY Sports
Manziel is ready to make a late-season surge for his second consecutive Heisman Trophy.
Poll Points: 47 (1)
Season Stats: 72.5 CMP%, 2,867 YDs, 26 TDs, 8 INTs, 185.0 RAT, 96 CAR, 564 YDs, 8 TDs
Week 11 Matchup: Mississippi State (4-4) at No. 15 Texas A&M (7-2), Nov. 9, 3:30 p.m. ET on CBS
The Skinny
Quarterback Johnny Manziel showcased the kind of talent that won him the Heisman Trophy a year ago in the Aggies' 57-7 win over UTEP last weekend.
The sophomore threw for 273 yards and four touchdowns on 16-of-24 passing. He also added another 67 yards and two scores on the ground, including a sensational 49-yard touchdown run.
To make it all the more impressive, Manziel accomplished all of that in just three quarters of work.
He'll be faced with a Bulldogs defense that is a lot better than the Miners on Saturday.
Through eight weeks, the unit ranks No. 48 in scoring (24.3 PPG), No. 23 in total defense (352.4 YPG), No. 47 against the run (148.0 YPG) and No. 22 against the pass (204.4 YPG). Mississippi State has conceded 12 touchdowns on the ground and 11 through the air.
Can Manziel expose the unit's vulnerabilities?
Prediction
Manziel has an impressive performance.
Sure, the Bulldogs have looked pretty solid against the pass. However, they allow a generous 4.4 yards per carry.
Expect to see Manziel take advantage of that with his legs, thus opening up the passing lanes.
Stock Movement: Rise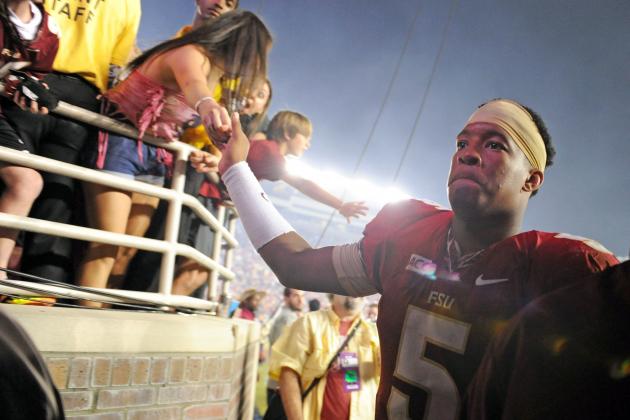 Melina Vastola-USA TODAY Sports
Winston is trying to become the second straight freshman to take home the Heisman.
Poll Points: 65 (5)
Season Stats: 70.3 CMP%, 2,502 YDs, 24 TDs, 6 INTs, 201.1 RAT, 50 CAR, 153 YDs, 3 TDs
Week 11 Matchup: No. 2 Florida State (8-0) at Wake Forest (4-5), Nov. 9, 12 p.m. ET on ABC
The Skinny
Quarterback Jameis Winston is human after all.
Following seven games of near-perfect football, the redshirt freshman finally had his first hiccup of the season, throwing two interceptions to just one touchdown against Miami last weekend. However, he still threw for 325 yards on 21-of-29 passing to lead the Seminoles to a 41-14 thrashing of the previously undefeated Hurricanes.
Go figure.
Against the Demon Deacons, Winston should fare a little better.
Through nine games, the team ranks No. 35 against the pass (215.7 YPG). Wake Forest has given up 14 touchdowns through the air while forcing 10 interceptions.
Can Winston get back to his old ways?
Prediction
Winston will dominate.
He might get off to a slow start. But with an offense that ranks near the bottom in all statistical categories, the Demon Deacons defense will be on the field for the majority of the game. That gives Winston and Florida State plenty of time to light up the scoreboard.
Remember, this is the same defense that was ravaged by Clemson and Tajh Boyd for 407 yards through the air.
Stock Movement: Rise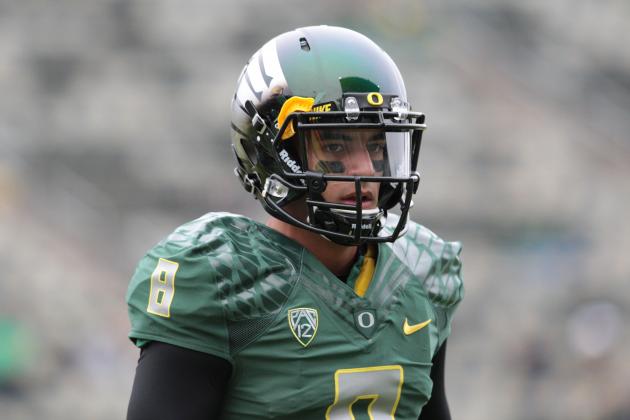 Scott Olmos-USA TODAY Sports
Mariota is faced with his toughest challenge of the season this weekend.
Poll Points: 74 (10)
Season Stats: 64.0 CMP%, 2,281 YDs, 20 TDs, 0 INT, 178.5 RAT, 56 CAR, 511 YDs, 9 TDs
Week 11 Matchup: No. 3 Oregon (8-0) at No. 5 Stanford (7-1), Nov. 7, 9 p.m. ET on ESPN
The Skinny
Quarterback Marcus Mariota got a week off to prepare for the Ducks' toughest test of the season.
The sophomore didn't head into the bye week on the highest note. He threw for 230 yards and one touchdown on 21-of-28 passing while rushing for a season-low 18 yards on seven carries.
You can bet the Cardinal defense took note.
Entering Week 11, the unit ranks No. 19 in scoring (19.4 PPG), No. 24 in total defense (354.0 YPG), No. 11 against the run (103.9 YPG) and No. 95 against the pass (250.1 YPG). Furthermore, Stanford has given up just 13 passing touchdowns and five on the ground.
If you recall, Mariota registered his lowest quarterback rating of his career (107.3) against the Cardinal last season.
Can he redeem himself this time around?
Prediction
Mariota struggles big time.
Although Stanford's secondary has seemed vulnerable earlier in the season, the unit has buckled down as of late. Most recently, the Cardinal shutdown Oregon State's heralded quarterback Sean Mannion in a 20-12 win, limiting him to just 271 yards and one touchdown.
Don't expect Mariota to fare any better.
Stock Movement: Drop
All stats and rankings used in this article are courtesy of NCAA.com.
For complete coverage and everything college football, you can reach Sebastian on Facebook, on Twitter and via e-mail at Sebastian.LenaBR@gmail.com