Philadelphia Eagles vs. Green Bay Packers: Breaking Down Green Bay's Game Plan
Use your ← → (arrow) keys to browse more stories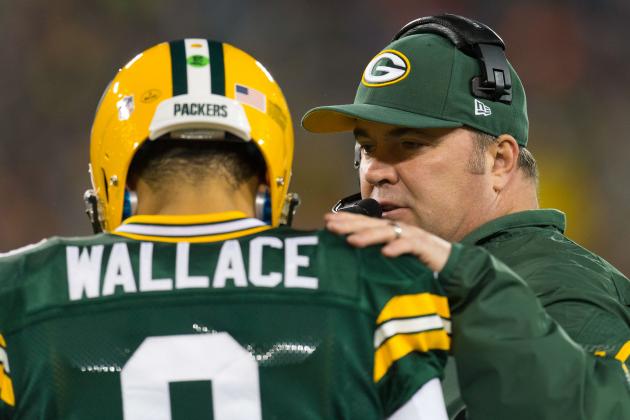 Jeff Hanisch-USA TODAY Sports
Seneca Wallace is going to need to play a perfect game if the Packers want to win this week.
It's only Week 10, but the Green Bay Packers' season already feels like it's over. This is mostly due to the fact that quarterback Aaron Rodgers is out for the next four to six weeks, according to Mike Garafolo of FoxSports.com.
Without Rodgers, the Packers are going to need an absolutely perfect game plan each and every time they step on the field in order to come away with wins. They're also going to need a number of other players to step up in a big way.
This week the Packers play the Philadelphia Eagles at home. Let's break down Green Bay's game plan for this week's game.
The Competitive Edge
Quarterback
It's the battle of the backups once again with the Packers fielding Seneca Wallace and the Eagles going with Nick Foles. Last week, Foles threw for seven touchdown passes while Wallace threw for 114 yards and an interception. Any guess on who has the edge?
Advantage: Philadelphia
Running Backs
The duo of James Starks and Eddie Lacy has been fantastic for Green Bay. Unfortunately, LeSean McCoy is playing like the best running back in the league right now.
Advantage: Philadelphia
Wide Receivers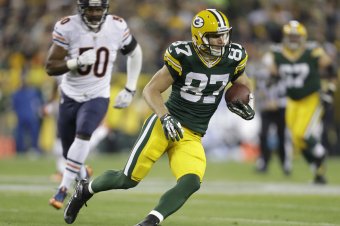 Mike McGinnis/Getty Images
The Eagles receivers will probably be more productive simple due to the superior play of their quarterback. However, in terms of talent at this position, the Packers have the edge thanks to Jordy Nelson, James Jones and Jarrett Boykin.
Advantage: Green Bay
Tight Ends
While Andrew Quarless did have his best game of the season with Wallace at quarterback last week, he simply can't compete with the level of talent the Eagles have. Both Brent Celek and Zach Ertz are dangerous receiving weapons who could have huge games.
Advantage: Philadelphia
Offensive Line
This matchup is really, really close. The Packers get the edge in pass protection, but the Eagles are better at run blocking. The fact that Philadelphia has the No. 1 run-blocking offensive line in the league, according to Pro Football Focus (subscription required), ultimately gives them the edge.
Advantage: Philadelphia
Defensive Line
Up until last week, the Packers defensive line had been one of the best in the entire league. Unfortunately, they were absolutely manhandled by the Bears offensive line. The Eagles defensive line has been solid throughout the year and has a slight advantage.
Advantage: Philadelphia
Linebackers
This matchup all depends on who is healthy for the Packers. If they can get the majority of their outside linebackers to play this week (more on this later), they easily have the advantage. We'll assume that at least some of them will be healthy and give the edge to the Packers.
Advantage: Green Bay
Secondary
Both of these teams' secondaries have struggled this year. In terms of talent, however, the Packers have more if Casey Hayward, Morgan Burnett and Tramon Williams all play up to their potential.
Advantage: Green Bay
Packers Offense vs. Eagles Defense
The offense for Green Bay is going to revolve around the absence of Aaron Rodgers. What that means is that the Packers are going to switch from being a pass-first offense to a run-first offense.
Mike McGinnis/Getty Images
While Lacy has been valuable in past weeks, he's going to become the focal point of the offense for the next month or so. Along with Lacy, Starks and Johnathan Franklin could also see increases in their carries with the shift in offensive strategy.
Don't be surprised if the Packers run the ball between 40 and 50 times in this game. Limiting the amount of passes that Wallace throws is a good idea, at least for another week.
The bad news for this offensive game plan for the Packers is that the Eagles have been pretty decent against the run this year. Their run defense currently ranks as the seventh-best in the league, according to Pro Football Focus (subscription required).
If the Packers are forced to pass the ball more than 20 times this game, they will struggle offensively.
Packers Defense vs. Eagles Offense
There are three things the Packers need to do defensively to win this game.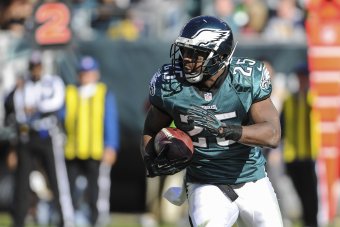 John Geliebter-USA TODAY Sports
First, they need to contain LeSean McCoy. The Packers failed to do this last week against Matt Forte, who is a less dynamic dual-threat running back than McCoy.
Secondly, they need to be able to create some sort of pressure on quarterback Nick Foles. They also failed to do this last week and backup quarterback Josh McCown was able to sit in the pocket and pick apart the Packers secondary. The problem with this is that Green Bay hasn't been able to create any type of pass rush all year.
Finally, Green Bay needs to create some turnovers. The Packers have only forced three interceptions this year, which is tied for the lowest total in the league. While they do have seven forced fumbles on the year, their total turnovers is still one of the lowest in the league.
Completing these three tasks will go a long way to slowing down the Eagles offense and giving Green Bay a great chance at winning.
Special Teams
Neither team has extraordinary special teams. However, both teams have players returning punts and kicks who have the ability of picking up huge chunks of yards.
For the Eagles, wide receiver DeSean Jackson is an explosive player who is always a threat to take it to the house. As for Green Bay, rookie cornerback Micah Hyde has proved in recent weeks to be dangerous in the return game.
The key for both teams will be in their special teams coverage. This matchup will ultimately be a push if neither Jackson nor Hyde are able to get a big return.
Thursday's Injury Report Analysis
Green Bay Packers Injury Report

| | | | |
| --- | --- | --- | --- |
| Name | Position | Injury | Practice Status |
| T.J. Lang | OG | Concussion | Did Not Practice |
| Clay Matthews | OLB | Thumb | Limited Participation |
| Andy Mulumba | OLB | Ankle | Limited Participation |
| Mike Neal | OLB | Knee | Limited Participation |
| Nick Perry | OLB | Foot | Limited Participation |
| Ryan Pickett | DT | Knee | Limited Participation |
| Aaron Rodgers | QB | Collarbone | Did Not Practice |
Via Packers.com
There are so many key members of the Packers roster listed on this week's injury report. What makes matters worse is the fact that none of them were more than limited participants on Thursday.
Other than Rodgers, the biggest hits for this week are offensive guard T.J. Lang and the bevy of outside linebackers struggling with injuries. Lang's injury last week forced Don Barclay inside to guard and brought Marshall Newhouse off the bench to right tackle.
As for the outside linebackers, if neither Nick Perry, Clay Matthews, Mike Neal nor Andy Mulumba can play this week, Green Bay will be left with Nate Palmer as the only available outside linebacker. If that's the case, the Packers will be forced to move either Jamari Lattimore or Brad Jones from inside linebacker to outside linebacker.
Of course, it's a definite possibility that all these players who were limited on Thursday end up practicing on Friday and play, but we won't know that until it happens.
The Packers Will Win If...
...they can dominate the time of possession.
Winning the time-of-possession battle would mean that the Packers are having incredible success on the ground, which would be extremely good.
The only way the Packers are going to win this game is if they get the ball out of Wallace's hands and consistently pick up positive yards on the ground. There is simply no way around it this week or in the coming weeks.
What's going to make this difficult is that Green Bay can't just have the ball on offense 60 percent of the time. The Eagles offense is simply too dynamic and explosive. They can put points on the board in bunches, as was evident last week when they dropped 49 points on the Oakland Raiders.
In order for Green Bay to win this game, they'll need to hold onto the ball for at least 70 percent of the game. Any less and the opportunity to win this game for Green Bay diminishes dramatically.