We're still very early into the 2013-14 regular season, but the more you watch this Houston Rockets team, the more you get that warm feeling in your stomach telling you that this James Harden and Dwight Howard combination is not only going to work, but work very well.
The superstar duo combined to score 62 of the Rockets' 116 points Tuesday night as Houston (4-1) redeemed its rotten performance against the Los Angeles Clippers with a solid 116-101 victory over the Portland Trail Blazers (2-2).
Rockets win!! Houston beats Blazers 116-101 in Portland. As scripted, Harden pours in 33 points while Howard dominates inside for 29 & 13

— Houston Rockets (@HoustonRockets) November 6, 2013
When your two best players are shooting a combined 21-of-31 from the field, you're going to be winning plenty of basketball games. James Harden led all scorers with 33 points on a scorching 11-of-18 shooting, while Howard chipped in 29 points of his own and 13 rebounds.
The Trail Blazers had little answer for either man on the defensive end. Harden made guard Wesley Matthews work for his money on the night, abusing him off the dribble and creating silly fouls.
Howard had his way in the paint, especially with center Robin Lopez battling foul trouble. Meyers Leonard couldn't contend with the size and length of Superman, as his attempts at slowing down the seven-time NBA All-Star were perpetually in vain.
At the very least, Portland realized that it needed to throw double-teams at D12, as the Rockets struggled mightily to create offense from the perimeter. The visitors nailed just 6-of-22 from three-point range—27.3 percent.
The Blazers did manage to cut into their giant deficit (as high as 18 at one point), but that's when Harden decided to take the game into his own hands in isolation. By the end of the third quarter, Harden had already scored 27 points.
You can tell, LaMarcus Aldridge doesn't want to be guarding Dwight Howard. I bet he's like, "Where my center at."

— Chris Haynes (@ChrisBHaynes) November 6, 2013
Not only did Howard and Harden work well individually, but they also showcased some sound teamwork, which included this nice alley-oop off the pick-and-roll midway through the third quarter.
Even with their impressive stat lines, there were still some notable areas of detriment that could have easily cost Houston in the end.
Howard and Harden turned over the basketball a combined 14 times. Harden himself is averaging 4.0 turnovers on the year, so that's a number that will need to be closely monitored moving forward. As good as Houston's defense is, they can't be giving up that many extra opportunities to the opposition.
Still, it's games like this that make you giddy over the possibilities of this team in Houston.
In James Harden, you have a tremendous perimeter talent who can attack the rim with ease, dribble penetrate and shoot from mid-range, which he did exceptionally well against Portland, hitting all four of his attempts through the first 36 minutes.
James Harden (27 points, 9-15 FGs) has hit all 4 of his midrange attempts tonight. Seems he sometimes doesn't take 4 of those in a week.

— Jason Friedman (@JasonCFriedman) November 6, 2013
Remember, Harden isn't usually one to be settling for jump shots, but he has proven that he can hit from 15 feet and beyond effectively.
Here's a quick look at his shooting to start the season: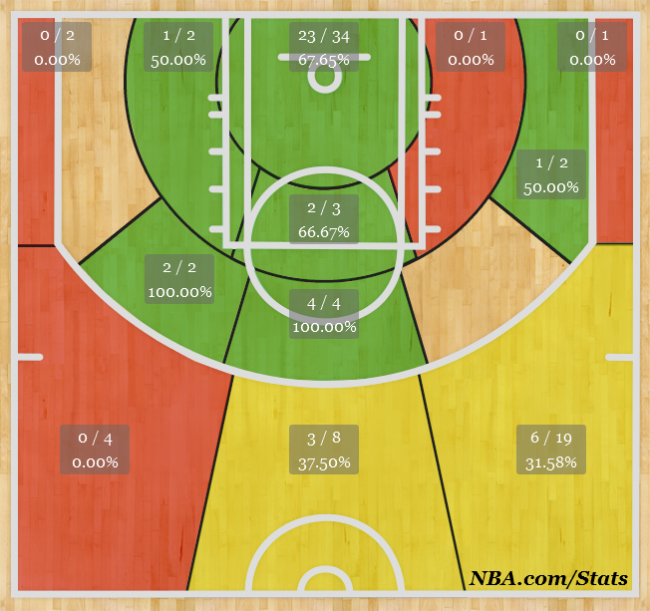 Surround that type of player with an imposing athletic big who can crash the glass, block shots and back down defenders, and you have the makings of the next big one-two punch in the NBA.
Also, how's this for a bonus? Howard went 9-of-12 from the charity stripe in Tuesday's win, which is absolutely huge. You're never going to have full trust in his ability to hit those shots, being a career 57.7 percent free-throw shooter and all. But if he could somehow manage to hover around the 65 percent range all season, the anxiety of leaving him on the court in clutch moments wouldn't be nearly as nauseating for Kevin McHale and Rockets fans.
You get the sense that egos won't be an issue, which is somewhat weird considering the long history of one Dwight Howard. It's as if Howard is having fun again. He appears to be content with the way things are going and the direction of this team. There's no way of knowing if things will still be blissful come later in the season, but, for now, there shouldn't be a lot to complain about anyways.
Remember, this was the Rockets' fourth game in five nights, and yet this is the kind of output their best players were able to produce. They put up points, played amazing defense and helped lead Houston to their fourth win of the season on the road at Moda Center.
What else could you possibly want? Believe me when I say that the best is yet to come.
James Harden and Dwight Howard? This is going to work. It already is.
Follow Christopher Walder on Twitter @WalderSports