The University of Texas' search for a new athletic director is over.
Arizona State confirmed that Steve Patterson will be leaving the Sun Devils to take the same position with the Longhorns in a statement to (via John Taylor of College Football Talk):
During his stay at ASU, Steve Patterson has positioned Sun Devil Athletics to continue its forward momentum well into the future," Crow said. "He first became involved with ASU three years ago to put the university's athletic department on a sound financial footing and that is exactly what he has done.

I well understand his desire to return to his home state and wish him well at the University of Texas.
UPDATE: Tuesday, Nov. 12, at 8:40 a.m. ET
From Chip Brown of Orangebloods.com:
Texas' new athletic director Steve Patterson will take over day to day operations in Austin by Dec. 1.

— Chip Brown (@ChipBrownOB) November 12, 2013
---End of update---
---Original Text---
The University of Texas further confirmed the hire in a statement:
The University of Texas at Austin will hire Steve Patterson as the new men's athletic director, replacing DeLoss Dodds who is retiring after 32 years.

Patterson, 55, has served as athletic director at Arizona State University since 2012. Previously, he worked for more than two decades as an executive with the NFL's Houston Texans, the NBA's Houston Rockets and Portland Trail Blazers and the Houston Aeros hockey team. He also served as president of Pro Sports Consulting.

Patterson earned both a bachelor's degree in business and a law degree from UT Austin.

"Steve Patterson emerged as the perfect candidate to build on Texas' athletic success and DeLoss Dodds' legacy," said UT Austin President Bill Powers. "Steve helped build an NBA championship team and brought the Super Bowl game to Houston. Far more important, he's run a winning program at Arizona State that places students first and is committed to their lifelong success."

The appointment is subject to approval from the UT System Board of Regents, which is scheduled to meet Nov. 12 and 13. Patterson would begin at the university later this fall.
Patterson will make $1.4 million annually, per Chip Brown of OrangeBloods.com:
Texas regents have approved a 5-year contract for new Texas athletic director Steve Patterson that will pay him $1.4 million annually.

— Chip Brown (@ChipBrownOB) November 11, 2013
Kirk Bohls of the Austin American-Statesman's originally reported that the Longhorns had made the hire:
Texas has hired Arizona State AD Steve Patterson, connected source says. Will make over $1 million.

— kbohls (@kbohls) November 5, 2013
Sports Illustrated's Pete Thamel reported that Patterson emerged as the front-runner for the position on Tuesday morning and accepted the job soon after. The Texas official who confirmed the hire to Thamel highlighted the 55-year-old Patterson's experience in marketing and business as the deciding factor.
The Longhorns were reportedly considering West Virginia University athletic director Oliver Luck as well.
While the Texas football team is currently in the midst of an impressive five-game winning streak that has catapulted the Longhorns to the top of the Big 12 standings, Patterson will have some key decisions to make regarding the future of the program soon after he takes the helm.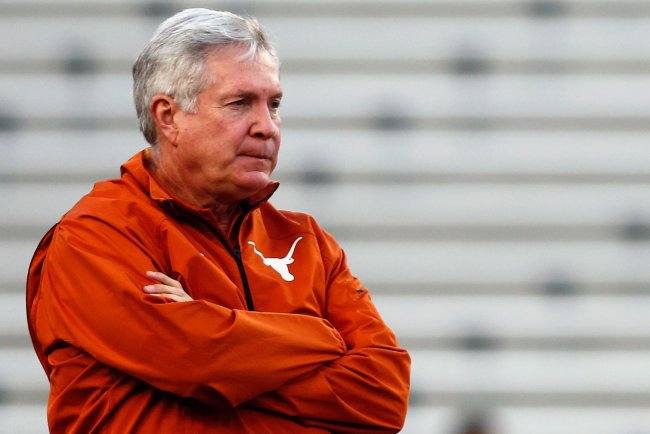 Tom Pennington/Getty Images
As Thamel points out, Patterson will have the final say in whether head football coach Mack Brown sticks around at season's end and how the university's budget of more than $150 million will be managed.
Brown led the Longhorns to a national championship in 2005 and back to the BCS title game in 2009, but he has failed to build on that success in recent seasons, falling out of the BCS picture.
Last month, following longtime athletic director DeLoss Dodds' announcement that he would be retiring in 2014, the university developed a search committee to help narrow down the list of candidates.
A Texas graduate, Patterson has worked with a trio of professional sports franchises in the past, including the NFL's Houston Texans in the late 1990s and early 2000s. He also served two separate stints in the NBA as a general manager for the Houston Rockets and the Portland Trail Blazers.
Follow Bleacher Report Featured Columnist Patrick Clarke on Twitter.