Potential Fantasy Disappointments for 2009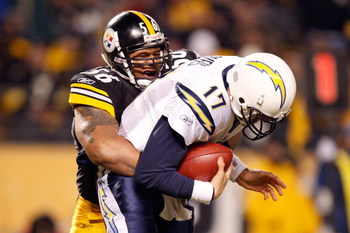 I won't go so far as to say these "studs" will dud in 2009, but they may not produce the numbers you would expect considering how high they may go on the draft board.
Read enough fantasy opinions, and you will become stupefied and confused about conflicting projections and expectations.
This slide show is one man's opinion, but an opinion from a very experienced and highly successful fantasy owner.
If I have learned one thing over the years, it is that there are no rules to follow, with the exception of possibly saving later draft picks for the TE's, kickers, and in most formats, defenses.
There's simply not enough separation from first to worst to warrant a high pick.
Some owners stand by the ole' draft two RB's with the first two picks, but the increasing reliance on two back systems and a shift to more pass oriented teams makes this strategy risky at times.
SO... what's the secret to winning. In my opinion, one way to ensure success year in and year out is to try and identify those players who are riding the wave of hype and statistical outbreaks, and make sure I don't over-value them.
By all means, everyone on this list is a solid player, but most have created a buzz that in my opinion, won't match their on the field output in 2009.
Finding value is difficult on draft day. But remember this list and make sure you don't get forced into a decision because the magazine you are holding says you should.
Enjoy!
No. 10 - Kellen Winslow Jr.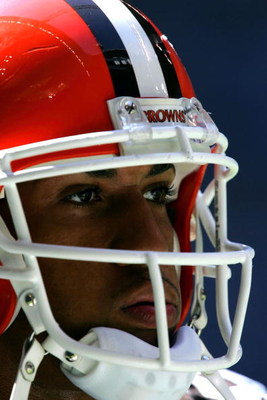 A move to TB will not sit well with the ball hungry Winslow. The quarterback situation is a mess, even more so than in Cleveland, and this team has a history of relying on the ground game and stellar defense to win.
No way he approaches his two healthy year average from '06 and '07 of 86 catches and 990 yards.
No. 9 - Tony Romo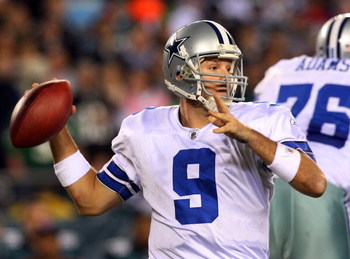 The T.O. effect will knock Tony Romo down a notch. Ask McNabb who saw his numbers inflate from 3,216 yds/16 TD's pre-T.O. in 2003, to 3,875 yds and 31 TD's in 2004 with T.O.
Also, the emergence of Felix Jones pairing with Marion Barber will likely mean more emphasis on the running game in 2009. And let's face it, Roy Williams is not T.O.
No. 8 - Reggie Wayne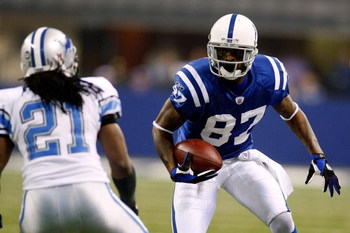 Like Batman without Robin, Reggie Wayne was not himself minus a healthy and productive Marvin Harrison in 2008. He was solid with 82 catches for 1,145 yds. but those were his lowest totals since 2005.
A sluggish running game had Wayne and the Colts looking a bit off-stride in 2008. Look for more of the same, as it appears Anthony Gonzalez is not quite the partner Wayne needs to exploit his talents.
Wayne has also reached the 30-year-old mark.
No. 7 - Matt Forte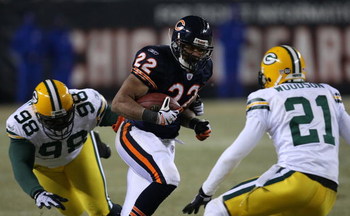 Matt Forte did everything for the Bears last year.
The rookie ran for 1,238 yds. and eight touchdowns while catching 63 passes for 477 yards. But one big cog in the Bears offense has changed heading in to 2009, and it may mean less focus on the grounded attack and fewer check downs to Forte, especially with the addition of Jay Cutler.
While I don't expect the Bears to become an all-out airborne assault, don't expect an improved 2009 from this do-everything back in 2008.
No. 6 - Marques Colston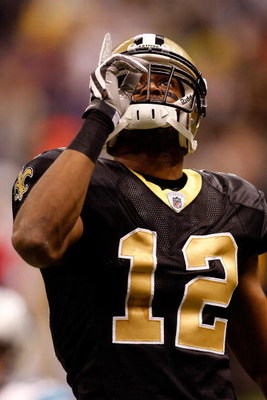 A gimpy knee has limited this budding superstar for portions of each of the last two seasons. There's no doubt, if he is right, the pass-happy Drew Brees will find him for big plays. But at only 25 years of age, Colston has had more than his share of troubles.
A renewed emphasis on the run with Pierre Thomas, as well as emerging threats Lance Moore, Robert Meachem and Deverey Henderson may decrease the reliance on this athletic freak of a receiver.
No. 5 - Maurice Jones-Drew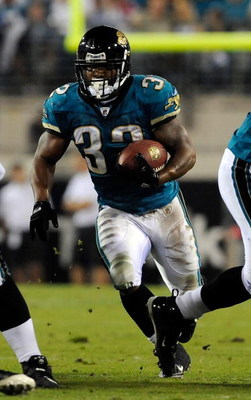 I may completely whiff on this one, and MJD may very well be this year's breakout version of Michael Turner. Let's remember though, Turner is 5'10" and 244 lbs., while Drew is 5'7" and 208 lbs. I've always seen Drew as a change of pace back, and I wonder if his body will take the pounding of a 300-carry season. The Jags forked out the money, and I know they're committed, but I just don't see MJD being a top-three or four back as he's being projected.
No. 4 - Michael Turner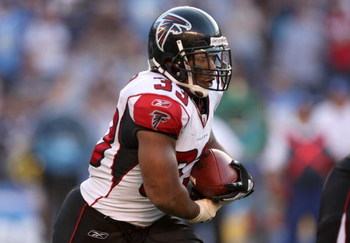 Someone has to be the No. 2 back behind all-world Adrian Peterson, and it looks like most are favoring the human bowling ball from Atlanta. Last year, Michael Turner amassed 376 carries, 1,699 rushing yards, and 17 rushing TD's. What's not to like about that?
Two things, an emerging quarterback, and the addition of a hall of fame tight end. Michael Turner remains a very solid top-five pick, just don't expect a repeat of the monster 2008 season from Turner.
No. 3 - Roddy White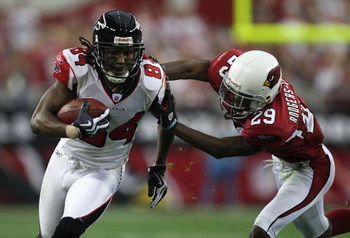 As for Michael Turner, don't expect a repeat season from breakout WR Roddy White, who has averaged 85 catches and nearly 1,300 yards the past two seasons. You can count on a good 60 balls and 700 yards finding the hands of Tony Gonzalez next year vs. the paltry tight end total of 19 catches for 211 yards for the entire group of Falcons' tight ends last year. I do expect more freedom for QB Matt Ryan in the passing game, but there are now more options to choose from.
No. 2 - DeAngelo Williams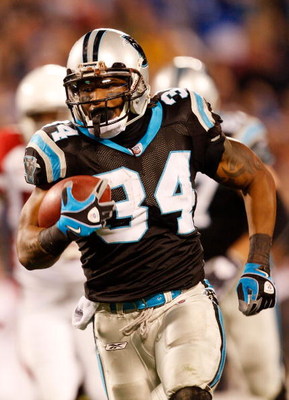 Where did this guy finally come from? Williams rushed for more than 1,500 yards and scored 18 rushing touchdowns for the Panthers in 2008. Those numbers are bonafide No. 1 back stats, but that won't keep Williams from looking over his shoulder at Jonathan Stewart. Stewart rushed for 836 yards and 10 touchdowns of his own in his rookie campaign and this situation screams two-headed monster.
No. 1 - Phillip Rivers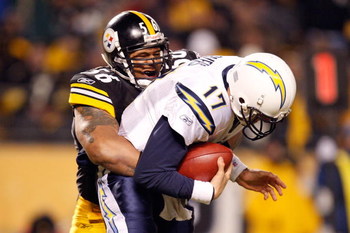 Phillip Rivers had some things going for him last year that statistically, I don't see happening this year. For one, the Merriman-less defense kept Rivers and the Bolts firing away late in games. Second, the usually grounded attack featuring LaDainian Tomlinson was way off course last year. And third, last season was what I feel to be an aberration for Rivers, rather than the future norm.
Last season, he was sensational, with more than 4,000 yards and 34 touchdowns versus only 11 picks. His two-year average in 2006 and 2007 was 3,270 yards and 22 TD's against 12 INT's. Rivers will be a top-five QB taken in 2009 drafts, but those expecting a repeat of 2008 will be disappointed.
Keep Reading

Kansas City Chiefs: Like this team?