Injuries Finally Catching Up to Packers at Worst Possible Time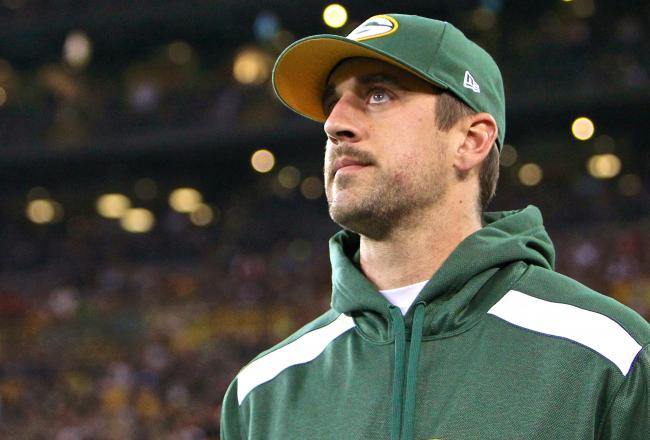 Under Mike McCarthy and Ted Thompson, the Green Bay Packers have long prided themselves on a "next man up" mantra that has consistently replaced the panic of injury with game-day results.
Take away a player, and the Packers could plug in another and have the win train keep rolling on.
Under the bright lights of Monday Night Football, the resilient and deep Packers might have finally hit their breaking point on the injury front. And it came at a time when Green Bay can ill afford to let winnable games turn into losses.
Without Aaron Rodgers, who left in the first quarter with a left shoulder injury, Clay Matthews and a host of others, Green Bay fell to the Chicago Bears at home, 27-20. The Packers are now 5-3—tied with the Bears and Detroit Lions in the NFC North—and facing the possibility of not having Rodgers available in the near future.
The extent and timeline of Rodgers' injury is currently unknown. He took a hard fall on his non-throwing shoulder during a sack on Green Bay's first series and then jogged off to the locker room. The Packers quarterback didn't return to the sideline until the second half.
In the meantime, backup Seneca Wallace was shaky at best and dreadful at worst, completing just 11 passes for 114 yards and an interception. The Packers struggled to move the football for most of the night, finishing 1-for-8 on third down with just two red-zone trips after Rodgers left the game.
Without the hard running of Eddie Lacy and James Starks, who combined for 190 rushing yards and two touchdowns, the Packers very well could have been blown out by a Bears team lacking its starting quarterback (Jay Cutler) and best defender (Lance Briggs).
Josh McCown, a 34-year-old backup, shredded a defense missing Matthews and Nick Perry, its two best edge-rushers. The Bears controlled the football and didn't have a giveaway.
Yet with Rodgers healthy, the Packers still would have been expected to beat a hurting Bears team Monday night. After all, Green Bay—despite the litany of injuries—had won four straight games to climb to the top of the division.
And with the Philadelphia Eagles, New York Giants and Minnesota Vikings up next on the schedule, it would have been reasonable enough to predict Green Bay to be a rock-solid 9-2 heading into the Thanksgiving Day matchup with the Lions.
Now, with a home loss to Chicago and Rodgers' status unknown, an otherwise easy stretch of games suddenly becomes a season-defining stretch for the Packers. The rest of the division is certainly trending up.
The Bears appear to have found the magic on offense. Even without Cutler in the lineup, Chicago racked 27 points and nearly 450 yards against a Packers defense that was playing well in recent weeks. Marc Trestman figures to keep the Bears in the playoff hunt if he can continue to get offensive efficiency like he saw Monday night. And Cutler is due back soon, with a possible return date coming as early as next week, via Chris Mortensen of ESPN.
The Lions are also riding high, with a season-altering win against the Dallas Cowboys in Week 8 leading Detroit into a bye week. With a schedule that sets up well in the second half, the Lions should be looking ahead confidently at what could be over the final eight games. Winning 10-12 games is certainly in the equation for Detroit.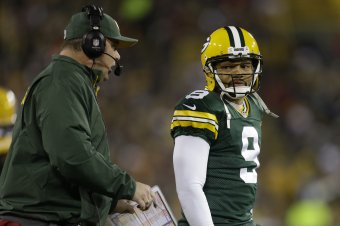 Mike McGinnis/Getty Images
The Packers can't afford any slip-ups. But a roster so masterfully constructed by Thompson and coached up by McCarthy can only survive so much subtraction, especially at quarterback.
For the majority of Monday night, Wallace was working with an offense that featured the likes of Jarrett Boykin, Myles White and Andrew Quarless in leading roles. Rodgers, one of the game's elite players at the position, could still thrive with those players around him. Wallace, an 11-year veteran with just eight weeks of work in Green Bay's offense, could not, at least on Monday night.
Maybe with a week of working with the No. 1 offense, Wallace could be marginally better in future weeks. But the drop-off from Rodgers to Wallace at quarterback is still one of the steepest in the NFL.
Postgame, McCarthy kept his quarterback position in perspective, per the Associated Press (via ESPN).
"I don't think it's realistic to put anyone in there and expect him to perform (like Rodgers)," McCarthy said.
The Packers need Rodgers to cover for injuries to Randall Cobb and Jermichael Finley, both of whom are expected to be out several more weeks. Covering for an injury to the quarterback is a much more difficult task.
Can the Packers stay alive in NFC North if Aaron Rodgers has to miss significant time?
In recent years and even recent weeks, the Packers have used the adversity of injuries to gel as a football team. Go back to 2010, when 16 players went on season-ending injured reserve, or even the last month, when Matthews, Cobb, Finley and Perry went down, and you'll see McCarthy overcoming the losses placed in front of him.
The Packers won a Super Bowl in '10 and were riding a four-game winning streak ahead of Monday. Yet a significant injury to Rodgers could very easily throw Green Bay's 2013 season into an uncontrollable tailspin.
The "next man up" mantra has worked so well because the Packers have acquired and developed players in backup roles. Quarterback is a whole different story, especially this season—when the Packers shuffled through backups during August before finally settling on Wallace.
Now, Green Bay might have to learn a completely new version of treading water.
The schedule is light in coming weeks, but the Packers won't be a strong favorite in any game without Rodgers. Meanwhile, both the Bears and Lions appear to be gaining serious momentum for the stretch run.
The unwavering resiliency of the Packers was tested Monday night. Over the next few weeks, the looming challenges will only increase in their importance for deciding whether this team sinks or swims in 2013.
This article is
What is the duplicate article?
Why is this article offensive?
Where is this article plagiarized from?
Why is this article poorly edited?

Green Bay Packers: Like this team?