If there is one thing we have learned about Rex Ryan over the years, it is to never underestimate his ability to get the best of even the most potent offenses in the NFL, no matter which masterful quarterback is orchestrating it.
Last week, Saints quarterback Drew Brees became the latest victim of what was a master performance from a defense with Rex Ryan's stamp on it.
The Jets did catch a bit of a break when Darren Sproles left the game early on, but the fact that the Jets were able to disrupt Drew Brees as much as they did goes far beyond what a shifty running back could have negated.
With a unique scheme (from Rex Ryan's norm, at least) and few heroic performances form individual players in key situations, the Jets were able to stop Brees and the Saints like no team has been able to do this season.
Use of Cover 2
Typically, Rex Ryan's defense utilizes a lot of Cover 1 concepts, in which there is only one deep safety (or sometimes none at all) in coverage.
However, Ryan elected to use more Cover 2 concepts against the Saints, anticipating them to attack their subpar defensive backs deep down the field in jump-ball situations.
On this play, the Jets are able to get pressure on Brees while taking away the deep ball. They get away with it thanks to a tremendous individual effort by safety Antonio Allen covering what was supposed to be the weak link in the defense.
Before the snap, it is obvious that the Jets are in a Cover 2 look. They will provide support for the wide receivers running a "nine" route (or a simple "go" route), while Antonio Allen is left to cover Jimmy Graham in the slot all by himself.
The Jets use the players not used to cover Graham in a six-man blitz to put pressure on Drew Brees. The Saints keep seven players in to block, but Sheldon Richardson is able to easily beat his man to negate the extra protection the Saints provided.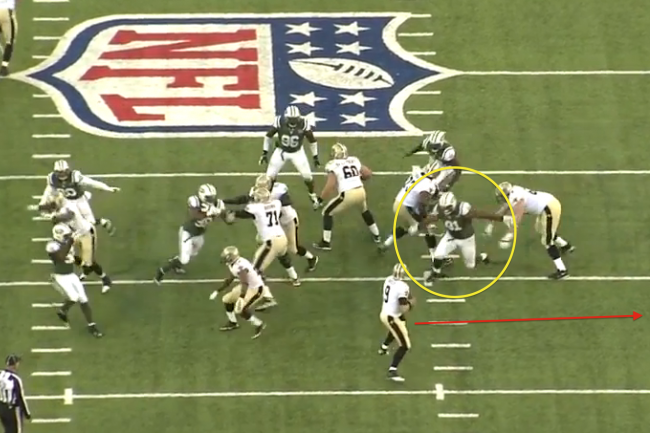 This forces Brees to escape the pocket. Brees manages to find some space to make a throw and sees that his two deep targets are taken away.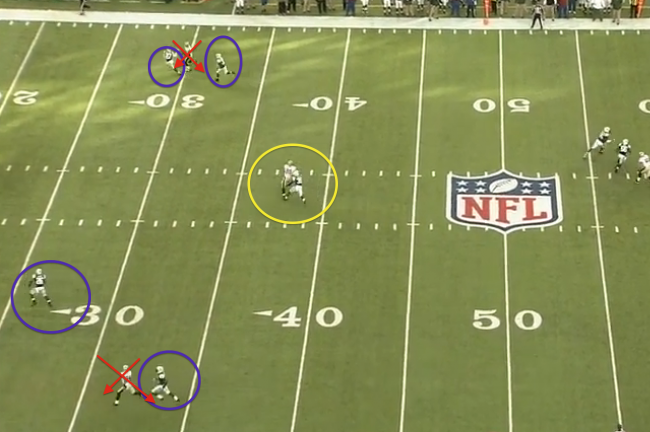 Graham, in a one-on-one situation against Antonio Allen, is the easiest read Brees will make all day.
However, because Brees is out of his comfort zone thanks to the pressure by Richardson (and the accumulating pressure he has seen all day), the throw is very un-Brees-like.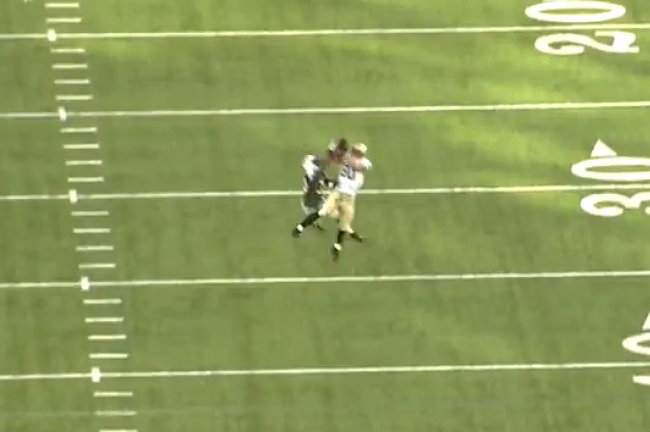 The ball is just a bit behind Graham, allowing Antonio Allen (with excellent coverage on the oversized tight end) to get in the way and break up the pass with great timing on his jump.
Here, the Jets were able to take away the Saints' trademarked big play without settling for the underneath completion, all while getting immense pressure on Brees. A couple of great individual efforts by Richardson and Allen masked the weaknesses of this scheme.
Confusion
The foundation of a Rex Ryan defense is the creation of confusion, doubt and uncertainty in an offense, particularly the quarterback.
As good as Brees is, even he showed his mortality in this game, as the complexity of pressure schemes and coverages caused him to speed up his thinking and make mistakes he would not usually make.
Here, the Jets make it look like they are going to bring a heavy blitz that includes both of their inside linebackers.
Instead, however, Demario Davis is set to back out of his blitz and drop into a middle zone. The key route here is the "in" route the slot receiver is set to run.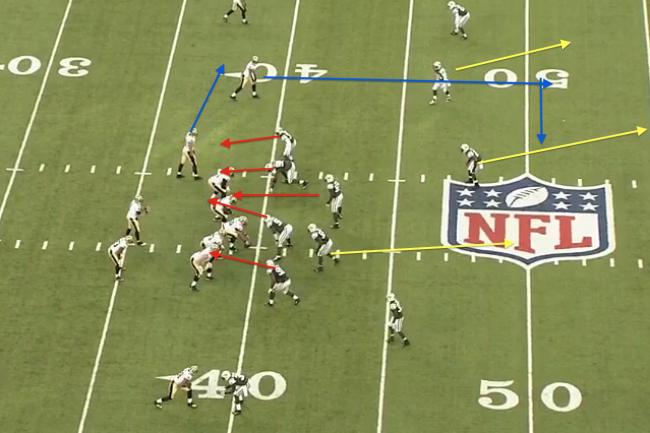 The ball is snapped, and Brees actually has some time in the pocket to let routes develop. He had time to hit his slot receiver over the middle, but he did not expect Davis to drop into coverage, causing him to pull the ball down.

It is not until Graham breaks out into the flat against a blitzing Josh Bush does he have a target. However, he hesitates just enough to allow Bush to get pressure on Brees, causing an errant throw.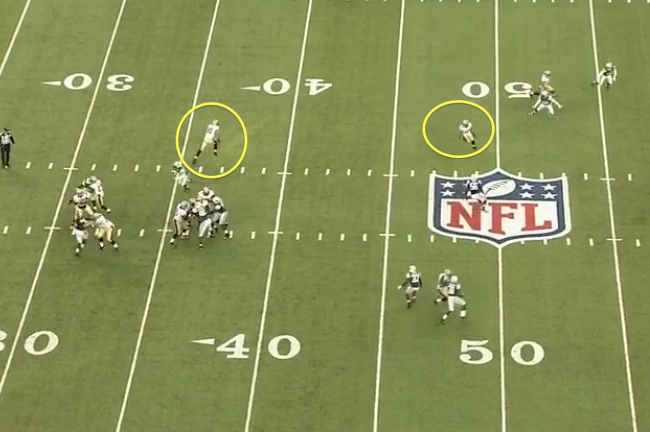 The Saints were, however, bailed out on one of the more questionable roughing the passer calls we have seen lately:
Just like the previous play, the Saints had plenty of chances to generate a positive play. There were clear weaknesses in the Jets' scheme, but doubt and confusion caused Brees to play a hair slower than usual, disrupting the entire play.
Defensive Line Dominance
There were points in the game where the Jets defensive line was so dominant that quite frankly, it did not even matter what type of coverage the Jets called on the play.
The most impressive player of the day was defensive end Muhammad Wilkerson, who is starting to make a case for Defensive Player of the Year, with his dominant play up front, particularly as a pass-rusher.
The Saints knew what kind of threat they were dealing with in Wilkerson—which is why they double-teamed him on this play.
But it didn't matter.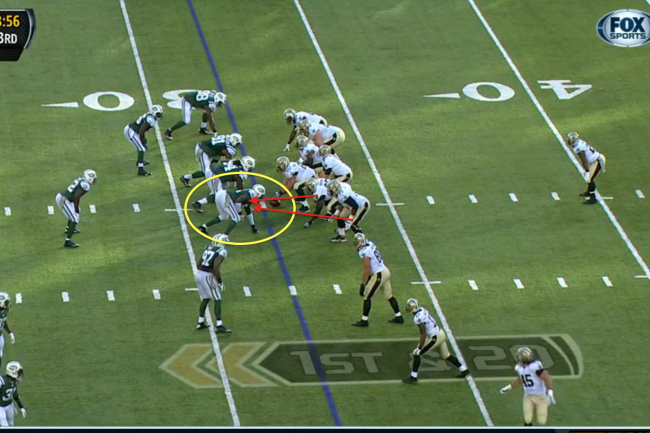 Off the snap, Wilkerson was instantly greeted by the right guard and tackle. He uses his quickness to split between them in the blink of an eye.
He finishes them off with a quick swim move;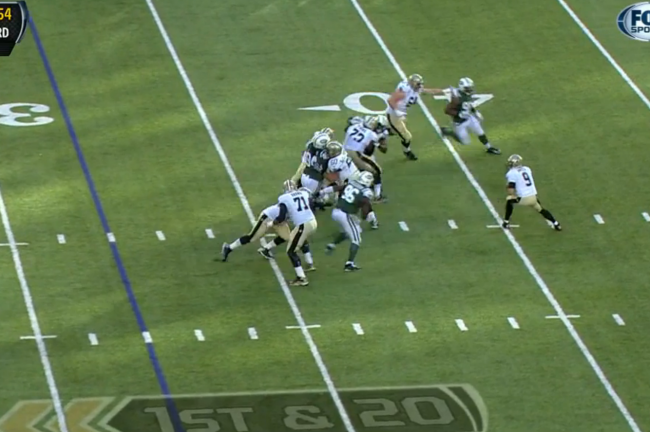 and he closes in on Brees before the play even had a chance to begin.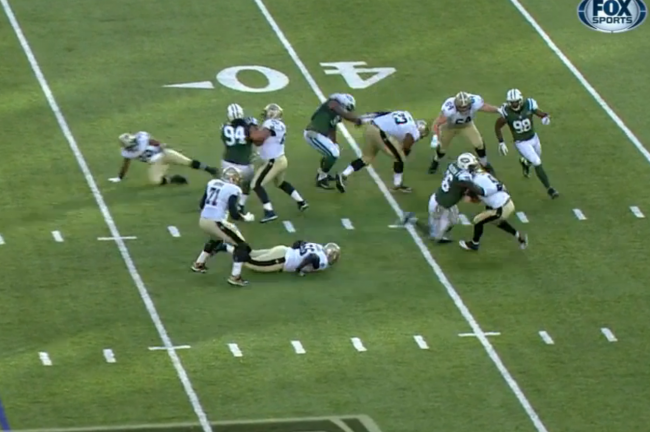 This play involved everything about Wilkerson that makes him great: the athleticism and quickness to split defenders (and close on the quarterback), as well as the length to keep their reach at bay.
The Saints designed their protection specifically trying to make sure Wilkerson was not going to disrupt the play, but he did anyway. Wilkerson executed a play that defines the mark of greatness: beating an opponent even though they know exactly what is coming and do everything they can to stop it.
The bottom line was, the Jets were able to get a ton of pressure on Drew Brees. As a result, his efficiency as a passer plummeted:
According to @PFF, #Saints QB Drew Brees went 6-of-17 for 72 yards, 1 TD, 2 INT, 29.2 passer rating while under pressure vs. #Jets.

— Erik Frenz (@ErikFrenz) November 4, 2013
There was no single player that could be credited for slowing down the Saints as much as they did. Instead, what the Jets were able to do defensively on Sunday was a combination of a great scheme, role players coming up in big spots and dominant players, like Wilkerson, being their dominant self.
If the Jets play this caliber of defense every week (against who will certainly be inferior offense to that of the Saints), they are going to be a very difficult team to beat down the stretch.