LSU Tigers vs. Alabama Crimson Tide Complete Game Preview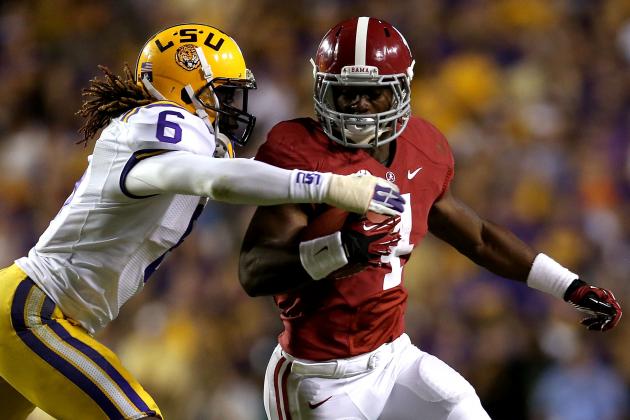 Matthew Stockman/Getty Images
LSU safety Craig Loston and Alabama running back T.J. Yeldon return from last season's thriller in Baton Rouge.
It is finally here.
LSU and Alabama will face each other with heavy BCS implications yet again on Saturday, which cannot come soon enough for college football fans.
LSU topped the Tide in an overtime slugfest the last time the two faced in Tuscaloosa. AJ McCarron led Alabama to a thrilling 21-17 victory last season in Baton Rouge.
Only unblemished Alabama has a shot to raise the crystal ball this season, as LSU has suffered losses against Georgia and Ole Miss. But that should not take away from the magnitude and importance of this game to the players, coaches and fans of both schools.
Former and current players for both teams look forward to this game every season. Les Miles and Nick Saban both have had extra time to prepare thanks to a bye week.
Here's everything you need to know.
Time: 7:00 p.m. CST
Place: Bryant-Denny Stadium, Tuscaloosa, Ala.
TV: CBS
Radio: LSU Sports Radio Network; Crimson Tide Sports Network
Spread: Alabama by 13 via Scores and Odds
Begin Slideshow

»
Take a look back at the past clashes between LSU and Alabama during Nick Saban's tenure in Tuscaloosa.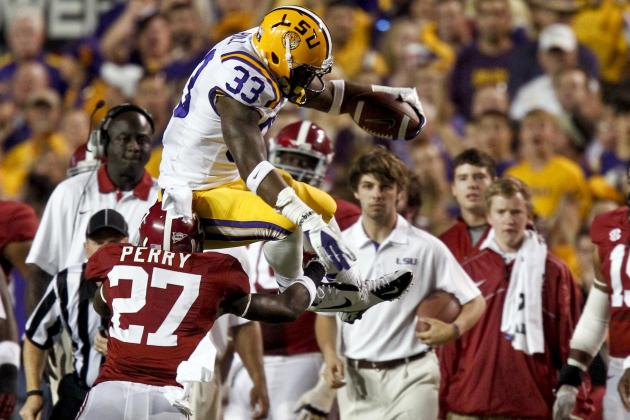 Derick E. Hingle-USA TODAY Sports
Jeremy Hill rose to the occasion last season against Alabama.
Ride Jeremy Hill
Give No. 33 the ball.
Jeremy Hill is LSU's best running back. Backups Kenny Hilliard and Terrence Magee have shown a resurgence recently, but Hill is the prized thoroughbred of the Tigers stable of running backs.
Hill punished the Alabama defense last season, gaining 107 yards on 29 carries. His size takes a toll on a defense.
Alabama has not faced a team that can run inside like LSU. The Tigers' offensive line has run-blocked well the last few games, so look for offensive coordinator Cam Cameron to give Hill at least 20 carries.
Win Special Teams
When two supremely talented teams square off, the squad that makes the fewest mistakes on special teams usually wins.
The Crimson Tide missed four field goals in a 9-6 loss against LSU two years ago. In last season's loss to Alabama, the Tigers missed two field goals, failed to convert a fake field goal and narrowly missed an onside kick.
LSU kicker Colby Delahoussaye missed his first field goal and extra point of his college career against Furman. Delahoussaye suffered a minor injury, but Miles says his first-year kicker should be ready to go on Saturday.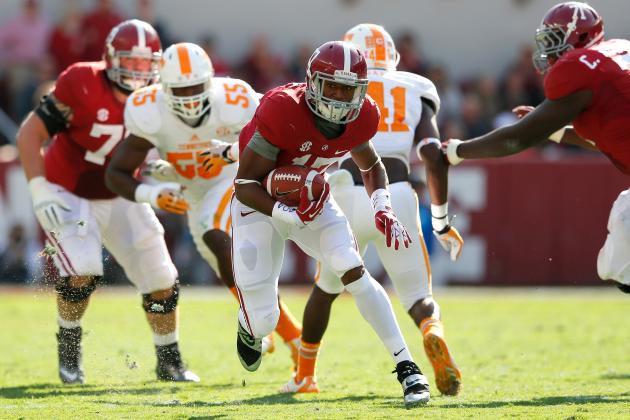 Kevin C. Cox/Getty Images
Alabama's Kenyan Drake has been an effective back behind Alabama's talented offensive line.
Keep LSU's Defense Guessing
Alabama's play-calling against LSU has improved over the years. The Tide have been effective by calling a wide variety of plays to keep the Tigers off-balance.
LSU's defense had its best game against Florida, mainly because the Gators are limited on offense. The Tigers struggled against Ole Miss and Georgia due to the diversity of those teams' offenses.
Last season, the Crimson Tide averaged 6.6 yards per carry against the Tigers mostly through simple runs up the gut. Expect a heavy dose of T.J. Yeldon and Kenyan Drake.
Pass plays were open early, but quarterback AJ McCarron was not sharp until the final drive. McCarron missed a wide-open Amari Cooper early in the second quarter that would have resulted in an easy touchdown.
Offensive coordinator Doug Nussmeier is great at spreading the football around and achieving balance between running and throwing. He will try to use LSU's communication issues and of lack of speed on defense to his advantage on Saturday.
Make Zach Mettenberger Uncomfortable
Nick Saban has not lost to a pocket quarterback since 2008. Saban looks to keep it that way on Saturday.
Saban's reputation for stopping elite QBs has taken a hit the past two seasons. Mettenberger, Johnny Manziel and Aaron Murray have all had some of their best career games against the Crimson Tide.
Look for the Alabama defense to blitz Mettenberger while locking down Odell Beckham Jr. and Jarvis Landry on the outside. Saban knows LSU has had some inconsistency from its other receivers, so the Crimson Tide will force these other players to make plays.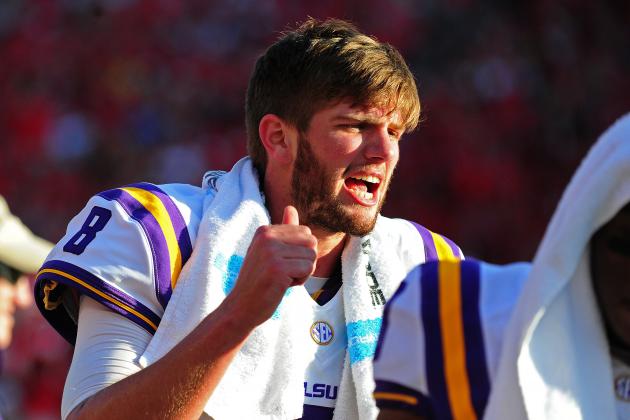 Scott Cunningham/Getty Images
Zach Mettenberger must provide leadership in a hostile Tuscaloosa environment.
Zach Mettenberger
For LSU to win, it will need quarterback Zach Mettenberger to make big plays while making as few mistakes as possible against the best defense in the country.
Sounds easy, right?
Mettenberger has been fantastic this season. He should have some success through the air against an Alabama secondary that has shuffled around bodies a few times this season.
Elliott Porter
LSU center Elliott has the task of making the calls against a talented Alabama 3-4 front.
Porter played phenomenally well against Florida, the last 3-4 front the Tigers faced. If Porter and the LSU offensive linemen can turn Alabama's defensive linemen out of their gaps, then Tiger backs will have running lanes to exploit.
The LSU offensive line has played better at home than on the road. Guard Trai Turner says communicating on the road can be a hassle. Porter, Turner and the rest of the line must battle the rabid crowd in Tuscaloosa.
Anthony Johnson and Ego Ferguson
The LSU defensive line is not as deep as in years past, particularly at defensive tackle.
Anthony Johnson and Ego Ferguson have faded since their hot start to the season, partially due to fatigue. Alabama will want to establish the run early.
Johnson and Ferguson had the bye week to rest up. The duo will need to play the majority of the snaps to help stifle T.J. Yeldon and Kenyan Drake.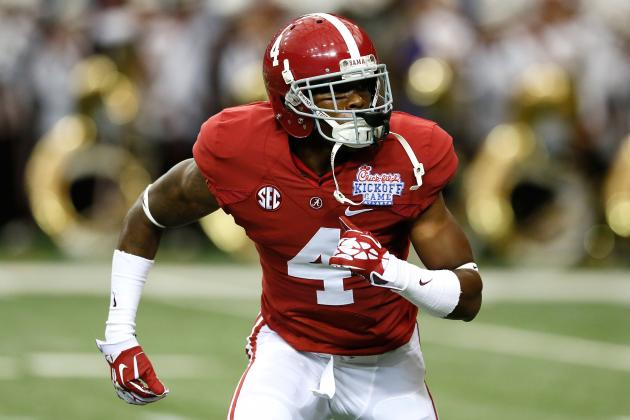 Kevin C. Cox/Getty Images
Alabama cornerback Eddie Jackson has proven to be a versatile weapon for the Alabama defense.
Amari Cooper
Alabama burner Amari Cooper started his sophomore season slow after a stellar freshman campaign. But Cooper looked better in Alabama's last blowout victory against Tennessee with 75 yards and a touchdown.
Cooper and fellow receivers, Kevin Norwood and DeAndrew White, form a mighty trio alongside Alabama's accurate quarterback AJ McCarron. Cooper is the best of the deep threats, and Alabama will take a few shots downfield.
Eddie Jackson
Alabama might have found a gem at corner with Eddie Jackson.
Jackson burst onto the scene with a stellar performance against Ole Miss. He will play opposite Tide corner Deion Belue as the duo tries to shut down LSU's potent receiving tandem of Odell Beckham Jr. and Jarvis Landry.
Beckham and Landry combined for 12 catches, 149 yards and a touchdown last season. The duo is even better this year, and Alabama is without its best corner from 2012, first-round draft pick Dee Milliner.
Jackson and Belue will be asked to play some man coverage, so both need to elevate their play.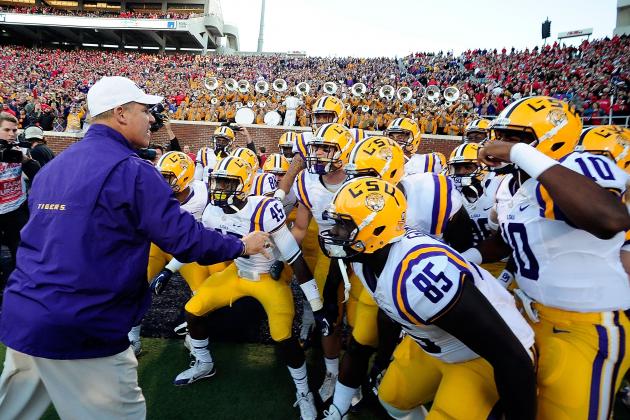 Stacy Revere/Getty Images

LSU running back Jeremy Hill says last year's loss against Alabama has not left his mind, per ESPN.com.
If I had just gotten maybe 4 or 5 [yards], it might have changed the complexion of the game. I was trying to do way too much. You can't do those kinds of things on Alabama. They're way too well-coached, way too assignment sound. So it's just getting what's there. If it's 3 yards on a play, take that 3.
Alabama safety Landon Collins, who as a highly sought-after recruit created a stir by choosing (on national television) the Crimson Tide over his home state LSU Tigers, said playing a team near where he grew up is just like any other game, via Andrew Gribble of AL.com.
It's a big game. It's another game to me...For me, coming from the home state, it's always a big game. But I just take it as another game, another opportunity to be great.
And, LSU head coach Les Miles says balance on offense will be key to helping quarterback Zach Mettenberger against the Crimson Tide defense:
I think our quarterback has to play well. I think we have to have balance, both run and pass, so that it becomes something that he can do routinely or without having to make great plays. And I think that it'll always be balance that allows us to really have the best quarterback play.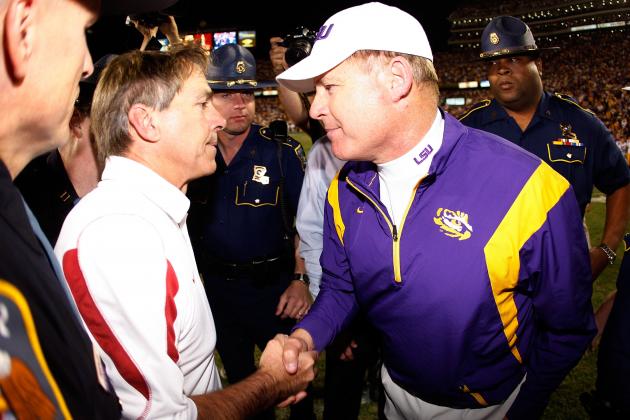 Chris Graythen/Getty Images

LSU has the talent to beat Alabama. But can the Tigers play cohesively on the road against their biggest SEC rival?
LSU has looked below average in earlier conference road games against Georgia, Mississippi State and Ole Miss. Alabama is far better than any of those teams.
Miscommunication has been a big issue for the Tigers on both offense and defense. Calling plays and audibles will become exponentially tougher in a raucous Bryant-Denny Stadium.
Alabama has not been tested in the SEC outside of Texas A&M. The Crimson Tide have not yet this season seen athletes in the trenches like those that LSU boasts.
Red-zone efficiency could decide the game. Alabama shot itself in the foot offensively against the Tigers the last time the two played in Tuscaloosa. The Crimson Tide ran 15 plays inside LSU's 30-yard line, but never once got inside the Tigers' 15-yard line.
With that said, the Crimson Tide have a more complete team and will win the game. Saban will have a better game plan this season to slow down Mettenberger, Hill, Landry and Beckham as the core of LSU's offense has not changed from 2012.
Score: Alabama 29, LSU 20