Bears vs. Packers: Full Roster Report Card Grades for Green Bay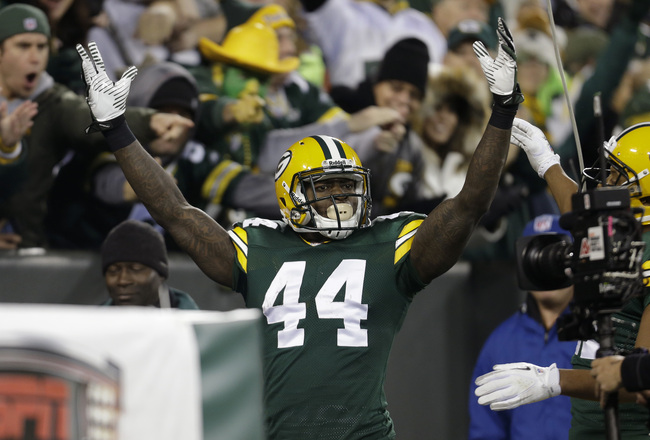 James Starks played one of the better games for the Green Bay Packers on Monday night.
Mike McGinnis/Getty Images
The Green Bay Packers lost to the Chicago Bears in Week 9 and now sit at 5-3 on the season. The loss put the Packers into a three-way tie with the Bears and Detroit Lions atop the NFC North.
While the 27-20 score seems close, the Packers' specific units really struggled throughout the game. In fact, the only unit that earned a decent grade was the running backs.
Both sides of the ball were consistently beat by the Bears, and that is what ultimately brought about the loss for Green Bay. Here's a look at all the positional grades as we hand out our full report card following Week 9.
*All statistics via NFL.com.
Quarterback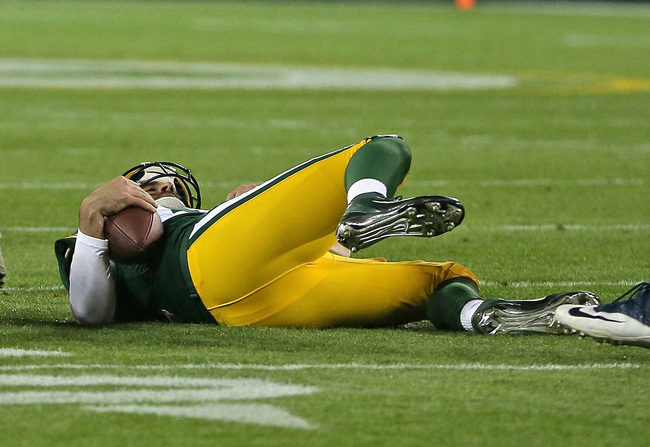 Jonathan Daniel/Getty Images
Key Players: Aaron Rodgers, Seneca Wallace
Rodgers only threw two passes in this game thanks to a shoulder injury on the first drive. That sentence right there should let you know just how bad it was for the Packers quarterbacks on Monday.
Wallace's play in place of Rodgers was less than spectacular. He finished the game with a meager 114 passing yards and an interception. He was also under consistent pressure from the Chicago Bears defensive line.
There were a handful of nice throws from Wallace, but there weren't nearly enough.
Had Rodgers not gotten injured, the Packers would have likely run away with this game. However, with him sidelined for the majority of the game, the Packers lost by seven points.
Final Grade: D-
Running Backs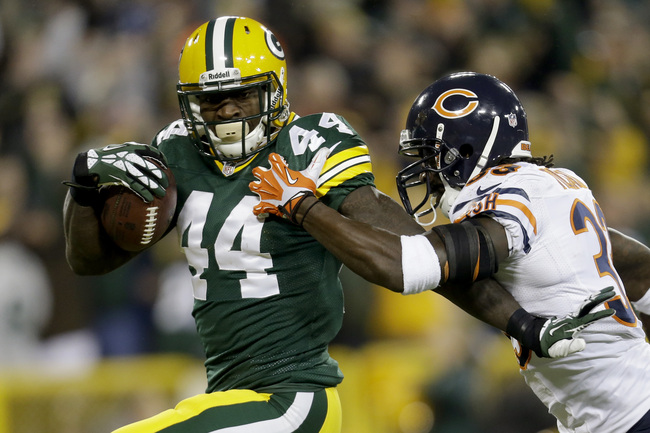 Mike McGinnis/Getty Images
Key Players: Eddie Lacy, James Starks
As we said in the introduction slide, the only unit that played exceptionally well was the running backs.
Lacy and Starks combined for a total of 190 rushing yards on only 28 carries. That's a ridiculous average of 6.8 yards per carry.
The combo also scored the only two touchdowns on the game for the Green Bay Packers. Simply put, had the running backs not played like they did in this game, the Packers would have been absolutely demolished in the loss.
It's hard to give out a perfect grade without winning, but that's exactly what Starks and Lacy deserve.
Final Grade: A+
Wide Receivers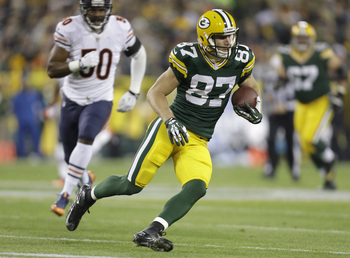 Mike McGinnis/Getty Images
Key Players: Jordy Nelson, Jarrett Boykin, James Jones, Myles White
Despite getting Jones back from an injury that kept him out the past two weeks, the Packers receivers simply couldn't get anything going.
In fact, the only receiver to record multiple receptions was Nelson. He finished the game with four receptions and 67 yards. Jones, Boykin and White all had one reception each for a combined 40 yards.
While some of this poor play was due to the play of quarterback Seneca Wallace, the Packers receivers struggled to get open on a consistent basis. One thing that was clear in this game was how much Rodgers elevates the games of his receiving corps.
Final Grade: C
Tight Ends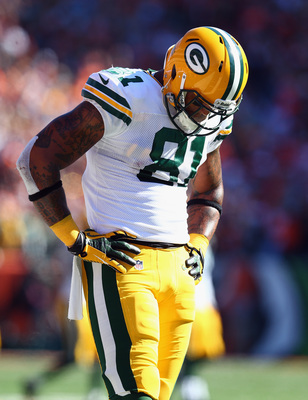 Andy Lyons/Getty Images
Key Player: Andrew Quarless
For the first time all season, Quarless made a number of positive plays for the Green Bay Packers.
He finished the game with a season-high five receptions. Unfortunately, those catches only gained 34 yards for the Packers.
Quarless also managed to play well in the run game, as he consistently opened up holes for the Packers running backs to run through. If Quarless continues to play like he did on Monday night, Green Bay might not miss Jermichael Finley all that much.
Final Grade: B+
Offensive Line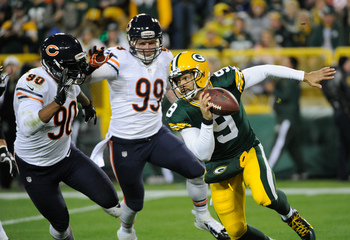 Benny Sieu-USA TODAY Sports
Key Players: David Bakhtiari, Josh Sitton, Evan Dietrich-Smith, T.J. Lang, Don Barclay, Marshall Newhouse
It was an extremely up-and-down game for the Green Bay Packers offensive line this week. The ups came in run blocking, while the downs came during pass protection.
The offensive line opened up holes to the tune of 199 total rushing yards. There were holes big enough for a sloth to run through and pick up positive yards.
However, they also gave up five sacks to the Chicago Bears. Sure, some of those were due to Seneca Wallace struggling in the pocket, but the offensive line was also at fault.
This group has to be more consistent in the passing game if they want to get a better grade next week.
Final Grade: B-
Defensive Line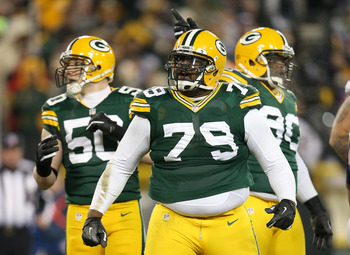 Andy Lyons/Getty Images
Key Players: Ryan Pickett, B.J. Raji, Johnny Jolly, Datone Jones, Mike Daniels
The defensive line has been one of the few units to play extremely good football each and every week. Unfortunately, that wasn't the case in this game against the Chicago Bears.
For starters, the defensive line couldn't get any type of pressure on Bears quarterback Josh McCown. Sure, Jones was credited with a sack, but that came on a broken play where McCown nearly picked up positive yards.
This group also struggled with their run defense, which was extremely surprising. They allowed running back Matt Forte to gain 125 yards and a touchdown.
The entire defense was horrendous on Monday night, and it all started with the play of the defensive line.
Final Grade: C-
Linebackers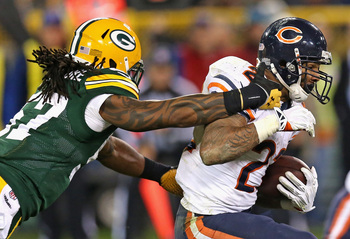 Jonathan Daniel/Getty Images
Key Players: A.J. Hawk, Jamari Lattimore, Andy Mulumba, Mike Neal, Nate Palmer, Brad Jones
Much like the defensive line, it was a rough night for the linebackers of the Green Bay Packers.
They consistently struggled to wrap up opponents, allowing the Chicago Bears numerous yards after contact. This was the case in their run defense and passing defense.
While it was nice to see Jones return from an injury, he merely recorded three total tackles. This unit has been a major strength in recent weeks, but that wasn't the case against Chicago.
When the linebackers struggle like they did on Monday, it'll be hard for the Packers defense to slow anyone down.
Final Grade: D+
Cornerbacks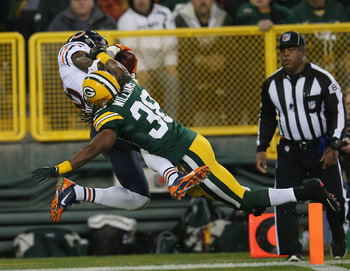 Jonathan Daniel/Getty Images
Key Players: Tramon Williams, Sam Shields, Davon House, Casey Hayward
When Josh McCown is the quarterback you're going up against, you absolutely shouldn't be giving up 272 passing yards and two touchdowns.
This unit was without a doubt the worst of the night for the Green Bay Packers. They couldn't stop the Bears' passing attack throughout the game, making McCown look like an All-Pro player.
The worst part about this unit was their tackling. There were multiple times they could have stopped drives of the Chicago Bears, but a missed tackle from a cornerback allowed the drive to continue.
It isn't often that you see "F" grades given out to units for the Packers, but the cornerbacks absolutely deserve one for their play this week.
Final Grade: F
Safeties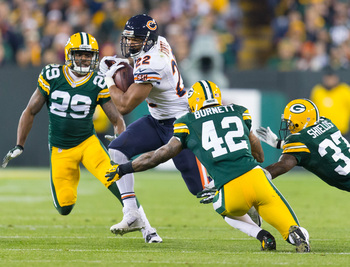 Jeff Hanisch-USA TODAY Sports
Key Players: Morgan Burnett, M.D. Jennings
Of all the defensive units, the safeties played the best on Monday night for the Green Bay Packers. While they still played rather poorly, they weren't nearly as bad as their defensive teammates.
Burnett led the entire team with 10 total tackles against the Chicago Bears, and Jennings added another five of his own. They also did a good job at keeping everything in front of them and not allowing a huge passing play down the field.
There is still major room from improvement for this unit, especially concerning Burnett, but the safeties are far from getting the blame for the loss this week.
Final Grade: C+
Special Teams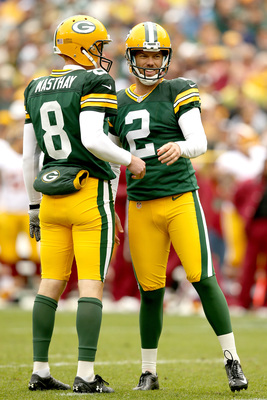 Matthew Stockman/Getty Images
Key Players: Mason Crosby, Tim Masthay, Micah Hyde
Once again, the Green Bay Packers special teams unit was surprisingly solid against the Chicago Bears.
For starters, they kept return specialist Devin Hester in check for the entire game. They also didn't make any mistakes, like we saw earlier in the year from this unit.
However, the big plays from this team came from linebacker Jamari Lattimore. He blocked a punt early in the game that led to a James Starks touchdown and also recovered an onside kick.
Those two plays is why this group gets one of the better grades of any unit this week.
Final Grade: A-
Keep Reading

Green Bay Packers: Like this team?