Chess Grandmaster Took Inmates to School, Beat 10 Players While Blindfolded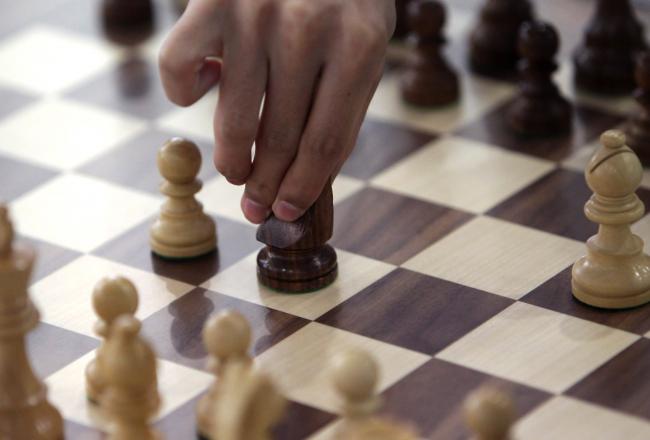 Chung Sung-Jun/Getty Images
Only amateurs play chess with their eyes open.
CBS Chicago (h/t Hot Clicks) reports chess grandmaster Timur Gareev recently beat 10 inmates of the Cook County Jail at the same time in order to teach them about problem solving.
Someone went to the Mr. Miyagi school of teaching lessons, and it's awesome.
The report comes from WBBM Newsradio's Mike Krauser, who profiled the man who ranks No. 3 in the nation at chess. (Audio of the report can be heard at the CBS Chicago website.)
Gareev agreed to play 10 inmates without ever having the benefit of actually seeing the board. The report is careful to point out that the grandmaster was told where pieces were moved when they were moved, but he had to rely on memory to build a mental board for each game.
Two hours later, he bested everyone who dared try him.
Sheriff Tom Dart tweeted out this picture of Gareev giving a lesson to the inmates on the finer points of the game.
Grandmaster Timur Gareev tutoring inmates. Chess teaches them patience & strategy; they're learning from the best. pic.twitter.com/Vrmt4r3rWW

— Tom Dart (@TomDart) November 4, 2013
If you are wondering why a chess phenom was brought to the jail to dominate, Dart started the event as a means to nurture patience and thoughtful actions among his inmates.
Some, like Anthony Wooden, saw the blindfold and scoffed at the possibility they could possibly lose. Keep in mind that Gareev was playing nine other men at the time.
Wooden stated, "I know I can beat him. I've been playing chess since the sixth grade." Unfortunately, the inmate would have to settle for being one of the last two playing Gareev.
As all would find, the mind has a wonderful ability to make the absurd rather attainable. The 25-year-old who was born in Uzbekistan touched upon that very point.
It's kind of almost a visceral sense of the experience that you take in. If you're trying to memorize every single game, all the moves, all the variations, it's quite impossible. But the memory has all the little tricks that makes it easier to create patterns.
In the end, the grandmaster did as he had set out to do. Despite playing just one opponent and having the use of their eyes, each inmate succumbed to patience, critical thinking and mental dexterity.
Dart is doing well to get that point across. A Huffington Post report from last year profiled the inaugural program as it got off the ground.
The big danger Dart is hoping his inmates avert down the road is acting without any thought, something of a paramount danger in chess.
Dart had this to say last year, "We see it day-in and day-out that people want instant gratification and that often individuals do not think before they act. Thoughtless actions will hurt you while playing chess and hurt you more on the street."
Getting whopped on the board by a blindfolded opponent would do the trick in teaching poise over wild anger and agitation.
All of this is to say that if you plan on playing an unfettered Gareev, you stand absolutely no shot. In fact, just ask him to play checkers instead.
Hit me up on Twitter:
This article is
What is the duplicate article?
Why is this article offensive?
Where is this article plagiarized from?
Why is this article poorly edited?