UFC Fight Night 32: Stakes Uncertain for Vitor Belfort, Dan Henderson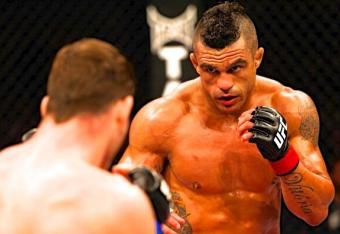 Perhaps the strangest thing about Saturday night's middleweight contender bout between Vitor Belfort and Dan Henderson is that it's being contested at light heavyweight.
Belfort and Henderson have both turned their noses up at 185 pounds recently, each man reluctant to return to his natural weight division unless he's awarded another shot at the title.
Kind of a weird strategy, really.
Granted, both these guys have already been champions at heavier weight classes—Belfort as UFC light heavyweight champ back in 2004, Henderson as the final titlist in Pride's 203-pound "middleweight" division, circa 2007—but at this point they're not fooling anybody. In today's MMA landscape, they both really ought to be middleweights.
Nonetheless, for their UFC Fight Night 32 main event in Goiânia, Brazil this weekend the tandem has entered into a gentleman's agreement common for athletes on the senior circuit, essentially deciding to cut as little weight as possible.
In that regard, this fight is sort of the archetypal headliner for one of the UFC's third-tier events on the new Fox Sports 1 network: It's overseas and features two well-known, though arguably rudderless, fighters with a penchant for fireworks, but in the end it's not totally clear what's at stake here.
With the middleweight title picture on pause until after Anderson Silva and Chris Weidman rematch in Dec. and Jon Jones stacking contenders three deep at light heavy (Glover Teixeira, Alexander Gustafsson, Daniel Cormier) neither Belfort nor Henderson can likely dramatically improve his stock in this fight.
With a two-fight win streak and a couple of highlight-reel finishes on his recent resumé, Belfort is the betting favorite and is clearly closest to the fast track. He's officially the UFC's No. 2 middleweight contender but has already been posterized by Silva and after an early scare lost a one-sided drubbing to Jones, too.
He's screamed for rematches against both guys—often adopting a nonsensical if-I-hadn't-lost-I-totally-would've-won argument—but it's unclear how a win over the slumping Henderson helps his case in either of his preferred divisions.
Neither Jones nor Silva appears to take Belfort's rhetorical strategy particularly seriously and as long as he continues to undergo controversial testosterone replacement therapy treatments (and, possibly related, fight only in Brazil) it's unknown how excited the UFC may or may not be to give him another shot at the gold.
Company president Dana White has seemed more exasperated than anything else with Belfort in recent months and, besides, does the fight promotion really want to take the chance of having a middleweight champion a lot of people think is skirting the rules, not to mention good sportsmanship?
On the flip side, the 43-year-old Hendo is just trying to keep things afloat.
After his Fight of the Year performance in a win over Mauricio "Shogun" Rua at UFC 139, he's lost two straight, both by split decision, both at 205 pounds. He was supposed to fight Jones at UFC 151 but was forced out with a knee injury (and then all hell broke loose) and hasn't been able to force his way back into title contention since.
This is the last fight on his current UFC deal and even though he says he has no plans to call it a career, even an upset win here likely leaves him closer to retirement than another title shot. Henderson has already defeated Belfort once (at Pride 32, in 2006) and while proving he can still do it is obviously preferable to the alternative, it may not do much for him besides stave off the inevitable.
For Belfort, the best-case scenario might be winning this weekend and then putting all his chips on Weidman to retain his title at UFC 168. For Henderson, a loss could be disastrous, but a win likely doesn't add him to anybody's shortlist.
Obviously there's nothing wrong with staging a bout between two dangerous, heavy-handed legends just for the fun of it, but Belfort and Henderson also share the less desirable trait of fading down the stretch when things don't go their way early.
If this fight turns into a long, slow slog it'd be hard to blame fans if at some point they start to wonder what exactly they're watching, and why.
This article is
What is the duplicate article?
Why is this article offensive?
Where is this article plagiarized from?
Why is this article poorly edited?