South Carolina Football: 5 Things Gamecocks Need to Improve During Bye Week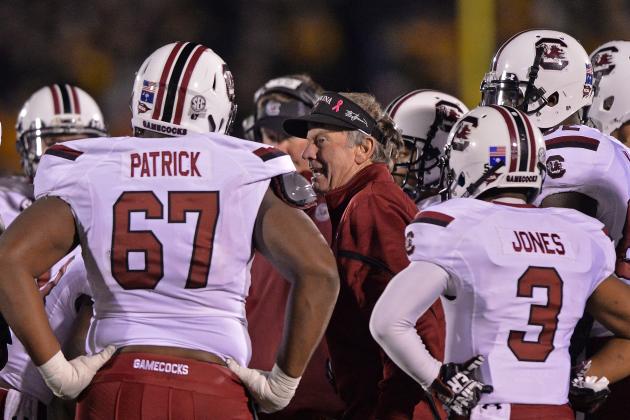 Peter Aiken/Getty Images
South Carolina coach Steve Spurrier and the Gamecocks have an extra week to get ready to play Florida.
Things are looking up at South Carolina.
The Gamecocks (7-2, 5-2 SEC) don't control their own destiny in the SEC East, but they can put themselves in good position with a victory at home over Florida on Nov. 16 in their last conference game of the season.
It doesn't hurt that South Carolina has an off week before playing the Gators.
Trust South Carolina coach Steve Spurrier to know exactly what to do with the extra time. He's 8-2 at South Carolina following a bye week.
Begin Slideshow

»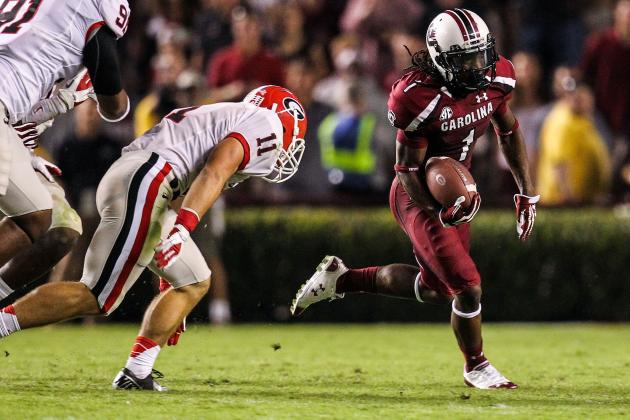 Daniel Shirey-USA TODAY Sports
South Carolina has been struggling all season to find a suitable replacement for Ace Sanders (No. 1) on punt returns.
If South Carolina has had an Achille's heel this season, it has been the play of its special teams.
The Gamecocks have struggled, particularly in punting, punt and kickoff coverage and in the return game.
The one solid performer has been freshman place kicker Elliott Fry, who has made 10 of 12 field goals.
South Carolina looked better on special teams in its 34-16 victory over Mississippi State, but more work is needed and the off week is the perfect time for it.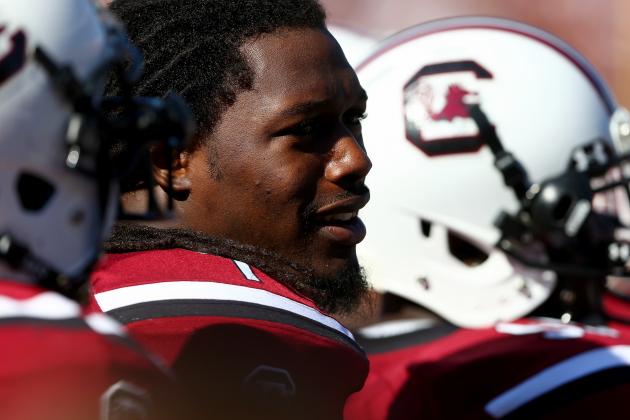 Streeter Lecka/Getty Images
South Carolina defensive end Jadeveon Clowney has come on in recent weeks.
South Carolina's defense has shown steady improvement throughout the season, especially at linebacker.
Meanwhile, South Carolina's star players on defense, most notably defensive Jadeveon Clowney and cornerback Vic Hampton, are playing some of their best football.
Even so, the Gamecocks still have a disturbing knack for giving up big plays.
The off week should help the Gamecocks iron out some of their communication problems on defense.
Mary Ann Chastain/Getty Images
South Carolina offensive line coach Shawn Elliott has gotten the most out of his players this season.
South Carolina coach Steve Spurrier said after his team's victory over Mississippi State that the Gamecocks need to be a little more physical in practice, especially up front.
Spurrier knows the Gamecocks will need to be physical against a Florida defense that has ranked at the top of the SEC in all major statistical categories most of the season.
The off week offers the perfect opportunity to be a little more physical.
The Gamecocks can go hard in practice this week, before backing off and letting the team gets its legs under it in time for this last, critical conference game.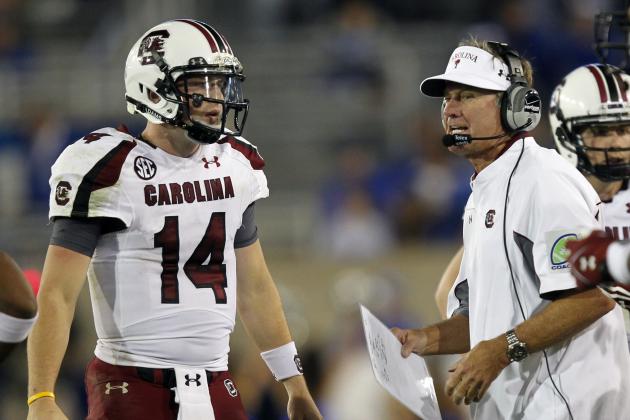 John Sommers II/Getty Images
South Carolina coach Steve Spurrier (right) may add a few plays to quarterback Connor Shaw's arsenal in time for Florida.
Don't be surprised if South Carolina throws a few gimmick plays at the Gators when the two teams meet on Nov. 16 in Columbia, S.C.
South Carolina coach Steve Spurrier has a reputation for calling a well-timed gadget play, especially when he's had an extra week to come up with a few.
Don't expect the Gamecocks to beat the Gators with trick plays. They'll rely on executing what they do best.
However, it would not be a shock if Spurrier delivers a play call or two that winds up on the highlight reels.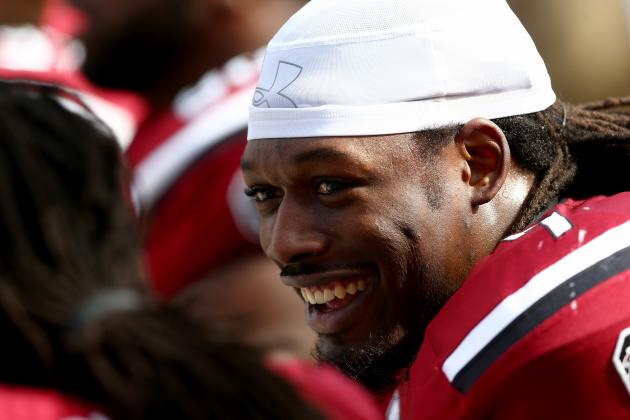 Streeter Lecka/Getty Images
Jadeveon Clowney is one South Carolina player who will value the off week to recover from nagging injuries.
South Carolina has been very fortunate to avoid the major injuries that have plagued other teams, most notably Missouri, Georgia and Florida.
However, the Gamecocks have their share of bumps and bruises and after playing for six consecutive weeks, the break comes at a good time.
Quarterback Connor Shaw (knee sprain) and defensive end Jadeveon Clowney (rib muscles and foot) are among key players who probably welcome some extra recovery time.
In addition, tailback Brandon Wilds, who has been out with a dislocated elbow, is likely to be back close to full strength in time for Florida, giving the Gamecocks some much-needed depth at tailback behind Mike Davis.