Magomed Abdusalamov in Medically Induced Coma Following Brain Surgery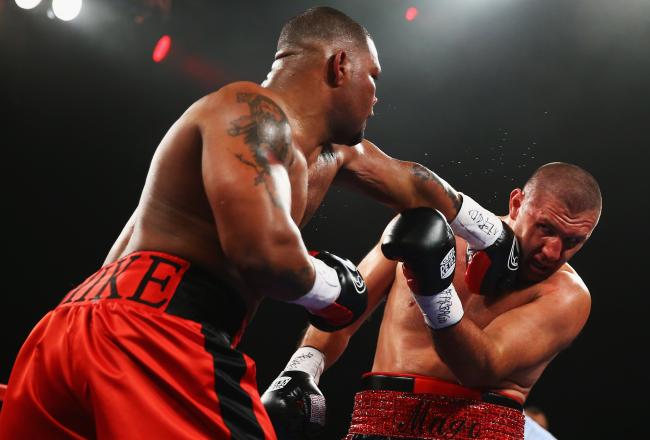 Al Bello/Getty Images
Heavyweight fighter Magomed Abdusalamov was placed in a medically induced coma as he underwent brain surgery following his first career loss to Mike Perez on Saturday night, Nov. 2.
Dan Rafael of ESPN.com reports the Russian southpaw was in stable condition at an intensive care unit within a New York hospital. He originally was getting checked out for a broken hand and nose after the 10-round Madison Square Garden fight when a blood clot was found and needed treatment, according to Nathan Lewkowicz, vice president of Abdusalamov's promoter Sampson Boxing:
He had surgery to have the blood clot taken out and a small piece of his skull removed to allow the [brain] swelling to go down. After the fight he seemed fine, but they took him to the hospital to check him out and because he wasn't feeling so good.
The New York Post is reporting that he may have suffered a stroke.
Updates From Monday, Dec. 9:
Nathan Lewkowicz of sampsonboxing.com provides an encouraging update on Abdusalamov's health:
Just spoke with Mago's Neurosurgeon he's out of the coma and will be moved to a regular room tomorrow. He's awake but not fully aware yet

— Nathan Lewkowicz (@Nlewkow1) December 9, 2013
Updates From Saturday, Nov. 23:
According to a report from ESPN's Dan Rafael, Abdusalamov was placed back in a medically induced coma on Saturday:
Injured heavyweight Magomed Abdusalamov was placed back on a life support machine and returned to a medically induced coma by doctors on Friday night after his temperature rose to 103 degrees, promoter Nathan Lewkowicz of Sampson Boxing told ESPN.com.

It appeared as though Abdusalamov's condition was beginning to improve on Thursday when he began breathing on his own and was removed from life support before doctors took him out of a medically induced coma on Friday.

But a few hours after being roused from the coma, Abdusalamov took a turn for the worse.

"His temperature shot up to 103, so his body wasn't ready yet (to come out of the coma), so they put him back on life support and (into) the medically induced coma," Lewkowicz said. "Terrible setback. No clue when they are trying to bring him out again."
Updates from Monday, Nov. 18:
Mitch Abramson of the New York Daily News reports Abdusalamov remains in a medically-induced coma:
The attempted awakening of brain-damaged heavyweight boxer Magomed Abdusalamov from his medically-induced coma didn't happen on Saturday.

Doctors were hoping to rouse Abdusalamov after he moved his right arm slightly on Friday during a test of his motor skills at St. Luke's Hospital

[...]

But doctors revised that scenario, deciding he wasn't prepared to be taken off life support and stirred from his coma, his promoter, Nathan Lewkowicz said in a phone interview.

[...]

Doctors also removed "vacuum tubing" from his head, an indicator that swelling on his brain has tapered off, Lewkowicz said.
Updates from Thursday, Nov. 14:
According to a report from Lem Satterfield of RingTV, Abdusalamov could be awakened from his coma in the next couple of days:
Lewkowicz said that his father, Sampson Lewkowicz, was at the hospital with family members of Abdusalamov, who "showed some movement in his arms" on Wednesday, as well as favorable results during a CAT scan earlier this week.

"We heard some good news from the doctors that they believe Mago will survive this and will try to wake him up from the coma hopefully by this weekend, probably in about two or three days. It's like a 180-degree turn. It's a miracle that, it seemed, a week ago that he was going to die," said Nathan Lewkowicz.

"Basically, the chance of survival is about 100 percent where the same doctors, a week ago, were saying that he wasn't going to make it. They did a reflex test on him today and he showed some movement in his arms, so that's something that they weren't expecting to see, so that's a huge, huge step in the right direction."
From George Willis of The New York Post:
Just got confirmation Magomed Abdusalamov suffered a stroke and remains in coma on life support. Story to come. #Mago @HBOboxing

— George Willis (@NYPost_Willis) November 6, 2013
From George Willis of the New York Post:
Russian boxer Magomed Abdusalamov remained in stable condition at Roosevelt Hospital on Monday though there are concerns he may have suffered a stroke while being treated for a high temperature.

A source told The Post Abdusalamov suffered the stroke while being treated for a 104-degree temperature.

"That's a possibility but the doctor has to confirm that," said Nathan Lewkowicz, the vice-president of Sampson Boxing, which promotes Abdusalamov.
Original Text
Abdusalamov, 32, was 18-0 with 18 knockouts heading into the encounter with Perez, a fellow undefeated heavyweight. The bout lived up to the billing with both fighters landing some big shots throughout the 10-round slugfest.
It was an extremely valiant effort from Abdusalamov. He was battling several injuries in the latter stages of the fight, including an apparent broken left hand, according to Rafael's report. The Russian came up short on all three scorecards, though, as Perez secured the win late.
Now, the focus shifts to Abdusalamov's health. Lewkowicz told ESPN.com he suffered the hand injury as early as the second round, but the blood clot quickly became a bigger concern after further evaluation:
He was taken to the hospital to make sure he was OK and once he was there they found [the clot]. He thought he broke his left hand in the second round and also thought he had broken his nose at some point in the fight. But the bigger concern once he was at the hospital was the head injury they discovered.
Lewkowicz went on to say the hope is that Abdusalamov will be able to leave the hospital within a couple of days, but stopped short of providing a definitive timetable. The fact he was in stable condition on Sunday is a positive sign.
Last month, Mexican junior featherweight Francisco Leal passed away after suffering a brain injury suffered during a fight with Raul Hirales. Rafael also reported on that incident, which resulted in the loss of a talented young boxer.
The report states Leal had suffered a knockout loss in 2012 that seen him taken out on a stretcher and hospitalized. He eventually returned to the ring, but died after a knockout loss to Hirales.
His promoter, Fernando Beltran of Zanfer Promotions, talked about the tragedy:
"This hurts a lot," said promoter Fernando Beltran of Zanfer Promotions, which put on the card. "We knew that Frankie Leal was a good kid, a great fighter, a warrior in and out of the ring. As a company we took responsibility and tried to save his life as much as humanly possible. Now we are united in the grief felt by his family and his boxing family. We will try to help, whatever is needed."
HBO Sports televised the Abdusalamov fight, and president Ken Hershman released a statement with well wishes for the Russian fighter, as passed along by ESPN:
The thoughts and prayers of all of us at HBO Sports are with Magomed Abdusalamov. We are grateful for the medical care he is receiving here in New York City and out of respect for Magomed and his family, we will wait for any official updates on his condition before making any further statements.
No further updates have been provided about his status at this time.
This article is
What is the duplicate article?
Why is this article offensive?
Where is this article plagiarized from?
Why is this article poorly edited?