MLB Contenders That Might Not Be Able to Fix Big Needs Via Free Agency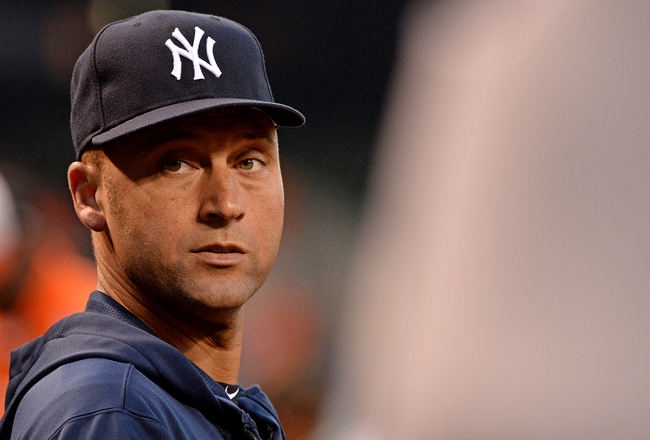 Derek Jeter and the New York Yankees have a lot to be worried about.
Patrick Smith/Getty Images
Unlike most other sports, baseball has an extremely active offseason. The sheer volume of players available via free agency often has the ability to turn a mediocre team into a potential contender.
But for some postseason hopefuls, that's not necessarily the case.
For instance, the New York Yankees already have about $115 million committed to their current roster, despite desperately needing a catcher, second baseman and around three starting pitchers.
The Yankees aren't alone in this mess either. Their divisional rival, the Toronto Blue Jays, spent about 30 percent more on payroll in 2012 but found themselves in the cellar of the AL East. With little financial and roster flexibility, the Blue Jays might not be able to sign productive free agents to better their standing for 2014.
Read on to see all the MLB contenders that might not be able to fix their big needs via free agency this offseason.
All statistics and salary information sourced from Baseball-Reference.com, FanGraphs.com and Cot's Baseball Contracts (via BaseballProspectus.com).
New York Yankees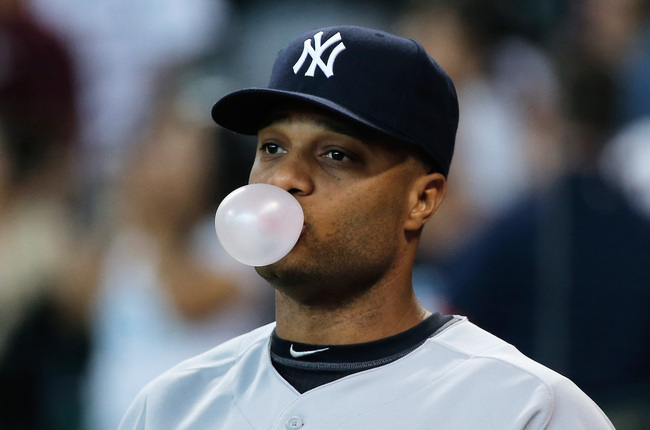 Robinson Cano might be blowing bubbles in a different uniform in 2014.
Scott Halleran/Getty Images
The New York Yankees have a lot of overwhelming roster and organizational holes.
With Robinson Cano set to explore free agency, the Bombers are on the verge of losing their only good, young hitter. Cano posted a .314 batting average, a park-adjusted 145 OPS+, 27 home runs and a 1.2 dWAR in 2013. It's worth noting that the 2013 Yankees finished 16th overall in runs scored and 22nd overall in home runs—and that was with Robinson Cano in their lineup.
Even re-signing Cano to a $250-300 million deal won't solve the Yankees' offensive woes. Aside from Cano, the Yankees' current lineup is clogged with far too many below-average contributors like Vernon Wells, Ichiro Suzuki and Alfonso Soriano, as well as veterans coming off severe injuries in Mark Teixeira, Alex Rodriguez and Derek Jeter.
But the most noticeable void next season will be the one left by closer Mariano Rivera. Rivera has held this role since 1997, but he decided to hang 'em up after the 2013 season. And while David Robertson projects to be an ideal replacement for the future Hall of Famer, the right-hander has never saved more than three games in a given season.
As dominant as Robertson was in the setup role, Yankees relievers posted a combined 3.66 ERA this season, which ranked 20th in the majors. That said, the team's biggest pitching issues are within the rotation, not the bullpen.
Three-fifths of the Bombers rotation will either head to free agency (Hiroki Kuroda and Phil Hughes) or off into the distance (Andy Pettitte). That just leaves C.C. Sabathia, Ivan Nova and perhaps Michael Pineda (if he's ready) as the only guarantees to come back next season.
Sabathia, whom the Yankees signed to a five-year, $122 million contract in October 2011, endured his worst career year in 2013. The 33-year-old tossed a 4.78 ERA (versus a park-adjusted 85 ERA+), 1.37 WHIP and 2.69 K/BB over 211 innings. Given the commitments to Sabathia, Jeter, Teixeira and Rodriguez, it's unlikely that the Yankees will be able to make yet another big-salary acquisition.
The Yankees most glaring shortcoming doesn't have anything to do with the major league roster, however. Despite being highly touted going into 2013, the team's three top hitting prospects, Gary Sanchez, Mason Williams and Tyler Austin, all took steps back in 2013. While Sanchez, a catcher at Double-A, still has plenty of time to mature, the disappointment surrounding outfielders Williams and Austin is massive.
Williams and Austin witnessed their OPS take a .179 and .230 point hit, respectively, in 2013. Their apparent regression not only casts doubt upon their future as a Yankee, but it also might severely reduce their value as potential trade chips, too.
Biggest Needs: Catcher, Second Baseman, Three Starting Pitchers, Veteran Relievers (With Closing Experience)
Kansas City Royals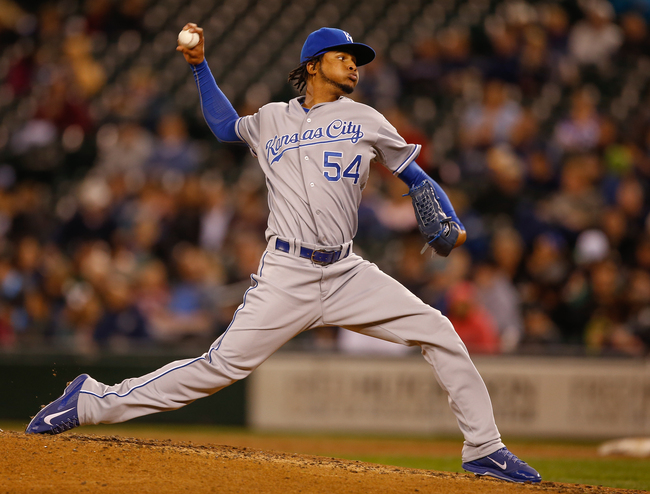 It will be difficult for the Kansas City Royals to replace Ervin Santana's production.
Otto Greule Jr/Getty Images
The Kansas City Royals struck gold last offseason when salary-dump acquisition Ervin Santana emerged as an ace. Santana, now a free agent, will likely spurn the Royals and cash in on his stellar 2013 campaign this offseason.
But it wouldn't be like the Royals to hand Santana a lucrative deal anyway. The organization has yet to sign a player to substantial deal since inking Gil Meche to a five-year, $55 million contract in December 2006.
The Meche disaster was a prime example of how the Royals are forced to overpay for free agents—even ones willing to play for a perennially losing franchise. And while the 2013 Royals finished above .500 for the first time since 2003, in general, big-name free agents are rarely linked to the AL Central franchise.
The Royals stand little chance of netting Matt Garza, Ubaldo Jimenez, Ricky Nolasco or international right-hander Masahiro Tanaka to "fair" contracts, so like the James Shields blockbuster last offseason, the prospect-rich organization might be forced to fill Santana's void via trade.
Biggest Needs: Veteran Starting Pitcher, Second Baseman, Center Fielder, Right Fielder
Los Angeles Angels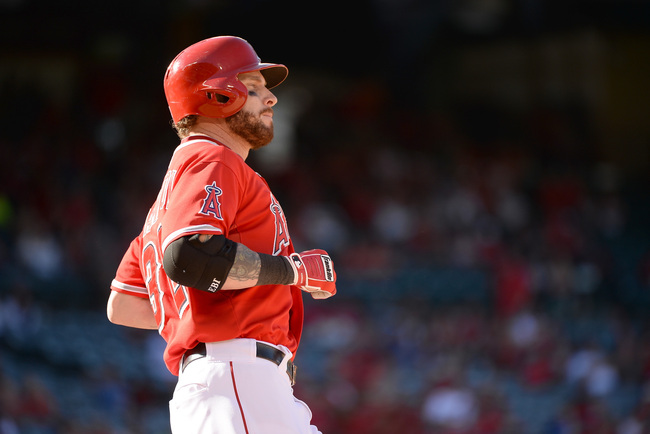 Josh Hamilton appears to be yet another dud free-agent signing for the Los Angeles Angels.
Harry How/Getty Images
The Los Angeles Angels have attempted to improve their offense in the past two offseasons by inking Albert Pujols and then Josh Hamilton to maximum contracts. The only problem is that both players have been duds thus far, and their lofty contracts leave little bank for further supplemental moves via free agency.
Between Pujols and Hamilton, the Angels will be dishing out $50 million to two players who were only worth 3.0 bWAR combined. Even Mike Trout and his 9.2 bWAR wasn't enough to carry the load.
But in many ways, the woes surrounding Pujols and Hamilton are the least of the Angels' troubles. Ironically, dealing Ervin Santana in a salary-dump trade last offseason came back to haunt them. Angels' starters posted a combined 4.30 ERA in 2013, which was the ninth worst in the majors.
So while touted Japanese ace Masahiro Tanaka would be a perfect fit via free agency, the Angels are already committing $70 million next season to Pujols, Hamilton, Jered Weaver and C.J. Wilson. Instead, general manager Jerry Dipoto could dangle Mark Trumbo—and to a lesser extent, Peter Bourjos—to revamp their hurting rotation.
Biggest Needs: Ace Starting Pitcher, Third Baseman, Closer
Toronto Blue Jays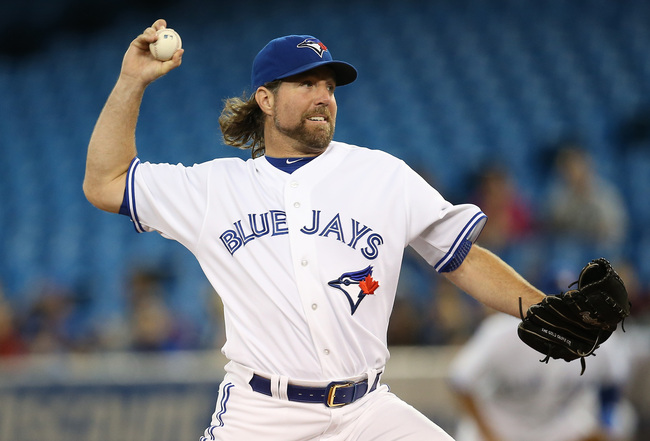 Former Cy Young Award winner R.A. Dickey and his knuckleball were a bit more hittable in 2013.
Tom Szczerbowski/Getty Images
The Toronto Blue Jays were the most active organization last offseason. The team acquired Jose Reyes, Josh Johnson, Mark Buehrle and Emilio Bonifacio from the Miami Marlins, and they also acquired R.A. Dickey from the New York Mets.
But despite adding undeniable talent (and salary) to their roster, the Blue Jays still found themselves in last place for most of the season. In fact, the new pitching trio of Dickey, Johnson and Buerhle helped produce the second-worst rotation ERA at 4.81. Only the Minnesota Twins "bested" them.
Simply put: their current roster needs to play to their true talent level in order to produce more wins. With the team's salary currently sitting at around $120 million—a franchise high—there's little more via free agency that general manager Alex Anthopoulos can do to right the ship.
Biggest Needs: Starting Pitcher, Catcher, Second Baseman
San Francisco Giants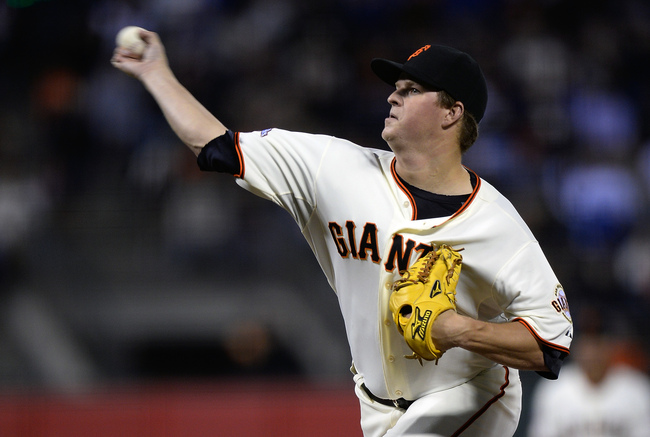 Which Matt Cain will show up in 2014?
Thearon W. Henderson/Getty Images
The San Francisco Giants went from first to worst in 2013. After winning the World Series in 2012, everything went wrong for the Giants this past season.
The biggest drop-off in production came from ace Matt Cain. Cain, who posted a 2.79 ERA (versus a park-adjusted 126 ERA+) in 2012, slumped to a 4.00 ERA (versus an 83 ERA+) in 2013. The Giants' rotation was also affected by an injury-marred season from Ryan Vogelsong. Vogelsong missed June and July with a broken hand, and he only tossed a 4.55 ERA after he returned.
And as predicted, Barry Zito had yet another Barry Zito season, pitching to the tune of a 5.74 ERA (while earning $20 million).
The Giants have already been extremely active in this offseason, re-signing both Tim Lincecum and Hunter Pence to well above-market contracts. But with the Los Angeles Dodgers becoming the New York Yankees of the National League (in terms of finances), the Giants stand little chance of outspending them and thus ousting the Dodgers from a first-place finish in 2014.
Biggest Needs: Starting Pitching
Keep Reading