Andre Villas-Boas faces stern criticism after defying the wishes of Tottenham Hotspur's medical staff, allowing Hugo Lloris back on the pitch following his horror clash with Romelu Lukaku.
The Belgian forward's knee collided with Lloris' face as the keeper chased down a through ball during Spurs' 0-0 draw with Everton, rendering the Frenchman motionless.
UPDATE: Monday, Nov. 4, at 7:38 p.m. BST
SkySports.com had more reaction to Hugo Lloris remaining in the match after a scary collision with Romelu Lukaku in Tottenham's draw vs. Everton:
FIFA's chief medical officer Professor Jiri Dvorak said: "The player should have been substituted. The fact the other player needed ice on his knee means it's obvious the blow was extensive.

"It's a 99 per cent probability that losing consciousness in such an event will result in concussion."

Dvorak later told Sky Sports News that the player's opinion should not have been taken into consideration.

"The opinon of international experts - including myself - is that if there is an obvious concussion, the player should be taken out of any sporting activity and should be medically assessed," Dvorak said.

"If there is a medical problem, the decision must be taken by medical personnel. Particularly with concussion, you don't know if the player is in a state to make the decision by himself. The manager is not aware of the medical background.

"A direct blow of the knee to the skull can lead to bleeding in the skull cavity and this is potentially dangerous. If there is doubt, keep the player out."
---End of update---
UPDATE: Monday, Nov. 4, at 12:25 p.m. BST
From Tottenham's official website:
The club can confirm that Hugo Lloris underwent a precautionary CT scan and was given the all-clear and travelled back to London last night.

The France goalkeeper suffered a knock to the head following a collision with Everton forward Romelu Lukaku in the closing stages of yesterday's Premier League encounter at Goodison Park and was cleared to resume playing after examination by the club's medical team.

Head of Medical Services Wayne Diesel said: "Once the relevant tests and assessments were carried out we were totally satisfied that he was fit to continue playing."
---End of update---
As reported by Sky Sports, Villas-Boas made the call to keep his No. 1 on, despite understanding the severity of the situation:
The medical department was giving me signs that the player couldn't carry on, because he couldn't remember where he was.

That is the situation right now - he doesn't remember the impact.

But he was quite focused and determined to continue, so when you see this kind of assertiveness it means he is able to carry on, and that is why it was my call to delay the substitution.
Despite making it through the rest of the match unscathed, the full extent of Lloris' suspected concussion could not have been fully examined while he was on the pitch.
As reported in the Daily Mail by Jack Gaughan, Laurie Whitwell, Dominic King and Martyn Ziegler of the Press Association, former Liverpool physiotherapist Mark Leather highlights the unknown quantity of such an injury:
It's a risk for managers to take medical decisions on that matter and the more serious the injury the bigger the risk.

The consequences can be drastic, fatal even. You don't really know about internal bleeding for a period of time.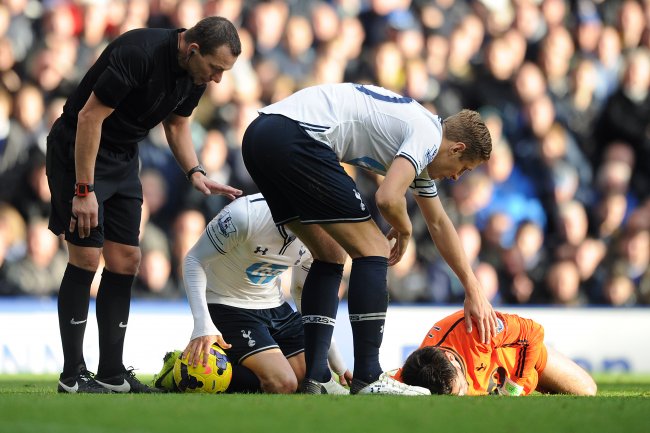 Chris Brunskill/Getty Images
Villas-Boas readied substitute keeper Brad Friedel after the incident occurred in the 78th minute, but Lloris appeared to force his way back onto the pitch after speaking with medical staff and referee Kevin Friend.
The Premier League was home to one of world football's most famous head injuries, sustained by Chelsea goalkeeper Petr Cech in October 2006, as the Czech Republic international clashed with former Reading striker Stephen Hunt in a similar incident.
As noted in Mike Pattenden's Daily Mail report of 2009, Cech flitted in and out of consciousness before deteriorating dramatically. A speedy move to hospital was needed, or else the player may have failed to escape with his life:
He was transferred to the specialist neurosurgical unit at Radcli­e Infirmary, Oxford, at 1am on the Sunday, where two loose pieces of skull were lifted away from the brain and replaced with metal plates. Had they penetrated any deeper he might have died.
Carlo Cudicini, Cech's replacement in the game with Reading, also received a head injury during the match.
While such incidents are rare, they have the ability to set precedent for similar events down the line. Cech's injury—which has resulted in the keeper wearing protective head gear for the rest of his career—resulted in new emergency measures being taken during every Premier League game.
As reported by Darren Lewis of the Mirror in 2012, improved responsiveness helped save the life of former Bolton midfielder Fabrice Muamba, who collapsed during the team's match at White Hart Lane:
Following the Cech incident at the Madejski Stadium, there is now an ambulance at every Premier League game exclusively for the players' use, and every Premier League club has to have a doctor on their bench during matches.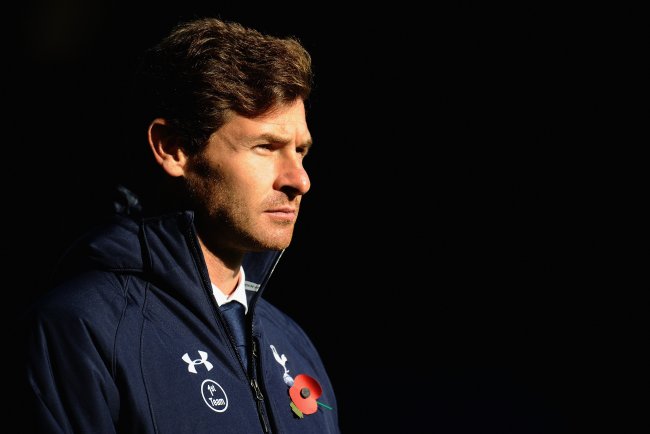 Tony Marshall/Getty Images
While Villas-Boas may have been working with the best interests of his team at heart, the Portuguese manager failed to put the long-term safety of his player first—something condemned by Headway, a charity that specialises in head injuries, per Sky Sports' Twitter account:
Brain injury charity Headway brand Tottenham's decision not to substitute Hugo Lloris following concussion "dangerous & irresponsible" #SSN

— Sky Sports News (@SkySportsNews) November 4, 2013
Fans watching at home and in the stadium will have been mightily relieved to witness Lloris contributing to the match after colliding with Lukaku, but in the aftermath of AVB's decision, many will question whether he should have carried on.
Marine Lloris, Hugo's wife, tweeted thanks for support and confirmed her husband was fine hours after the match:
Thank you so much for your support . hugo is fine #badday

— marine lloris (@marinelloris) November 3, 2013
Spurs' draw leaves them five points off the pace in the Premier League, currently occupying that all-important fourth spot.
Meanwhile, the Goodison Park stalemate also has Everton sitting comfortably in seventh, just one point behind their latest opponents.
In fairness to Lloris, he made a crucial save after returning to the pitch, rushing out to deny Gerard Deulofeu. However, Villas-Boas is now likely to face a week of questioning as to whether the point gained was worth his controversial call.