Bellator 106: Does Muhammed 'King Mo' Lawal Have the Lowest Fight IQ in MMA?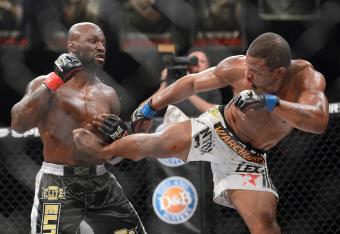 Jayne Kamin-Oncea-USA TODAY Spor
MMA fans who predicted the rematch between Muhammed "King Mo" Lawal and Emmanuel Newton were almost certainly on the same page. King Mo would look to use his wrestling more, while Newton would seek to avoid the takedown.
In the early going of their Bellator 106 matchup on Saturday, that appeared to be the case. Lawal came out and utilized his superior wrestling en route to an easy 10-9 round. However, it would be the last time Lawal was the clear-cut winner of any round.
It was strange to see him abandon his wrestling game after seemingly finding it once again with his recent victories. Sure, Lawal still mistook himself for the next Floyd Mayweather at times, but in the end he still relied on his wrestling base, which—if you look at his credentials—is among the best in MMA today.
There was hope we'd see King Mo use his talents as the Bellator cameras showed him warming up. He appeared to be looking to close the distance off missed attacks. Even Bellator's Jimmy Smith hyped up Lawal's wrestling credentials by proclaiming that he could have achieved great success on the international level in wrestling.
I'm not "in the know" of the international wrestling scene enough to know whether this was hyperbole or a fact, but I do know King Mo was a pretty good collegiate wrestler.
Apparently the one man who doesn't know King Mo is an accomplished wrestler or enjoyed an immense grappling edge over Newton is Lawal himself.
After the first round that saw Lawal land three of his four takedown attempts along with some nice strikes on the ground, he attempted only nine more takedowns. Many of them were half-hearted attempts, and one of them was a reaction to getting rocked by a head kick from Newton.
Lawal also landed only a single strike on the ground after the first round. That's right, one total strike on the ground in 20 minutes of fighting.
Now it would be one thing if Lawal was dominating Newton on the feet, but as the CompuStrike stats show, Newton edged him out in the stand-up as well. It should be noted that only two minutes and 47 seconds of the 25-minute fight were spent on the mat.
You could see the frustration on the part of Lawal's cornerman, Roy Nelson, as he urged Lawal to stop messing around and put Newton away. That never happened, and for as much trash talking both sides did coming into the bout, the actual fight looked like a sparring session in any local MMA gym.
Lawal has fallen into the trap of loving the knockout. We've seen a number of talented wrestlers avoid their grappling game in favor of the knockout, and why not—it's a lot easier to knock a fighter out in MMA than to grind out a fight with takedowns.
But when Lawal completely ignores his best asset, his camp needs to address it. It's one thing if he's dropping people with one-punch, vicious KO power, but Lawal shouldn't be struggling to beat guys like Newton.
Or maybe we've simply overrated Lawal as a fighter? He does have only one win over respectable competition after all, and even that fight was marred in controversy as Gegard Mousasi arguably won with his activity from the bottom.
Or maybe the knee injuries took a lot out of him in his grappling game? Lawal badly injured his knee in his loss to Rafael Cavalcante and took some time to return to the fight game. Look no further than Mauricio "Shogun" Rua as an example of how knee injuries can affect a fighter's ability in the cage.
I'm not sure what it is, but I do know none of that affects a man's fight IQ. It's the same as Tom Brady attempting to run a read-option play; yes, it's different, but it takes away from his biggest asset. Instead of trying to be flashy and look for a one-punch KO, Lawal (and his career) would be better served by winning impressively.
To do that he has to go back to his roots and capitalize on his wrestling game—an area he'll enjoy an advantage in against nearly everyone he'll meet inside the Bellator cage.
This article is
What is the duplicate article?
Why is this article offensive?
Where is this article plagiarized from?
Why is this article poorly edited?