10 All-Time NHL Greats Who Acted as Their Own Enforcer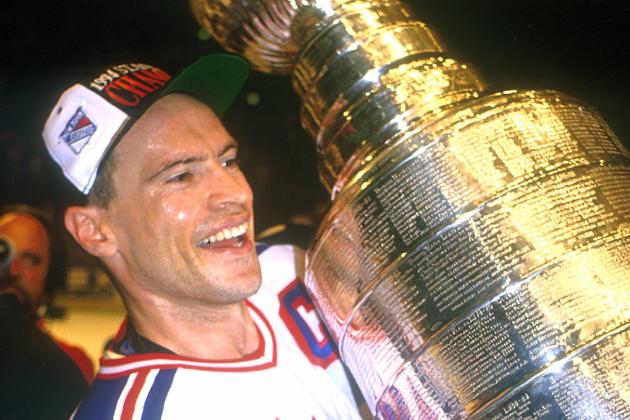 Steve Babineau/Getty Images

One of this year's hot topics around the NHL is whether it's time to do away with fighting. Perhaps the idea of a superstar needing a rough-and-ready wingman to keep him safe is beginning to fade away.
Of course, not all stars have relied on somebody else to do their dirty work. Dating all the way back to the World War II, hockey has had an abundance of top scorers who have been more than happy to drop the gloves or throw an elbow when necessary.
Plenty of other stars warranted consideration for this list—even a finesse player like Bobby Orr defended himself from time to time.
Here's a look at 10 of the best of all time who gave as good as they got, including eight Hall of Famers. The listed is ordered by the number of Stanley Cup rings for each player.
Begin Slideshow

»
NHL Games Played: 978
Position: Right Wing
Career Stats: 544-421-965
Penalty Minutes: 1241
Stanley Cups: 8
Inducted into Hockey Hall of Fame: 1961
Maurice "Rocket" Richard was such an offensive force that the NHL awards a trophy in his name to its goal-scoring champion each season. He was the first player to score 50 goals in 50 games and won eight Stanley Cups during his years with the Montreal Canadiens.
The 5'10", 180-pound Richard was not afraid to defend himself, and despite his profile, officials didn't always look the other way. Richard averaged 1.26 minutes in penalties per game throughout his career.
Most noteworthy, as the clip above explains, was the infamous Rocket Richard Riot of 1955—touched off when the star got physical during a violent altercation that included Richard hitting a linesman. The league threw the book at Richard, suspending him for the rest of the regular season and the playoffs—and mayhem ensued on the streets of Montreal.
They don't talk about that part at the NHL Awards.
NHL Games Played: 1756
Position: Center
Career Stats: 694-1193-1887
Penalty Minutes: 1910 - 61st all-time
Stanley Cups: 6
Inducted into Hockey Hall of Fame: 2007
Wayne Gretzky was always known for having Marty McSorley at his side to give him time and space on the ice, but Mark Messier needed no such wingman. He just needed his sharp elbows.
During his time in Edmonton and New York, Messier was as renowned for his mean streak as he was for his leadership skills and his wrist shot. Messier was an ultra-valuable player because he could do it all.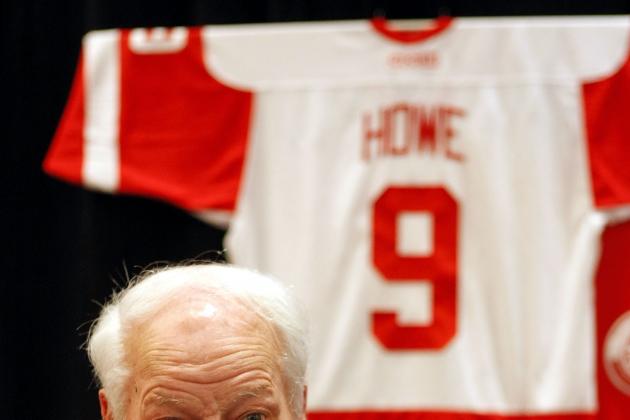 Dave Sandford/Getty Images

NHL Games Played: 1767
Position: Right Wing
Career Stats: 801-1049-1850
Penalty Minutes: 1685 - 91st all-time
Stanley Cups: 4
Inducted into Hockey Hall of Fame: 1972
These days, Gordie Howe seems like a charming older gentleman when he makes appearances at NHL events. When he played, however, Howe and his Detroit Red Wings were fearsome competitors who took no prisoners.
Like Messier, Howe's elbows were legendary—and could do damage. He also took the body and wasn't afraid to drop the gloves.
Rocket Richard has a goal-scoring trophy named after him, but a "Gordie Howe Hat Trick" is awarded when a player records a goal, an assist and a fight in the same game. Howe's toughness is very much a part of his legend.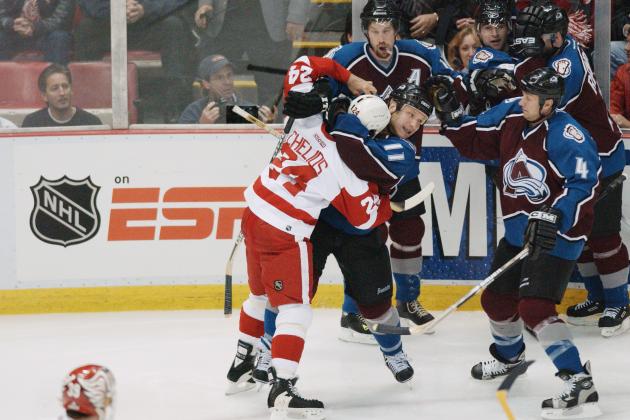 Dave Sandford/Getty Images

NHL Games Played: 1651
Position: Defense
Career Stats: 185-763-948
Penalty Minutes: 2891 - 12th all-time
Stanley Cups: 3
To be Inducted into Hockey Hall of Fame: 2013
If you're looking for a "mean gene" in former NHL players, there was no one meaner than Chris Chelios.
In a long career that stretched from 1983 to 2010, Chelios averaged 1.75 penalty minutes per game and wasn't afraid to use his fearsome reputation to make opponents stand down.
Even when he was winning Stanley Cups, "Cheli" always had his game face on.
NHL Games Played: 1524
Position: Left Wing
Career Stats: 656-698-1354
Penalty Minutes: 2489 - 22nd all-time
Stanley Cups: 3
To be Inducted into Hockey Hall of Fame: 2013
One of the reasons Brendan Shanahan is well-qualified to be director of player safety is because he was often in the middle of it during his 24-year NHL career.
Shanahan tallied nearly a point-per-game on the road to three Stanley Cups, but he also managed an average of 1.63 penalty minutes a game.
The video above shows a 2001 fight between Shanahan and current Pittsburgh Penguins' coach Dan Bylsma. I wonder who the two feel about each other during their interactions today?
NHL Games Played: 1635
Position: Defense
Career Stats: 196-702-908
Penalty Minutes: 2785 - 14th all-time
Stanley Cups: 3
Inducted into Hockey Hall of Fame: 2007
During the 1990s and the first part of the new millennium, Scott Stevens formed one of the NHL's best defensive pairs as the stay-at-home guy next to smooth-skating Scott Niedermayer.
Stevens' calling card was his thundering open-ice hits, which sometimes dropped the game's biggest stars. He had no objection to defending himself when opponents took exception to his checking.
Eric Lindros and Stevens are forever linked by some of those hits, which almost certainly played a role in Lindros' early retirement. The video above shows the pair's first-ever fight against each other during Lindros' rookie season.
NHL Games Played: 1224
Position: Left Wing
Career Stats: 438-471-909
Penalty Minutes: 2560 - 19th overall
Stanley Cups: 1
Now known as a fitness guru for junior hockey and NHL players, Gary Roberts was always fearsome, especially during his early playing days.
With a background in lacrosse as well as hockey, Roberts wasn't afraid to use his stick or his body to get where he wanted to be. He won a Stanley Cup in Calgary in his third NHL season, then scored 53 goals a few years later. During that same stretch, he was regularly logging more than 200 penalty minutes a year.
With that kind of intensity, it's no wonder that Roberts' body wore out early in his career. After missing the better part of three seasons, his intense training regimen allowed him to come back and play for more than 10 additional seasons before finally hanging up skates for good.
Even in his golden years, Roberts was not a player to be messed with.
NHL Games Played: 1068 and counting (still active)
Position: Defense
Career Stats: 146-336-552
Penalty Minutes: 1551
Stanley Cups: 1
The biggest body in the history of the NHL knows how to use it to augment all parts of his game.
At 6'9", Zdeno Chara is a fitness freak who has long-possessed the league's hardest shot. He's a formidable offensive force on the power play and a strong defensive presence with his hitting and checking.
He's too important to the Bruins to fight often, but handles himself well when he does. In the game featured in the video above, Chara had a Gordie Howe Hat Trick—a goal, an assist and this fight.
NHL Games Played: 726
Position: Right Wing
Career Stats: 395-299-694
Penalty Minutes: 1241
Stanley Cups: 1 (as Boston Bruins President)
Inducted into Hockey Hall of Fame: 2005
The term "power forward" may have been invented for Cam Neely.
Steamrolling down right wing for the Boston Bruins, Neely was a three-time 50-goal scorer who could hit and fight with the best of them.
A debilitating hip injury cut Neely's on-ice career short, but he embodied the Big Bad Bruin image so completely that he remains the team's president to this day.
NHL Games Played: 1407
Position: Center
Career Stats: 323-697-1020
Penalty Minutes: 3563 - 2nd overall
Stanley Cups: 0
There are plenty of NHL players who have combined strong hockey skills with a mean streak, but the top 10 penalty list is mostly filled with guys who were known for one thing: fighting. You generally don't think of pretty goals when you hear names like Tiger Williams, Bob Probert, Tie Domi or Marty McSorley.
The exception sits in second place. Though he never won a Stanley Cup, Dale Hunter was a complete NHL player who has evolved into one of the best coaches in junior hockey.
Hunter's probably best-remembered as a player for his 21-game suspension for hitting Pierre Turgeon after a goal in the 1993 playoffs, but he lasted 20 years in the league thanks to his strong two-way play. He was a nine-time 20-goal scorer and averaged close to a point a game in his best years—as well as a stunning 2.53 penalty minutes per game over his career. He's the only player in NHL history to amass both 1,000 points and 3,000 penalty minutes.
Hunter had plenty of enemies. He took care of himself with his fists and his skills.
Thanks for reading me. Follow me on Twitter for lots more NHL news.