Atlanta Hawks vs. Los Angeles Lakers: Live Score and Analysis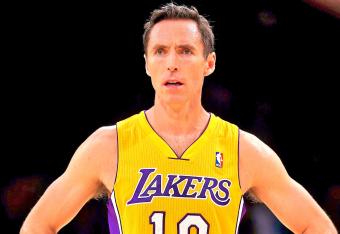 The Los Angeles Lakers hosted the Atlanta Hawks on Sunday night with each team seeking its second win. The Lake Show reeled off a fine first half and jumped out to a 62-49 advantage at the break, but the Hawks mounted a furious comeback and tied the game in the final minute. A crucial blocking call with six seconds remaining was followed by a pair of free throws and then a blocked shot from Pau Gasol, who ensured a 105-103 victory.
Gasol finished with 16 points and 13 rebounds to lead the Lake Show. Kyle Korver dropped 22, going 6-of-6 from downtown, and Al Horford tallied 12 and 16 for Atlanta.
D'Antoni on why Gasol was sitting for as long as he did: "I thought he lost his steam...the air went out of the balloon."

— Arash Markazi (@ArashMarkazi) November 4, 2013
The story of this game may boil down to Mike D'Antoni keeping Gasol and Nash on the bench too long and almost blowing the lead they had for nearly the entire game. In the end, they both provided enough veteran savvy to keep Farmar from losing the game, and Gasol iced it with two clutch free throws and a blocked shot on the red-hot Korver.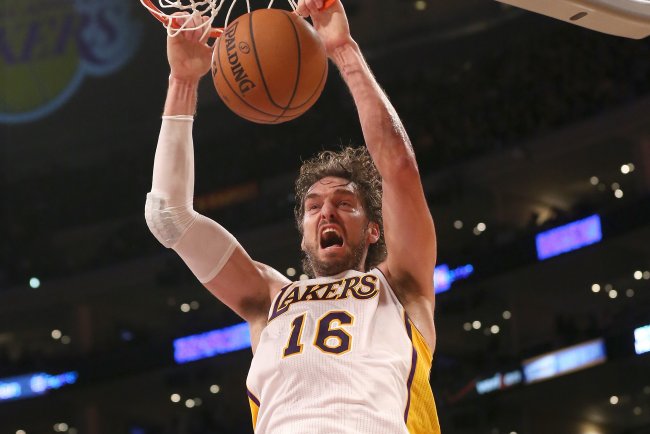 Stephen Dunn/Getty Images
Lakers Leaders:
Xavier Henry: 18 PTS
Pau Gasol: 16 PTS, 13 REB, 2 AST, 3 TO
Steve Nash: 13 PTS, 6 AST, 0 TO
Nick Young: 13 PTS, 4 AST
Chis Kaman: 10 PTS, 5 REB
Wesley Johnson: 9 PTS, 7 REB, 3 BLK
Steve Blake: 3 PTS, 7 AST, 5 REB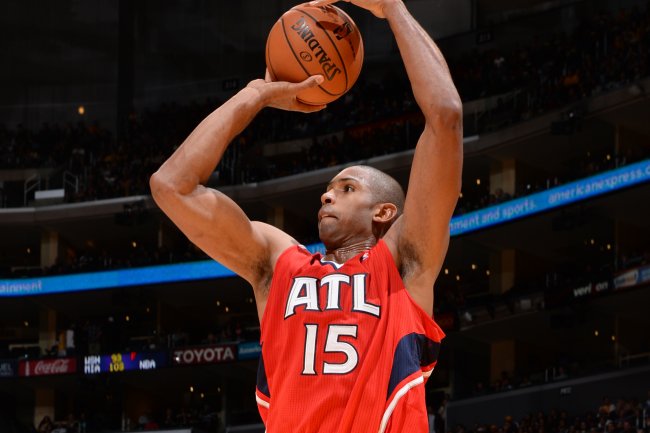 Andrew D. Bernstein/Getty Images
Hawks Leaders:
Kyle Korver: 22 PTS, 6-of-6 3PT, 4 AST, 2 STL, 1 BLK
Al Horford: 12 PTS, 16 REB, 2 STL, 1 BLK
Jeff Teague: 14 PTS, 6 REB, 4 AST, 2 STL
Paul Millsap: 14 PTS, 7 REB, 4 AST, 1 STL, 1 BLK
Mike Scott: 13 PTS, 5 REB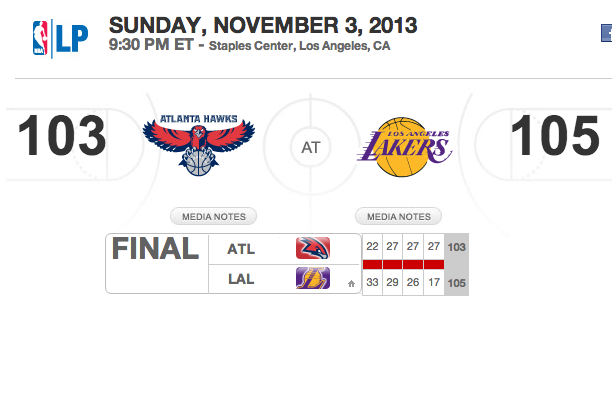 Gasol made the two big plays to win the game, drawing the foul, then swatting Korver's attempt at a game-winning three.

— Mike Trudell (@LakersReporter) November 4, 2013
It's a disappointing end for the Hawks who played a great fourth quarter. They had six seconds to work with, but Korver hoists up the shot over two defenders and has it blocked by none other than Pau Gasol. The clock runs out on Atlanta's comeback and the Lakers eke out a victory.
Lakers 105, Hawks 103 — FINAL
OK, so Nash and Gasol should be part of the Lakers' "closing unit." Glad we got 2/5 of it out of the way.

— Arash Markazi (@ArashMarkazi) November 4, 2013
The Spaniard was cool as a cucumber and he drains both foul shots. Good to have the veteran Gasol shooting those.
Lakers 105, Hawks 103 — 0:06 remaining in fourth quarter
Refs called blocking on the floor, but it looks like it could be a charge. The review takes approximately five hours, but they uphold the blocking call. Gasol gets a pair of free throws for the lead.
Good Jordan Hill: digs out rebound off a bad Pau Gasol shot.

— J.A. Adande (@jadande) November 4, 2013
Gasol is short on the shot but Hill gets another offensive rebound! The Lakers could have held for the final shot, but Nash dishes to Gasol again and he flattens Paul Millsap as he tries to feed it to Hill, who is always standing under the basket. Why on earth didn't Gasol shoot that?
Refs whistled it, now huddling and reviewing whether he was in the restricted area. This call could decide the game.
Lakers 103, Hawks 103 — 0:05 remaining in fourth quarter
Paul Millsap calmly drains a smooth jumper from the elbow to pull the Hawks even with LA. Honestly, what's not to like about Millsap?

— Ben Johnson (@BenJohnsonTDP) November 4, 2013
The Lakers are ice cold, but you know who isn't? MILLSAP! He ties the game with the jumper from the elbow. Worth every penny in free agency, in hindsight. What's not to like, indeed.
Lakers 103, Hawks 103 — 0:35 remaining in fourth quarter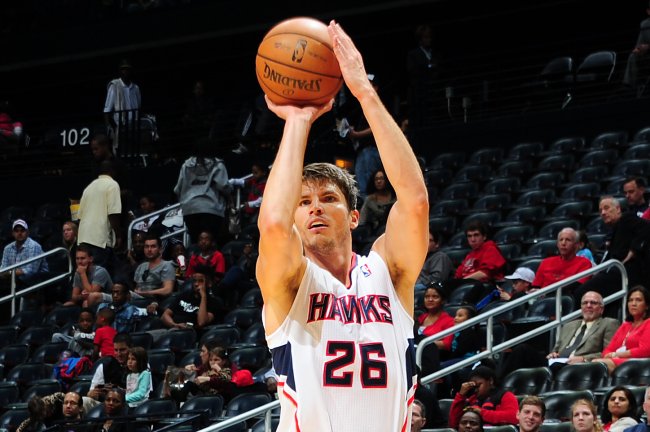 Scott Cunningham/Getty Images
Korver with another triple to pull the Hawks closer! And seconds later, Horford called for the backcourt violation. Oh dear. Hawks right there though.
Lakers 103, Hawks 101 — 1:00 remaining in fourth quarter
The Hawks just got two stops in a row but allowed two offensive rebounds. ATL coach Mike Budenholzer is losing hair by the minute.
The Hawks will really wish they were not 14-of-26 from the charity stripe tonight.
Really good travel call on Horford, sliding that left foot on the drop step to baseline

— BBALLBREAKDOWN (@bballSource) November 4, 2013
Oh, tough call there. Horford drains the 12-footer but gets whistled for traveling. They are calling tons of those this year. Beware.
Lakers 100, Hawks 96 — 2:35 remaining in fourth quarter
Kyle Korver is 5-of-5 from three-point range. I repeat, L.A. Lakers, Korver is 5-of-5! You may want to cover him.
REGULAR SEASON TEAGUE

— Hardwood Paroxysm (@HPbasketball) November 4, 2013
Jeff Teague strips the ball away from Jordan Hill and goes the length of the floor to lay it in uncontested! Pulses quickening at STAPLES Center.
Lakers 99, Hawks 96 — 3:26 remaining in fourth quarter
Devastating mistake for the Lakers and Hill as Blake can't decide who takes the rebound. It pops out to Atlanta and Korver drains another trey. Time to bite your nails, Lakers fans.
Lakers 98, Hawks 94 — 3:57 remaining in fourth quarter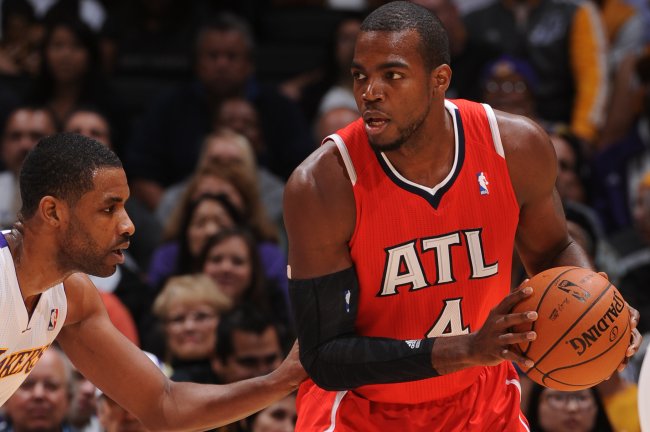 Andrew D. Bernstein/Getty Images
The Hawks are feeding Millsap in the post and perhaps he heard about what I just wrote. He goes to work on Shawne Williams down low and gets the and-one. Williams fouls out of the game after 18 minutes on the floor. Hawks up 14-8 in the fourth quarter so far as Millsap heads to the line.
Lakers 96, Hawks 90 — 5:39 remaining in fourth quarter
Hawks update: Millsap and Teague are shooting 7-of-21 from the floor. ATL is still right there, however
Lakers 94, Hawks 88 — 6:07 remaining in fourth quarter
Lakers bench mob, especially Farmar and Johnson, are shooting the ball like the Lakers are playing from behind. What's the rush, fellas? Erratic Lakers shooting is leaving the door open.
Lakers 92, Hawks 87 — 7:09 remaining in fourth quarter
Schroder just put up a beautiful floater, but he missed the rim and backboard by two feet. The Hawks must keep their foot on the gas pedal and play tough D. Horford and Teague still on the bench for now.
Lakers 92, Hawks 83 — 8:40 remaining in fourth quarter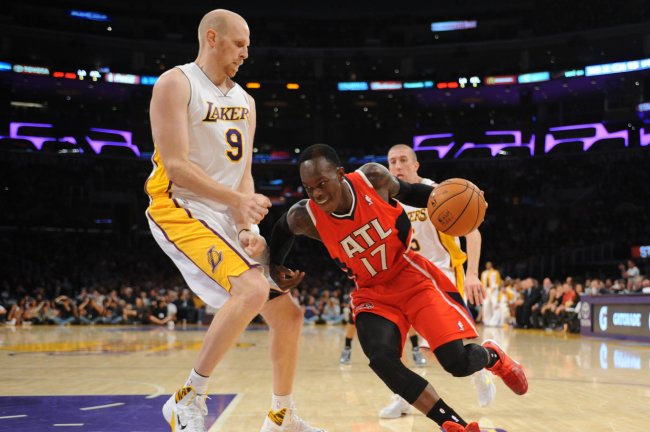 Noah Graham/Getty Images
Jordan Farmar just committed four turnovers in three minutes. That's how you lost a double-digit lead.
Meanwhile, rookie Dennis Schroder just drove the lane and displayed some beautiful athleticism to get to the rack. He's already got four points in the fourth.
Lakers 90, Hawks 83 — 10:16 remaining in fourth quarter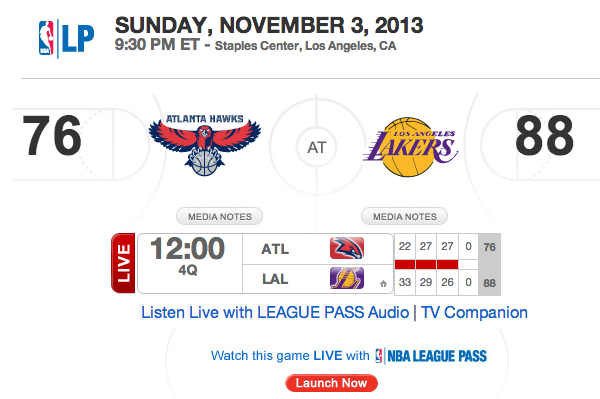 And a seesaw third period comes to a close with the Hawks unable to make up any significant ground. They had trimmed the deficit to seven but could not sustain a run at the Lakers.
Lakers 88, Hawks 76 — end of third quarter
ATL just cannot get a stop or capitalize off the rare Laker misses. Someone will have to take over the game, and it's a toss-up between Jeff Teague and Cartier Martin in my book. Or Korver could just hit five straight threes.
Lakers 88, Hawks 71 — 1:42 remaining in third quarter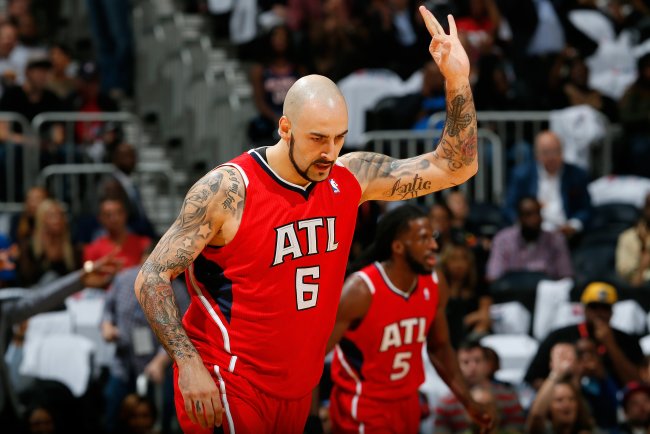 Kevin C. Cox/Getty Images
Atlanta has a guy named Pero Antic. He looks like the lovechild of Carlos Boozer and Chris Anderson.
The Hawks had trimmed it to a seven-point game, but the Lakers respond with an 8-2 run. It's the Wes Johnson and Chris Kaman show now for the last couple of minutes. Really? Yes, really.
Lakers 80, Hawks 67 — 4:47 remaining in third quarter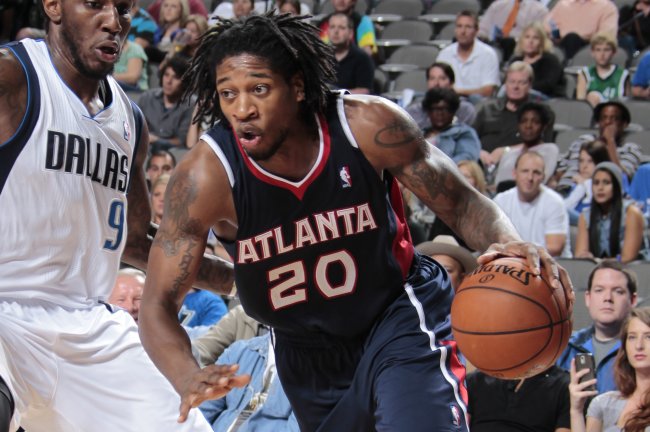 Danny Bollinger/Getty Images
Cartier wristwear with diamonds in 'em! The quasi-Frenchman from Crockett, Texas drains a triple, his third of the game, and he slashes the deficit to single digits.
Lakers 72, Hawks 63 — 6:28 remaining in third quarter
This article is
What is the duplicate article?
Why is this article offensive?
Where is this article plagiarized from?
Why is this article poorly edited?