Anthony Davis vs. Kyrie Irving: Which Young NBA Star Is Better Building Block?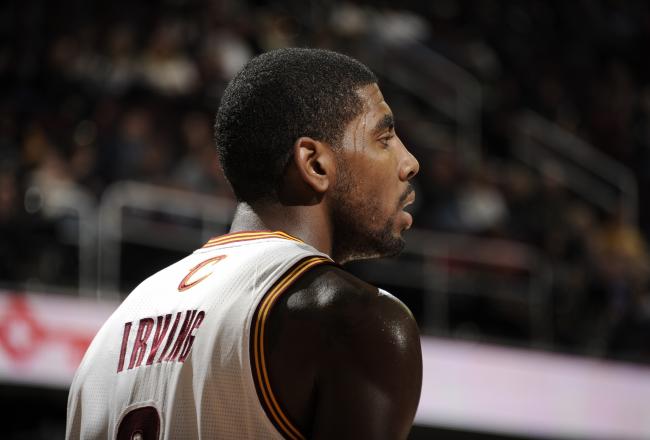 David Liam Kyle/Getty Images
Nothing is more difficult than rebuilding in the NBA. But Anthony Davis and Kyrie Irving are making the transition period bearable for their respective teams.
Typically, starting over means a team must endure protracted losing. Those who aren't the Los Angeles Lakers and New York Knicks, among a few others, must gamble on franchise-altering prospects in the draft, many of which don't always pan out.
Sometimes, it's different. A player comes out of college and has an immediate impact, showing the type of necessary wherewithal to build around—like Davis has for the New Orleans Pelicans and Irving has for the Cleveland Cavaliers.
Almost no time at all was needed before realizing they were destined for stardom. It took Irving less than two years to earn his first All-Star selection and Davis, when healthy during his rookie campaign, quickly emerged as a preeminent stretch 4 with a wide-ranging skill set.
By now, it's become clear no team could go wrong with the addition of either. They're that good. But when wiping the slate clean, one player is better than the other.
Difference in Position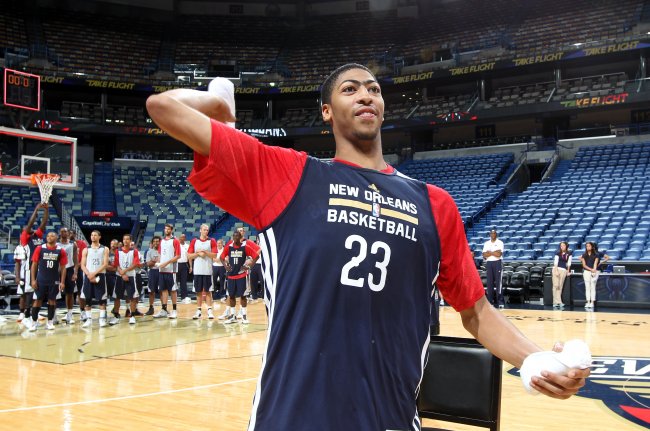 Layne Murdoch/Getty Images
Most things worth talking about start with numbers. Teams won't hand the keys of the franchise to a player who cannot put up cornerstone-worthy numbers. They just won't.
During the short time Davis and Irving have been in the league, they've shown an ability to put up the type of game-changing totals organizations seeks. Below you'll see how their per-36 minute numbers stack up against one another:
Davis vs. Irving Per-36 Minutes

| | | | | | | | | |
| --- | --- | --- | --- | --- | --- | --- | --- | --- |
| Player | Games | PTS | REBS | ASTS | BLKS | FG% | USG% | PER |
| Davis | 67 | 17.2 | 10.3 | 1.2 | 2.3 | 51.2 | 22.1 | 22.3 |
| Irving | 113 | 22.5 | 4.1 | 6.3 | 0.4 | 45.6 | 29.5 | 21.2 |
Via Basketball-Reference
Comparing players who man two completely different positions is difficult. Primary playmakers generally have higher usage rates because they have the ball in their hands more.
Of all players who averaged at least 15 minutes per game last season, seven of the top-10 usage rates came from guards. For the three who weren't guards—LeBron James, Kevin Durant, Carmelo Anthony—two of them are considered point forwards.
It works both ways, too. Just like assist totals and usage rates are predominantly higher for point guards like Irving, rebounds and blocks will be raked in at a higher clip by bigs like Davis.
In situations like these, it's almost a matter of preference. The point guard position is crawling with star-esque potential, and as they've grown in number, big men aren't being used as central building blocks quite as frequently anymore.
New Orleans itself can be argued as an example. Jrue Holiday is an All-Star point guard who the Pellies readily acquired by flipping Nerlens Noel on draft day. They already had Davis, sure, but they put an added premium on playmaking.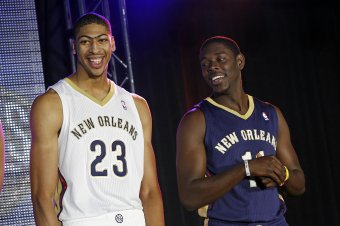 Layne Murdoch/Getty Images
Is Davis even the chief building block in New Orleans? Or is it Holiday? There's a debate to be held there, the outcome of which wouldn't discredit either's potential. Growing splits are just becoming more apparent.
Know that Irving and Davis are comparable, both worthy building blocks. Their PERs are basically within a point of each other, and their playing time is similarly proportionate to the number of games they've appeared in.
But while the argument is founded upon a team's predilection and what's available in the draft, this one doesn't end at the differences in position. New Orleans and Cleveland made choices and are now watching them play out.
And one of these players represents a better starting point than they other.
Profound Impacts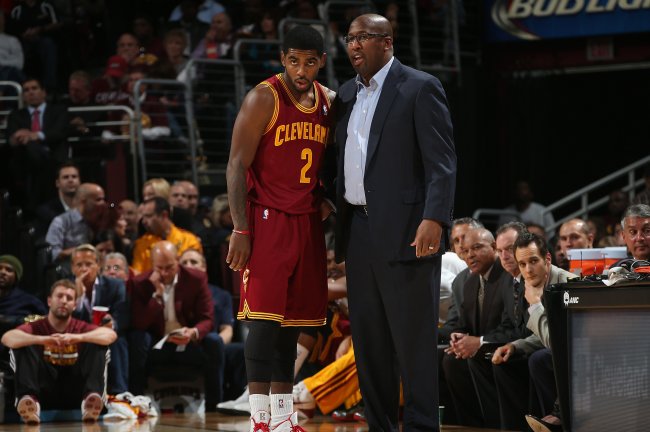 Ned Dishman/Getty Images
Individual numbers don't mean a damn thing if team-wide results won't follow. Monta Ellis would be a perennial All-Star if it were any other way.
Players who can excel on both ends of the court are often given an advantage here. Impacting either end is better, because it must be. Two is more than one, so two is better than one. Makes sense, right?
It's also wrong.
More well-rounded players aren't always the safer route. It's all about the ultimate effect a player has on the team. Irving isn't known as an ardent defender; offense is his bag. Opposing point guards posted an 18.1 PER against him last season, according to 82games.com. Does that make him any less fit to lead a team's resurgence than the multifaceted Davis, who was touted for his defense coming out of college?
It doesn't.
During Davis' rookie season, the Pelicans actually allowed one more points per 100 possessions with him on the floor. And they scored less. Overall, they were a minus-1.1 points per 100 possessions when he was in the game.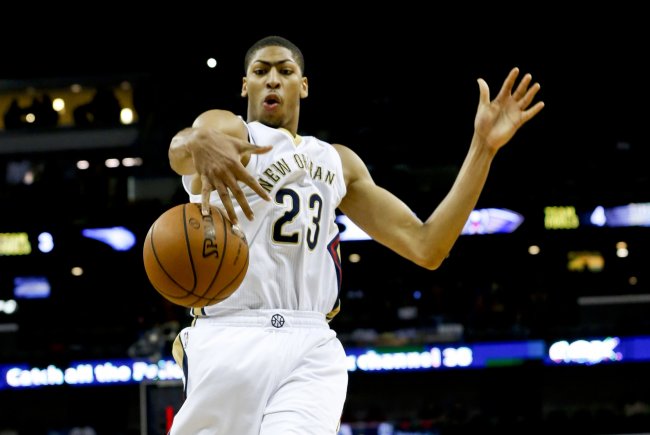 Derick E. Hingle-USA TODAY Sport
Opposing offenses notched 4.8 additional points per possession against the Cavs when Irving was on the floor as a rookie, but he made up for it on the offensive end (plus-9.4). Cleveland finished the season at plus-4.7 points per 100 possessions with Irving on the hardwood.
One of the many marks of a franchise player is his ability to make a bad team better. Since LeBron James' departure, the Cavs have spent their time dwelling in the league's basement. They're a combined 45-103 through Irving's first two full seasons, yet they're also a plus-2.7 points per 100 possessions with him on the floor—a noncontending team outscoring its opponents when their best player is on the floor.
More valuable insight can be gleaned from win shares. Davis accounted for 6.1 of the Pelicans victories in 2012-13, more than Irving has in either of his first two seasons. But Davis' team also won six more games than the Cavs did Irving's rookie year. Irving, however, played in fewer games (51) than Davis (64).
Get down to brass tax, and you'll find that Davis has accumulated 6.8 win shares through 28 career wins, or 24.2 percent of the victories. Irving has 9.4 through 46 career wins, equating to 20.4 percent of the total victories.
Two different gauges of value, two different outcomes. Irving's Cavs are actually outscoring opponents with him on the floor, but it's Davis who has accounted for a larger portion of his team's wins since entering the league.
The madness continues.
Injuries Sminjuries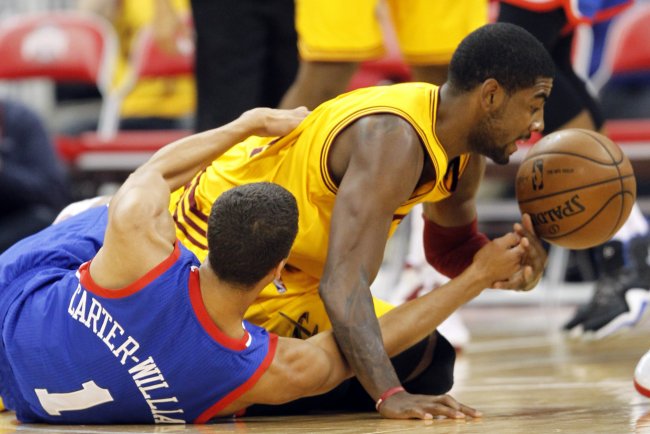 Ron Schwane-USA TODAY Sports
Someone told me the other day that, when you date back to Irving's days at Duke, he's just as injury-prone as Andrew Bynum. I laughed, until I realized that person wasn't kidding. Then I started to shake my head in disbelief.
I'm not ready to go there yet. Or ever. Irving has battled injuries and missed at least 15 games in each of his first two seasons, but he's not Bynum.
What matters more than anything is what he's done at the NBA level, and since joining the Cavs, he appeared in 113 of the first 151 regular-season games he was eligible to play in. He has been available nearly 75 percent of the time, easily exceeding that of Bynum's 61 percent(ish) mark.
Barring Irving dealing with a sudden injury or surgery that forces him to miss most of the season, we cannot let past ailments cloud our judgment. Health is an issue for sure, but the same can be said of Davis.
The Unibrow missed 18 games in 2012-13 and has appeared in 67 of a possible 85, or 78.8 percent. While it's a higher percentage than Irving's, it's not a significant enough disparity to give Davis a clear-cut advantage.
In this case, we cannot predict the future either. Sometime soon, something could happen to shift the bill of health in one player's favor. For now, all things are close to being equal.
Still Just a Matter of Preference?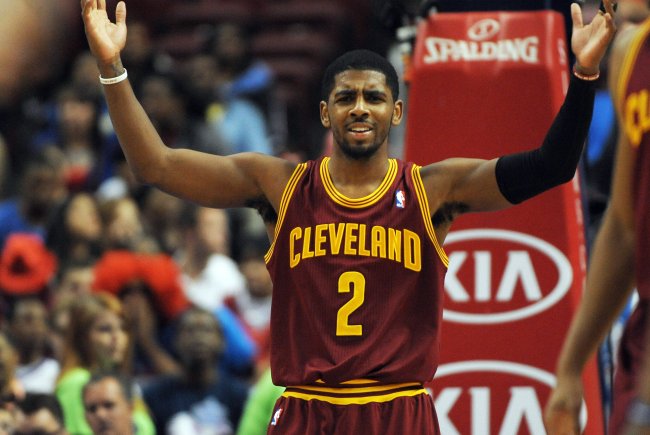 Eric Hartline-USA TODAY Sports
Make no mistake, both Davis and Irving are fine building blocks.
When constructing a team, though, you must ask yourself one question above all others: Who's better fit to carry a franchise on his own?
The answer here is Irving.
Dominant big men are scarcer, but that doesn't always make them more valuable. Davis entered a situation in which he didn't have to be the guy right away. There was an injury-rone Eric Gordon, a star role player in Ryan Anderson and another lottery pick in Austin Rivers by his side. The pressure to deliver, the weight placed on his shoulders simply wasn't the same.
Until now, Irving has never had an Anderson or a teammate heralded as a potential star like Gordon. There is Dion Waiters, who is still considered a project and Anderson Varejao, an inconsistent performer who struggles to remain on the floor. Tristan Thompson is only just now beginning to find his groove.
Who is the better NBA building block?
None of this takes away from what Davis has done, and what he's still able to do. If he's able to stay healthy, he'll go on to great things. But when we're building a franchise from scratch, Irving is the better starting point.
It's he who has changed the culture and attitude in Cleveland more than Davis himself has done in New Orleans. It's he who has given the Cavs a future worth fighting for.
It's he who is equipped to ferry a heavier load, to trigger a more profound movement.
*All stats in this article are accurate as of November 4, 2013.
This article is
What is the duplicate article?
Why is this article offensive?
Where is this article plagiarized from?
Why is this article poorly edited?