Phoenix Suns at Oklahoma City Thunder: Live Score, Highlights and Analysis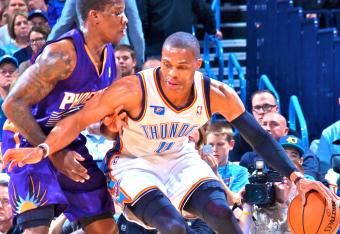 Despite shooting 42.7 percent from the field and 11.1 percent from three, the Oklahoma City Thunder managed to escape with a 103-96 victory on Sunday night over the Phoenix Suns.
Russell Westbrook returned to action for the first time since tearing his lateral meniscus against the Houston Rockets during the 2013 postseason, and dropped in 21 points on 5-of-16 shooting (11-of-14 from the line), dished out seven assists and committed four turnovers in the win.
Kevin Durant led all scorers with 33 points and posted his first double-double of the season by adding 10 rebounds to his final line.
The Thunder's offense was positively sluggish throughout the game's first three quarters, and they trailed by three entering the fourth as a result.
However, a 36-point outburst in the final period led by Durant and Westbrook saw the Thunder outscore the Suns by 10 in the fourth, ultimately solidifying a win over a Suns team that started the season 2-0.
Eric Bledsoe was simply phenomenal for the Suns, scoring 26 points, dishing out 14 times and grabbing seven rebounds, but his eight turnovers were a team-high and accounted for more than one-third of the team's total giveaways (23).
Next up for the Thunder is a matchup with the Dallas Mavericks on Wednesday, while the Suns will clash with the New Orleans Pelicans on Tuesday.
Russell Westbrook speaks postgame about his return to the floor.
Second-Half Highlight: Kevin Durant flushes home a sweet alley-opp off of the feed from Russell Westbrook.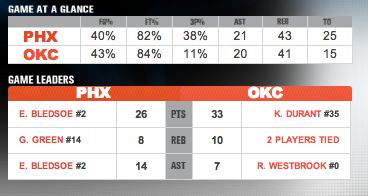 Final statistics at a glance, courtesy of NBA.com.
OKC 103, PHX 96 - Final
And that'll do it. OKC outscores Phoenix by 10 in the fourth quarter and Kevin Durant's 33 point lead the Thunder to their first home victory of the season.
Russell Westbrook dropped in 21 points and dished out seven assists in his return to the floor, but there was a bit of rust evident.
Nevertheless, he did help the Thunder offense function and flow more efficiently when the game was on the line.
More reaction to come.
OKC 101, PHX 95 - 27.1 seconds remaining in 4th quarter
The Suns are going to lead the league in turnovers off stepping out of bounds.

— Sean Highkin (@highkin) November 4, 2013
And just as we praise Green, he turns the ball over for Phoenix's 23rd giveaway of the night. That should do it, as Westbrook adds two freebies.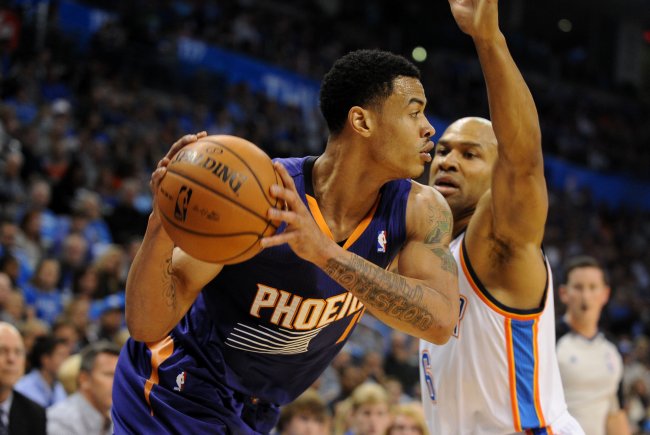 Mark D. Smith-USA TODAY Sports
OKC 97, PHX 95 - 29.3 seconds remaining in 4th quarter
Gerald Green is not just a dunker anymore. A clutch three from Green gives him 21 points on 7-of-14 shooting, including 5-of-10 from three.
Fantasy basketball players, hit the waiver wire and snag Green while you can.
OKC 97, PHX 92 - 32.8 seconds remaining in 4th quarter
Durant, with what could be the decisive bucket, now has 31 points and 10 boards. On a night when not much went right for the Thunder, Durant was a bright spot.
Kevin Durant with 31 points and 10 rebounds. His first double-double of the year. Thunder up 97-92 with 32 seconds left.

— Anthony Slater (@anthonyVslater) November 4, 2013
OKC 95, PHX 90 - 1:52 remaining in 4th quarter
Bledsoe makes something from nothing, finds Tucker for long J. Down 6 1/1:40 left

— Matt Petersen (@TheMattPetersen) November 4, 2013
Eric Bledsoe to P.J. Tucker in the corner for three. Not exactly Durant and Westbrook, but Tucker's up to six points on 50 percent shooting from deep.
OKC 92, PHX 87 - 2:32 remaining in 4th quarter
OKC's offense looking much-improved in this fourth quarter. It shouldn't come as a surprise that there most productive minutes in the game's final stanza have come with Russell Westbrook on the floor.
One of three Thunder players in double-figures, Westbrook's up to 17 points after a clutch coast-to-coast lay-in.
Look for the Suns to defer to their own stud point guard, Eric Bledsoe, in the final two minutes.
Fourth quarter has turned into a Westbrook vs. Bledsoe all-star weekend skills competition.

— Sean Highkin (@highkin) November 4, 2013
OKC 87, PHX 83 - 3:45 remaining in 4th quarter
Kevin Durant has just about the quietest 29 points you'll ever see. He's 9-of-17 from the field and has the Thunder's only two makes from beyond.
They've missed the other 15. Yikes.
OKC 84, PHX 81 - 4:30 remaining in 4th quarter
The Suns' defense is ceding some easy buckets at a very inopportune time. Even Derrick Fisher is getting in on the dribble-drive action.
He's been solid tonight with six points and a plus-10 rating.
The final six minutes of the fourth quarter will tell us a lot about the mental strength of this young Suns team. Can they stay composed in the face of adversity with big guns like Durant and Westbrook ready to attack?
Let's find out.
The #Suns have handed OKC an 8-0 run with 3 fastbreak and a foul. Christmas dropped an easy chance to give OKC its first 4Q lead, 81-79.

— Paul Coro (@paulcoro) November 4, 2013
PHX 79, OKC 79 - 6:30 remaining in 4th quarter
There's the Russell Westbrook we've grown to know. Coast-to-coast, a nice change of pace, and an easy finish at the other end.
And then Westbrook hauls in a rebound and goes coast-to-coast for a ridiculous layup. So maybe he is. Or halfway there. Or something.

— Royce Young (@royceyoung) November 4, 2013
Time for Westbrook and Durant to step up and ice this one.
PHX 79, OKC 73 - 7:21 remaining in 4th quarter
Eric Bledsoe showing off some distance. If threes start to fall consistently for him, the size of that contract he's set to earn next summer will only increase.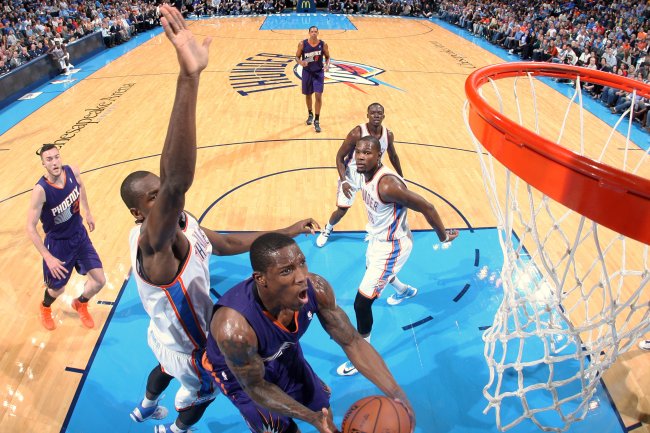 Layne Murdoch/Getty Images
PHX 75, OKC 73 - 8:30 remaining in 4th quarter
Tonight's about Russell Westbrook, but Eric Bledsoe is putting on a show.
Not only has he already posted a double-double, but he's accounted for half of the Suns' free-throw attempts as he's been assertive, attacking the rim consistently.
An under-the-radar storyline to watch: Perry Jones III's production. He's a plus-eight so far tonight, the highest of any Thunder player.
Third straight game Perry Jones has been in the Thunder rotation. Third straight game he has given them pretty decent minutes.

— Anthony Slater (@anthonyVslater) November 4, 2013
PHX 70, OKC 67 - End of 3rd quarter
The Thunder were outscored, 25-23, in the third quarter and now trail by three entering the fourth.
Thunder trail Phoenix 70-67 heading to the fourth. Offensive struggles continue: OKC 23/61 overall and an ugly 1/15 from three.

— Anthony Slater (@anthonyVslater) November 4, 2013
Kevin Durant leads all scorers with 23 points on 7-of-14 shooting, and has added eight boards and two steals to his line.
Russell Westbrook, who was largely invisible in the third, has racked up 13 points and four assists, but he's shot a poor 33.3 percent from the field thus far.
Eric Bledsoe leads the Suns with 16 points, 10 assists, five rebounds and two steals while Gerald Green has chipped in 18 points (4-of-8 from three) off the bench.
PHX 70, OKC 65 - 48.1 seconds remaining in 3rd quarter
Something to ponder: Yes, the Thunder have two of the league's 10 best players, but combine Scott Brooks' relatively weak offensive system with the Thunder's lack of scoring depth and they could have some trouble pushing past some of the Western Conference's other elite title contenders as the season progresses.
PHX 68, OKC 61 - 2:23 remaining in 3rd quarter
OK, we've officially reached the point where the Thunder's shot selection and overall offensive execution needs to be questioned.
As a team, OKC is shooting 37.9 percent from the field and a putrid 1-of-15 from three. They should count themselves lucky that they're only down seven.
PHX 68, OKC 61 - 2:59 remaining in 3rd quarter
And with the Suns going with small lineups that space the floor, Scott Brooks' lineup choices have been rather puzzling.
Can anybody tell me why Brooks insists on having two bigs out there?

— Darnell Mayberry (@DarnellMayberry) November 4, 2013
Pairing Nick Collison with Serge Ibaka when the Suns are countering with P.J. Tucker, Gerald Green, Channing Frye, et. al is rather perplexing.
PHX 65, OKC 61 - 3:15 remaining in 3rd quarter
Look out for Eric Bledsoe. The young gun is on fire with 18 points, 10 dimes and two steals. However, it's worth noting he has seven turnovers.
It's not a stretch to say he's outplaying Russell Westbrook tonight.
Here are first-half highlights, courtesy of NBA.com.
OKC 59, PHX 55 - 6:34 remaining in 3rd quarter
It's about time we got a big-time highlight. Westbrook and Durant run a two-on-one break to perfection, and the point guard tosses up a lob for KD who throws one down with authority.
OKC 55, PHX 55 - 7:21 remaining in 3rd quarter
Gerald Green corner threes, you guys. Get used to them.
Meanwhile, Westbrook's attempts to shake off the rust aren't going so well. He's 3-of-8 from the field, can't find his stroke from mid-range and has three turnovers to go with three assists.
This article is
What is the duplicate article?
Why is this article offensive?
Where is this article plagiarized from?
Why is this article poorly edited?